Famed for the stadium that hosts the men's international football team, Wembley has evolved over the years into a prime London neighbourhood. Today, living in Wembley is a gateway to concerts, eclectic restaurants, bustling street food traders and, of course, elite-level sports. A plethora of new apartments, including the ones built exclusively for rent at Quintain Living, provide high-end homes, while new businesses are moving into the area at pace. It's easy to see why Wembley has become such a popular neighbourhood in West London with so much to see and do.
 
A brief history of Wembley
Located in the London Borough of Brent, Wembley became part of Greater London in 1965. The centre of Wembley was initially a small village before expanding in the mid-19th century due to a local railway station bringing more footfall into the area. Wembley's name is derived from Old English "Wemba" and "lea", which means meadow or clearing.
 
Key facts
The town of Wembley includes Alperton, North Wembley, Tokyngton, Sudbury, Preston and Wembley Park. The latter has been the focus of significant regeneration which has brought new homes, shops, restaurants and spaces like Boxpark to the neighbourhood. Wembley has a population of around 102,000, with 70% of residents choosing to rent their home.
 
Things to do and see in Wembley
Wembley Stadium
Wembley Stadium is the most famous landmark in the neighbourhood and hosts the men and women's England football teams, as well as important cup finals. It's also the place to watch NFL action and Rugby League. The stadium seats 90,000-plus fans and was renovated in 2007, with the now-iconic arch replacing the twin towers. If you're living in Wembley Park, then the stadium is just a hop and a skip away from your home, and you're never far away from watching top-level sport.
Address: London HA9 0WS
Phone: 0800 169 9933
Follow: @wembleystadium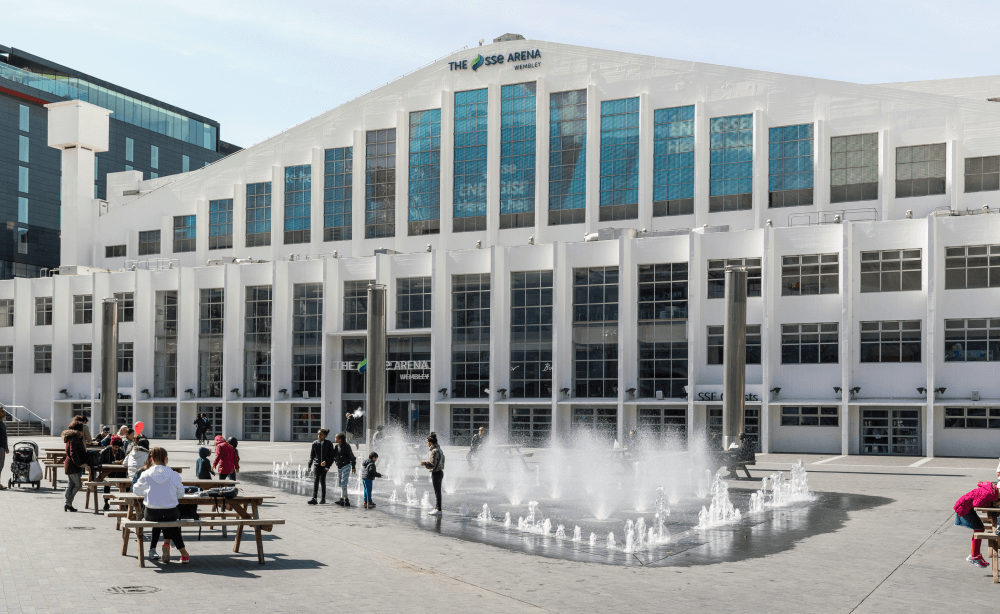 The SSE Arena, Wembley
If sporting events aren't your thing, then worry not. The SSE Arena, Wembley is the place to watch world-class music events. The legendary London venue has featured performances from Rihanna, Micheal Jackson, U2, The Beatles, David Bowie, Tina Turner, Justin Timberlake and many more over the last 80 years. It seats 12,500 people and has club seats and a VIP lounge if you feel like watching a show in style. As well as music events, The SSE Arena, Wembley hosts comedy shows and other forms of exciting live entertainment.
 
Address: Arena Square, Engineers Way, London HA9 0AA
Phone: 020 8782 5566
Email: [email protected]
Follow:@ssearena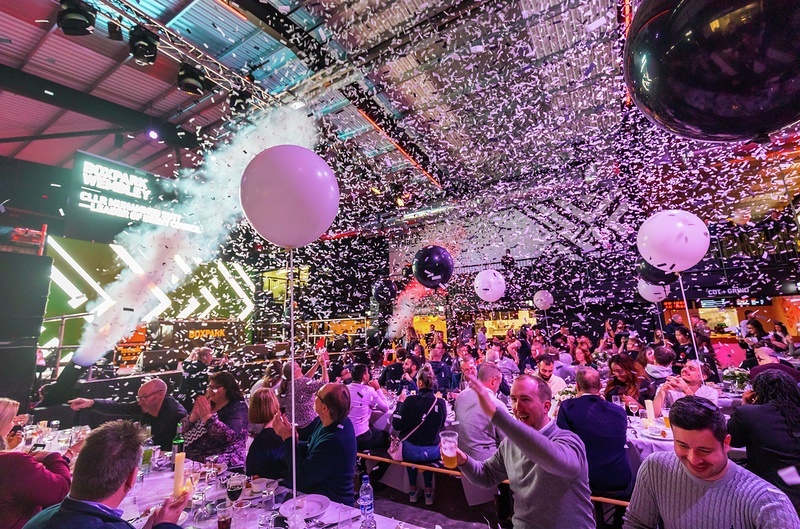 Boxpark
Eat, drink and play is the motto at Boxpark Wembley, which launched in December 2018. Head here to discover an array of flavours from street food traders who all bring their magic to Wembley Park. There are also bespoke cultural events to enjoy. PLAY is a dedicated space in Boxpark where you can partake in pop golf, axe throwing, virtual reality experiences, and try 'PlayBox', which is home to shuffleboard, table tennis, pool and table football. Located in Wembley Park, which is also the location of Wembley Stadium and the homes at Quintain Living, Boxpark offers 20,000 square foot of space for food, drink and leisure experiences.
 
Address: 18 Olympic Way, Wembley Park, Wembley HA9 0JT
Phone: 020 7186 8800
Email: [email protected]
Follow: @boxparkwembley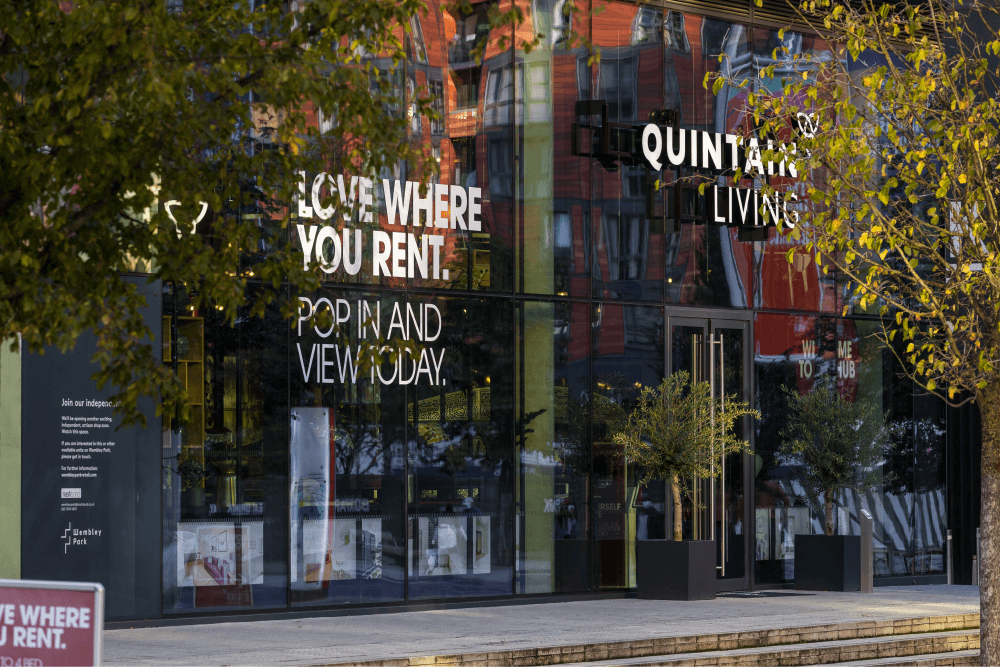 Quintain Living has thousands of homes in Wembley Park and has become synonymous with the area. Residents enjoy high-end homes spread across seven buildings, all of which feature John Lewis and Samsung furnishings and appliances. As well as stylish homes, Quintain Living has exciting amenities for those living in Wembley. The spaces add to the entertainment on offer in Wembley Park, from fitness centres and outside space to lounges and residents' kitchens.
 
Address: Wembley Park
Phone: 020 3151 1927
Follow: @QuintainLiving
If you're all about your fashion, then a trip to the London Designer Outlet in Wembley Park is a must. There are 70-plus stores with brands like Tommy Hilfiger, Converse, Nike, Guess, Kurt Geiger, Calvin Klein, and Superdry offering savings of up to 70 per cent. It's located right next door to the world-famous Wembley Stadium, so you can kit yourself out before watching a sporting event. There's also a variety of restaurants on-site, just in case you work up an appetite with all that retail therapy.
 
Address: Wembley Park Blvd, Wembley HA9 0FD
Phone: 020 3744 4470
Email: [email protected]
Follow: @londondesigneroutlet
Studio 5ive Restaurant
Studio 5ive is the place to be if you love listening to live music while chowing down on a tasty meal. It's located in the old Fountain Film Studios and hosts up-and-coming musicians from all around the country. And those new artists are in good company: the original studio featured performers like Mick Jagger, Freddie Mercury and Nina Simone. Of course, there's also great food at this Wembley restaurant. Favourites at Studio 5ive include prawns with chickpea, blackened peppers and fried bread and smoked aubergine with tahini, garlic and lemon. A range of succulent burgers to choose from, including vegan options, tops off the menu.
 
Address: 128 Wembley Park Dr, Wembley Park, Wembley HA9 0EW
Phone: 020 7550 9883
Email: [email protected]
Follow: @studio5iverestaurant
The Arch
If leather armchairs and vintage lamps sound like your cup of tea, then get yourself down to The Arch. Named after the iconic Wembley Stadium arch, this spot is a relaxed place to grab a casual bite or enjoy a drink or two. Pub grub is the order of the day, with burgers, crispy chicken and hotdogs all on the menu. There's also modern Indian cuisine with kebabs, seafood and vegetable curries, just in case you fancy something a little different.
 
Address: The Arch, 324, Harrow Rd, Wembley HA9 6LL
Phone: 020 8127 1141
Email: [email protected]
Follow: @thearchwembley
Barham Park
Located just two miles from the North Circular, Barham Park offers an escape from the busy London life. Escape for an hour or two if you're living in Wembley and enjoy mature trees and a pretty walled garden, which is a big hit with visitors. Barham Park has bags of charm, thanks to the original Victorian character retained throughout the open space. This quaint little getaway also has a children's play area, so there's something for everyone to enjoy.

Address: Harrow Rd, Wembley HA0 2HB
 
Living in Wembley
It's easy to see why Wembley has become such a hotspot in West London. Regeneration, high-quality homes, great travel links and entertainment galore makes living in Wembley a top choice if you want to embrace the London lifestyle in a thriving area full of buzz.