Owning a pet is a big responsibility, but also a rewarding one offering so many moments of joy. There's no denying that pets become our best friends and a member of the family — a faithful ally to greet you at the end of a long day or to relax with in front of the TV. Living with pets in apartments can be a challenge though, both for you as the owner and for your pet. You'll need to consider a number of different things to ensure your pet is comfortable, feels safe and is well looked after. Transitioning into a new home can be a scary experience, but with these five tips in mind, you and your pet can enjoy apartment living together.
Pet-proof your apartment
While it's common to child-proof a living space, the same practice works for looking after pets in apartments. Assess your living space for any particular pet 'danger zones'. If you have low hanging breakables such as glasses, ornaments or crockery, consider moving these out of harm's way.
Trailing cables, loose electrical items and exposed plug sockets at floor level are also a hazard for pets in apartments. Where possible, avoid placing electrical equipment directly on the floor, mount your TV to the wall and arrange any exposed cables neatly out of the way.
If your pet is prone to snacking on any and everything, it's worth storing food items in top cabinets and cupboards only – the last thing you want is for your pet to tuck into all of your goodies at the expense of their stomach! Alternatively, if you are able to, fit simple baby-locks to food cupboards.
Set pet-friendly space rules
No matter how big or small your apartment space, you may choose to only share certain areas with your pet. In the same way that you wouldn't share everything with a roommate, it's time to set some ground rules.
If there's a certain room that's off limits, use subtle cues for your pet to understand, such as always leaving the door closed behind you.
Don't want your pet sleeping on your bed or your brand new sofa? Make sure you have an alternative sleeping arrangement, providing your pet with its own bed, blanket or cushion. Your pet will gravitate to this item if it smells comforting and like you!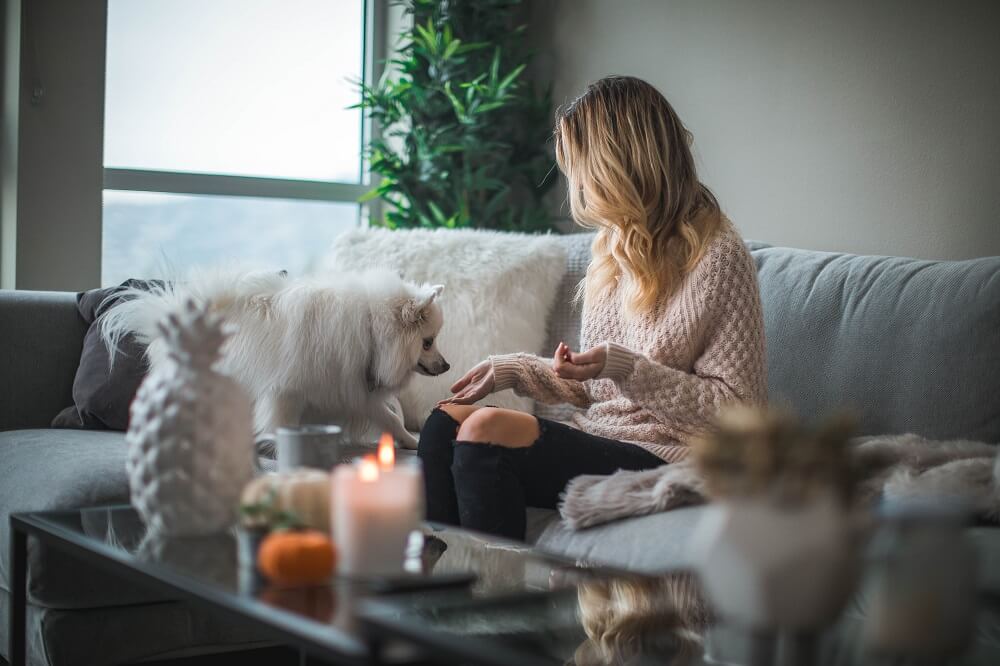 Create a food and toileting zone
One of the most challenging parts of looking after pets in apartments is the feeding and toileting routine. Your pet may feel shy or uncomfortable eating or using the bathroom in full view. Create a food and toileting zone that's easily accessible and findable for your pet, whilst also providing some shelter and privacy.
Regularly clean and refill the water bowl and food dishes, especially if you plan to leave your pet alone during the daytime. If you are living with a dog, implement an outdoor bathroom routine; this will help avoid any indoor mishaps. It's also worth looking for a first floor apartment, if you can, as this will save your pooch's bladder (and your legs) every time you take a bathroom break. If you plan on keeping a house pet, such as a cat or rabbit, make sure the toilet zone is kept clean at all times.
Have a regular exercise routine
As well as planning feeding and bathroom times, exercise is vital for pets in apartments. If your pet becomes frustrated or hyperactive living in an apartment, it's likely due to pent up energy.
Depending on the breed and size of your pet pooch, you should ensure regular exercise. Find an apartment that's well located near green parklands and dog-friendly walking areas. Some dogs will require more exercise than others, so if you are unable to commit to a few walks a day, choose a breed that only needs a small amount of exercise to stay healthy.
To make things super easy for our residents, we've installed dogs runs within Wembley Park. Residents at Ferrum have their very own dog run, and there's another in Elvin Gardens for all Wembley Park residents. So if you struggle to visit any of the parks in Wembley, you have a convenient option right on your doorstep.
It's not just dogs that require exercise. Cats and rabbits also benefit from stretching their legs. When you're setting down the ground rules for your apartment, be sure to factor in exercising spaces for house pets. Decluttering your apartment and arranging furniture around the walls helps maximise space for your pet to roam.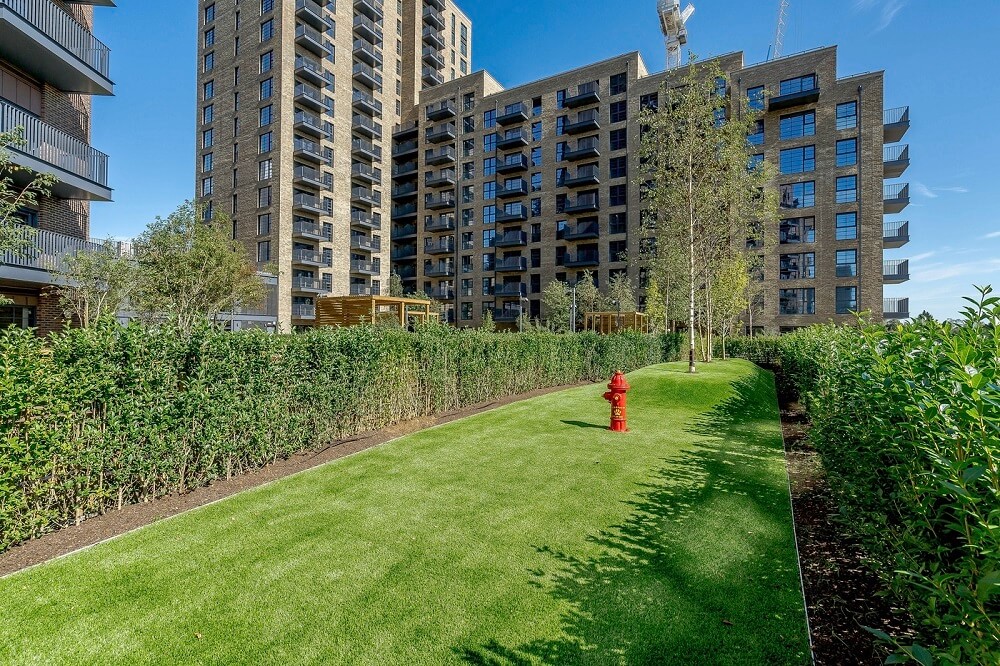 Encourage play and grooming
Pets in apartments can require more stimulation. Without a garden or outdoor space to call their own, toys can help keep your pet busy and playful while indoors.
Encourage play by giving your pet plenty of toys. Whether that's teethers, ropes or bones for your dog or catnip stuffed animals and scratch posts for your cat, these toys will be a nice distraction for your pet. It'll also mean you're less likely to find scratched up carpet, chewed fabrics or a missing chair leg!
For long-haired pets, it's good grooming etiquette to regularly brush their fur. This will avoid large clumps of fluff being dotted about your apartment or messy fur ball accidents among cats.
Living with pets in apartments
Considering living with a pet in an apartment? If you follow these five simple rules, you can rest assured you and your pet will get along nicely and both enjoy apartment living to the fullest.
At Quintain Living, we understand how important your pet pals are. That's why we offer pet-friendly apartments in all of our buildings.
For more information, get in touch with our team.