There are few things better than spending quality time with the people we care about most in the world. Whether it's reconnecting with old friends, or bringing together all our nearest and dearest, one of the best ways to get everyone together is by hosting a dinner party. It's a fun way to do something special without breaking the bank. And as the cost of living increases, it can be a cheaper way to entertain. So if you're thinking about hosting your own dinner party, we're here to help with our ultimate guide.
How to host a dinner party
Putting together an unforgettable dinner party can seem daunting at first. But it really doesn't need to be. The important thing is to make plans that you'll ultimately enjoy too, so you're not spending all day running around and becoming too stressed. 
You also need to decide what kind of dinner party you're going to have. Will it be something small and intimate with some of your best friends, or something much bigger to meet new people and introduce like minded folks to one another? 
Once you've decided who the dinner party is for, you can then work out what you need to prepare, including the space where you'll host the party, the food and drink you'll cook (or get ordered in) and the entertainment. 
Our homes in Wembley Park are places you'll want to show off to your friends, and make for great spaces to host dinner parties. Lay the table, pop the corks, and get ready to invite people into your home. They'll be able to get there easily too thanks to all the reliable transport links to the area. And if you're planning to host something a little bit bigger, many of our properties also have additional spaces you can book through our residents app that make for excellent dinner party locations. Whether it's in one of our indoor spaces, or up on one of our rooftop gardens with views of Wembley Stadium's iconic arch, we'll have somewhere to truly impress your friends. 
Dinner party recipe ideas
Once you have your guest list sorted, and you know where you'll be hosting them, the next thing to do is plan your menu. But when there's so much choice out there, it can be tough to find the best dinner party recipe ideas. Fortunately, there's so much inspiration to be found online. That might be on recipe websites like BBC Good Food or Delicious Magazine. Or increasingly it might be by watching the best foodie influencers on YouTube and TikTok. 
Importantly, you'll want to consider what food you can prepare in the right quantities and with as little disruption to your dinner party once your guests arrive. After all, if you're on hosting duties, you don't want to spend all your time in the kitchen. That's why food you can get mostly ready in advance works so well, whether it's a fancy lobster spaghetti or a humble roast chicken.
Once your main meal is decided, think about how to build on the experience. If you're going to offer a starter and a dessert, how will these compliment your theme? Are you going to offer matching flavours, or perhaps the cuisine of one particular part of the world? And of course at the end of it all, you'll want to pair it all with the right drinks, including the perfect bottle of wine. 
Don't forget to check the dietary requirements of your guests before you put your menu together. You'll want to be as accommodating as possible, whether your guests are vegetarian, gluten free or have serious allergies.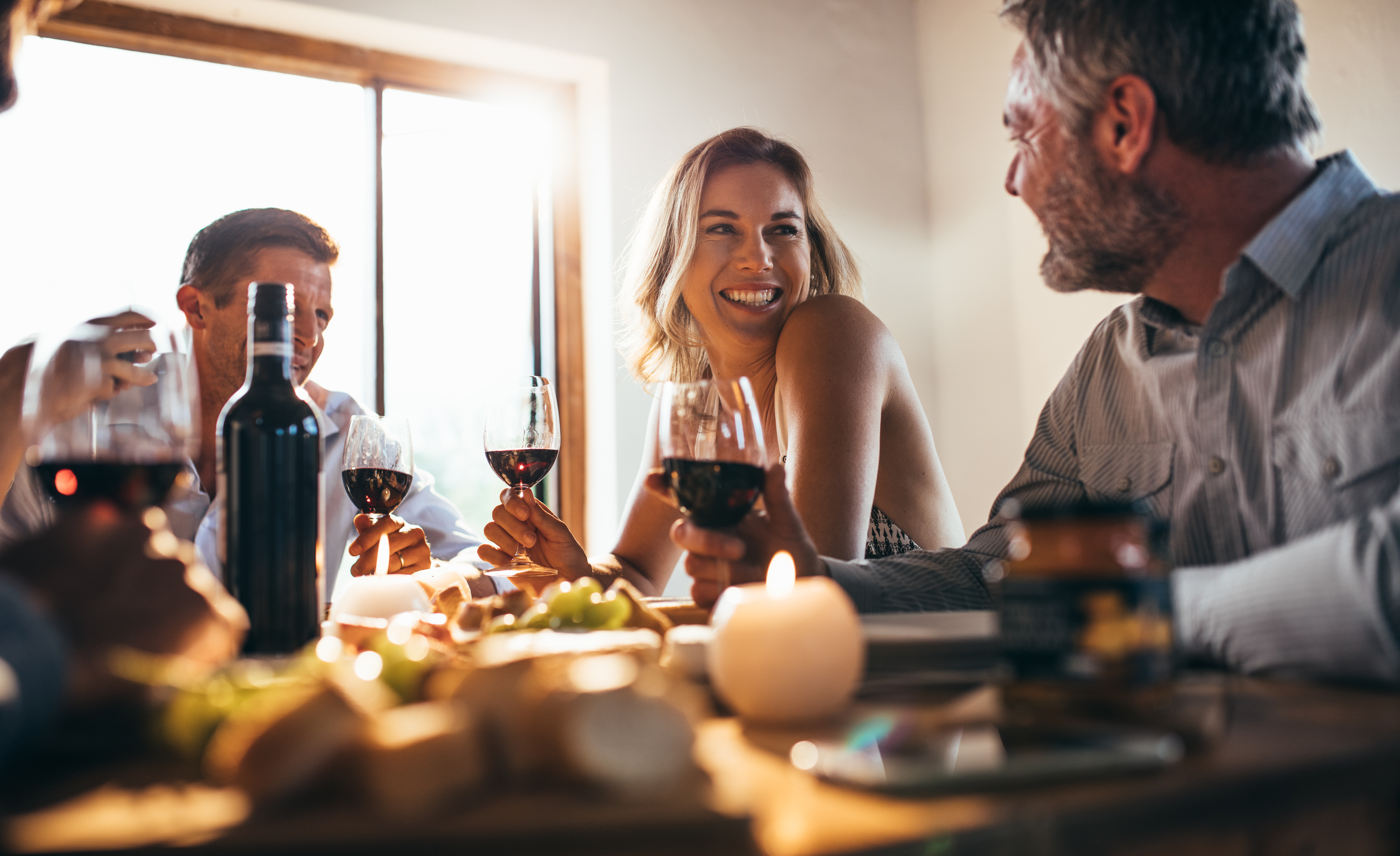 Dinner party decor ideas 
There's more to a great dinner party than just the food though. It's also about vision and creativity, including the way the table is set and decorated. 
This is your opportunity to let your artistic side out and show your personality on the table. You might keep it clean and simple, or you might want to go all out with fancy table decorations. If you've themed your menu on a particular part of the world, you might want to theme your table in a similar way. 
Simple touches like fresh seasonal flowers can bring much needed colour to a table, and show that this is not just your usual everyday dinner. This is a dinner party, and one where people will want to take pictures and make memories that could last a lifetime.
Dinner party table setting ideas
Dinner parties are also a great opportunity to bring out some of the crockery and cutlery we might be saving for a special occasion. That includes using the best wine glasses. Experts have shown that the quality and shape of a glass can change the way a person tastes and smells wine, so it really can make a difference. 
If you're hosting a particularly big party, there's a good change you won't have all the wine glasses you need for everyone. Luckily, many supermarkets including Waitrose and Morrisons offer rental services, so you can have all the glasses you need, without the need to find somewhere to put them afterwards. 
Plus, if you do need to pick up any last minute items for your table, you're near plenty of the shops you need in Wembley Park, and pretty much all the amenities you'll need are within a 15 minute walk. London Designer Outlet has a wealth of great homeware stores that could provide you with the perfect set up, such as ProCook, M&S and Villeroy & Bosh. 
Themed dinner party ideas
Finally, you might want to plan the entertainment you're going to offer at your dinner party. Sure, you can leave people to make conversation, but particularly when you're inviting people who might not know each other well, an icebreaker can make the difference between awkward small talk, and making friends. 
Want to go all out? Why not host a murder mystery party and turn your evening into a night of intrigue? It's a bit like hosting an interactive movie where everyone takes on a different larger-than-life character, with one person taking the role of the murderer. Your job is to work out 'whodunnit' during drinks and dinner. Plus, it's a great opportunity to get everyone to show off their best fancy dress. 
Whether it's to get to know your neighbours, or bring together some of your closest friends, dinner parties are both fun and rewarding. And with the right planning there's nothing stopping you from becoming the host with the most. Our homes in Wembley Park are some of the best places to host your dinner party, and we'd love to invite you to start planning yours today. You can get in touch with us here.