Quintain Living is home to over 5,500 residents, each with their own unique story to tell. That's why we wanted to showcase the lives of some of the people who live in our Wembley Park apartments in this new regular feature of the Quintain Living blog.
Each month, we'll chat to one of our residents and see what makes them tick, how they find living in Wembley Park, and what their life looks like as a Quintain Living resident. This month, to tie in with our survey on renting with pets, we meet celebrity stylist Emily and her beloved French bulldog.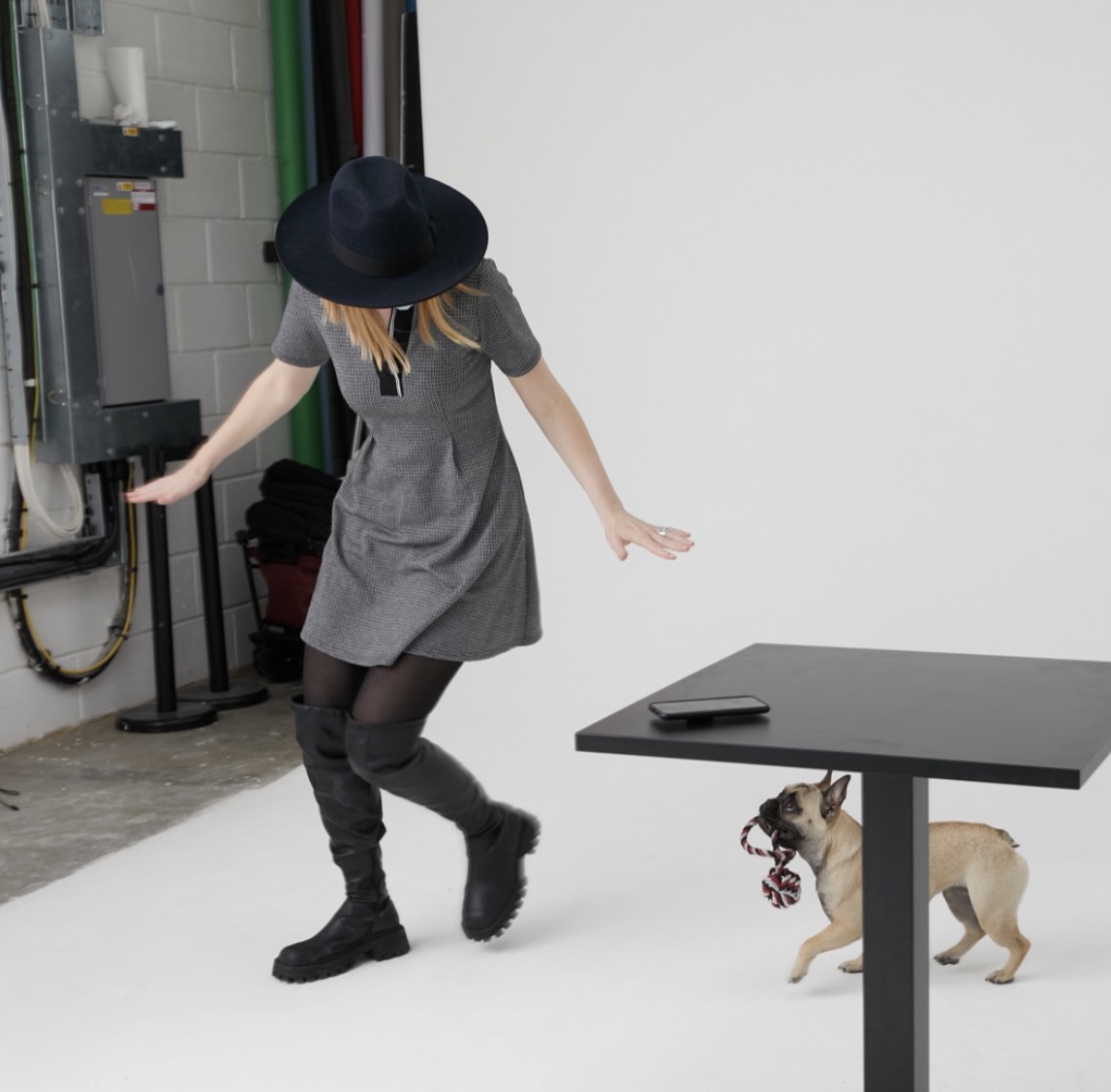 Hi there! What's your name, and what do you do?
My name is Emily Susan Tighe, and I'm a London-based Fashion & Celebrity Stylist and Mentor.
How long have you been a Quintain Living resident?
I've lived in Wembley Park with Quintain Living since Spring 2020.
What drew you to the Quintain Living apartments? What's your favourite part of living here?
I moved to Wembley Park for personal reasons and fell in love with the apartments at Canada Gardens. I have now been living in Canada Gardens longer than most of the building's other residents!
My apartment is very spacious and, as I work from home, I use the communal spaces regularly. The study is an amazing place to work from, whether to host meetings with clients or just for a break from my apartment.
Being a fashion stylist, it is important for me to work in an inviting and welcoming environment. Concierge handles all my clients with care, which I am extremely grateful for!
Quintain Living is the best place I have ever lived. It feels like a home, like a family.
Can you describe what your average working day looks like?
As a stylist, I need to get a lot done during the working day, so I wake up at 5am every morning and start my day by sending and answering emails for around 2 hours. I like to walk my dog around Wembley Park as the sun rises every morning, which also helps energise me for the rest of the day. After grabbing a coffee from Out of Office Coffee next to Concierge, I make my way back to my apartment to prepare for my team of assistants to arrive. 
The average day for a fashion stylist changes daily, and Quintain Living works perfectly for my lifestyle! It's extremely helpful to me to have a versatile environment with work-friendly facilities. I love that my home at Canada Gardens gives me access to a study room, clubhouse and a quiet roof terrace where I can work from home comfortably.
The area around me is also very convenient for my lifestyle. London Designer Outlet is roughly an 8 minute walk from the apartment, so if I have any last-minute fashion needs I have no problem getting there. The travel around London from Wembley Park station is also very simple and straightforward, with trains going into the city in less than 12 minutes.
Whenever I get the opportunity in the day, I like to go to the gym for a quick dose of exercise - it's great for clearing my mind. After a hard day at work, I like to relax by cooking dinner while listening to some music or watching my favourite TV shows with a nice glass of red wine. I always make sure to plan ahead for my next day at work so I'm ready to go at 5am once more!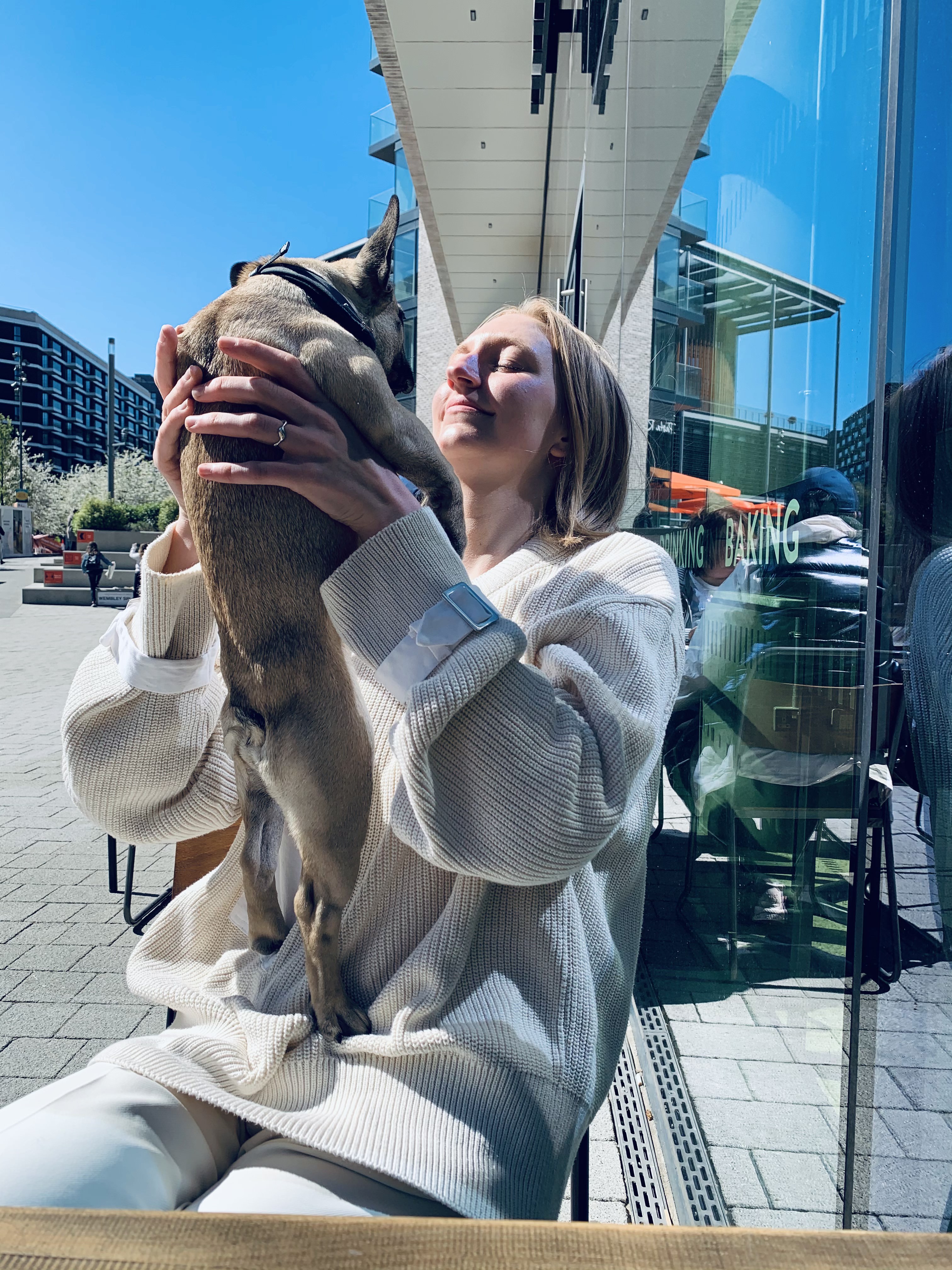 In 3 words, can you sum up the vibe of Wembley Park?
Vibrant. Welcoming. Convenient.
What can you tell us about your pet? How have you found being a Quintain Living resident, as a pet owner?
I live with my French bulldog. I wanted a puppy for ages, but restrictions in my previous flat meant that I couldn't have one. Quintain Living's pet friendly policy made it possible.
We enjoy the on-site dog run, taking daily walks around Wembley Stadium and the fountain area of Union Park next to Canada Gardens in the evenings. We're also hoping to explore other nearby areas such as Brent Reservoir on our weekend walks and I'm looking forward to enjoying the rest of Union Park once it's complete. It'll be 7 acres of open space on our doorstep!

Thanks for your time, Emily! If you like the sound of life with Quintain Living, you can learn more about living with us in our West London apartments, or get in touch to book a viewing.