North West London's Wembley is developing into one of the most vibrant foodie neighbourhoods in the capital. You don't have to wander far to find bustling brunch spots, takeaways and food pop-ups to whet your appetite.
You'll also be spoilt for choice when it comes to tasty food from all corners of the world, all under one roof, at Boxpark. Located near Wembley Stadium the food hall is a haven for street food traders and some of the best food in Wembley.
Discover our favourite Boxpark vendors, as well as other Wembley food venues that you have to visit.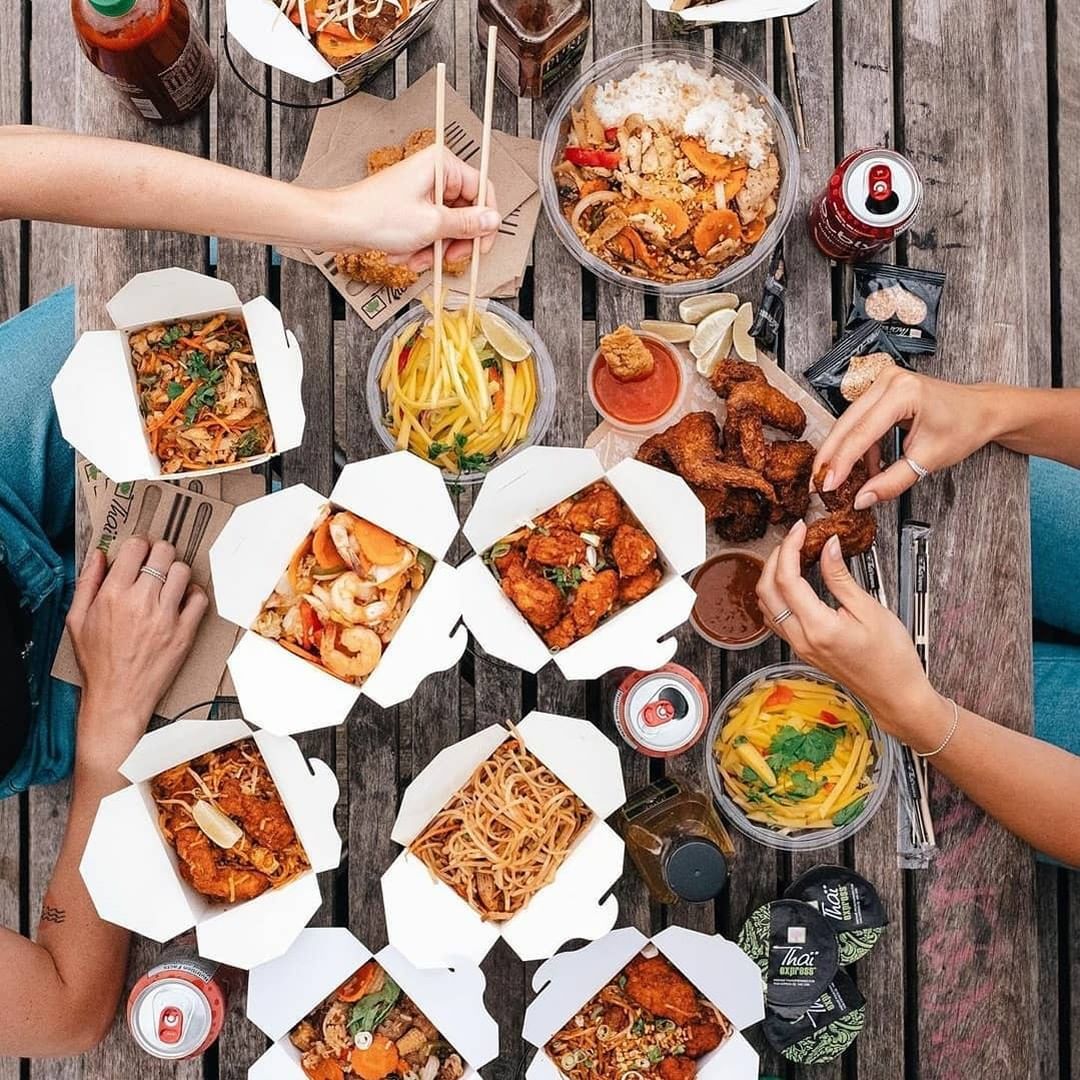 Ecco'la Café and Pizzeria
Ecco'la Café and Pizzeria will become your foodie hotspot when you live in Wembley. The relaxed atmosphere of the café makes it a popular meeting place any time of the day.
And it serves some of the best food in Wembley too. Visit in the morning for British brunch favourites, including a full English breakfast (vegetarian option available too). Take a look at the sandwich counter for the daily selection of baguettes, ciabattas and wraps, all homemade on the day – a great option if you don't have time to sit-in during office hours. If time isn't an issue, relax in a window seat and enjoy the passing views as you savour one of the authentic Italian pizzas. Depending on your appetite, the pizzas come in 10", 12" and 15-inch sizes.
Address: 87-89 Wembley Park Drive, Wembley Park, London HA9 8HF
Phone: 020 8616 0262
Email: [email protected]
Spice Shack
apturing the essence of Indian street food, Spice Shack's menu of spicy and aromatic treats will leave your mouth watering. From its humble beginnings, Spice Shack has been a family-centric business with an ethos for home-cooked food. Housed within Wembley Park's stylish communal food hall, Boxpark, the restaurant celebrates enjoying good food with good company.
Order a few of the street food favourites to share, including bhel puri, samosa and chickpea chaat, and crispy bhajia. Or dine for one with the flavoursome curry or grill boxes. The majority of dishes are vegetarian, with many vegan and gluten-free options too.
Address: Unit 17, Boxpark, Wembley Park, London HA9 0JT
Phone: 075 4411 1885
Follow: @spiceshackfood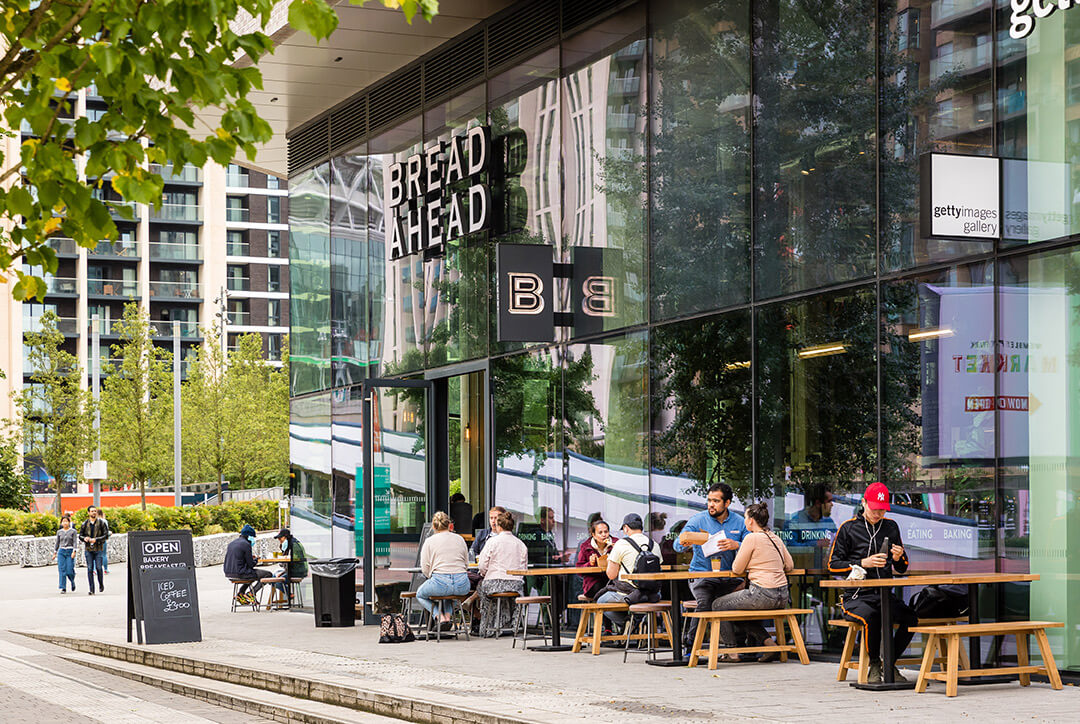 Bread Ahead
Satisfy your brunch needs or sweet tooth at Bread Ahead. Serving the best baked food in Wembley, the bakery's colourful counter of cakes, pastries and loaves is sure to offer something to tempt your taste buds. The high-ceilinged, exposed-brick industrial space offers a chic meeting spot for friends and will be your go-to venue if you work or live nearby. As well as baked goods, the space doubles up as a pizza and rotisserie restaurant in the evenings.
If you've joined in with the growing popularity of baking your own bread from home, hone your skills by signing up to a baking masterclass as part of The Bread Ahead Bakery School. If you're less nimble in the kitchen, you can simply pick up one of the café's loaves any day of the week.
Address: 26-28 Olympic Way, Wembley, London HA9 0NP
Phone: 020 7403 5444
Email: [email protected]
Follow: @Breadaheadbakery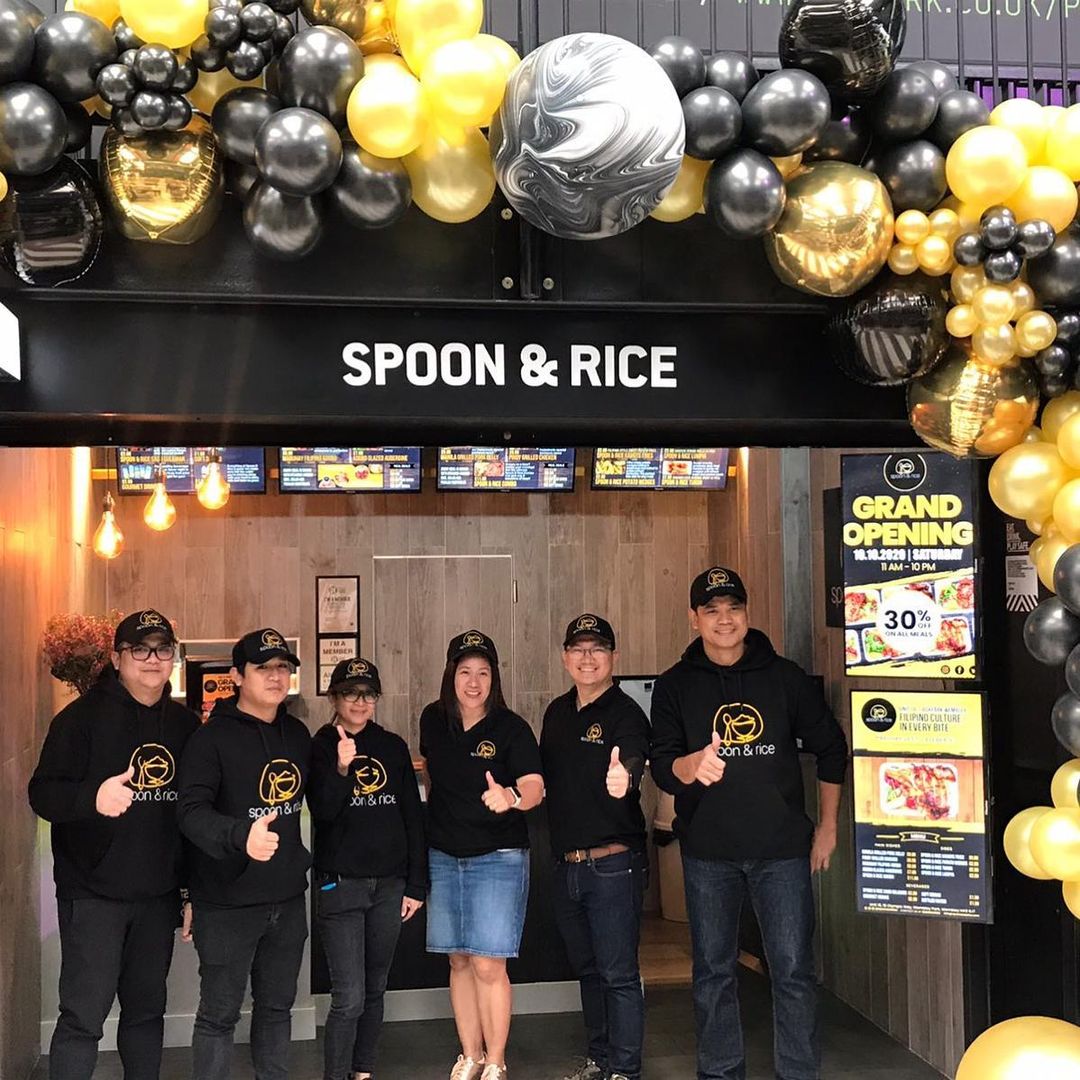 Spoon & Rice
Capturing the essence of Filipino culture, Spoon & Rice in Boxpark serves a flavoursome selection of street food dishes. Traditional Filipino adobo (marinated meat, seafood or vegetables) and grilled ingredients make up the core of the menu, with a generous drizzle of their iconic barbecue sauce on top.
The colourful selection of salad, jasmine rice and pickled vegetable boxes come with your choice of topping – pork belly, grilled chicken, glazed aubergine or a meat feast combination. Order a classic Filipino side of lumpia (savoury, crispy spring rolls) or turon (a sweet dessert spring roll with brown sugar, chocolate syrup, and caramelized banana).
Address: Unit 18, Boxpark, 18 Olympic Way, Wembley HA9 0JT
Phone: 020 8124 3939
Email: [email protected]
Follow: @spoonandrice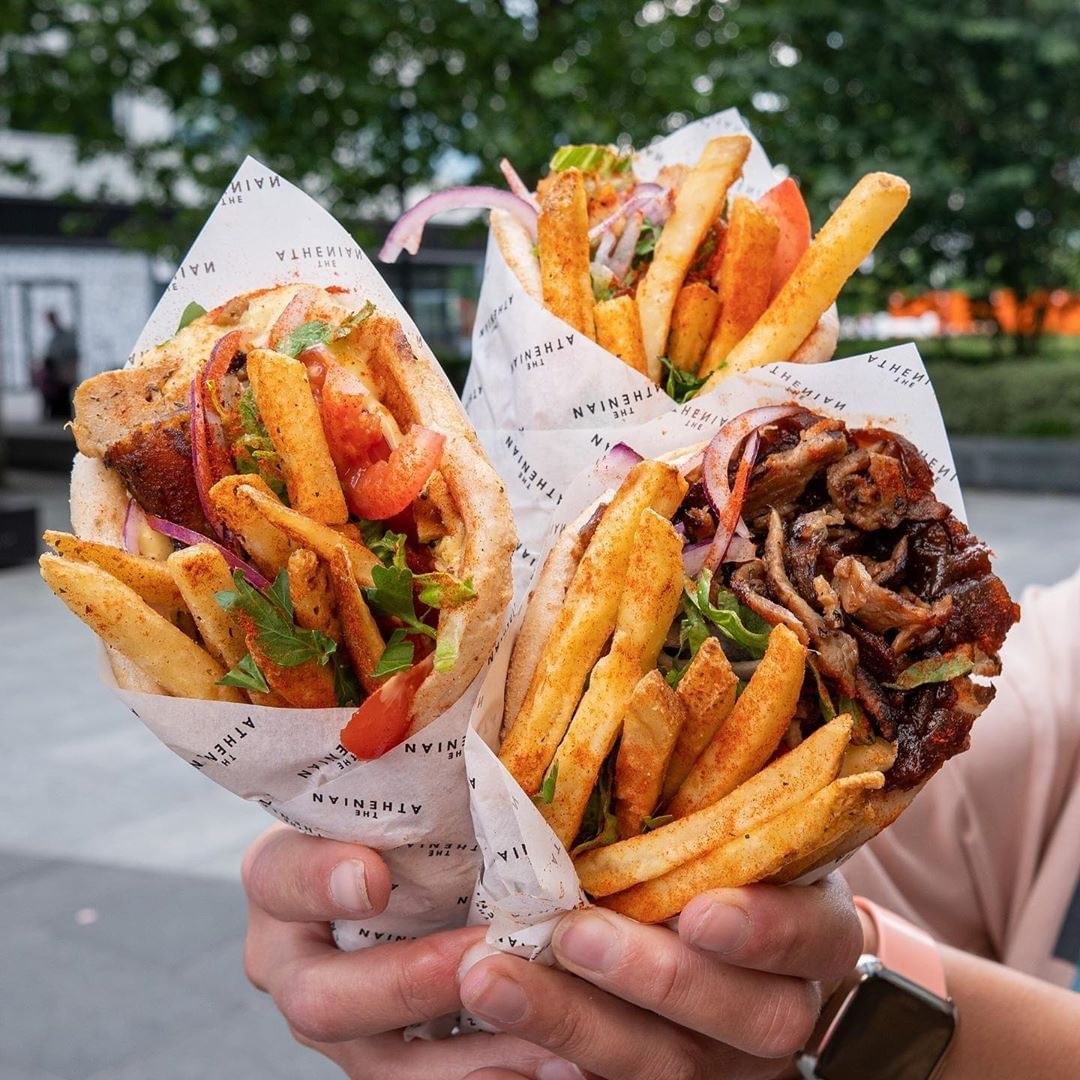 The Athenian
Nowhere does Greek street food in Wembley like The Athenian. Nestled in Unit 12 of Boxpark, the eatery has perfected the ever-popular Greek street food favourite: souvlaki. Heralding from ancient times in Athens, souvlaki is a round and soft flatbread.
The Athenian chefs generously pack this traditional flatbread with grilled meats, halloumi cheese, a medley of salad, and their delicious signature sauces. Where possible, all the ingredients are sourced from independent Greek suppliers, adding that extra level of authenticity. If you're looking to try something different, opt for a souvlaki box or 'naked' salad instead of a wrap. As well as meat and cheese options, there is also a separate plant-based menu.
Address: Unit 12, Boxpark, 18 Olympic Way, Wembley HA9 0JT
Phone: 020 3744 4428
Email: [email protected]
Follow: @theathenianuk
Gabagools
For New York-inspired subs, look no further than Gabagools. The sandwich shop is definitely an ideal place to get some of the best food in Wembley for lunch. Located in Unit 1 of Boxpark, Gabagools' pink frontage is as eye-catching as the sandwiches themselves.
Each sandwich is inspired by a different corner of the globe, from the 'Schnitzel' (Austrian-inspired fried chicken schnitzel and pickles) to the 'Melazana' (Sicilian aubergine, rocket and vegan cashew pesto). If you're looking for the ultimate lunch feast, order your sandwich with a side of 'Philly fries' or mac 'n' cheese.
Address: Unit 1, Boxpark, 18 Olympic Way, Wembley, London HA9 0JT
Phone: 074 9829 6061
Email: [email protected]
Follow: @gabagools
El Bandido
Located opposite Wembley Stadium Station, El Bandido serves the best Mexican street food in Wembley. The contemporary café space and relaxed open-kitchen dining makes this a great spot for both lunch and dinner.
On the menu, you'll find burritos, quesadillas, burgers, tacos, taquitos, and nacho chips – all generously laden with extra toppings and fillings. Decide how much spice you can handle and tuck into authentic flavours, lovingly made fresh every day by the team of Mexican chefs.
Address: 13 Wembley Hill Road, Wembley, London HA9 8AF
Phone: 020 8900 0616
Email: [email protected]
Follow: @elbandido.uk
Udderlicious
Udderlicious is a must-visit on a sunny day or any time of year for those with a sweet tooth. The ice cream parlour in Boxpark offers every flavour of ice cream and sorbet imaginable, as well as one of the widest ranges of homemade vegan ice creams in London.
You'll find all the classic flavours on the menu, as well as imaginative and inventive ones like dandelion and burdock, jam doughnut, and Bakewell pudding. New flavours are added every month, so there's always a different scoop to try.
Address: Unit 4, Boxpark, 18 Olympic Way, Wembley Park, London HA9 0JT
Email: [email protected]
Follow: @udderliciousldn
The Argentinian Grill
Specialising in Argentinian meats, The Argentinian Grill is one of Boxpark's newest additions. All the meat is cooked in an authentic way on a smoker or hot stones, giving a crispy layer to the outside and fresh, tender texture on the inside. The tasty smoky flavour will leave you wanting more.
Order your meat sliced over thin fries, in a ciabatta sandwich or burger, drizzled with hot sauce and a side of chunky salad, or in bite-sized bites to snack on with friends.
Address: Unit 26, Boxpark, 18 Olympic Way, Wembley HA9 0JT
Follow: @butchers_grill
The Lounge Café
Rising to fame back in 2018 when it topped TripAdvisor's restaurant rankings ahead of Michelin star restaurants, The Lounge Café has earned a reputation for serving the best full English breakfast in Wembley.
For a hearty breakfast with all the trimmings and relaxed service with a smile, this is the number one spot this side of London. Other breakfast favourites include smashed avocado on toast, smoked salmon and poached eggs, and a cream cheese bagel. You'll also find a wholesome array of tray bakes and sweet treats for a little afternoon pick-me-up with your choice of coffee.
Address: The Welford Centre, 113 Chalkhill Road, Wembley Park, London HA9 9FX
Phone: 079 9050 6609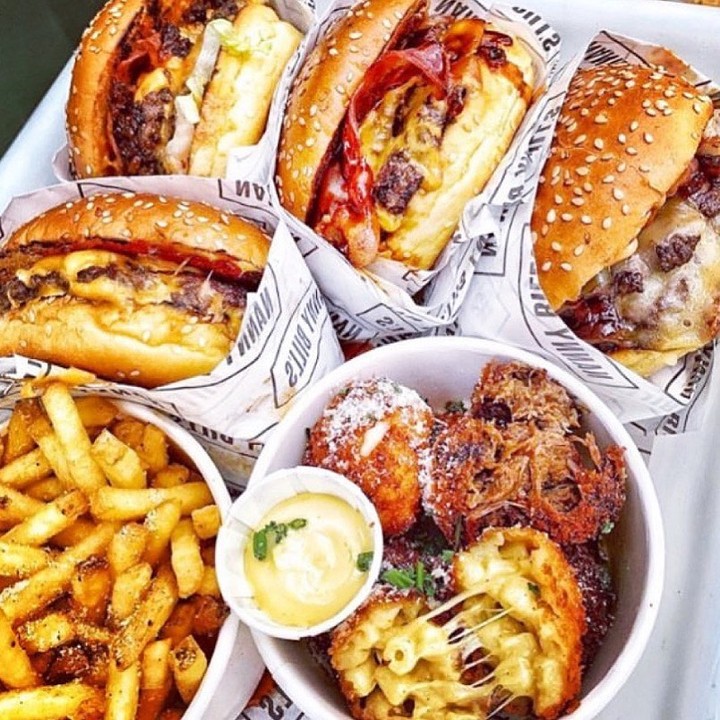 Nanny Bills
Craving a juicy burger or American diner food? Nanny Bills at Boxpark won't disappoint with its choice of hand-pressed burgers and buns. Created in homage to the founder Darren Simpson's grandma, who operated a thriving café through the '70s and '80s, Nanny Bills has something of a neighbourhood-minded vibe about it.
Classic Nanny Bills burgers include 'The Dalston Dip' (a double beef patty with American cheese, onions and gravy) and 'The Hot Mess' (a buttermilk fried chicken patty with American cheese, smoked bacon and hot sauce). Or try a pot of their renowned mac 'n' cheese croquettes. Vegans and vegetarians can rejoice with the separate plant-based menu of burgers and 'chicken' nuggets.
Address: Unit 6, Boxpark, 18 Olympic Way, Wembley, London HA9 0JT
Phone: 078 2674 3687
Email: [email protected]
Follow: @nannybills
Enjoy the Best Food in Wembley
If you're thinking of living in Wembley, you'll have so many great food places on your doorstep. Not only the vibrant Boxpark food hall, but also a diverse selection of takeaways, cafés and diners.
You can be part of this stylish, up-and-coming neighbourhood by renting one of our stunning apartments in Wembley Park, with a short 12-minute commute into Central London.