After a long walk with your dog, sometimes all you want is to relax with a pint and some tasty pub food. Thankfully, the capital is home to numerous dog-friendly pubs. From Wembley to Ealing, Hammersmith to Shepherd's Bush, you'll have loads of dog-friendly pubs in West London to choose from when you live in this area.
Gone are the days that you need to leave your pooch at home when you go to hang out with friends.
Whether you're looking for a sprawling beer garden for you and your dog to enjoy in the summer months, a traditional local pub with great food, or one conveniently located to a park walk, we've chosen eight of the friendliest and cosiest dog-friendly pubs in West London.
You and your dog can expect to receive a warm welcome in all of these.
The White Horse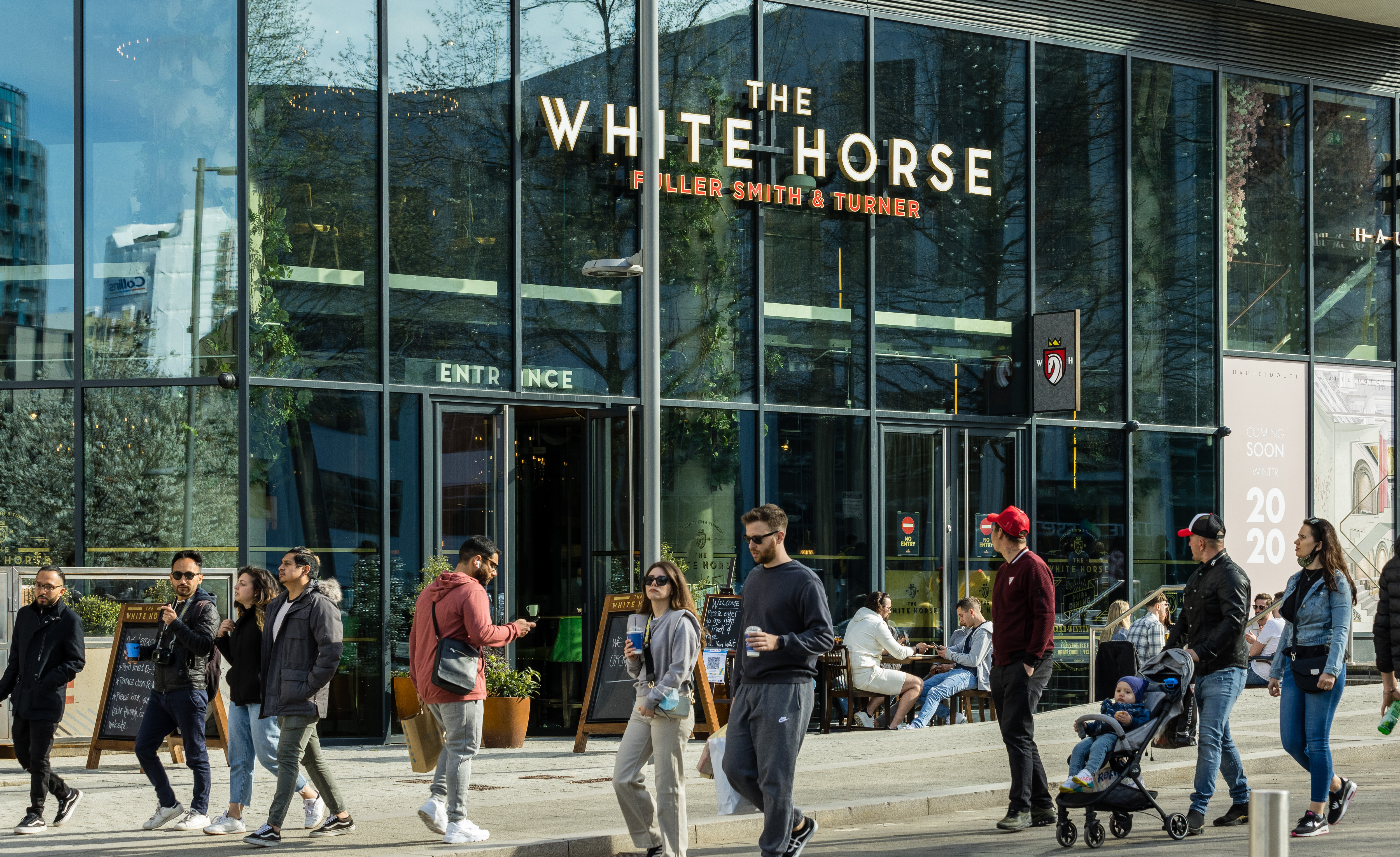 Stylishly decked out, The White Horse in Wembley Park is a cosy and chic hangout for you and your (furry) friends. Set over two levels with a large outdoor terrace, there's plenty of space for you to unwind. On sunny days your dog will love people-watching in the garden area, while the cosy lounge chairs indoors are particularly inviting in the colder months.
On the menu, you can expect laidback, pub classics throughout the day. Visit in the mornings for a hearty full English breakfast (plant-based option available too). Choose from the generously filled sandwiches at lunchtime or order a traditional pub meal in the evening. If you're not feeling peckish, the relaxed atmosphere makes this West London pub a good place to simply enjoy a drink.
Address: 4 Wembley Park Boulevard, Wembley Park, Wembley HA9 0HP
Phone: 020 8237 8037
Email: [email protected]
Follow: @whitehorsewembley
Royal Oak
Located on Harlesden High Street, the Royal Oak will become your local dog-friendly pub when you live this side of West London. Serving traditional pub grub, an extensive range of craft beers and generous Sunday roasts, the NW10 pub is a good meeting place for everyone.
With a friendly, community-minded vibe, you can rest assured your dog will feel right at home in this pub too. The outdoor beer garden is an expansive space to catch the sun's rays, enjoy alfresco dining and spot other dogs. Visit on certain days for quiz nights and live sport match screenings.
Address: 95 High Street, Harlesden, London NW10 4TS
Phone: 020 8965 0228
Email: [email protected]
Follow: @royaloaknw10
The Grange
Overlooking the expansive Ealing Common, The Grange is a picturesque haven for some respite after a long walk with your dog. With its colourful and stylish interiors, your mood (and your dog's) will instantly lift when you step over the threshold. You'll also find a beautiful all-weather garden, complete with heaters and blankets in the winter or blossoming flowers in the summer months.
The menu is carefully curated to make the most of seasonal British produce. The diverse dishes cater to all dietary requirements, so there's something to suit all palates. Savour a Sunday roast with all the trimmings, tuck into a classic pub burger or nibble on a sharing platter with friends.
Address: Warwick Road, Ealing, London W5 3XH
Phone: 020 8567 7617
Email: [email protected]
Follow: @thegrangeealing
The Brown Dog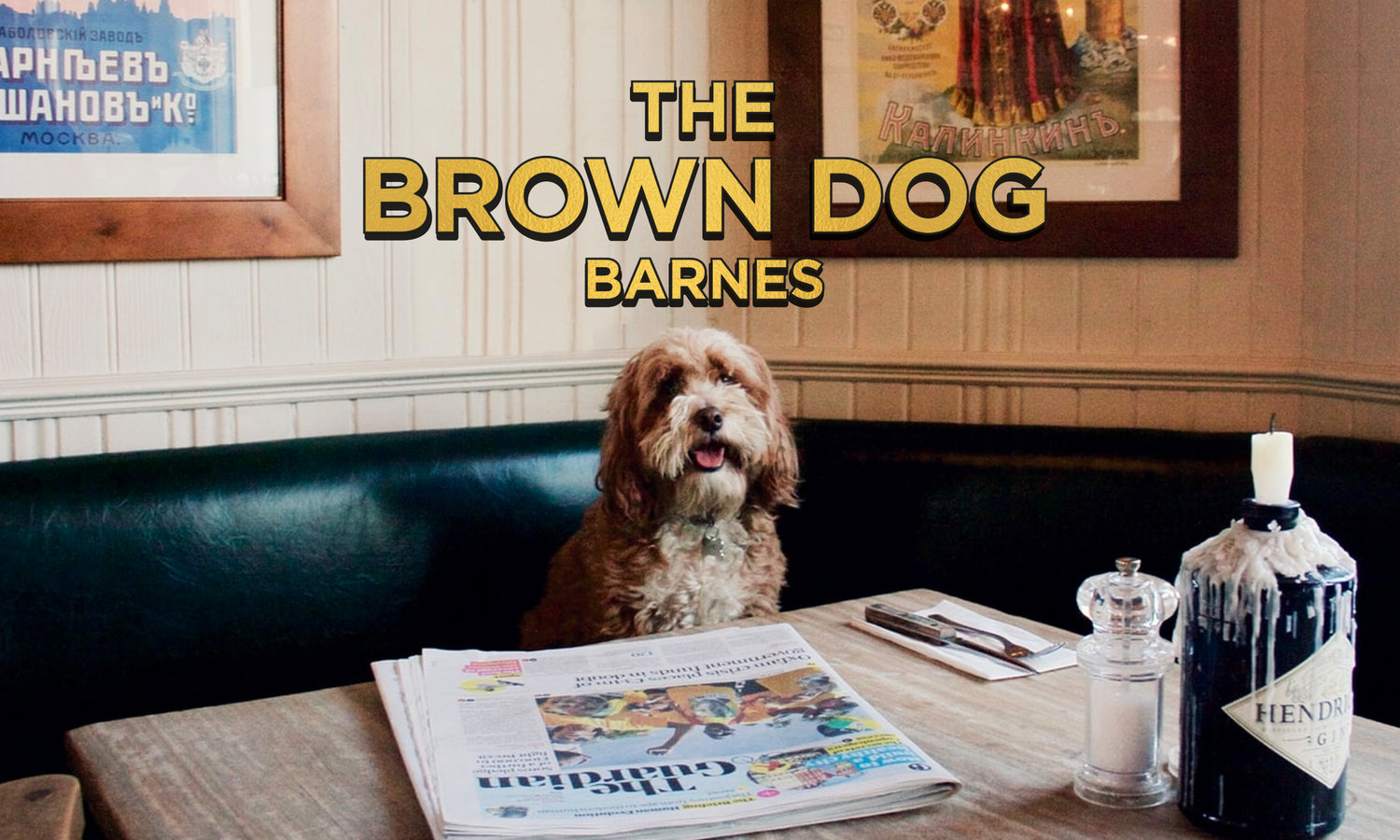 The clue is in the name with The Brown Dog. This dog-friendly pub in West London is a calm retreat welcoming all kinds of pooches. Whatever time of day you visit, your dog will be spoilt for choice when it comes to making new four-legged friends.
Tucked away along a leafy street in Barnes close to the Thames, the Victorian pub is expertly located as a rest spot after a long riverside walk. You can sip on one of the many craft beers on offer from local London breweries, while your dog will be treated to a bowl of water and even some snacks, if they ask nicely. The food menu consists of the best of contemporary British cuisine, from venison and onion pie to a seasonal roasted vegetable tart.
Address: 28 Cross Street, London, SW13 0AP
Phone: 020 8392 2200
Email: [email protected]
Follow: @browndogbarnes
The Alice House
Run by a dog-loving team, The Alice House invites dogs of all ages and sizes to the Kilburn venue. Inside, the comfy leather armchairs, trailing fairy lights and exposed brick walls offer a relaxed atmosphere, which is especially welcoming after a brisk walk around the nearby Queen's Park garden.
The menu is crafted with sustainability and seasonality in mind, letting you dine on delicious British pub food. Visit in the mornings for a pick-me-up coffee and brunch, in the evening for drink and classic pub meal, or on Sundays for the special roast menu. The owners will happily provide a water bowl and treats for your pooch.
Address: 53-55 Salusbury Road, Queen's Park, London NW6 6NJ
Phone: 020 7624 0008
Email: [email protected]
Follow: @alicehouseqp
The Whippet Inn
With a doggie mascot at its helm, The Whippet Inn is a large, dog-friendly pub in Kensal Rise. You and your dog will have plenty of room to unwind – the heated, all-weather garden is a great meeting spot for friends (humans and dogs alike), but there's an abundance of indoor seating too.
Situated near to Queen's Park and Regent's Canal, The Whippet Inn is a good place to stop after a park or waterside walk with your dog. When you get there, the staff will happily provide water for your pooch while you order your drink of choice. There's a wide selection of local craft beers, international wines and classic cocktails to choose from.
Address: 64-66 Chamberlayne Road, Kensal Rise, London, NW10 3JJ
Phone: 020 8968 8142
Email: [email protected]
Follow: @whippetinn
The Princess Victoria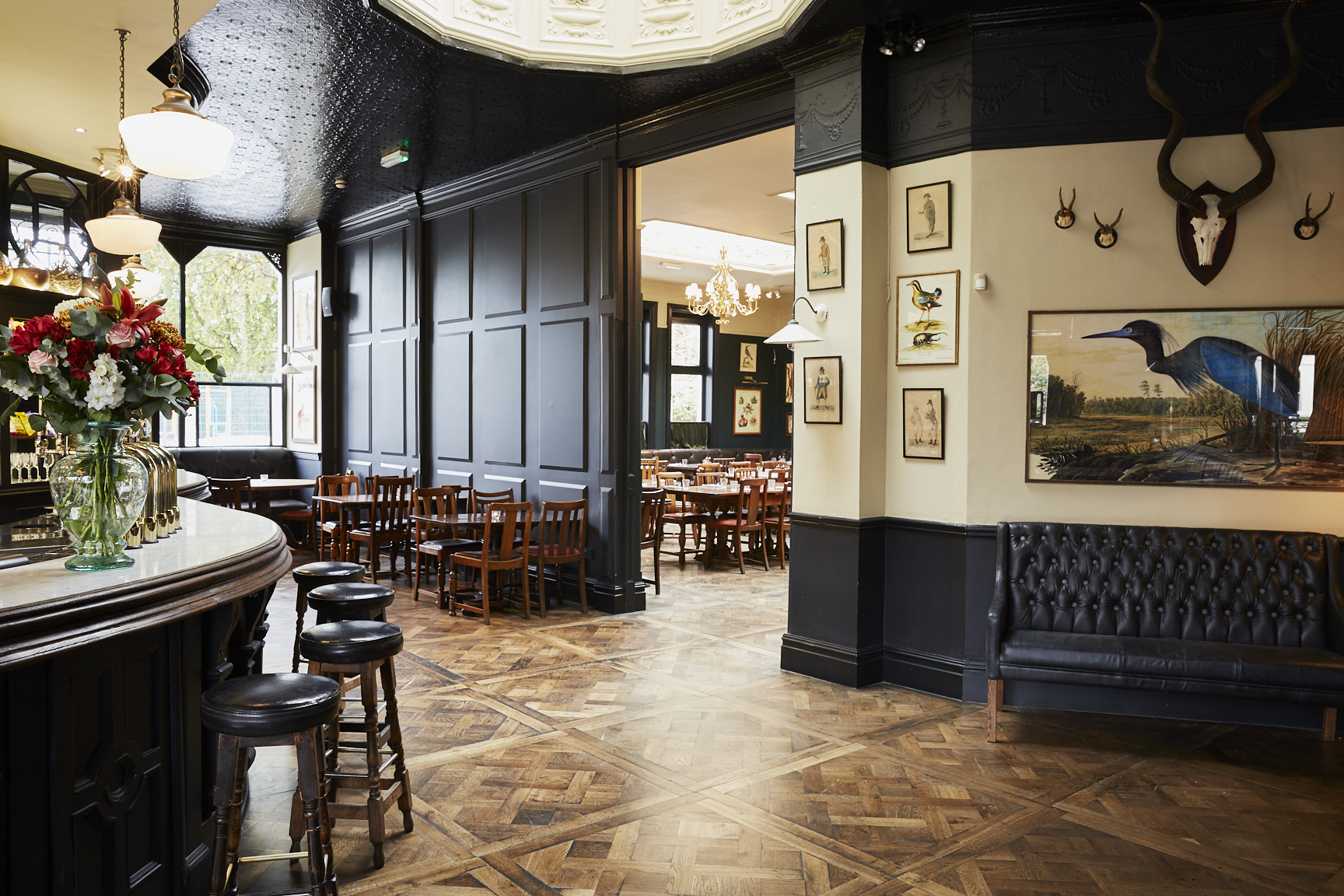 Serving good food and drinks in Shepherd's Bush for nearly 200 years, The Princess Victoria has enjoyed a modern facelift in recent years. The pub was originally a renowned gin palace after opening in 1829. Today, you can still expect more than 100 gins, paired with an extensive British-inspired seasonal food menu.
This dog-friendly pub in West London welcomes your pooch throughout the cosy venue. Your dog will love taking a nap in the rear courtyard garden, watching passers-by from the front terrace or simply enjoying the attention of other guests in the bar and dining area. Dog treats and water bowls are available upon request.
Address: 217 Uxbridge Road, Shepherd's Bush, London, W12 9DH
Phone: 020 8749 4466
Email: [email protected]
Follow: @threecheerspubs
Blue Anchor
The Blue Anchor pub in Hammersmith offers picturesque views over the River Thames. The pub is a popular spot for watching the annual Boat Race thanks to the abundance of outdoor seating. Whatever time of year you visit though, dogs can expect a warm welcome.
If it's sunny, grab a spot outdoors and watch the world go by along the river with a pint. Dogs are allowed indoors too and there are even some tasty snacks waiting behind the bar.
As one of Hammersmith's oldest pubs, you'll find glimpses into its history dotted throughout, including some original fixtures. The all-day menu celebrates the best of British cuisine with favourites like fish and chips, smoked mac 'n' cheese, and even a vegan 'cheeseburger'.
Address: 13 Lower Mall, Hammersmith, London W6 9DJ
Phone: 020 3951 0580
Email: [email protected]
Follow: @blueanchorw6
The Best Dog-Friendly Pubs in West London
When you live in West London, you'll be spoilt for choice when it comes to classic pub food, a welcoming community-minded atmosphere and dog-friendly spaces.
Experience the best drinking holes for you and your dog in this friendly side of London when you live in our apartments in Wembley Park. We love dogs as much as you do, which is why some of our buildings include pet-friendly rental apartments.