The weather is improving and the taste of summer is in the air - what better time to put on your running trainers and head outdoors? In this blog post, we are going to highlight some of our favourite running routes in West London and why we love them. Don't worry, there are routes for all different abilities, so you can take it at your own pace and speed. Ready set, go! 
Running routes in London 
London has a multitude of amazing running routes, and you can easily escape from the hustle and bustle of the Big Smoke if you find the right spots. In fact, some of the best running routes in London are in the west of the city - particularly near Wembley Park. Boasting beautiful parks, open spaces and gorgeous views, they are everything you'd want from a run. If you live in our apartments or are considering renting with us, these running routes are a great way to get to know the local areas, and get fit while doing so.
Top tip - if you want to stay very close to home, you can run around Wembley Stadium, which is almost a perfect 5k! 
The health benefits of running 
Before we jump in, let's talk about why we run. Running, put simply, does wonders for both the mind and body. Physically, running has been proven to improve cardiovascular fitness, build strong bones and muscles, reduce body fat and strengthen the immune system. Mentally, running can help relieve stress and anxiety by pumping you full of endorphins, and providing a mental reset.
Have you ever realised that post-run, the filing cabinets inside your head feel a little less full? That's no accident, and running has resulted in many individuals seeing long-term improvements in their mental health. As well as this, running can help you sleep better, more deeply and for longer, which improves your lifestyle overall. Honestly, it's a no brainer - dust off those trainers and get going!
Our favourite West London running routes
1. King Edward VII Park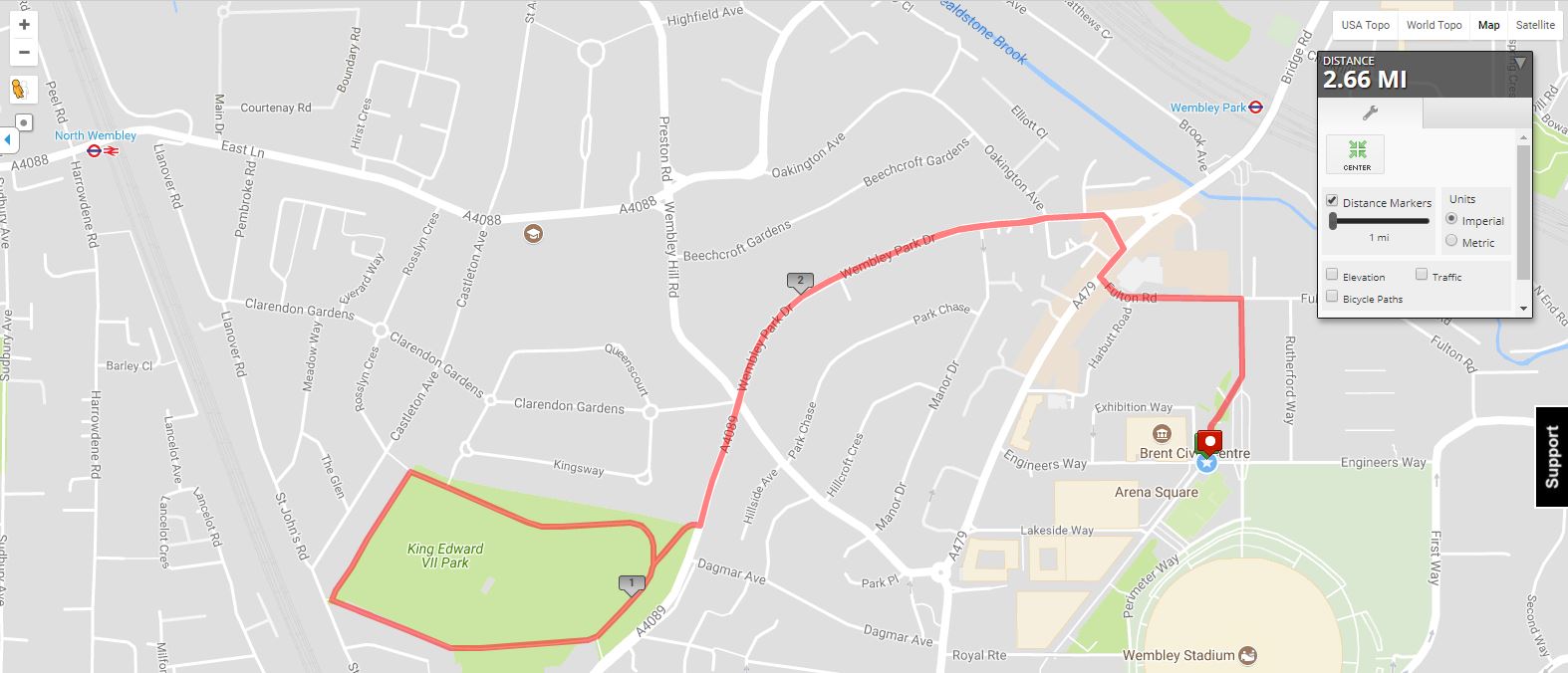 Distance: 2.70 miles/4.4km
Good for the casual jogger, this route takes in the lovely King Edward VII park, located very close to Wembley Park. It is a fairly flat course, looping nicely around the park and taking you past the football pitches, bowling green and flower garden. If you need a challenge with a bit more of an incline, then start your run off on Dagmar Avenue or Wembley Hill Road. We'd recommend this little run for a lunchtime jog to de-stress. 
2. Tokyngton loop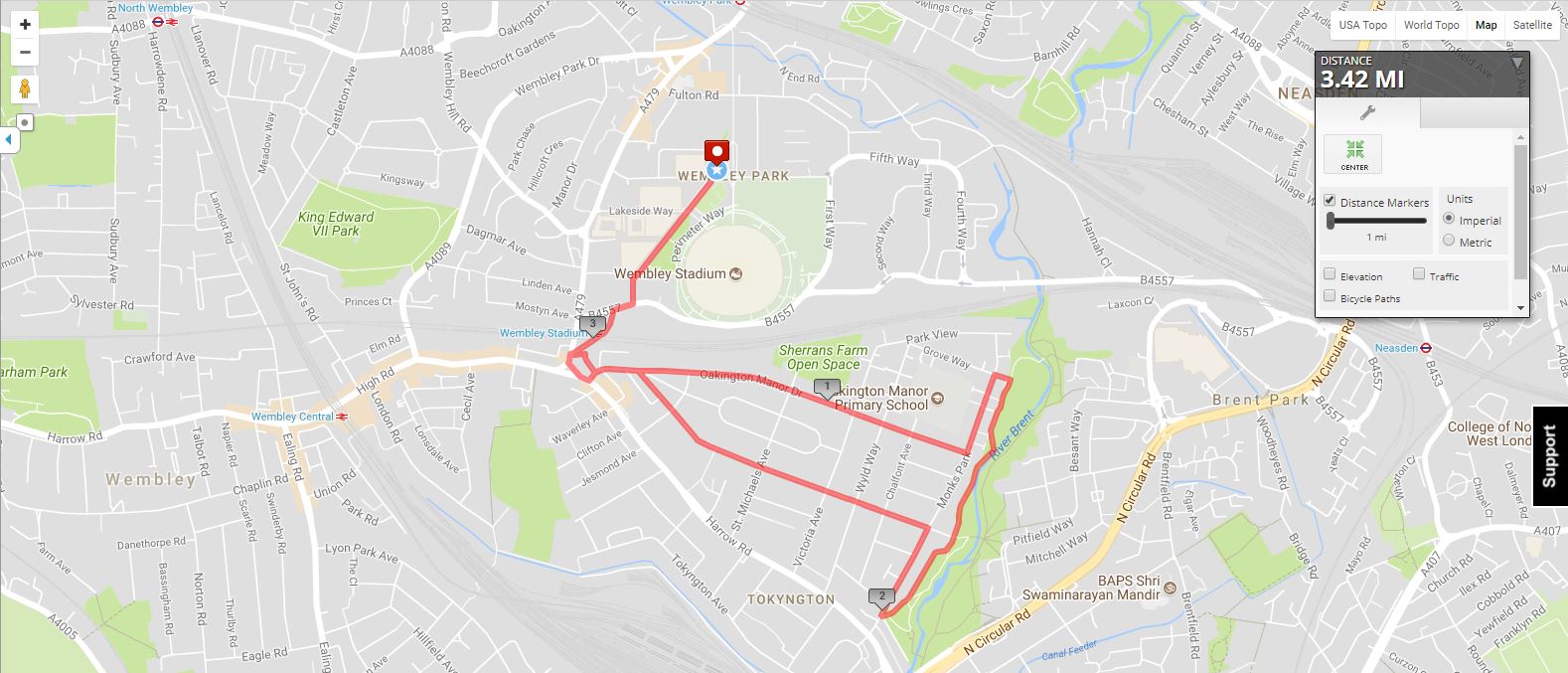 Distance: 3.40 miles/5.5km
Another fairly flat route with a maximum elevation of 51m, this run heads southwest out of Wembley Park, over the railway lines and into the quiet residential roads of Tokyngton. This fairly scenic route also takes you through the Tokyngton Recreation Ground and alongside the River Brent before you head home. A nice 5.5k to get your heart racing. 
3. Fryent Country Park loop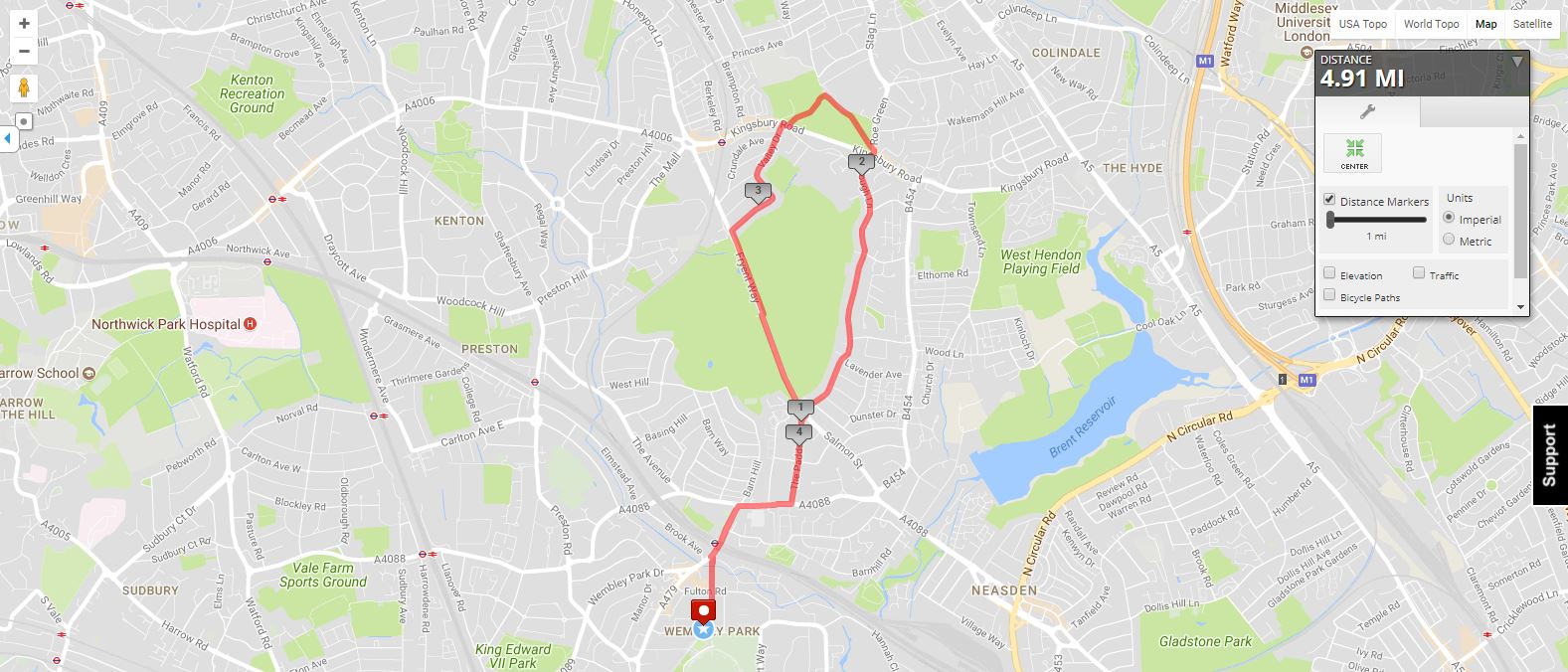 Distance: 4.90 miles/7.9km
Fryent Country Park is a designated nature reserve, and is used by local conservation volunteer groups and a small section of it is even used for grazing ponies! The park itself covers 103 hectares of traditional countryside and is pretty hilly, with the highest point rising to 86m. Therefore, to stop you getting completely covered in mud, this run takes you through the centre on Fryent Way and then around the park through quiet residential roads. This 7.9k may stretch you, but it's well worth it. 
4. Brent Reservoir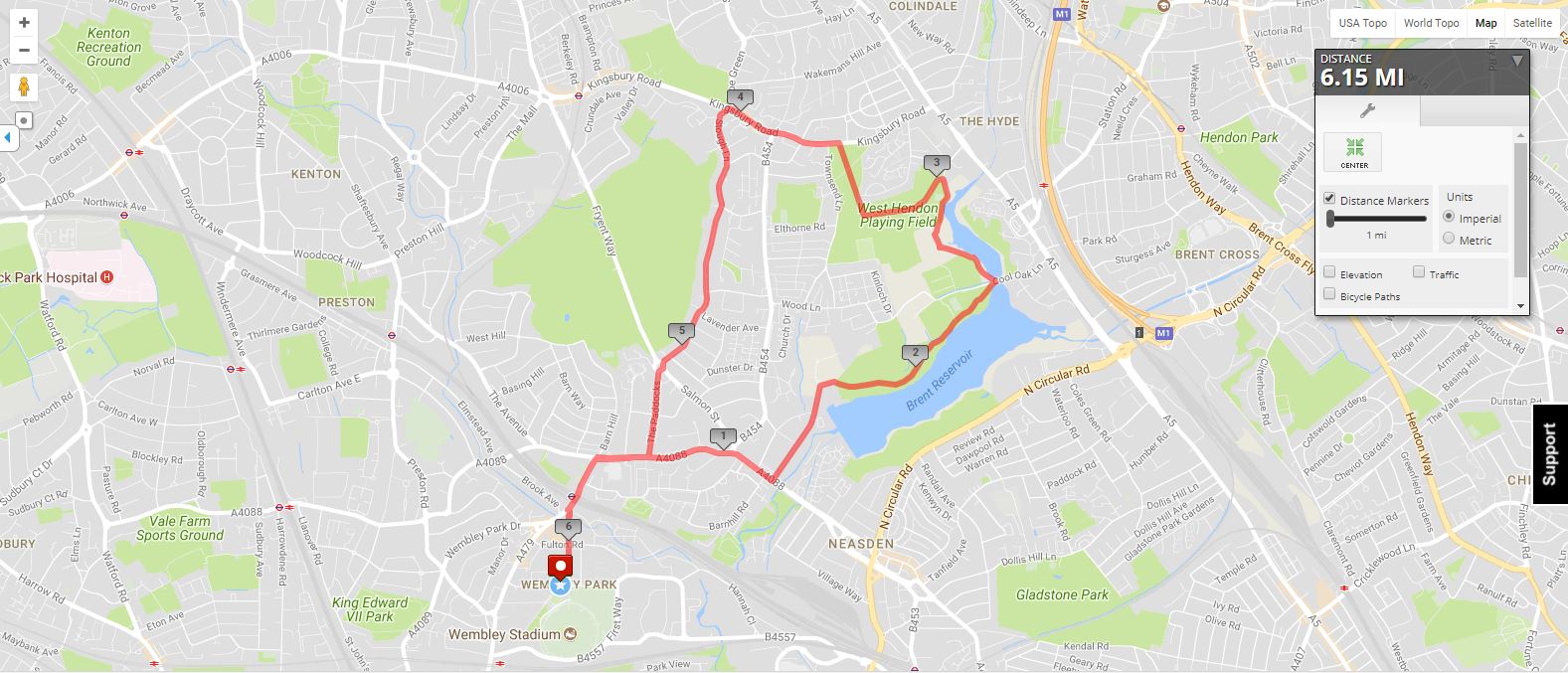 Distance: 6.15 miles/10km
Feel the need to run off-road? Choose this route and jog around Brent Reservoir - although you do have to go past some fairly busy roads to get there. However, it's well worth it when you reach the peaceful woodland trails and run alongside a beautiful oasis of water and greenery. As you run by the reservoir, you might even spot a number of water birds, including little grebes, willow warblers and ducks. We know it's 10k, but afterwards you'll feel amazing!
5. Harrow on the Hill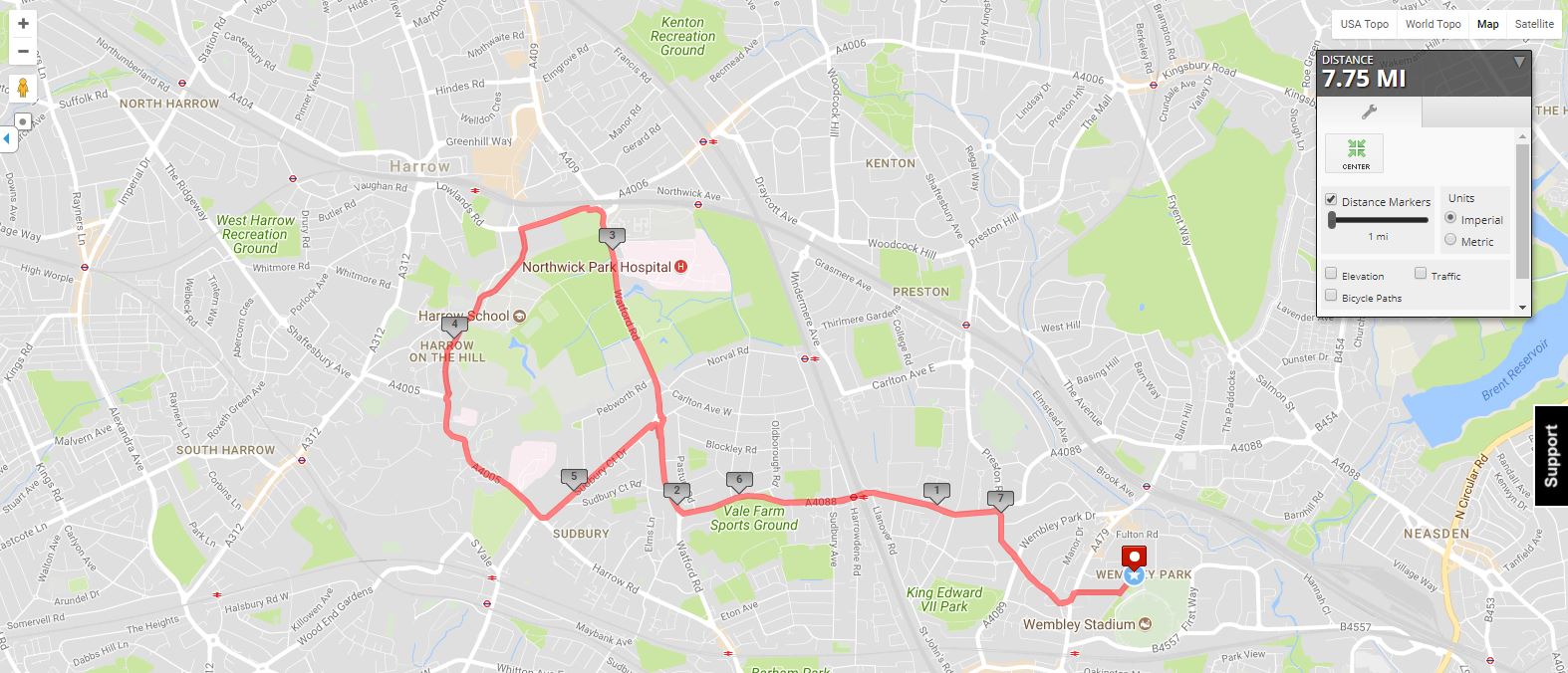 Distance: 7.75 miles/12.4 km
The longest of our five routes, and also one with a 140 ft climb - this bad boy is definitely not one for the faint hearted. The climb may be steep, but the sights are pretty special. It takes you right past the famous Harrow School and there's a rather epic view of London to reward you after you've made it to the top of the hill. If you're feeling like you want even more of a climb, then go through St Mary's Church and drop down onto Churchfields. This is the perfect route to challenge yourself. Next stop, the Olympics!
6. Burnt Oak trail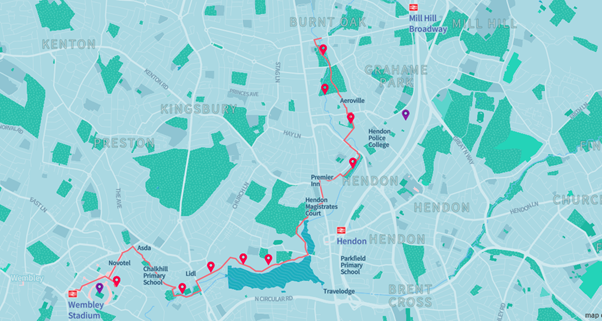 Distance: 6.0 miles/10.0 km
New run alert! The GLA (Greater London Authority) has released a new nature trail from Burnt Oak to Wembley Park. Immerse yourself in the wild with this run, as you go through open marshes, woodlands and grasslands. On the run, spot some beautiful wildlife, including one of the country's largest colonies of great crested grebe. This run finishes at Wembley Park, where you can refuel at one of the many great coffee shops. Yum!
So that's it! Our favourite running routes in London. We've said it before but we'll say it again: we think West London has the best runs - period. Living with us at Quintain Living gives you easy access to all these routes, and you're still only 12 minutes from central London! Get in touch with a member of our fantastic team to have a natter about our spaces, and book a viewing.