If there's one positive to take from the pandemic, it's that we've become a nation of cyclists. Since April 2020, bicycle sales have increased by a whopping 60%. We've saddled up and hit the roads and parks around the capital, venturing everywhere from West London cycle routes to trails in the north, east and south. 
But it's West London that has our focus. And we've put together a selection of the best cycle routes in this part of the city.
So strap on your helmet and discover the best cycle routes in West London and the surrounding areas.  
1) The Road to Wembley
Ok, so Wembley Park is technically located in northwest London. Still, it's such a good cycle route that we had to include it on the list. Let's just say that we're focusing on the west in "northwest". Known as The Road to Wembley, this route features a football theme and features, you guessed it, Wembley Stadium.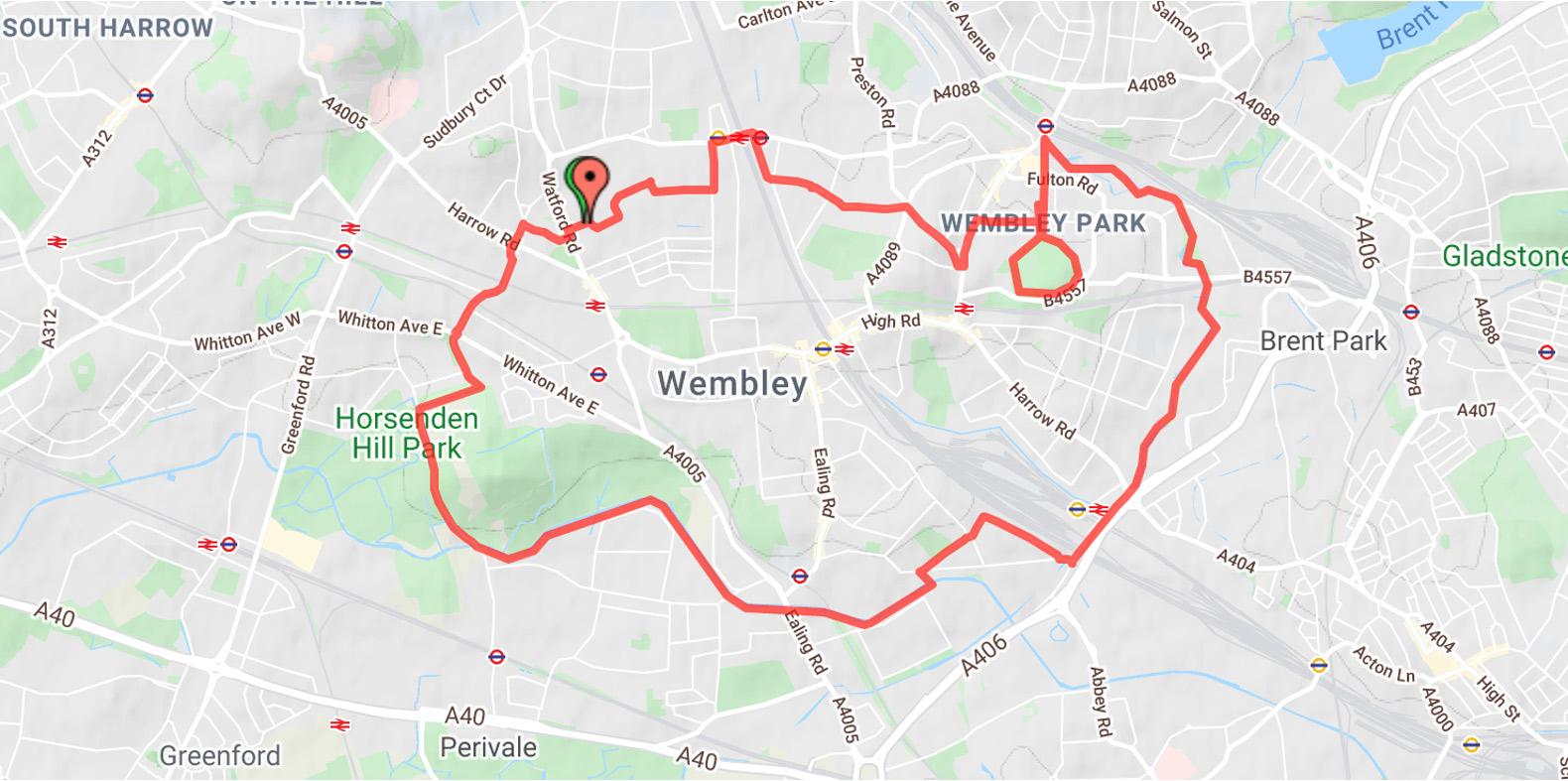 It's about 10 miles long, and you can either start at Cycle route source: Let's Ride
2) Regent's Park East Side
If you want to soak up some of Central London as well as parts of the west, the Regent's Park East Side ride is for you.
Starting in the east side of Regent's Park in NW1, this route lasts for almost 30 miles and requires a decent level of fitness.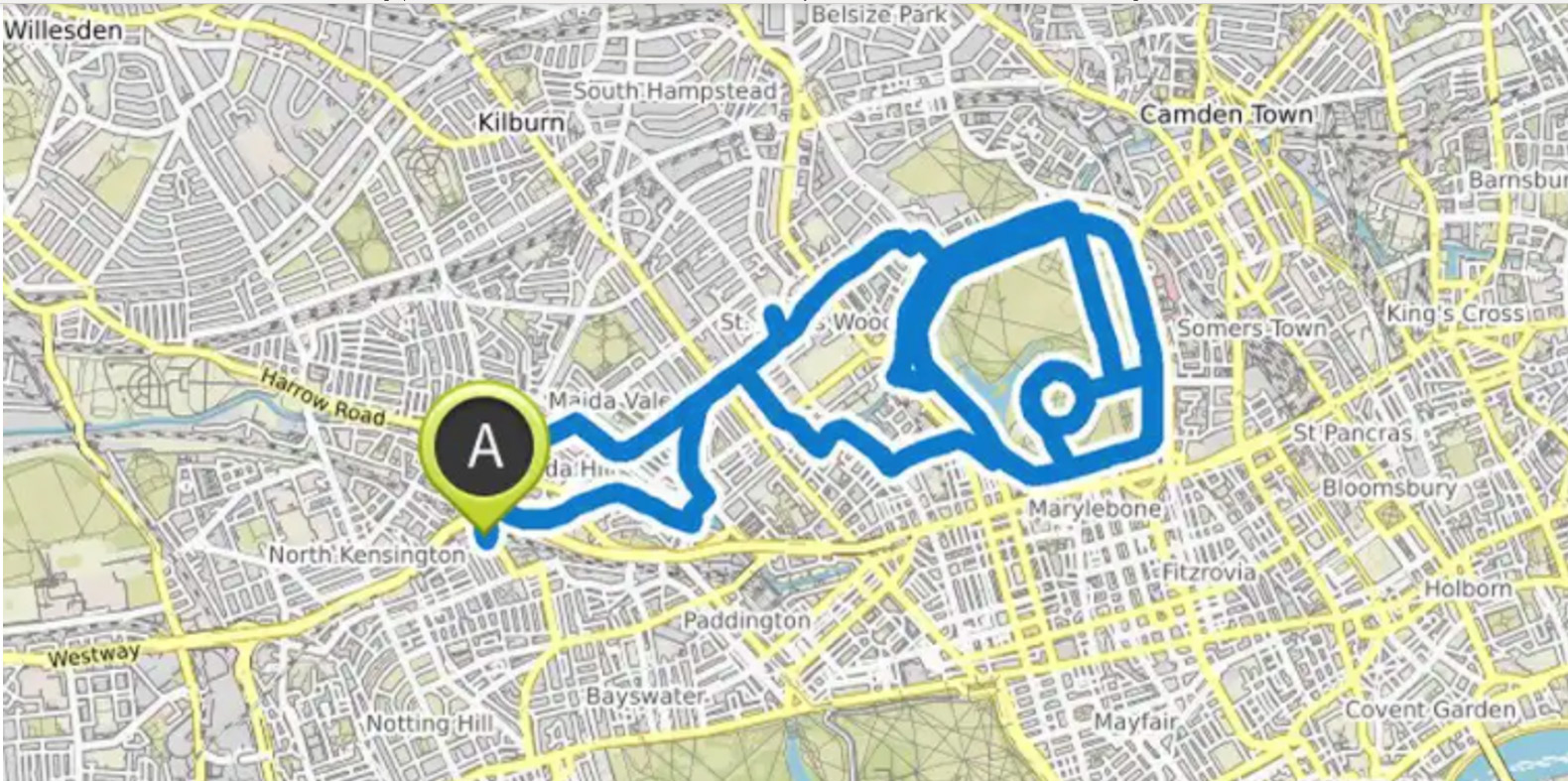 Take in the canals along the trail in Regent's Park as you make your way towards West London's Westbourne Terrace. Other notable highlights along the ride include London Zoo, Abbey Road Studios and Little Venice.
Cycle route source: Komoot
3) Box Hill
The Box Hill bike ride is one of the best cycle routes in West London, but it requires an expert level of cycling experience.
A scenic-filled journey awaits you if you've got the calves for a 75-mile trip, which starts in West London's Parsons Green.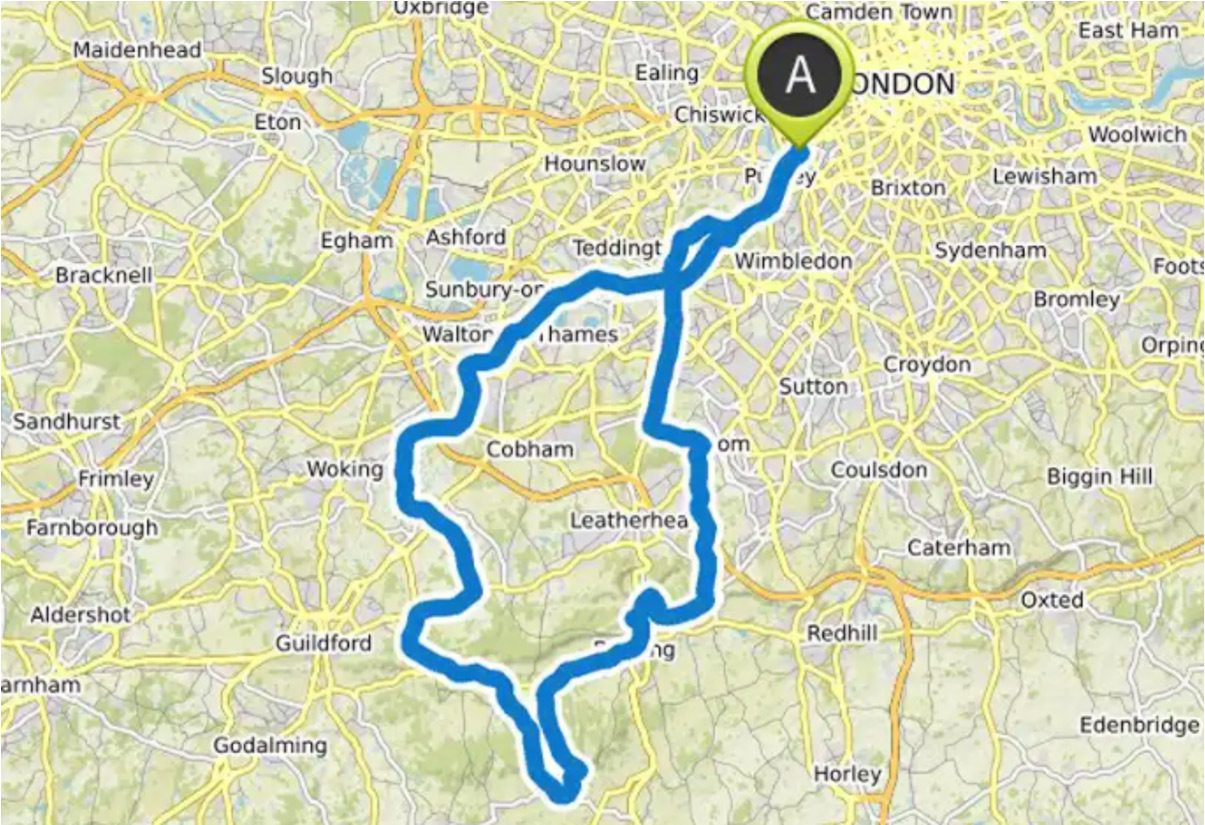 Stop off at the Denbies Vineyard Wine Estate about 50 miles into the ride and admire the vineyards before ending the ride at Richmond Park. Take a moment to catch your breath and enjoy the local nature and some deer spotting.
Cycle route source: Komoot
4) Northwest London Loop
The northwest London loop is a delightful cycle on a relaxing Sunday afternoon. Work up an appetite for a tasty Sunday roast by visiting some of the most popular neighbourhoods in northwest London.
The route lasts for around 12 miles and starts in Kensal Rise. Along the journey, you'll see the boutiques at Queens Park and the cafés in West Hampstead.
There are also scenic sights on offer with the open spaces of Hampstead Heath and the canals in Camden.
Cycle route source: Cycle-route.com
5) The Three Parks
The Three Parks is an east to west cycle route that features some of London's most iconic sights. Starting at St. Paul's, the journey will see you cycling past the Houses of Parliament and three of London's best parks: St James', Green Park and Hyde Park.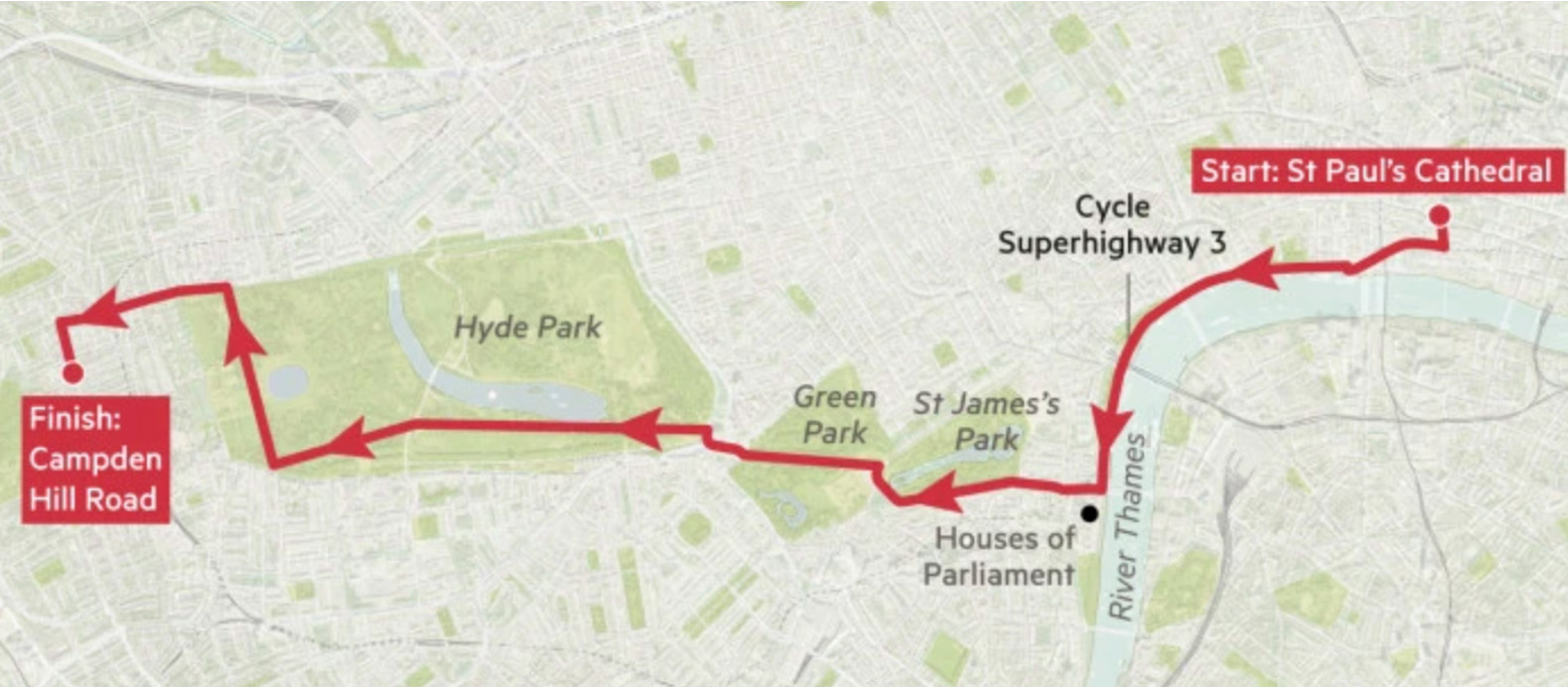 Being a confident cyclist helps on this route, especially as you can expect a fair amount of traffic in between the parks. Overall, The Three Parks route is a little more than five miles long and takes just over half an hour if you're not making a return trip.
Cycle route source: FT.com
6) The Hoover Building
Get on your bike and go on a 20-mile journey that passes London's impressive Hoover Building. There are some great views along this cycle route in West London, including Yeading Brook and Northala Fields in Ealing.
You can also take a detour if you like, breaking off to visit the nearby Wembley Stadium and its iconic arch. And of course, there's the Hoover Building — a Grade II listed building that first opened in 1933 and is now used as residential apartments.
Cycle route source: Londonist
7) West London Loop
Enjoy one of the best cycle routes in West London and loop around as you take in delightful green spaces and architectural delights. Starting at Ealing, you'll visit places like Northolt and Greenford Countryside Park, the latter of which was designed for conversation and public use.
Bushy Park — once King Henry VIII's hunting spot — also features along the route, as does Perivale and another chance to see the Hoover Building. There's also a 12th-century church and the unique Northala Fields, which were created from 60,000 lorry loads of soil from Wembley Stadium.
Cycle route source: Londonist
8) Osterley Park
A great cycle route for the whole family, visit the historic Osterley Park and enjoy woods, open land and hard surfaces that are ideal for your cycle. During your trip, you can expect to see rolling greens, giant old oak trees and horses riding on the same trail.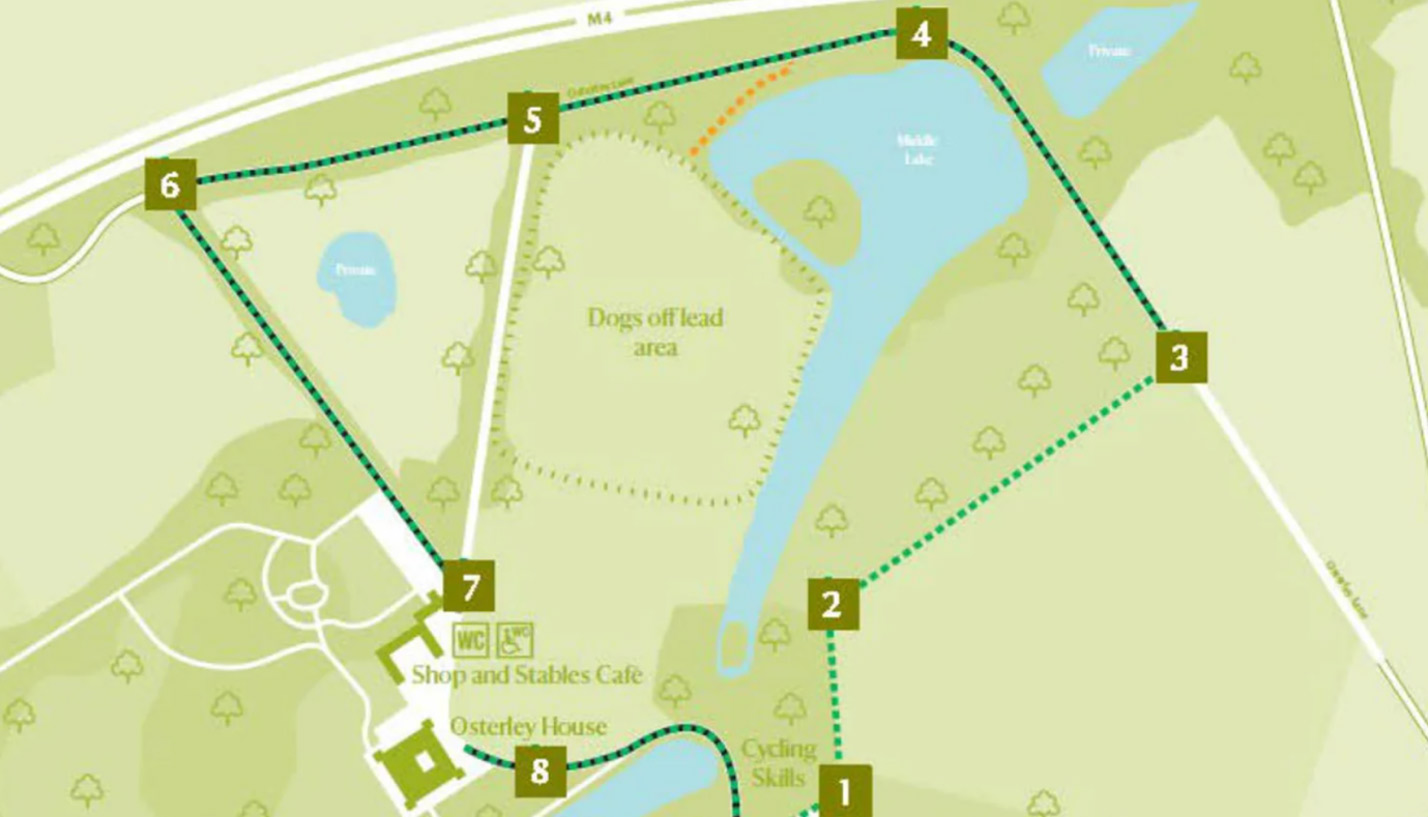 But it's not only lush greens that are on the agenda during this bike ride. Osterley House features a stable and courtyard and is a site where you should stop to take a few pics of its grand exterior. There's also a café, just in case you decide to take five and enjoy a hot brew.
Cycle route source: National Trust
9) Chiswick and Kew
Chiswick and Kew feature lots of pretty sights and offer one of the best cycle routes in West London. They also provide a reasonably straightforward trail that anyone from beginners to pros can enjoy.
Start by riding along Chiswick's pretty high street before cycling along the River Thames and over Hammersmith Bridge.
Then head to Kew Gardens, which has its own cycling route and affords plenty of picturesque sights at the famous botanical garden. Overall, this route showcases a variety of sights and some of the best on offer when you're cycling through West London.
Cycle route source: The Points Guy and Kew.org
Top tip: visit Twenty3c first
Whichever route you decide to tackle, we recommend that you make sure that your bicycle can go the distance. If you need help in this area, then West London based independent cycle shop Twenty3c is the place to visit.
Their workshop in Wembley Park is ideally placed to tune-up your bike ahead of your big ride. Check out their list of services and prices here.
Best Cycle Routes in West London
Cycle routes in West London are full of variety. From iconic stadiums and buildings to acres of green space and waterside settings.
So for your next adventure on your bike, any one of these nine routes will cater to your cycling needs and provide a fun-filled journey with lots of impressive views.