For a new route on your doorstep with a difference, let us introduce you to the Wembley Park Art Trail. Part art exhibition, part way to get to know your area, the free trail consists of 15 pieces by leading artists and community contributors across a number of mediums, including paint, digital mixed media and upcycled materials.
As well as being a hub for sport and live entertainment, this latest exhibition confirms Wembley Park is also a centre for art and culture. Here are our three favourite artists for you to check out along the route.
Suiko
Japanese artist Suiko grew up in Hiroshima where he became a pioneer for graffiti art in the city. His unique style, which has helped him become one of the country's best-known graffiti writers, combines traditional Japanese art and writing forms with European graffiti influences – particularly Germany around 2000. When he's not transforming the streets of Hiroshima, he's worked on murals across the world in the likes of Paris, So Paulo and our very own Quintain Living Ferrum Building. His first residential project saw him spend three months at Wembley Park to create three separate pieces, including a large canvas that you can find at the side entrance and gym space of Ferrum.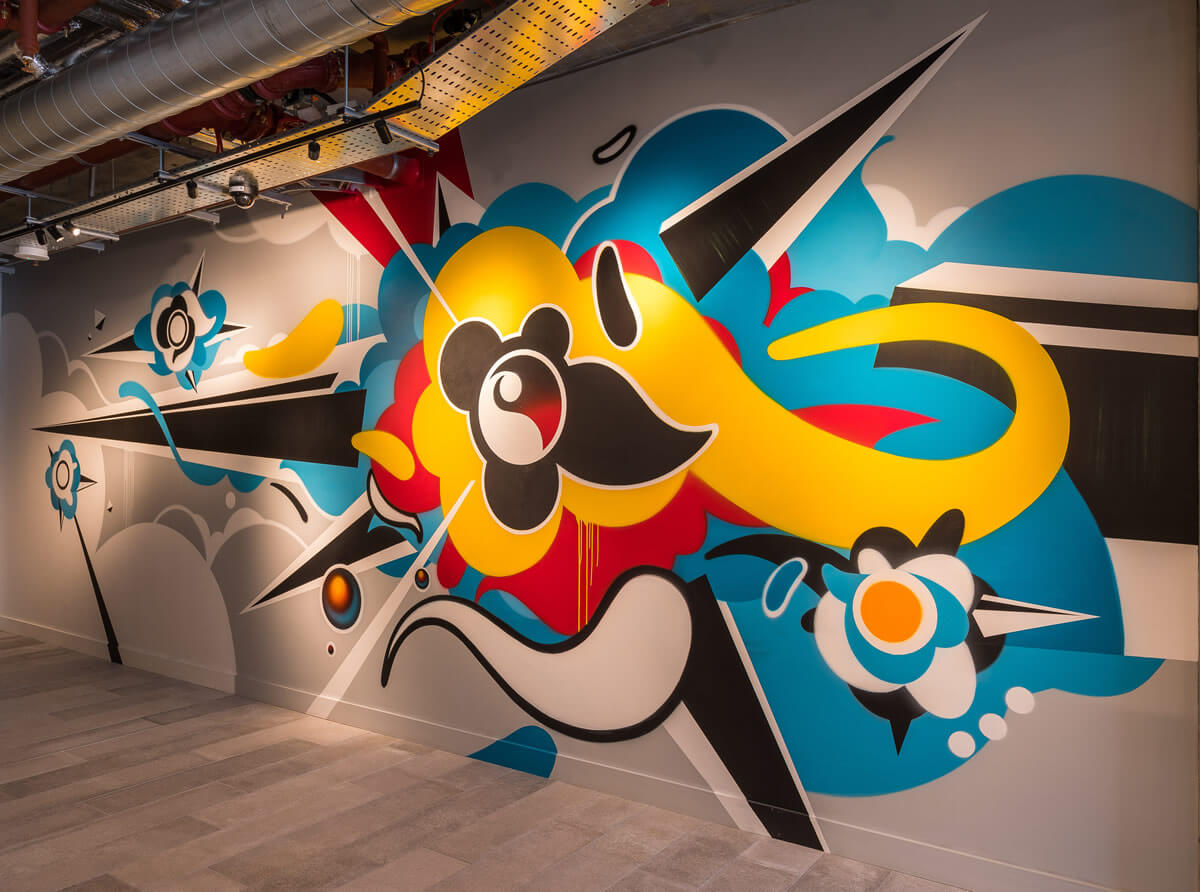 His latest street art commission sees him return to Wembley Park. You'll find Fire & Water at Elvin Gardens. It features two words, "水" (aqua) and "光" (solar) in Chinese and Japanese calligraphy, which he hopes inspire the development of the neighbourhood and the community's enjoyment of the park.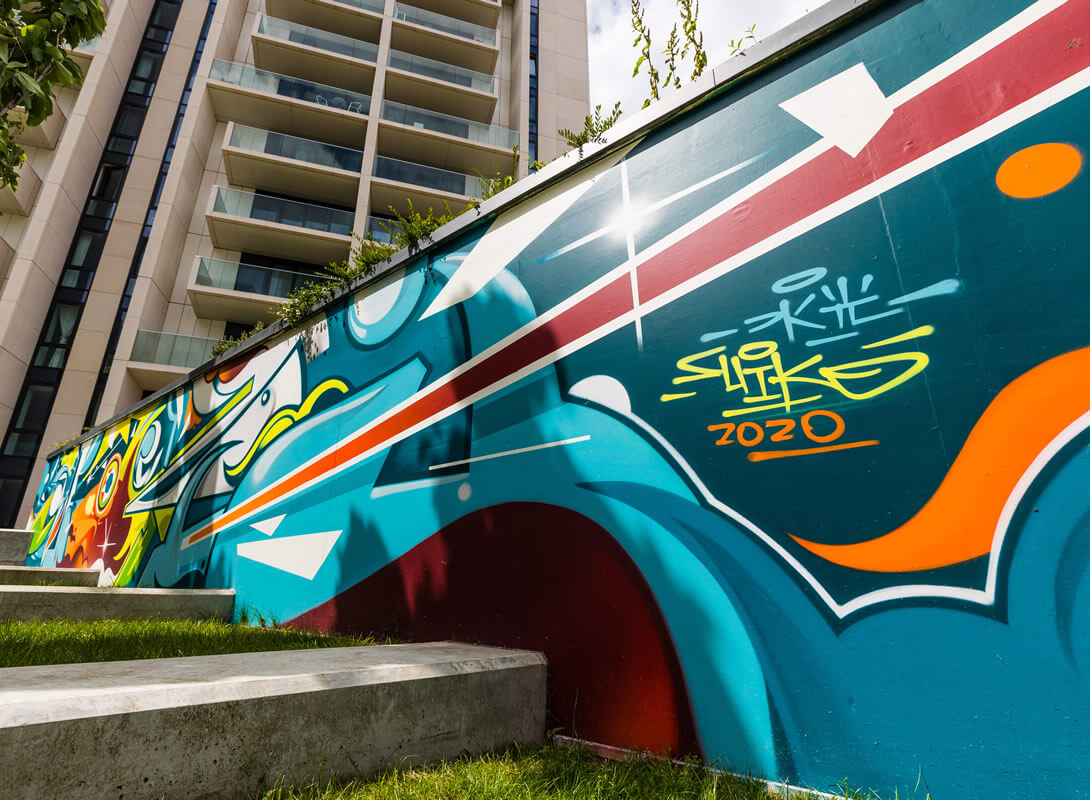 Louisa Smurthwaite
Louisa Smurthwaite is a renowned artist and lighting designer, who works from Second Floor Studios in Wembley Park. She has previously collaborated with the likes of Sam Smith and Florence & the Machine.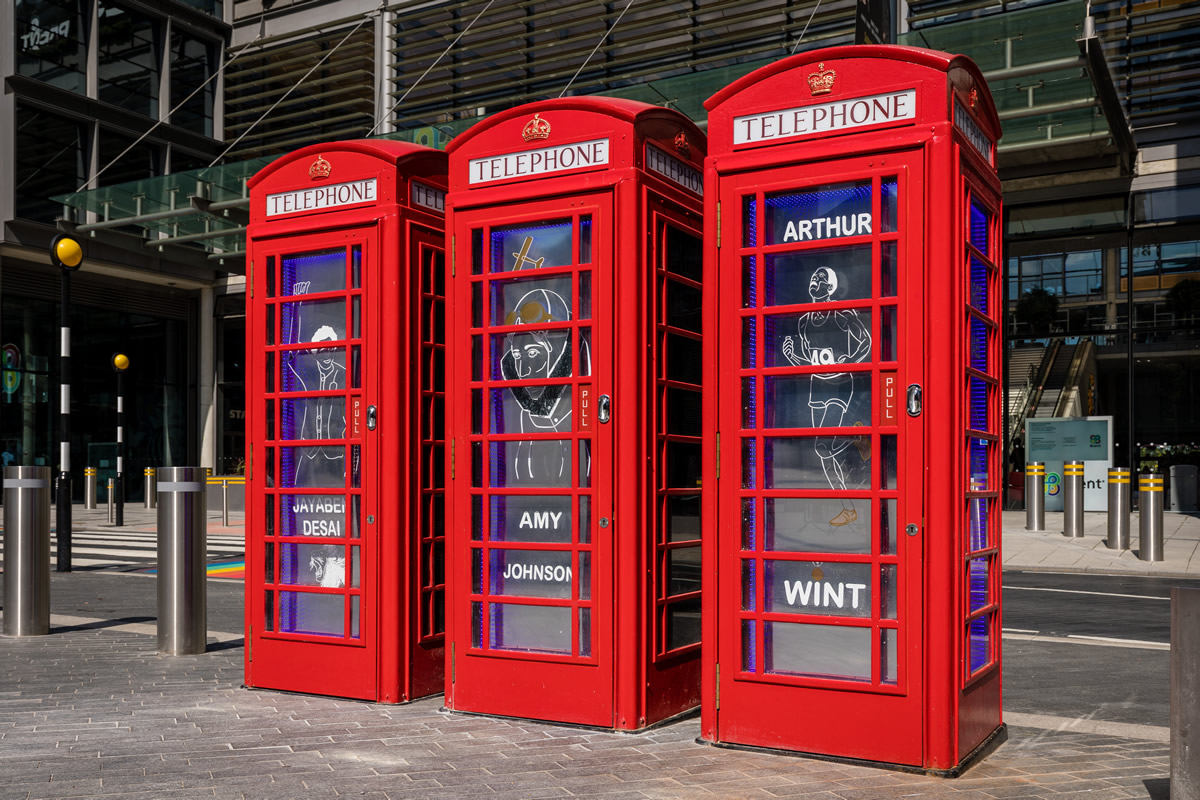 Putting her unique touch on Arena Square, she's transformed three classic red telephone boxes into a celebration of Brent heroes including George Michael, Twiggy, Arthur Wint, Amy Johnson and Jayaben Desai. Legends Calling sees these icons as floating blue lights in the phone boxes to represent the continuing reverberations of their achievements.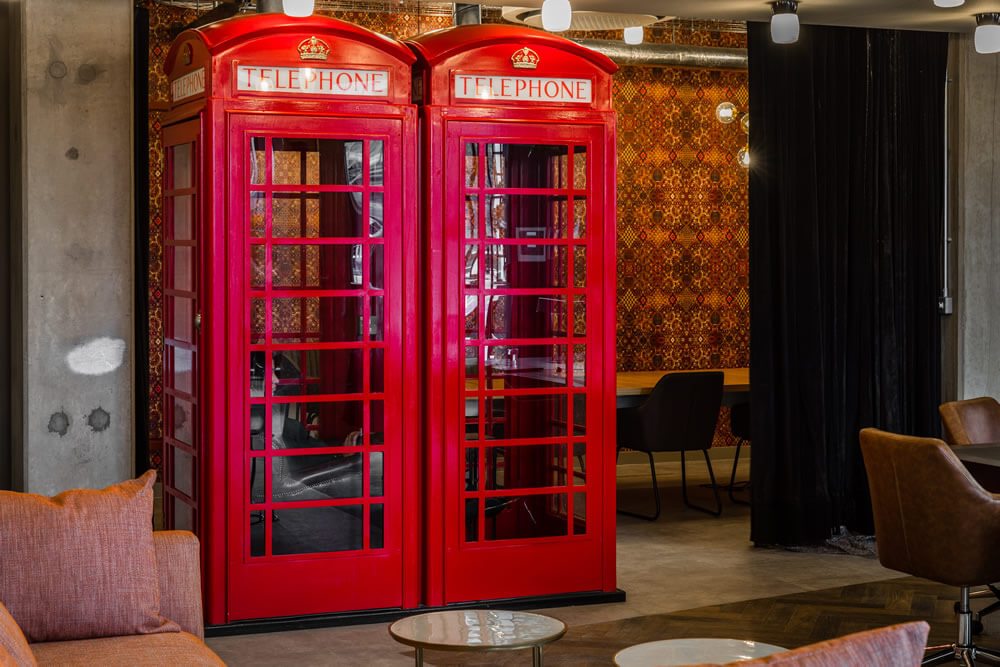 If you head to our Quintain Living office, you'll see why this is one of our highlights of the art trail – we're quite the fans of a red telephone box and love to enjoy a quiet moment or two in our own.
Mr Doodle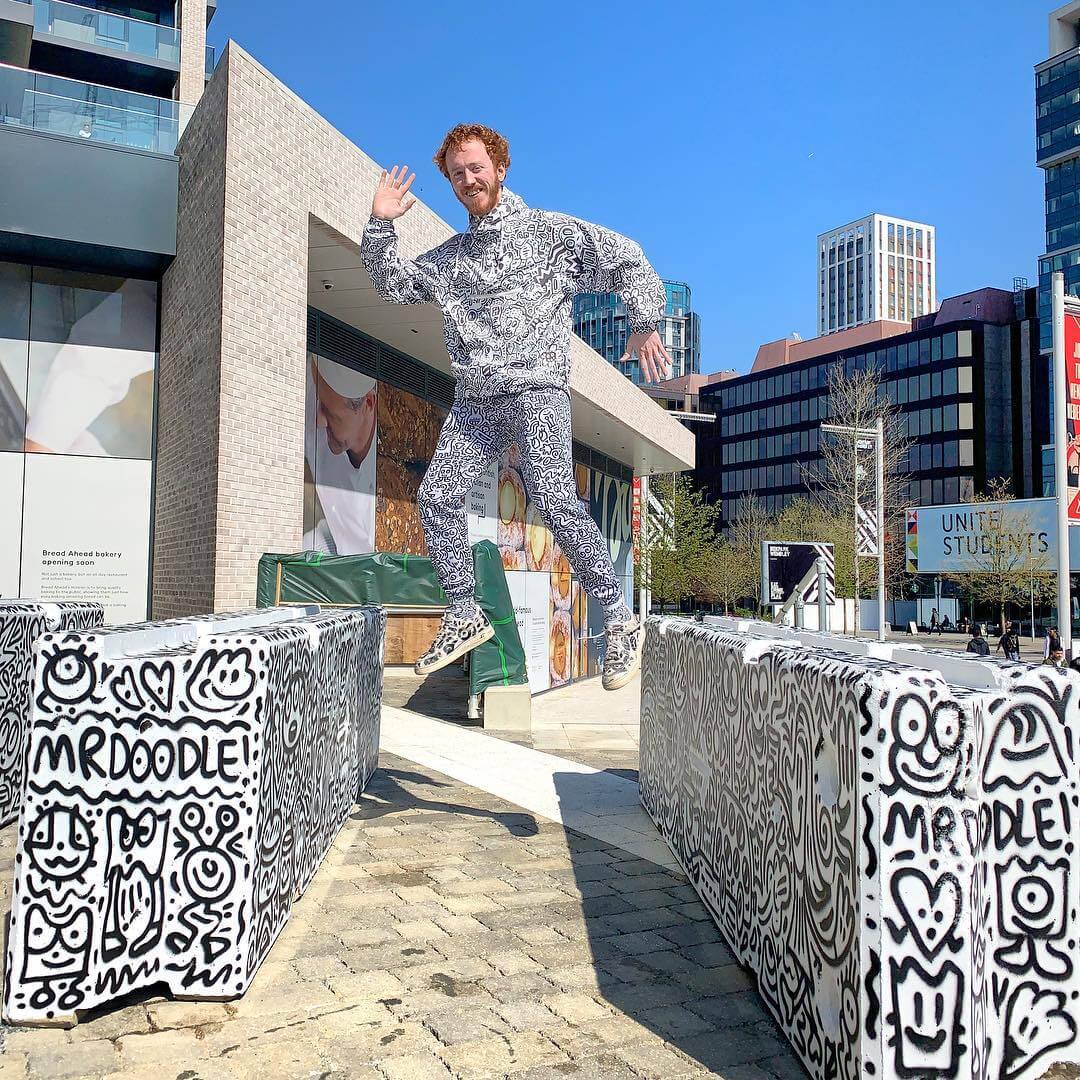 From solo exhibitions at Sotheby's to collaborations with Puma, Mr Doodle (also known as Sam Cox) is one of Britain's much-loved artists. He first brought his "graffiti spaghetti" style to Wembley Park in 2017 for some of the site's first pieces of public art, before returning again for an exclusive installation just for us at our new Quintain Living hub in 2019. This isn't just any work of art – this caravan doubles up as a coffee spot for adults and a play room to keep the kids busy while their parents are taking a look around. You can see him in action on Instagram.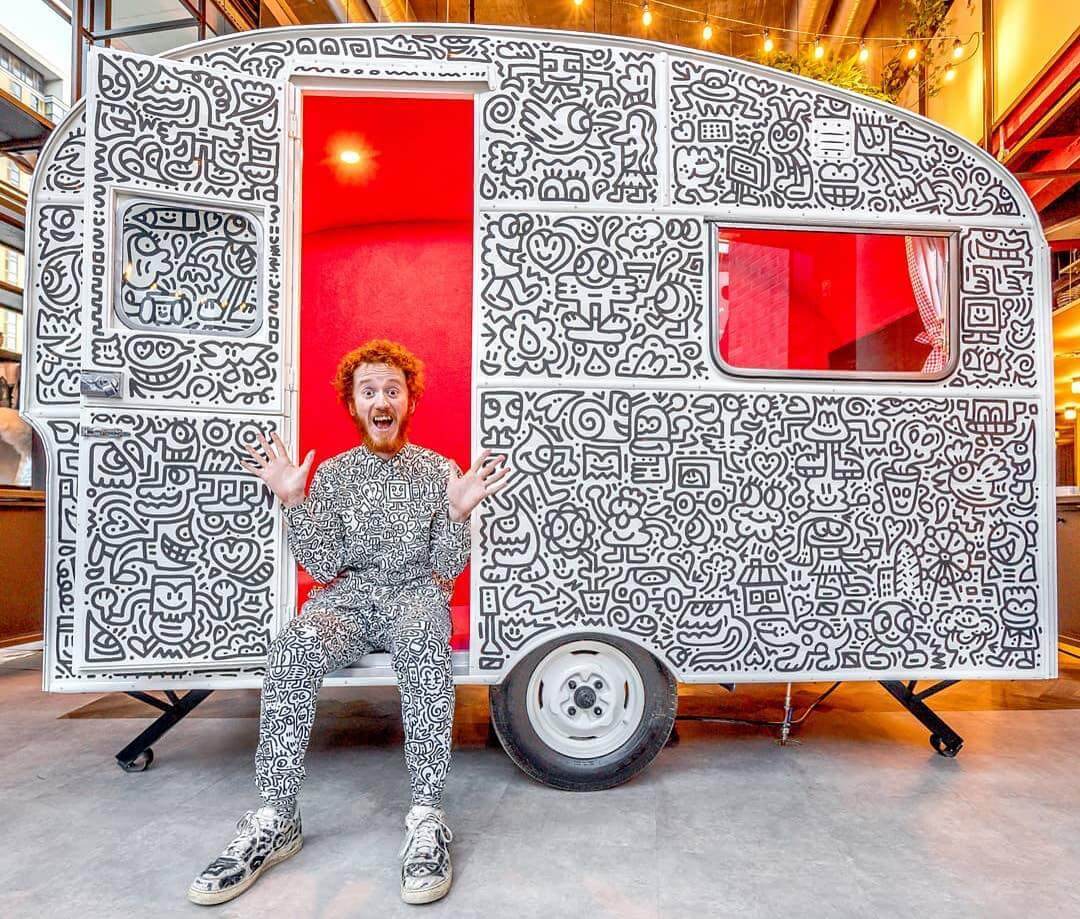 You'll find his hand-drawn idiosyncratic characters, inspired by iconic Wembley moments, from music events to football triumphs, across 12 concrete blocks in Wembley Park's Market Square on the trail.
To find the full 15 artworks that make up the Wembley Park Art Trail view the trail map here.
More information on all the artists can also be found here.
Related Articles
14 May 2019: News
Quintain Living Resident Supperclub with Nawamin Boss

- Christmas Special
Cooking reality television to us Brits is just as important to us as any other TV show – with intense finals and all the drama to see which apple pie will win – it's fair to say we love our food. Which is why one of our signature events for our Quintain Living residents is The Supper Clubs. But in true Quintain Living style, these aren't just any supper clubs – they are cooked by the best of reality cooking TV, Masterchef stars of course!
Read article