Have you recently moved to Wembley and want to find a yoga class that's as good as the one you were taking where you used to live? Or perhaps you're thinking of trying yoga for the first time and would like to find the ideal beginners yoga classes in Wembley? Whatever position you find yourself in - (crane, triangle, downward-facing dog - at Quintain Living, we're here to help. 
There's a yoga class in West London to suit every age, ability and schedule. So sit back, relax and let us introduce you to the best yoga classes in West London, all no more than 20 minutes away from our Wembley Park apartments.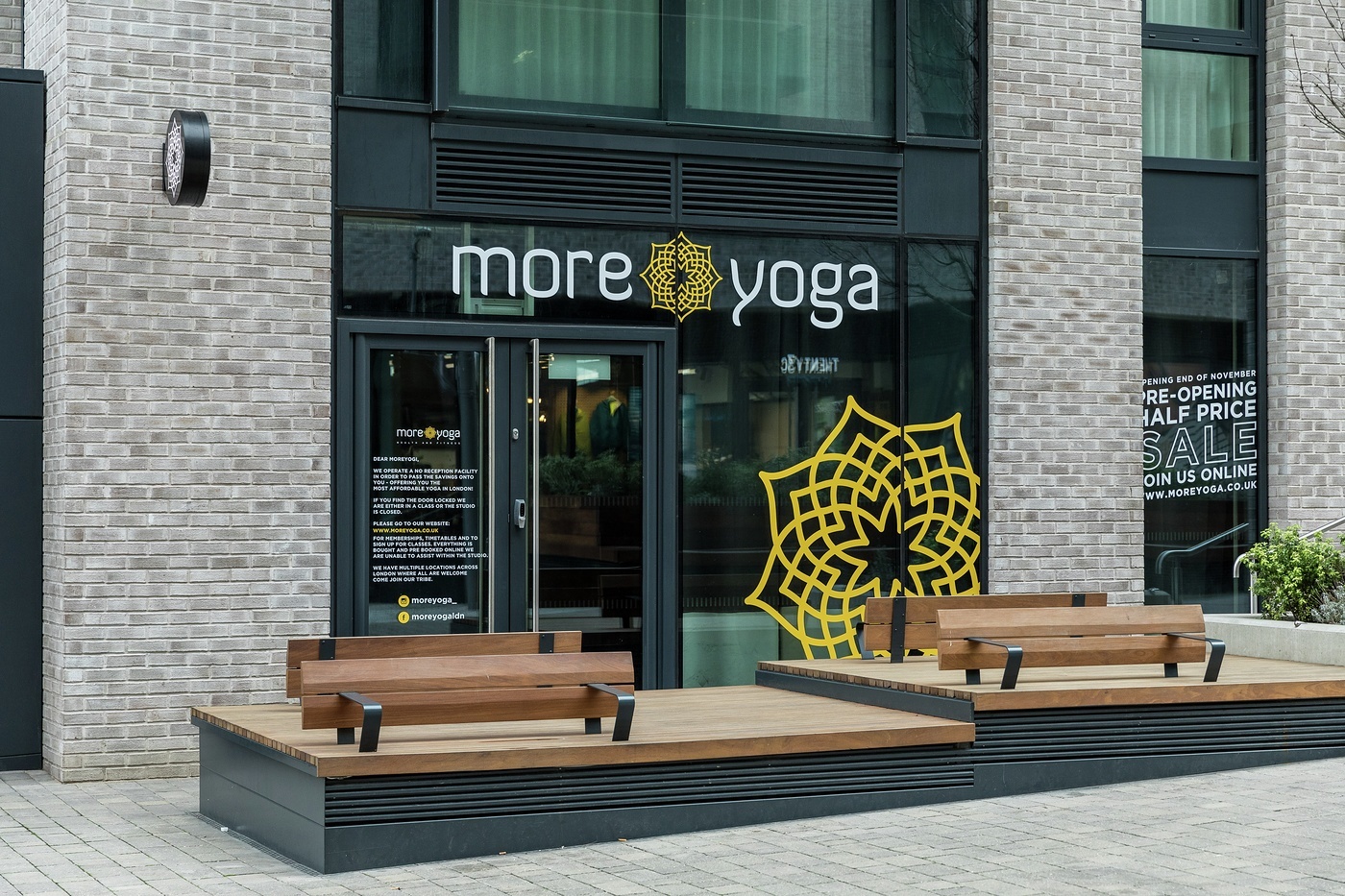 MoreYoga, Wembley Park
Take the short stroll to Weaver Walk in Wembley Park and discover one of the fastest-growing yoga studios in London. MoreYoga launched its first branch in 2016 and has since gone on to open 32 more across the city.
Whether you're a beginner or a fully-fledged yogi, MoreYoga offers affordable classes and accessible yoga, delivered by some of London's best instructors. There are classes to suit every level of ability and a timetable that's flexible enough for those with the busiest schedules. 
Unlike traditional gyms where yoga classes are sometimes hosted in makeshift spaces, MoreYoga's studios are dedicated specifically to yoga of all types, from meditation and breathe & flow to dynamic stretch, yogalates and more. That ensures there's plenty of space and enough mats, blocks, straps and bolsters to go around.
Address: 7 Weaver Walk, Wembley Park, HA9 0LE
Phone: 0808 196 0345
Email: Facebook Messenger
Follow: @moreyogaLDN
Opening times:
Monday-Friday - 6:30am-9pm
Saturday-Sunday - 7am-8pm
Indaba Yoga, Marylebone
Nestled in the heart of Marylebone, Indaba Yoga offers some of the best yoga in West London in a rich array of yoga styles. The studio first opened its doors in 2011, and now hosts over 50 classes a week in two large studios, including a space for hot yoga which can accommodate up to 55 Bikram devotees.
This sanctuary in a bustling part of West London offers yoga classes for people of every ability and preference, from Forrest yoga to the ever-popular yin. As well as in-person sessions at their studio around the corner from Marylebone station, there are also online classes for those who want to be part of the yin crowd from the comfort of their own home.
Address: 18 Hayes Pl, London, NW1 6UA
Phone: 020 7724 9994
Email: [email protected]
Follow: @indabayoga
Opening times:
Monday-Saturday - 7:30am-8pm
Saturday-Sunday - 8:30am-6:30pm
Hotpod Yoga, Ruislip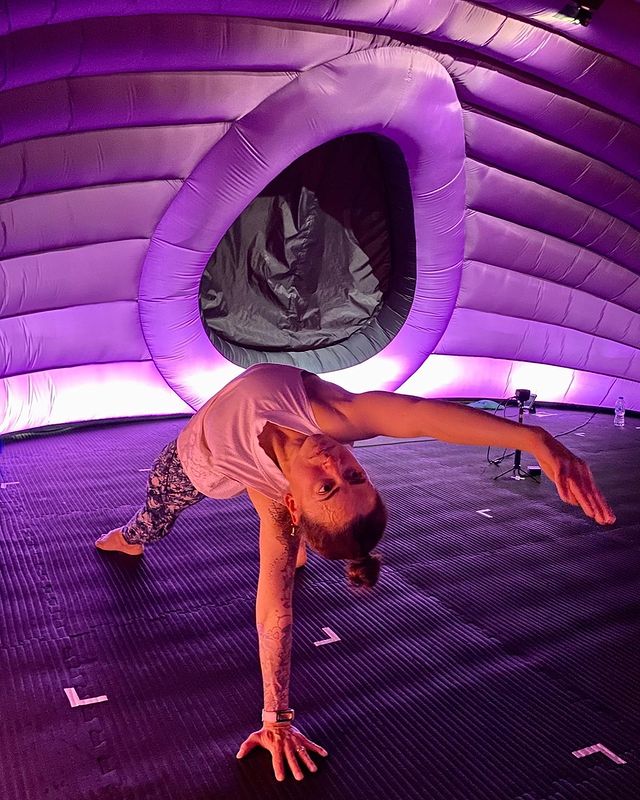 Classes at Hotpod Yoga take place in an enclosed, inflatable pod that's heated to a steamy 37 degrees so you can breathe deeper, stretch further and sweat harder. Situated on Windmill Hill in Ruislip, Hotpod Yoga's approach has its roots in the Vinyasa flow style, helping you clear an over-stimulated mind and open up an office-bound body.
Hot yoga is most commonly associated with the high-temperature Bikram yoga method, however at Hotpod, classes switch heat for humidity. This creates an environment which increases flexibility, while easing your joints and muscles to help to prevent injuries. It also makes the heart and lungs work harder so you can burn more calories and enjoy a great cardio workout. 
Classes last for 60 minutes and are available from 06:30 to 21:30, although exact class times differ daily.
Address: 50B Windmill Hill, Ruislip, HA4 8PT
Phone: 07931 704568
Email: [email protected]
Follow: @hotpodyogaruislip
Total Chi, Marylebone
This state-of-the-art, boutique West London yoga studio offers yoga, reformer and pilates classes in the heart of Baker Street. From the outside, Total Chi looks more like a high-class café, and if you're in the market for some tasty juices and smoothies, you can find them here too!
However, the real attraction is Total Chi's four luxurious yoga studios, where people of all ages and abilities can take classes ranging from Vinyasa and Ashtanga to Jivamukti and Hatha. Class numbers at Total Chi are limited to just eight, so while that means you'll need to book ahead, it does guarantee you some extra attention if you need it.  
One thing we really like about Total Chi is that it's designed with London living in mind. Rather than having to carry all of your equipment on the bus or Tube or to work and back, everything is provided for you. All you need is some suitable yogawear!
Address: 241-243 Baker St, NW1 6XE
Phone: 020 7486 4676
Follow: @totalchiyoga
Opening times:
Monday-Thursday - 8am-6pm
Friday-Saturday - 8am-2pm
Sunday - 9am-2pm
Sweat by BXR, Marylebone
Located on Marylebone's Chiltern Street, Sweat by BXR takes a slightly different approach to the dedicated yoga studios in West London that we've looked at so far. As well as being one of West London's best fitness centres, offering a range of class formats including boxing, versaclimbing and strength & conditioning, it also has a can also as yoga and mobility. 
There are three yoga and mobility classes that you can take, including power yoga, yin yoga and all of the fundamentals, as well as pilates and barre. All of the classes are suitable for all ages and abilities, and are offered on a pay-as-you-train basis, meaning you can dip in and out, without having to sign your life away before you get started. 
You'll also get full access to all of BXR's world-class facilities, including a Joe & The Juice café, luxury lounge and changing rooms and the BXR Clinic for post-training care and rehabilitation. Chiltern Street is also one of West London's favourite haunts for celebrities and fashionistas, so you might even be able to do some starspotting while you're at it.
Address: 24 Paddington St, London, W1U 5QY
Phone: 020 3146 3436
Email: [email protected]
Follow: @bxrlondon
Opening times:
Monday-Friday - 6:30am - 8:30pm
Saturday - 8:30am-3pm
Sunday - 9am-2:30pm
Enjoy the West London lifestyle
Whether you're looking for great yoga classes in Wembley or would like to have some of West London's best fitness centres on your doorstep, you'll be less than a sun salute away from it here at Quintain Living. See which of our apartment buildings suits you best, and search our apartments online today.