What's the best way to give your living space a festive makeover? The holidays are the perfect excuse to accentuate the joys of your apartment. We're here to help you get set for the holidays this season, with helpful Christmas decoration ideas that are sure to please everyone who visits your home.
From mince pies to mistletoe, there's plenty of space in all of our Wembley Park apartments for hosting a Christmas party to remember, but there's just as much to keep in mind when it comes to the decorations.
Setting Up Your Christmas Decorations
Decorating your apartment for Christmas is the best way to get into the mood of the season. To make the most of your festive decorations, start by creating a sensory experience in your home - that means it's time to break out the pine-scented candles and turn up the Mariah Carey on your bluetooth speakers. Then simply let the spirit of Christmas wash over your apartment in the most dazzling of ways.
When it comes to decor, you've got all kinds of options. If you're planning to put together a Christmas tree this year, consider the layout of your home, and work out what type of tree would be most compatible with the space? Slender trees are particularly trendy this year, and for good reason - with narrow builds, these trees make the statement they're meant to, without taking up too much space in your home.
If you're feeling partial to a bright and cheery feel in your apartment this year, consider an artificial tree washed with snow. Decorate it in a neutral palette and adorn it with golden accents for a chic-looking tree that's sure to be the talk of the community.
And as night falls earlier over Wembley Park, Christmas lights can help to carry us through the silent nights. String fairy lights wherever you please, be it down a hallway or around your windows, for an easy decoration that instantly illuminates a space with Christmas cheer.
Your bedroom is another perfect place for brilliant holiday decor. Spruce up your headboard with a draping of garland for an instant dose of the Christmas cosies. To further enhance the look, add a miniature tree to your room, and coordinate the twinkling lights on your tree to match.
Now that the holidays are here, it's the perfect time to make a statement in your neighbourhood too. By simply hanging a wreath on your door, you're decking the halls in a way your neighbours are sure to enjoy.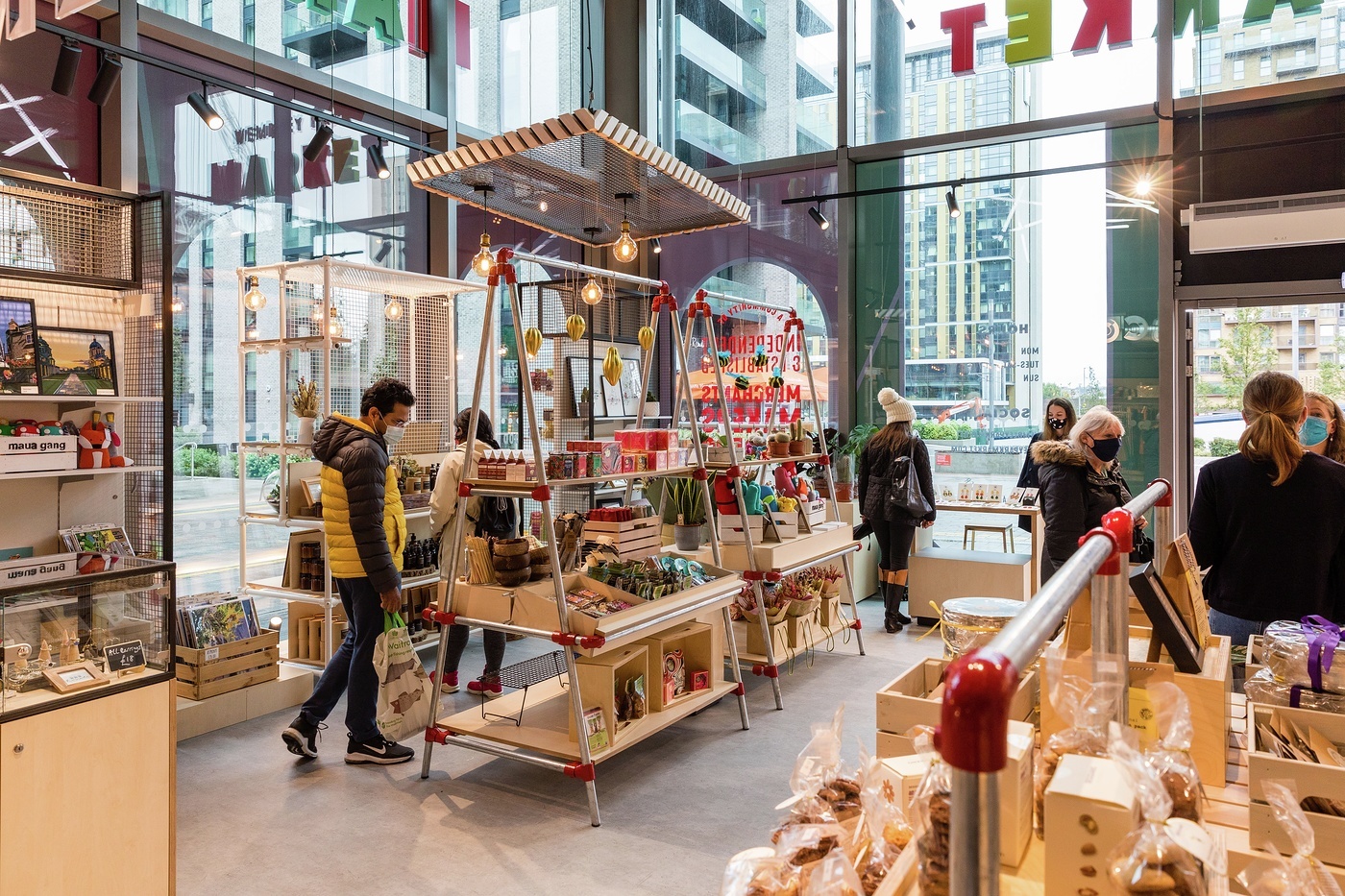 Where Can I Buy Sustainable Christmas Decorations?
Good news; it is entirely possible to make a festive statement this Christmas while also keeping your decorations eco-friendly. In alignment with the planet, you'll be looking for bits and baubles that are plastic-free, ethically sourced, or made from sustainable materials.
Let's start with the tree. Choosing baubles that are made from natural materials, like felt or wood, make an adorable addition to your branches. Baubles that fall under this category can easily be found where you typically buy your Christmas decorations, as stores are increasingly aware of an increased demand for sustainable goods. 
Small artisans are a great go-to when turning towards a sustainable design scheme. During the festive season (and all year round) Wembley Park Market is filled with all manner of local vendors selling not only Christmas decorations but stunning one-of-a-kind items that make for perfect stocking stuffers and main-event gifts.
You can find things like hand-blown glass and fair-trade baubles on sites that host small makers. If you're planning to peruse a Christmas market in Wembley this year, look for plastic-free pieces and homemade Christmas decorations that would look stunning in your home. Shopping small is an easy way to opt for eco-friendly decor in a way that means a lot to the artists that made your decorations. 
For the residents of Wembley Park, it's easy to get into the spirit of Christmas with all of the buzz happening around town. From homes sparkling with tinsel and twinkling lights, to events that are sure to get you in the festive mood, you won't want to miss a beat. Explore living spaces in Wembley to get in on the most joyous celebration of the season!
Related Articles
14 May 2019: News
Quintain Living Resident Supperclub with Nawamin Boss

- Christmas Special
Cooking reality television to us Brits is just as important to us as any other TV show – with intense finals and all the drama to see which apple pie will win – it's fair to say we love our food. Which is why one of our signature events for our Quintain Living residents is The Supper Clubs. But in true Quintain Living style, these aren't just any supper clubs – they are cooked by the best of reality cooking TV, Masterchef stars of course!
Read article