We haven't been able to celebrate Christmas with our friends and family for a couple of years, and that's left people itching to reconnect with loved ones around the tree and exchange presents the old-fashioned way.
And of course, between old traditions and the new variants, you might still be a little wary of having large groups of people popping by to visit in one go. At Quintain Living, our Wembley Park apartments have plenty of social space - both in and outdoors - for people to exchange gifts over a glass of mulled wine.
But wherever you're spending this Christmas, there's every chance you might feel a little bit out of practice when it comes to decking the halls this year! That's why we've put together this handy guide to throwing a Christmas party at home in 2021.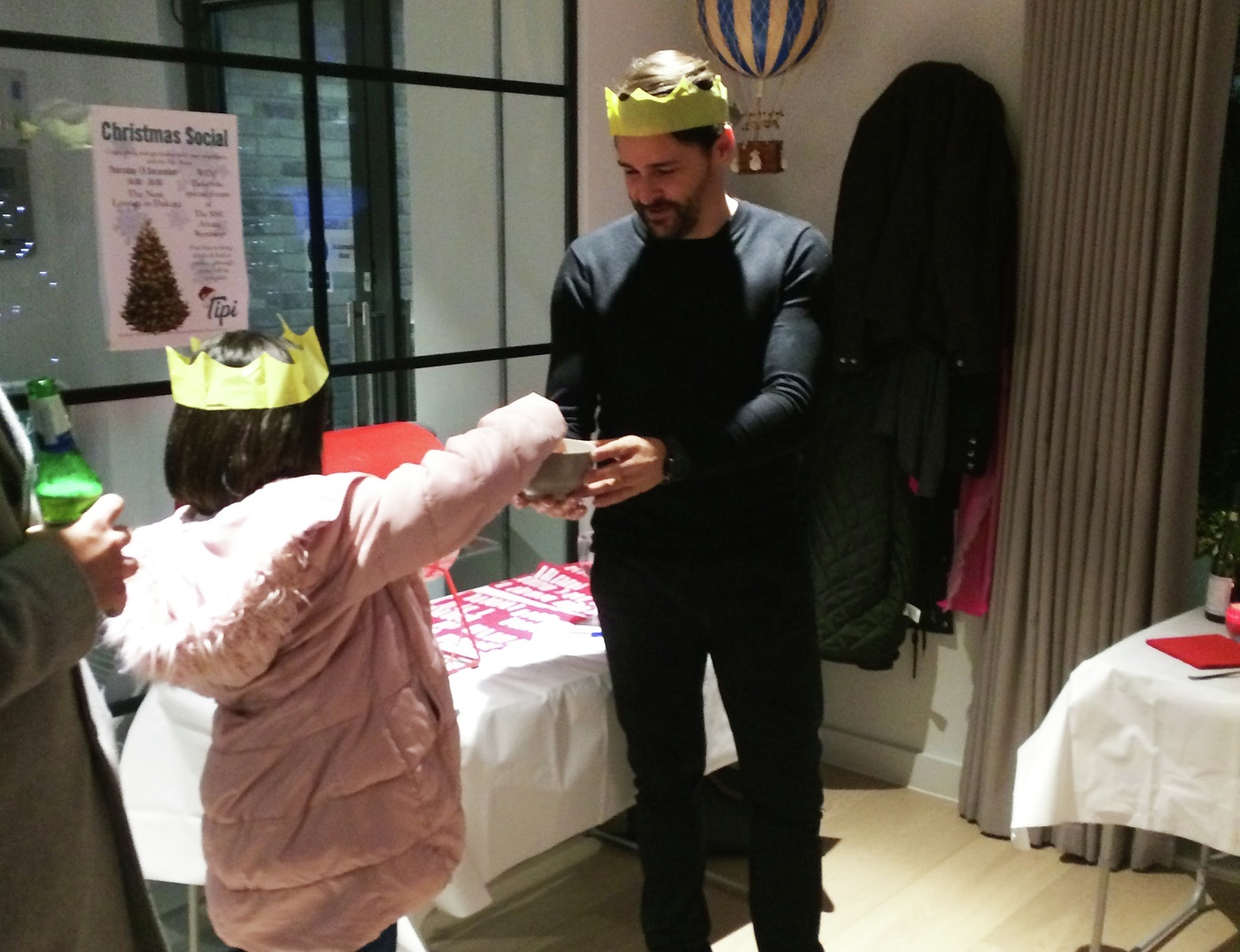 5 Top Tips for Throwing a Christmas Party 
Having to skip out on holiday festivities last year has everyone turning the Christmas cheer all the way up to 110%. What better way to celebrate the season than bringing your family and friends back together in one place? With these Christmas party planning ideas, you're sure to be the host of the season's most memorable Christmas event. 
Teamwork makes the theme work
You'll have a clear direction to planning your party when you opt for a festive theme. We've all had the opportunity to wear ugly jumpers this year, so how about opting for something a bit more out of the box? Try basing your party off  your favourite Christmas  movie, basing a menu around the film and encouraging your guests to dress up? If you're looking for some inspiration, why not revisit our own immersive bash from a few years ago, themed around the Christmas classic Elf.
Make a to-do list (and check it twice!)
It wouldn't be Christmas without making a list, so setting out what needs to happen long before your first guest arrives will help you establish your priorities as you prepare for the party. If a guest offers to help, don't be shy about delegating tasks - this helps guests feel like they've lent a hand in making the day a success!
Don't rein(deer) in the food
Let's face it, when you think of Christmas, you think of food, so this year, it's time to go all out. Think outside of the box by turning your pigs in blankets into fancy canapés, and be sure to make far more than your guests could eat, so you can give the gift of a doggy bag for them to enjoy the next day - after all, it's not a Christmas dinner without leftovers galore. Christmas is also the most wonderful time of year for those of us with a serious sweet tooth - after all, Buddy the Elf taught us that the four main food groups are "candy, candy canes, candy corns and syrup." So for a party that's sure to please, be sure to offer an array of sweet treats that guests can easily grab before they go mingle.
Play some games to keep the festive spirit high
It wouldn't be a Christmas gathering without a little festive competition - so whether you fancy seeing who can get the best Secret Santa gift on a tight budget, or who will come out on top in the festive Name That Tune game, there's something for everyone. And if you just want an activity to keep everyone entertained, consider a movie marathon with a quiz afterwards.
Create a Kodak moment
Another thing we've all been deprived of since 2019 is the chance to take some festive photographs, so this season, why not really make the moment count? Guests will love the opportunity to capture the night in front of a specially decorated photo area, especially if they've dressed up for the occasion. With a simple holiday tablecloth tacked to the wall, you've created an instant photo backdrop that's sure to make for memorable mementos.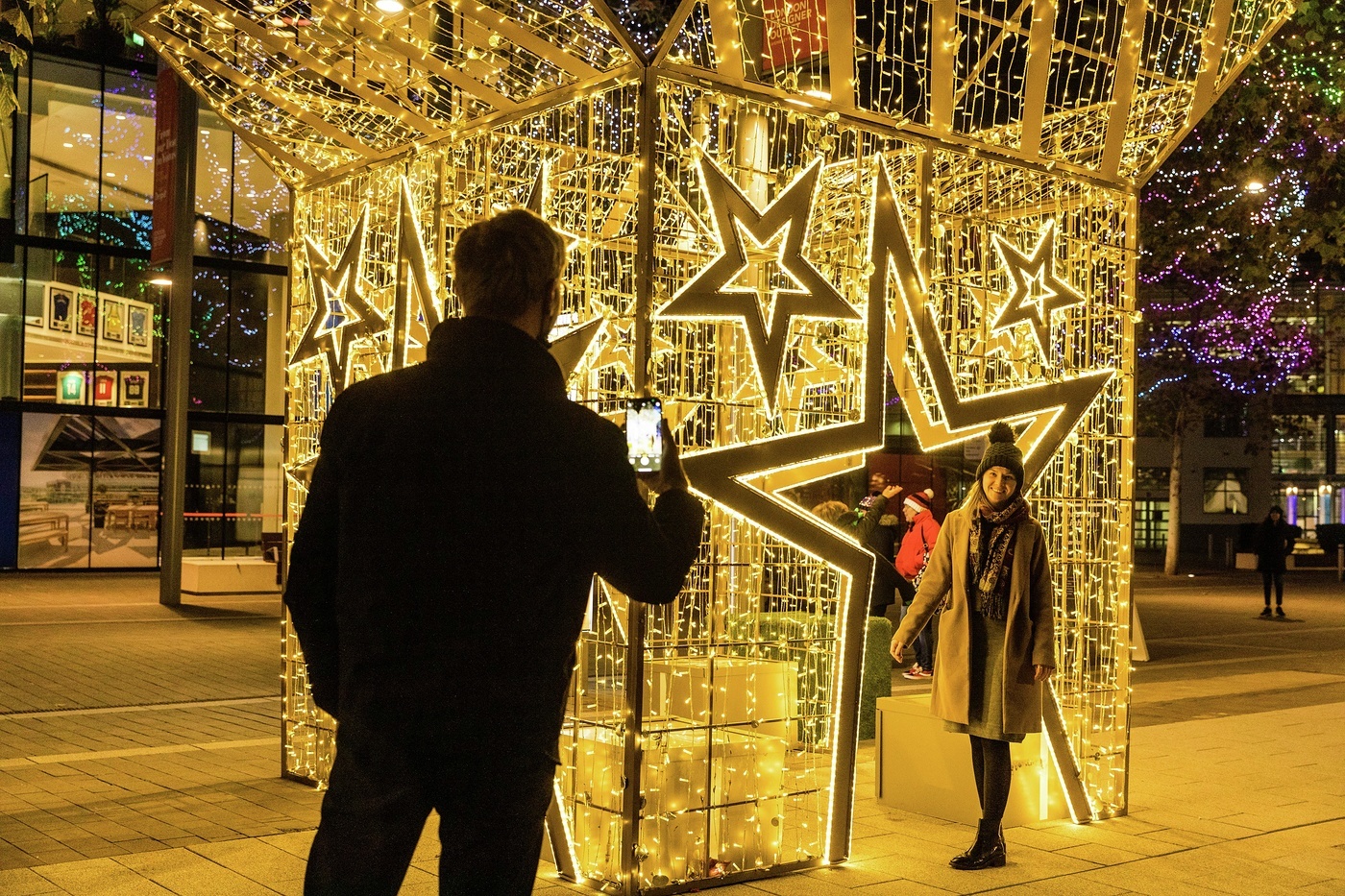 Christmas at Quintain Living
Residents at Quintain Living will be aware of how inviting our open floor plans and exceptional views can be, giving them the chance to explore and take in the atmosphere. You can also keep your furry friends on the guestlist, because our apartments are completely pet-friendly all year round - after all, we know that a dog is for life, not just for Christmas.
Free and fast Wifi means your holiday playlist won't miss a beat, and you can stream your favourite festive films on repeat, no problem. What's more, any guests who are still unable to reserve their presence at your party can join in the festivities online!
But there's plenty going on at Christmas in Wembley Park, and whether or not you're a resident at our apartments, there's loads to get involved with, from marvelling at the lights and stalls at Winterfest to a Christmas decorations workshop with our resident artist and whiskey and mince pie tasting at the local Bread Ahead Bakery.
Outdoor Christmas party ideas
For residents who prefer more space to spread Christmas cheer, we offer gardens and rooftop terraces. And although we're not out of the woods yet with Covid safety protocols, that doesn't mean you have to cancel your Christmas plans (again). A socially distanced party is possible when you host in the garden, or on the stylised rooftop of the Quintain Living apartments. Light up the rooftop BBQ with the breathtaking sights of Wembley any time of year.
These communal spaces are compatible with whatever activities you plan to showcase this holiday season. Thinking about an afternoon of crafting? Our outdoor spaces are furnished with enough tables and seating for the neighbourhood's top gingerbread house designers and wreath-makers, with room to spare for a buffet of cookies and mince pies.
High quality homes and delightful social spaces, both indoors and out, make Quintain Living apartments the ideal social space for your holiday gatherings this season. 
Christmas Dinner Party Recipe Ideas 
To make an impression on your guests from the jump this Christmas, make sure you cook them some meals that will not only tantalise their tastebuds, but give your home a distinctly festive aroma. This recipe for Moroccan Spiced Pie will be the centre of attention at your party, as guests won't be able to ignore the delightful fragrance of cinnamon, ginger and honey wafting through your home. 
Gather your nearest and dearest in one of our shared kitchen social spaces to get your neighbours in on the Christmas feast, and don't forget to pass around some festive beverages while everyone gets involved in the meal prep. Pair this Brussels Sprout Bake with an absolutely scrumptious Pan Fried Chicken for an unforgettable main course.  
If you're looking to host a handful of close friends or family in your home, you'll be happy to know our apartments are designed with ease of work and play in mind. Kitchens with plenty of counter space and the option to rent furnished homes means you've got everything you need to make your dinner party a success. 
Wembley Park is a neighbourhood that's sure to be home to the most happening holiday parties this year. After being shut in last Christmas season, hosts are ready to deck the halls of their stylish apartments and invite family and friends over to enjoy extraordinary views of the community. See for yourself what makes renting with Quintain Living a rental experience like no other.