Considering a move to Wembley? You're making a smart decision! But over and above exploring the properties themselves, you should probably spend some time scoping out the area to see if it's a good fit for your lifestyle. We're 99.9% sure it will be, but let's make sure.
If you're someone who enjoys a pint or a cocktail after a long day at work, you should know that Wembley is home to some of London's best bars and pubs, all no further than 20 minutes from our Wembley Park apartments. The area has its own community vibe outside of whatever's happening at the nearby stadium, and these six bars and pubs in Wembley Park are evidence of that. Read on to discover more.
1. The Greenman
Set on top of a hill, The Greenman offers scenic views and an electric atmosphere with every visit. It's also one of the most popular pre-match or pre-concert pubs in Wembley, but it's no less buzzing when there's nothing going on at the Stadium or Arena. Their menu caters to all tastes and on match days they traditionally cook up one hell of a BBQ for fans to feast on. 
If you're hoping to have a big night out with your friends, it's worth calling ahead and booking a table just to be on the safe side. The staff will also be able to tell you when things are likely to get a little bit busy. Less than a mile from the Quintain Living Hub, you could even go straight there after doing a tour of our apartment buildings.
Address: Dagmar Avenue, Wembley, HA9 8DF
Phone: 07595 051937
Email: [email protected]
Follow: @thegreenmanpub
Opening times:
Monday - Thursday 11am - 11pm
Friday - Saturday 11am - Midnight
Sunday - Midday - 10:30pm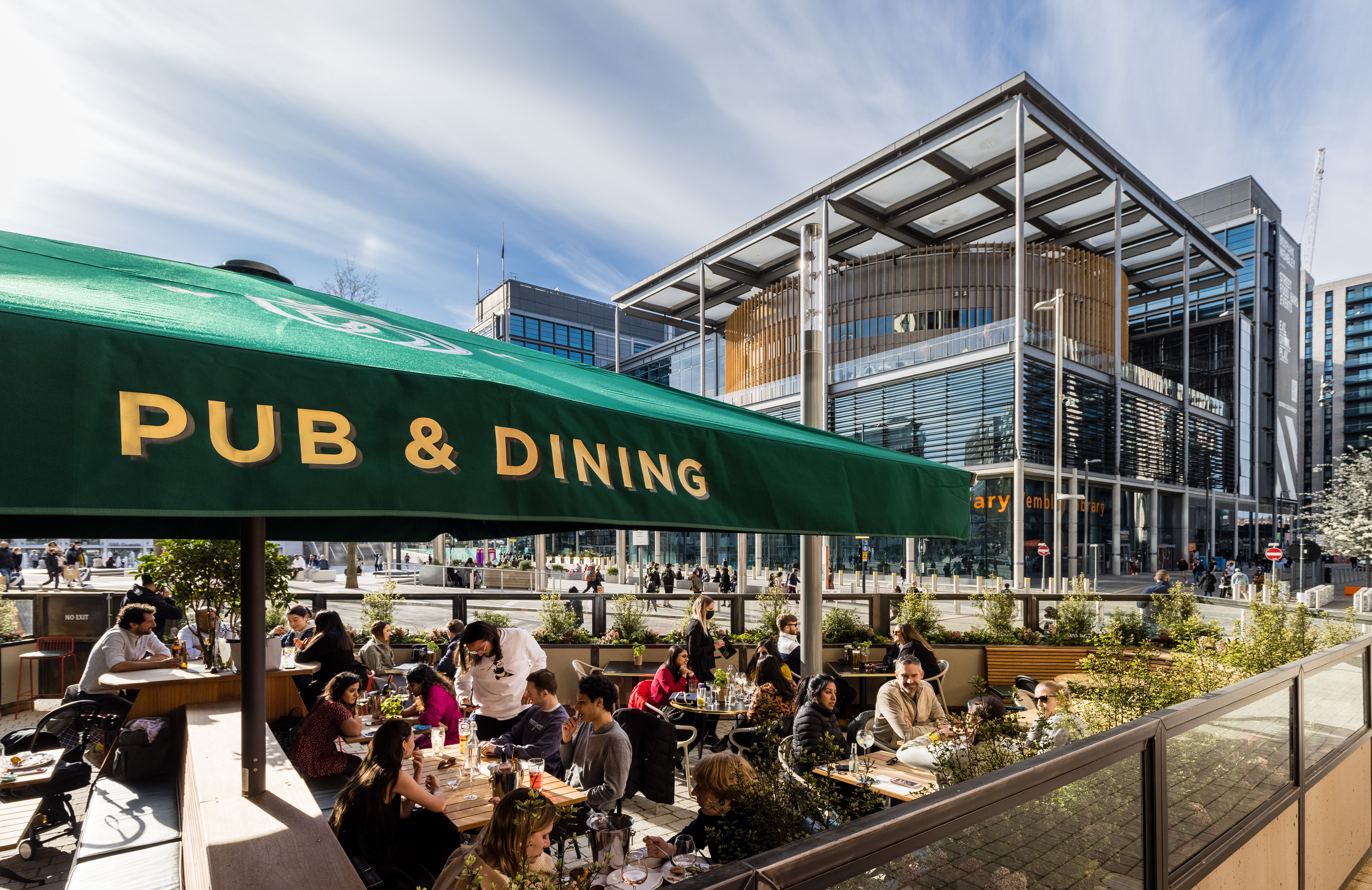 2. The White Horse
One of the newer pubs in the area, The White Horse is part of the iconic Fullers chain of pubs, so those in the know will have a fair idea of what to expect, including some of the best traditional British pub fare we've seen on its menu. Don't let its fancy design fool you - their food is about as hearty as it gets. Just a stone's throw away from Wembley Stadium and located directly below our Alameda apartments, expect a modern twist on the old school pub experience that has been appreciated by Brits for centuries.
Grabbing a quick drink couldn't be simpler, though if you're looking to meet up with a few friends, it's probably worth making a booking just to be sure you'll avoid the weekend rush. Their menu is known for tantalising tastebuds across the board, with their head chef confident (and proud) enough to call every single dish his signature one.
Address: 4 Wembley Park Boulevard, Wembley Park, Wembley HA9 0HP
Phone: 020 8237 8037
Email: [email protected]
Follow: @whitehorsewembley
Opening times:
Monday - Saturday 10am - 11pm
Sunday 10am - 10:30pm
3. Sky Bar 9
If a 'fancy' night out is what you're after, Sky Bar 9 is the place for you. Nothing beats the sunset views they offer, thanks to the stunning location right at the top of Wembley's Hilton Hotel. Their mixologists are trained to make pretty much any drink you can think of - feel free to test them when you go - and despite its prominent spot in the Wembley skyline, locals often refer to it as a hidden gem thanks to the variety on their menu. 
Where to start when it comes to their food? From spaghetti and burgers all the way through to good ol' pizza and chicken wings, their menu offers the perfect bar comfort cuisine, with an upmarket twist. Located on Wembley Park Boulevard, in the heart of the Wembley Park, if you haven't been sold on living in the area quite yet, you will be after spending a night out here.
Better yet, Quintain Living residents get a discount when they dine at Sky Bar 9, so keep an eye on your app for further details.
Address: Lakeside Way, Wembley, HA9 0BU
Phone: 020 8733 0576
Email: [email protected]
Follow: @hiltonwembley
Opening times: 3pm - 11pm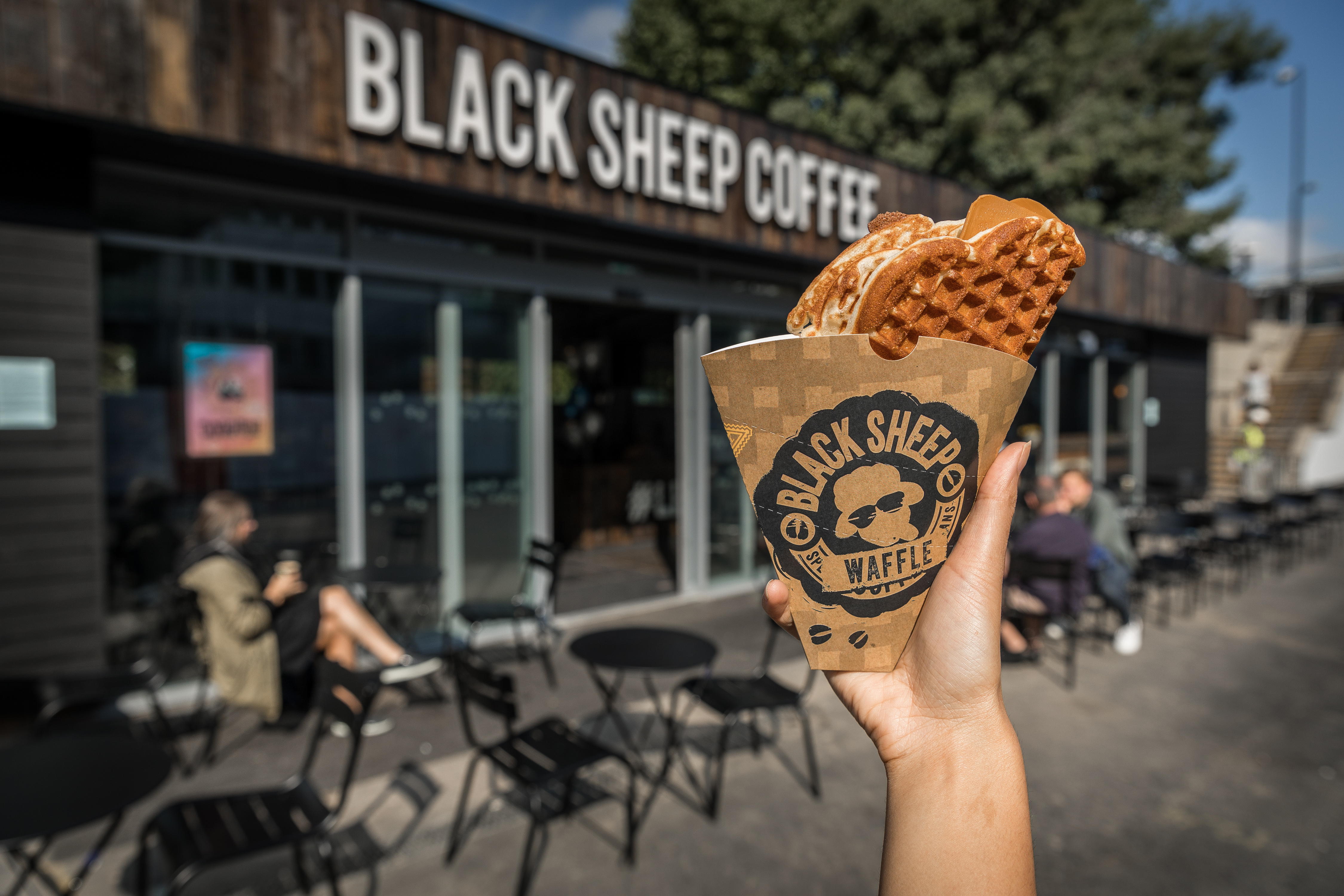 4. Black Sheep Coffee (& Cocktails)
Perfect for a morning pick-me-up and a post-work aperitif, Black Sheep Coffee can't be beat. Set right in the heart of Wembley Park, it's open from 6:30am every morning, and closes at 8pm from Wednesday to Saturday. But the café doesn't just specialise in coffee - although it really is the best in the business on that front.
Here you can meet a friend for a cheeky pint, delicious bottle of wine, or sample one of their signature cocktails and hard shakes. Their cocktail menu includes a salted caramel twist on the classic espresso martini, and a delectable Baileys latte, alongside more old fashioned fare like, well, an old fashioned. What's more, if you're not feeling up to the couple of minutes it takes to walk to Black Sheep from our apartments, you can order in via Just Eat, Uber Eats or Deliveroo!
Address: 2 Olympic Way, Wembley Park, HA9 0GU
Phone: 056 0386 8076
Email: [email protected]
Follow: @leavetheherd
Opening times:
Sunday - Tuesday 6:30am - 6:30pm
Wednesday - Saturday 6:30am - 8pm
5. The Torch
If a sports bar is your kind of thing, The Torch is the place for you. Right next to Wembley Park station, they're open from noon to late, with a kitchen that stays open until 10pm, a beer garden, and pool tables. You'll be able to watch all major sports events here and can even ask them to put on something a bit more niche when things are a little more quiet. Curling fans assemble!
Address: 1-5 Bridge Road, Wembley Park, Wembley HA9 9AB
Phone: 020 8904 5794
Email: [email protected]
Opening times:
Monday - Thursday & Saturday Midday - 10pm
Friday & Sunday Midday - 11pm
6. BeatBox
In the heart of Boxpark Wembley, the area's street food mecca, sits an awesome drinking spot called BeatBox, which is worth checking out if you're keen to move to the area. Their drinks are nothing short of excellent and their trendy atmosphere always attracts a great young working crowd. Active in the community for well over three years, BeatBox - your new local? - will give you the chance to support a local institution before you even move in.
Address: 18 Olympic Way, Wembley Park, Wembley HA9 0JT
Phone: 020 7186 8800
Email: [email protected]
Follow: @BoxparkWembley
Top Tip: If enjoying live music and meeting new people is part of your living in Wembley agenda, Boxpark is the place for you. There are three spread out among Boxpark's spaces, with an abundance of outdoor seating, so you have the freedom to get some fresh air if you're still (understandably) anxious about the state of things. Have a look at our apartments in the Landsby, Alto, Montana and Dakota buildings, which are literally on the doorstep of Boxpark, giving you the chance to take a leisurely stroll home after your night out.

So now you're probably ready to paint the town red, right? Well, we'll level with you quickly. It will be a lot easier to do so after you rent any of our apartments, all of which give you easy access to each of these great pubs and bars in Wembley and an idyllic walk home to boot. Check out our listings or give us a call to see what we have to offer that will suit you, or explore the Quintain Living website to find out more. Our team is on hand to make sure you not only find a space that matches your specific needs, but also ticks the boxes in terms of what your ideal lifestyle looks like.