Meet Dave, an entrepreneur who owns a digital agency. As a small business, he relies on co-working spaces for his office and often works from home. He's sharing some top tips with us about how to work from home effectively, efficiently and mindfully. Take a read below!
 
Hi Dave, tell us a bit about yourself?
I'm an entrepreneur and founder of the @LONDON Instagram channel which I founded in 2013. I have over 2.5M followers and have generated over 2.4 Billion views in the last 7 years. I also lead our social media & influencer marketing agency and have had the privilege of working with some of the world's most iconic brands such as Nike, Samsung, Google and Adobe. Some people call me Mr London and consider me to be one of London's leading influencers. 
 
So, what does it mean to be an influencer? 
In the old days of print magazines and TV you would have considered key people of influence to be celebrities, sports stars, TV personalities and politicians. But thanks to social media's explosion, many people like me have built up vast followings online on platforms like Instagram and YouTube and we are now considered as "influencers" capable of tangibly influencing the people that follow us. I consider that huge responsibility and I think social media can be incredibly powerful and incredibly inspiring in the right hands. 
 
Does this mean you can work from anywhere? 
Yes. Even to this day we have a very "start up" feel about our business, with the team working from different locations around London, meeting with clients on site, producing content on the fly. But we base ourselves in Wembley Park and often have team meetings in our Quintain Living apartment or for bigger meetings we use the Quintain Living social spaces which is great for a business our size and means we don't have to rent large premises. I also work from home a lot as does my partner Alice, especially when we're editing photos and creating videos for our social platforms. 
Can you show us your set up? 
Sure thing. One of my favourite hangouts is on our sofa (John Lewis makes the comfiest sofa's) music on, being creative and doing what I do best. 
The dining table seats 6 comfortably so by day we use this as a workspace for the team, and by night it's where we eat! 
The breakfast bar is part of my morning routine. I have my coffee machine on the bar within easy reach, USB chargers in the wall for my devices. It's the perfect place to sit up, get my caffeine and do my early morning emails and prep for the day.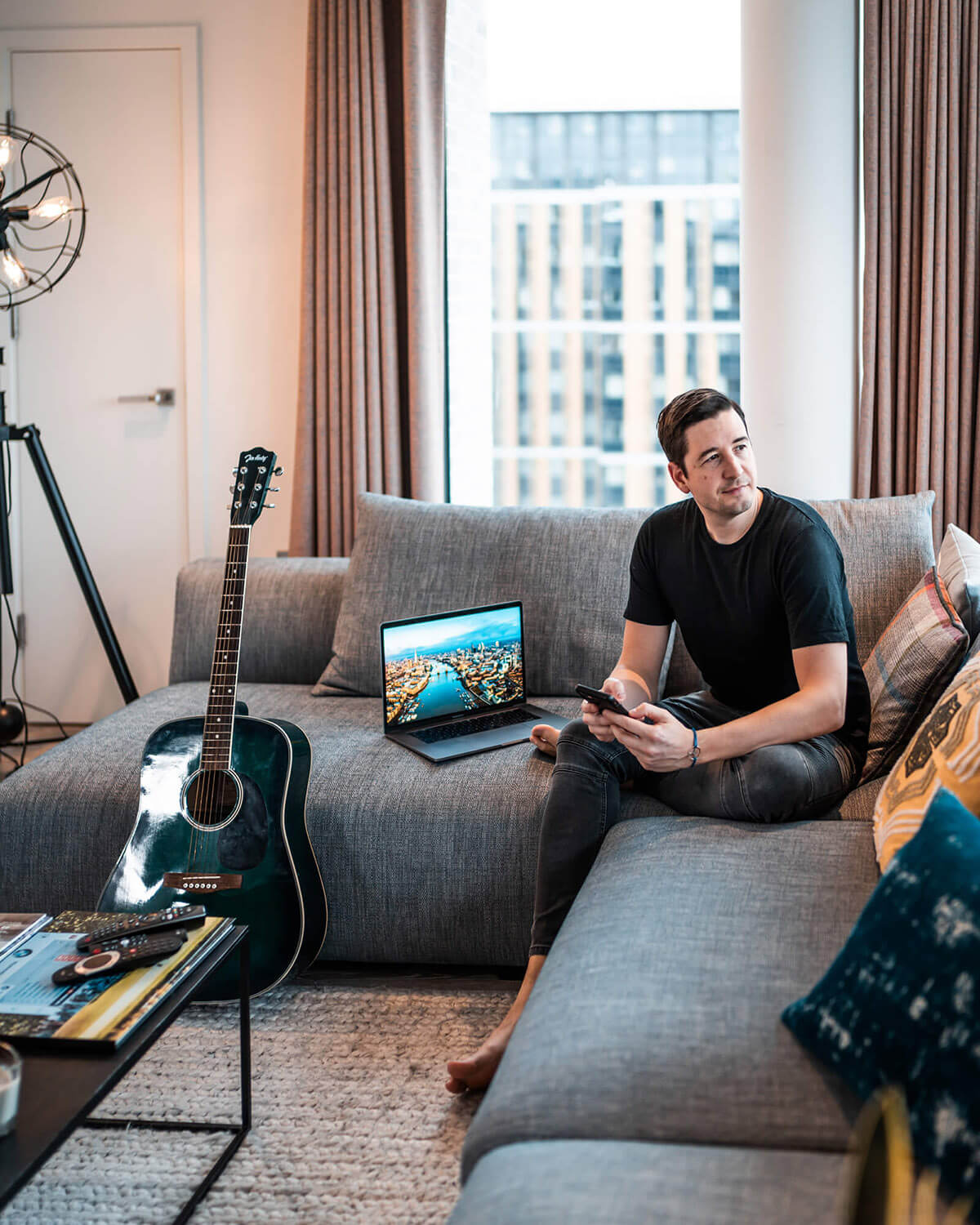 The lounge doubles up as our main chill out area, but it's also a space we use to shoot fashion videos. We move the coffee table out, and then take advantage of a dual aspect room with plenty of natural light - it's perfect for Alice to shoot her style videos and look books. 
 
Talk us through your routine? 
My routine varies a lot depending on whether we're travelling, out in London shooting and producing content, doing meetings, or if we're in more of a production and "work" cycle back home. In any case I always make Alice espresso each morning, with her favourite biscuits - she's Italian and it's the done thing! I will them make myself a flat white and grab a juice, cereal and fruit on the breakfast bar. I always need "my time" which is for gathering my thoughts and focusing on the day and being really clear about what the priorities are for me and the team.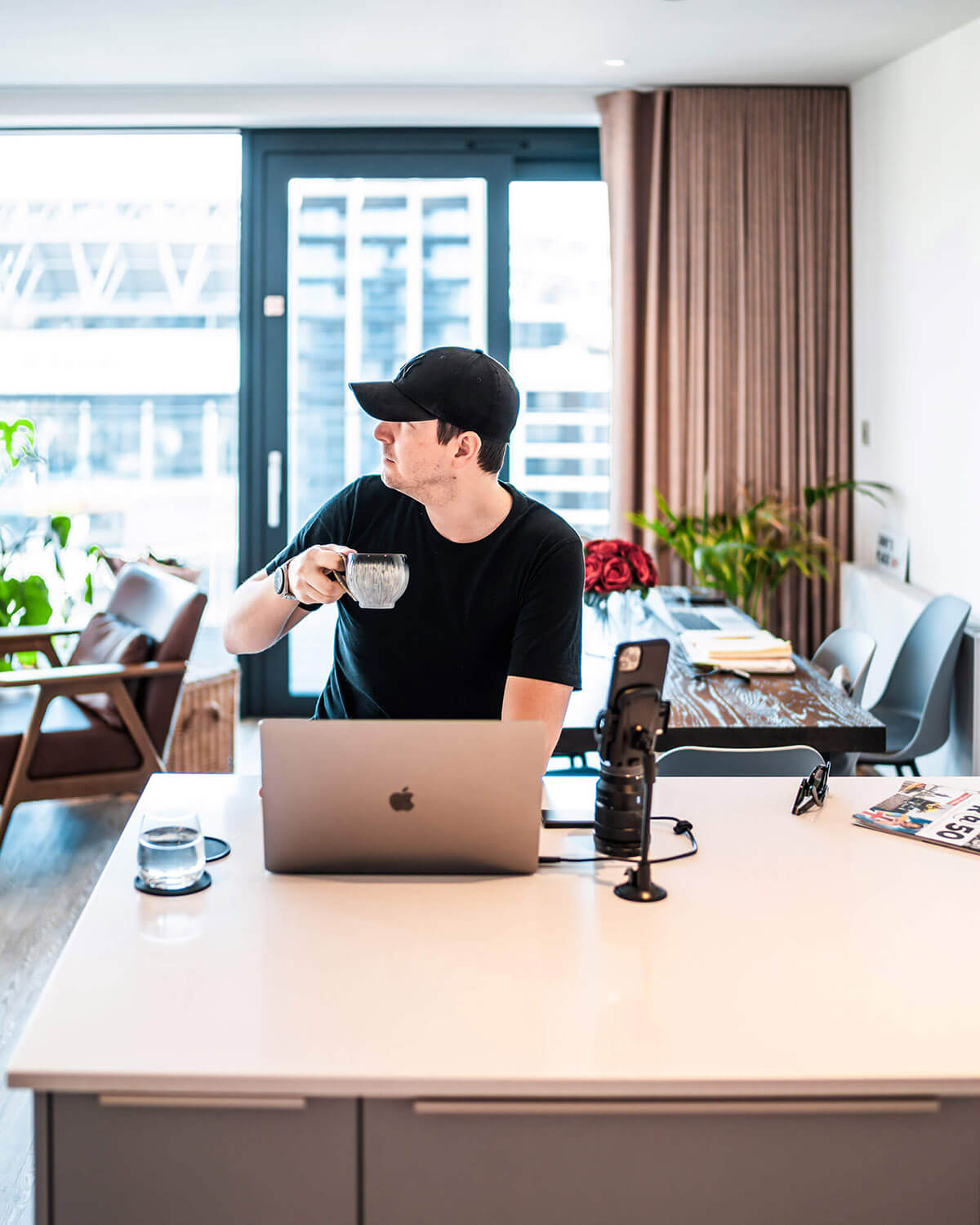 What's your top 3 things you need to WFH effectively?
Fast Wi-Fi is obviously essential, but thankfully that's included with every Quintain Living apartment and rely upon it for video conferencing as well sending and receiving huge 4K video files and video productions. 
For our business, diary planning is essential because we can easily work 14-16 hours in any single day, 7 days a week, unless we plan properly. We've learned over the years that you have to carve out down time, time for making meals so you don't end up ordering food, and ultimately it's about making what we do sustainable and good for our mental health. 
 
Break up the day - we have a beautiful balcony which allows me to get fresh air or head space. We also have a roof garden on the top of the building which is great for fresh air. I also like to go out for lunch to the Boxpark on site here in Wembley Park… I often eat lighter for lunch and grab Greek feta salad and souvlaki from The Athenian or sushi from Mitsuryu who make incredible prawn tempura rolls and a great miso soup! 
 
Which do you prefer? Office or WFH? 
For me it's all about having options since we often feel like everyday is different, and that's why Quintain Living has been a game changer for us, both personally and as a business, as we can use the spaces for key client meetings. But our Quintain Living apartment affords us a calm environment where we can lock ourselves away, be creative, do what we do best and it evolves seamlessly into our home when the laptops and phones are turned off.
How you detach from the 'office' when you work from home? Can you share your top tips? 
We're so focused on screen time right now - and thankfully modern phones can help you track how much time we're on our devices. Consequently it's important to have time, hours even, where the phones aren't in the room, or they're put down, so we can be present in whatever else we're doing. We've also started watching the news only once a day, just so you don't have negativity washing over you constantly. We also love to cook, so whether Alice is making the dough for her home made pizzas or we're making pancakes at the weekend, we have a great space to work in. The lounge is also perfect for Netflix or hosting friends, and we'll often invite people around for an Aperol spritz. 
 
What's your advice to fellow self-employed/freelancers who also WFH? 
Some of the biggest challenges for freelancers and small businesses are networking, finding new clients and collaborating. For some this will come more naturally than others, but as you sit within your four walls, it's important to use tools such as LinkedIn and Instagram to drive your business forwards. We have found Instagram life-changing - it's the little things, the Instagram community, the way were able to stay connected with people, or connect with new people and even interact with brands. The collaboration we have seen in the last 7 to 8 years literally wouldn't have been possible before Instagram. We've been able to mobilise people to help the homeless, we set up a Christmas charity coffee shop in Covent Garden to support UNICEF and the Cook For Syria movement run entirely by volunteers, we've mobilised hundreds of photographers and "Instagrammers" across the city to inspire people with random acts of kindness, and we've hosted inspiring panels and discussions with thought leaders and entrepreneurs. Most recently we launched a new food series through collaboration with chefs across the city, and brands have already started to contact us wanting to get involved commercially. All of this has come from being part of the Instagram community, wanting to genuinely GIVE to the community - not simply being in it to take from it - and helping to foster it and by focusing on creating authentic content that is entertaining, adding value, helping people to learn, or simply addressing boredom. People are always looking for a tribe to belong to and in London, even more so - with approx. 10 million people living in / working in London, people can feel isolated and like ships that pass in the night. Find your tribe, or create it.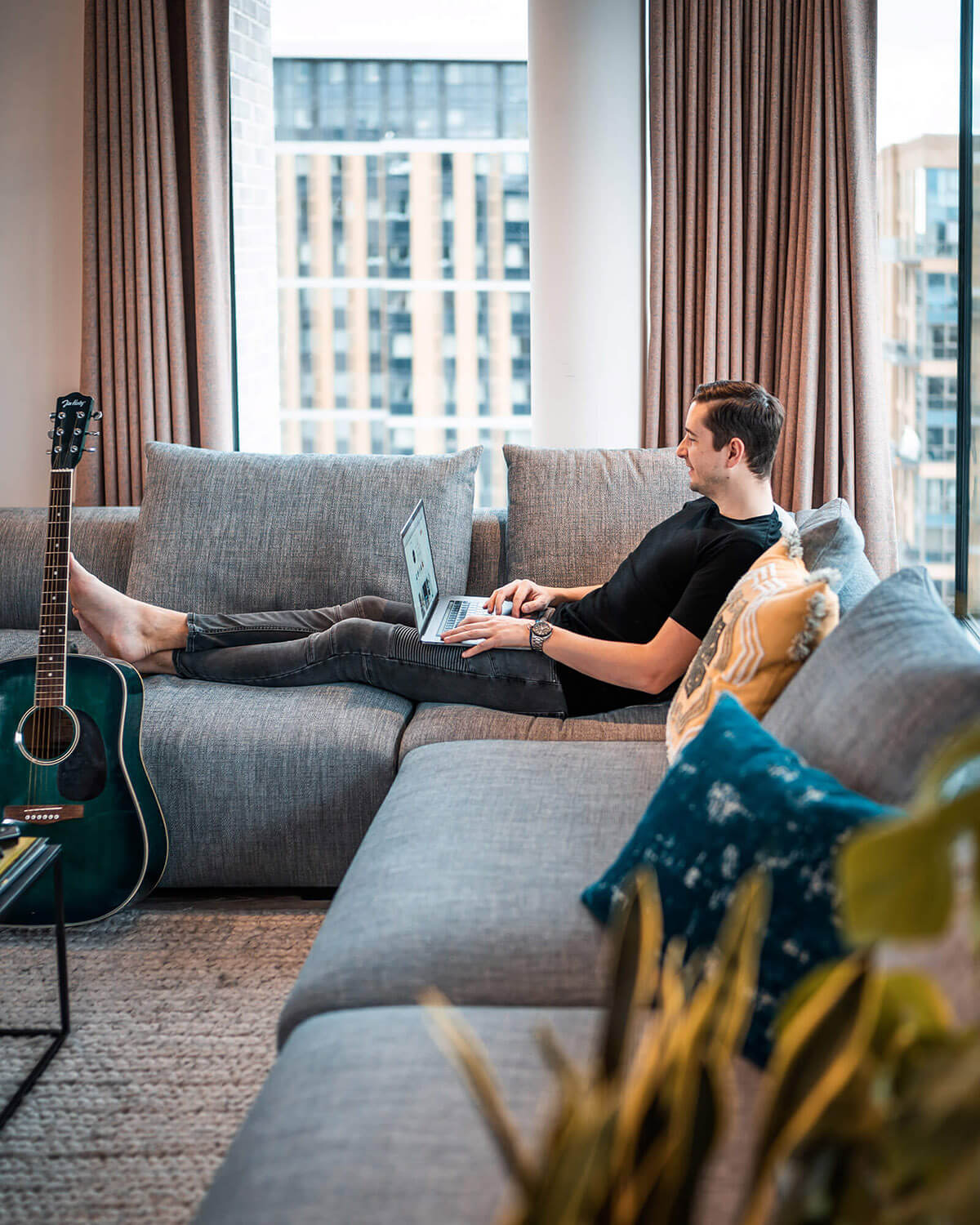 Why did you decide to move to Quintain Living?
I've been renting for some time now. My last place was in Marylebone where I was sharing with 2 friends. It was central and my flat mates were great, but the tenants above us had water leaks coming through our ceilings for more than a year. It was miserable. Despite his best attempts, our landlord couldn't resolve the issue with the owner. They paid for the apartment to be repainted shortly before I moved out, and the very next day, the water came through the ceiling again. It's a hellish experience and I was glad to be out of it, but I'm sure many other people will relate to the trials and tribulations of renting. Quintain Livinghave their own maintenance teams working full time on site - so when we had a fault code on our dishwasher last year, it was fixed same day. 
I was also initially concerned about being slightly out of central London, but it was the process of travelling to Wembley Park for a viewing that made me realise how well connected it is - the Metropolitan Line goes from Wembley Park to Baker Street in 12 minutes and if you jump onto the Jubilee Line, Bond Street is only 20 mins away. 
I also love how each building has a "personality" with different styles and furnishings and when I walked into the apartment I have today, I instantly felt like it was my home and very "me". 
And lastly having one bill makes my life so easy because I know where I stand with my finances every month - all my utility bills and Wi-Fi are included, so I never have any hidden surprises and that does wonders for my anxiety!