One of the best parts of living in any city - and London in particular - is the sheer variety of things to see and do right on your doorstep. So it's no surprise that you can find dozens of restaurants and cafés that'll serve you up a mouthwatering brunch within just 20 minutes of Quintain Living's Wembley apartments. But where is the best brunch in West London? Let's have a look.
Please note: If you're hungry, we advise you to grab a quick snack (or 12-piece breakfast) before you read on.
Oatopia, Boxpark Wembley
Oats may not be what everyone immediately thinks of when weighing up brunch options, but that's what makes our little corner of West London so special - it really does offer something for everyone. 
Oatopia, which can be found in Unit 3 of Boxpark Wembley, provides a smorgasbord of oat-based food and drink, from flapjacks and porridge to energy bombs, oat smoothies and more. As you'd expect from a brunch spot that is well attuned to modern eating habits, there are loads of vegan, gluten-free and wheat-free options, so you're sure to find a fresh and wholesome bite that suits your mood and your dietary requirements. 
Oatopia offers dine-in, takeaway and delivery services from a menu that includes more than 25 flavours of flapjack, toasted bagels, handmade vegan and vegetarian burgers, oat milk and fruit smoothies, as well as 10 different types of porridge. 
Address: 3 Olympic Way, Wembley Park, HA9 0JT
Email: [email protected]
Follow: @oatopia1
Opening times:
Monday - Saturday - 8am - 4:30pm
Sunday - 10am - 3pm
Black Sheep Coffee

, Wembley Park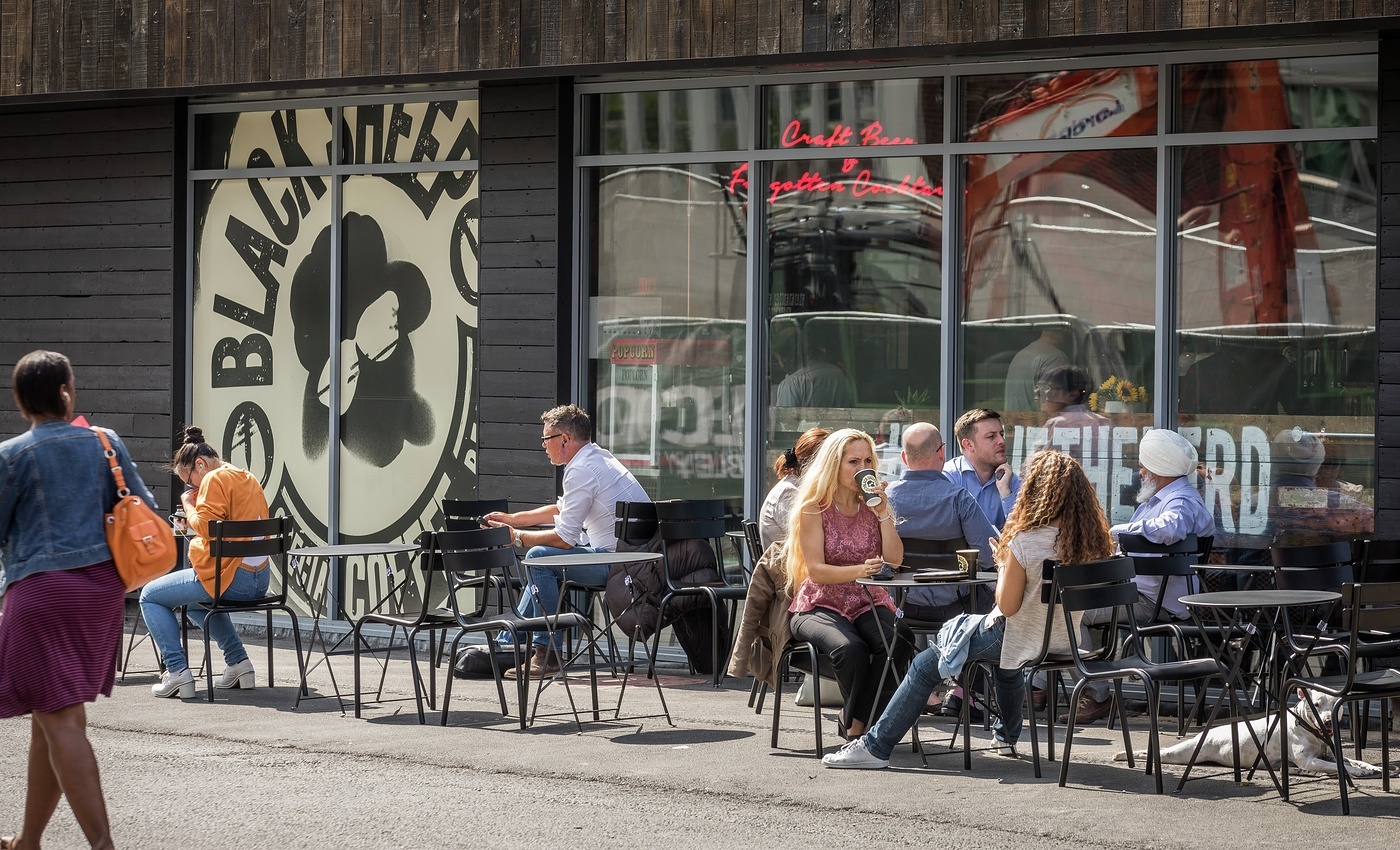 If coffee plays a central role in your brunch, then you should head along to Black Sheep Coffee, which serves some of the best brews you'll find anywhere in West London. 
Despite there being two dozen branches of Black Sheep across London, the excellent service, friendly staff, delicious food and top-quality coffee gives it the feel of an independent. The cool urban setting, custom graffiti and deep house vibes add to that, creating a relaxed atmosphere where you can chat and watch the world go by while enjoying some great coffee and delicious brunch time staples.
Speaking of the menu, you'll find a varied drinks offering and an irresistible range of snacks. The chai latte and filter brew are firm favourites among coffee lovers, while the mango and ginger smoothie offers a perfect caffeine-free pick-me-up. Food-wise, there's a great selection of pastries and cakes, while the smoked salmon and cream cheese bagel or Nutella and strawberry waffles will fill more of a gap, whether your taste veers savoury or sweet.
Address: 2 Olympic Way, Wembley Park, HA9 0GU
Phone: 056 0386 8076
Email: [email protected]
Follow: @leavetheherd
Opening times:
Sunday - Tuesday 6:30am-6:30pm
Wednesday - Saturday 6:30am-8pm
Darcie & May Green

, Paddington
Everything about this place is delicious, from its incredible decor, beautiful canal-side setting and - most importantly - its epic all-day brunch menu. Exclusively designed by the godfather of British pop art, Sir Peter Blake, Darcie & May Green is effectively two restaurants split over two adjoining canal boats, collectively providing over 50m of open-air upper deck space overlooking the Grand Canal.
While Darcie Green serves bold, fresh and comforting Aussie brunches and healthy lunches, May Green brings the party. She stays open from the early hours to late into the evening, offering everything from banana bread and flat whites in the morning to innovative cocktails and craft beers at night.   
Located directly outside Paddington Station, Darcie & May Green may not be where you'd expect to find some of the best bottomless brunch in West London, but the combination of fantastic food, a lively bar and the unique setting wins out. The bottomless brunch supercharges the award-winning dishes with free-flowing fizz and mimosas for 90 minutes. Just be careful when you finally disembark.    
Address: Grand Union Canal, Sheldon Square, London, W2 6DS
Phone: 020 3935 9045
Email: [email protected]
Follow: @daisygreenfood
Opening times:
Monday - Saturday 8am - 11pm
Sunday 9am-10pm
Zeit & Zaatar, Shepherd's Bush
If your idea of brunch heaven is a great coffee and a manakeesh, then jump out of bed and make your way to Zeit & Zaatar on Uxbridge Road in Shepherd's Bush pronto. Yes, we know that Shepherd's Bush is already something of a hub for great Lebanese food, but trust us - block out all of that noise and follow your nose straight to Z&Z.
The bakery specialises in manakeesh, a crispy and delicious Lebanese flatbread that's covered with all sorts of wonderful toppings. And having been in the game for over a decade, their experience and attention to detail certainly shows. You can choose classic flavours such as zaatar and labneh, spinach, and halloumi, or pick from their Zeit & Zazaar specials, such as cheese and honey or bastirma with cheese. 
Perhaps the best part of this Lebanese breakfast staple is that you can get good-sized portions at a great price, typically no pricier than a fiver. So, you know, if you're really hungry, you could always buy two. No one's judging.
Address: 354 Uxbridge Rd, London W12 7LL
Phone: 020 8746 9009
Follow: @zeit_zaatar
Opening times:
Monday-Sunday 7am-7pm
Boxcar Baker & Deli, Marylebone
Boxcar Baker & Deli is a relatively new arrival for the residents and workers of West London to enjoy. Serving as a local bakery, cafe and deli, it's open every day for breakfast, brunch, and even one of the best Sunday roasts in West London, always showcasing the best of British seasonal produce. 
On entering Boxcar Baker & Deli, you'll be met by the unbeatable smell of freshly baked bread and pastries. There are also seasonal salads, soups and sandwiches on the menu, and a deli counter packed full of quiches, homemade pies and sausage rolls. All of these treats are made on site daily from quality ingredients sourced from independent British farms. 
Although there's no bottomless brunch option, you can wash down your food with a carefully curated selection of wines, craft beers and ciders. Favourites from the menu include the smoked salmon and sour cream waffle or the hotdog and hasselback potatoes, accompanied by a dulce verde juice or a speciality coffee.
Address: 7A Wyndham Place, London, W1H 1PN
Phone: 020 3006 7000
Email: [email protected]
Follow: @boxcarbaker
Opening times:
Monday - Friday 8am - 5pm
Saturday - Sunday 9am-5pm
A tasty spot for foodies

  
Whether you're looking for a bottomless brunch, a Lebanese feast or an oat-based alternative, you're sure to find it here in West London. 

Given the sheer variety of restaurants and cafes in the area, it's easy to see why Wembley Park has become such a tasty spot for foodies.  And now you can join them. See which of our apartment buildings suits you best and search our apartments online today.