Apartment living comes with many charms, and finding clever ways to maximise your space can help you make the most out of your home. From floating shelves to storage mirrors, we're here to help inspire creative solutions to your storage needs. Whether you're a first time renter or a seasoned Quintain Living resident, read on to discover our most constructive advice for saving space in your home.
Space saving ideas
Did you know that having a cluttered space can make you feel stressed and more prone to frustration? It's no wonder we all like a bit of feng shui, especially when living in an apartment. By utilising clever storage solutions, our residents can benefit from more organised and functional layouts that can look amazing, and also make them feel better.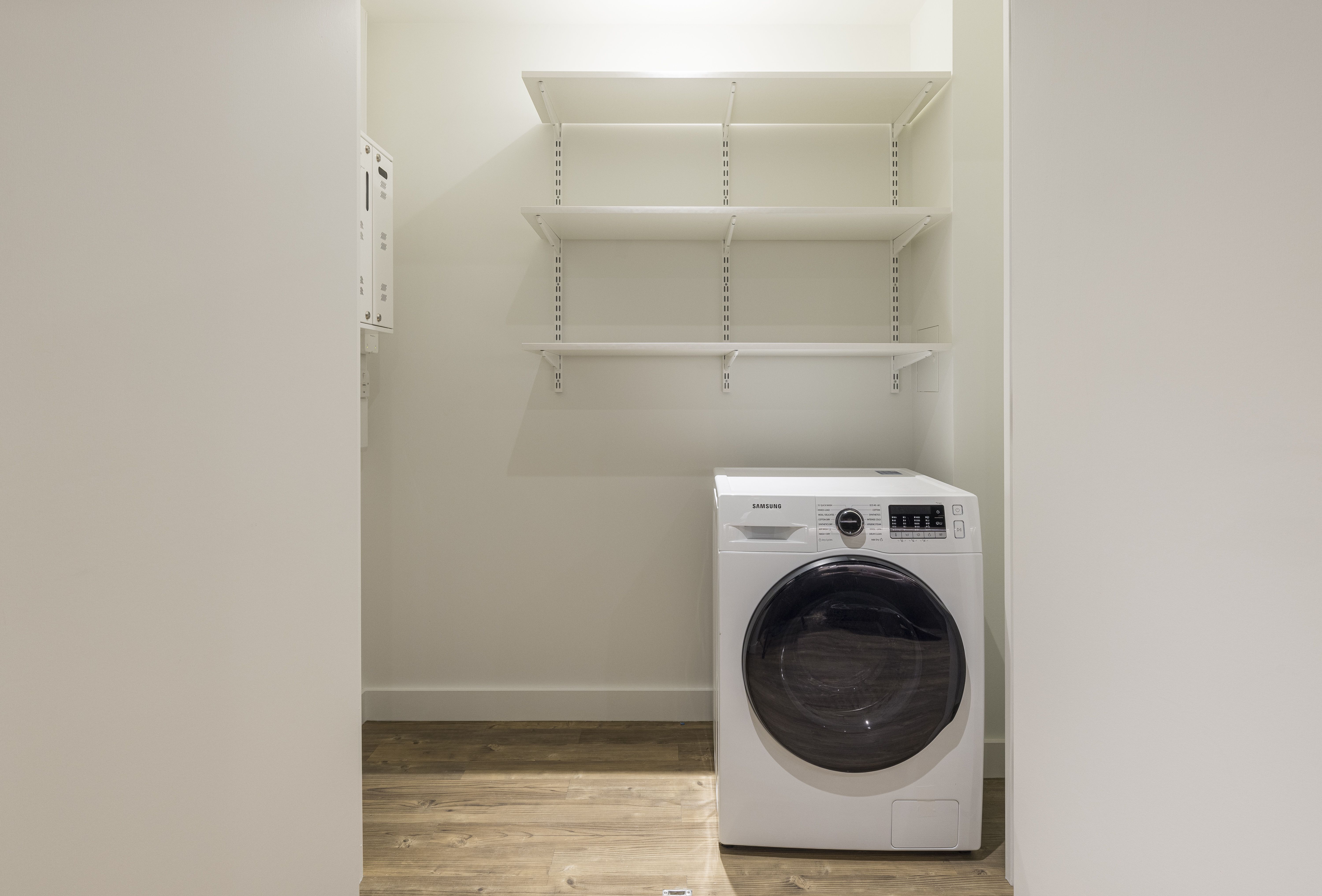 Each of our Quintain Living apartments are designed with efficiency in mind. In fact, every flat comes with a storage room, where you can put in all that stuff that has nowhere to go. If you fancy putting those large, annoying items elsewhere ( we're looking at you, Christmas Tree) we have extra storage space to hire. Got a bike? Use our Cycle storage to keep it safe and out of your apartment. Our ample space saving options, including under-bed space, floating shelves and furniture that doubles as storage are what make our flats perfectly suited for decluttering, without compromising on quality. Read on to discover our best tips and tricks for saving space in your apartment. 
Kitchen space saving ideas
The kitchen is the heart of the home, and this rings true in our apartments as well. Without the right storage solutions however, a craft kitchen can become a source of frustration in an instant. Whether you're a budding chef or just looking for ways to make the most of your kitchen, we've got the recipe to make even the smallest of kitchens into functional and stylish spaces that everyone can enjoy gathering in.
Floating shelves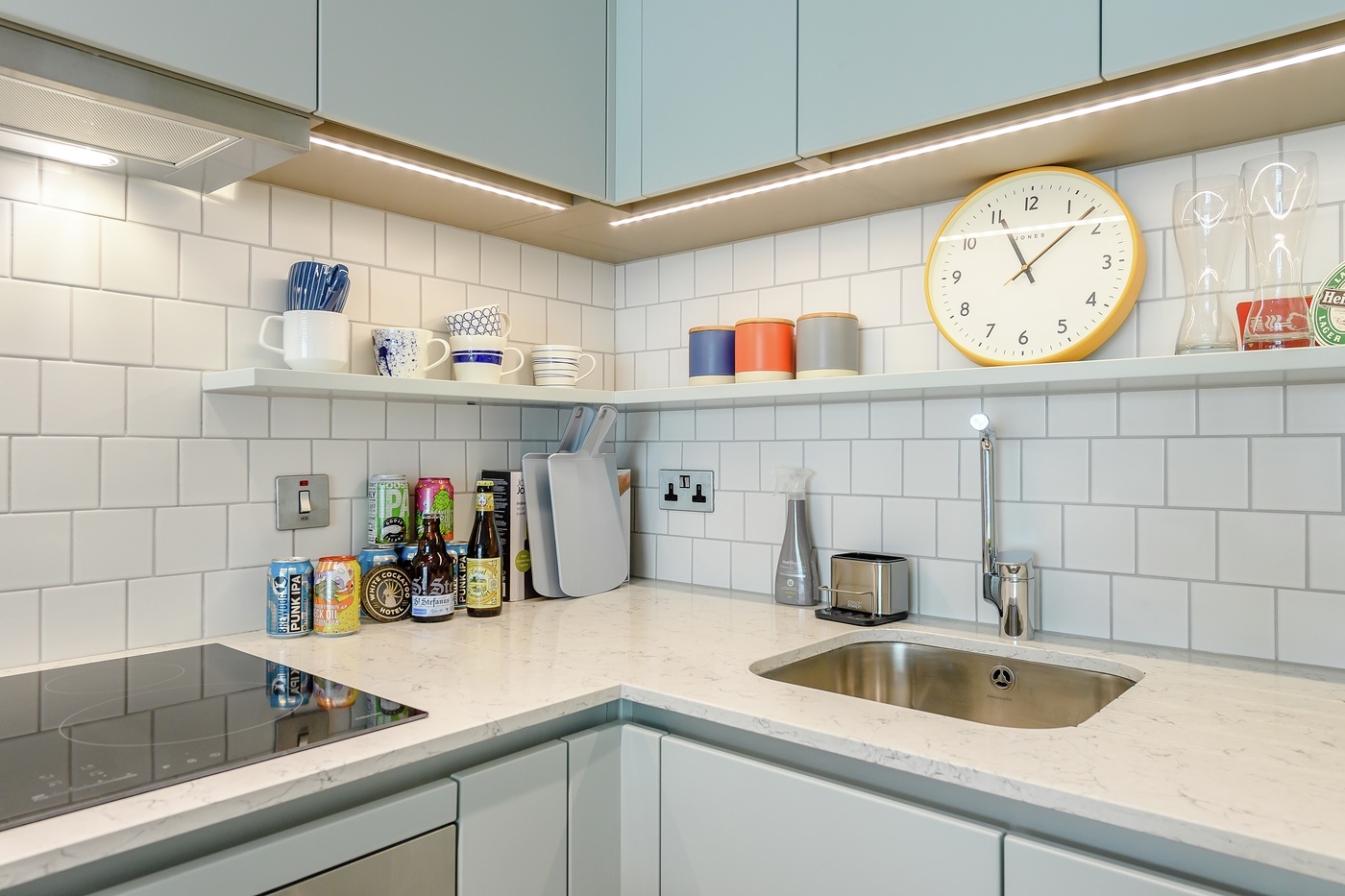 Floating shelves are a great way to add extra storage to a small home without taking up valuable floor space. Quintain Living apartments are designed to maximise space, which is why many of them come equipped with floating shelves already installed. These shelves are the perfect easy access storage for plates, glasses, and other kitchen essentials, while also adding a stylish touch to the room. 
If your apartment doesn't have open shelving, not to worry – you can always add them yourself or call upon our in-house maintenance team to help at no extra cost. By incorporating floating shelves into your kitchen, you can make the most of your wall space and create a more organised and functional cooking environment.
Counter space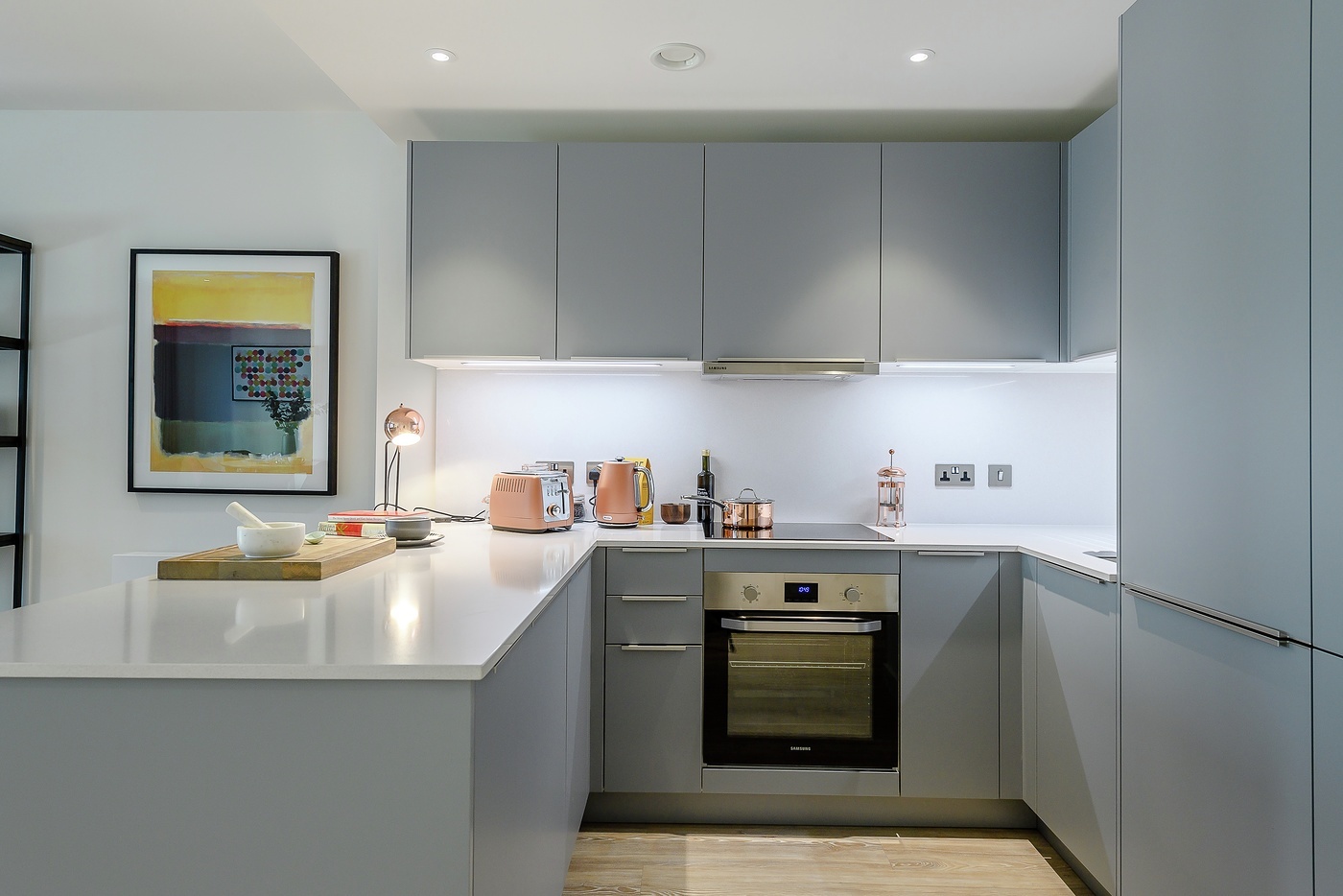 Counter space is a valuable commodity in any kitchen, but it's especially important in apartments where every inch counts. To maximise your counter space, start by decluttering and removing any unnecessary items from the countertops - we're looking at you, cake stand. 
Know that rolling carts and petite islands make great additions to small kitchens because they can be easily shifted around the room as needed. Installing hooks on the insides of your cabinet doors is a great way to hang utensils without leaving them on the counter. Wall-mounted knife racks and magnetic spice racks can help you to keep your most-used items readily available while keeping your counter top free as a work space.
Ceiling mounted racks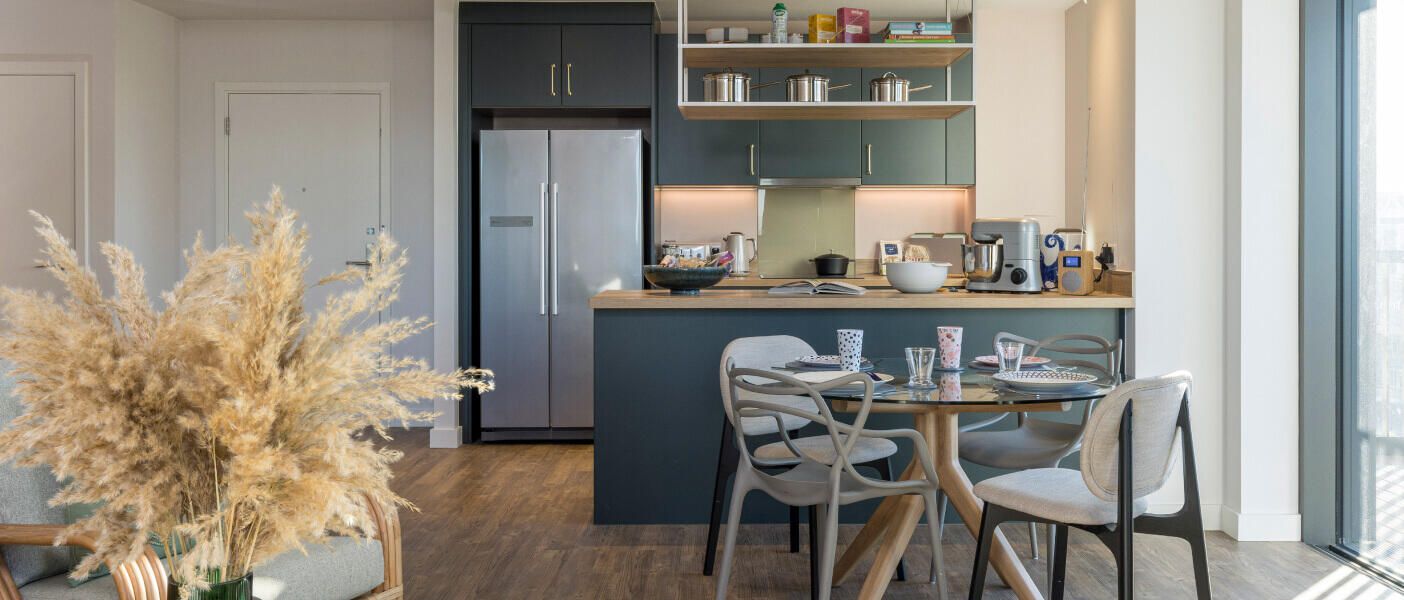 Ceiling mounted racks are the perfect space-saving solution for storing pots and pans, along with other useful kitchen utensils.They are excellent organisational tools to take advantage of the vertical space in your apartment, without sacrificing the overall style of your space. Some Quintain Living apartments are designed with these helpful racks already installed, freeing up valuable kitchen cabinet space. If your apartment doesn't already have a rack and you're looking to maximise your storage, you're welcome to install one yourself or have our handy maintenance team come by to hang one for you.
Bedroom space saving ideas
The bedroom is meant to be a haven of relaxation, but in small apartments, it can be a challenge to create a space that is both comfortable and functional. Limited floor space and storage options can make it difficult to keep your bedroom tidy and clutter-free. Fortunately, these small bedroom ideas are clever space saving solutions that can help you make the most of your floor space.
Under bed storage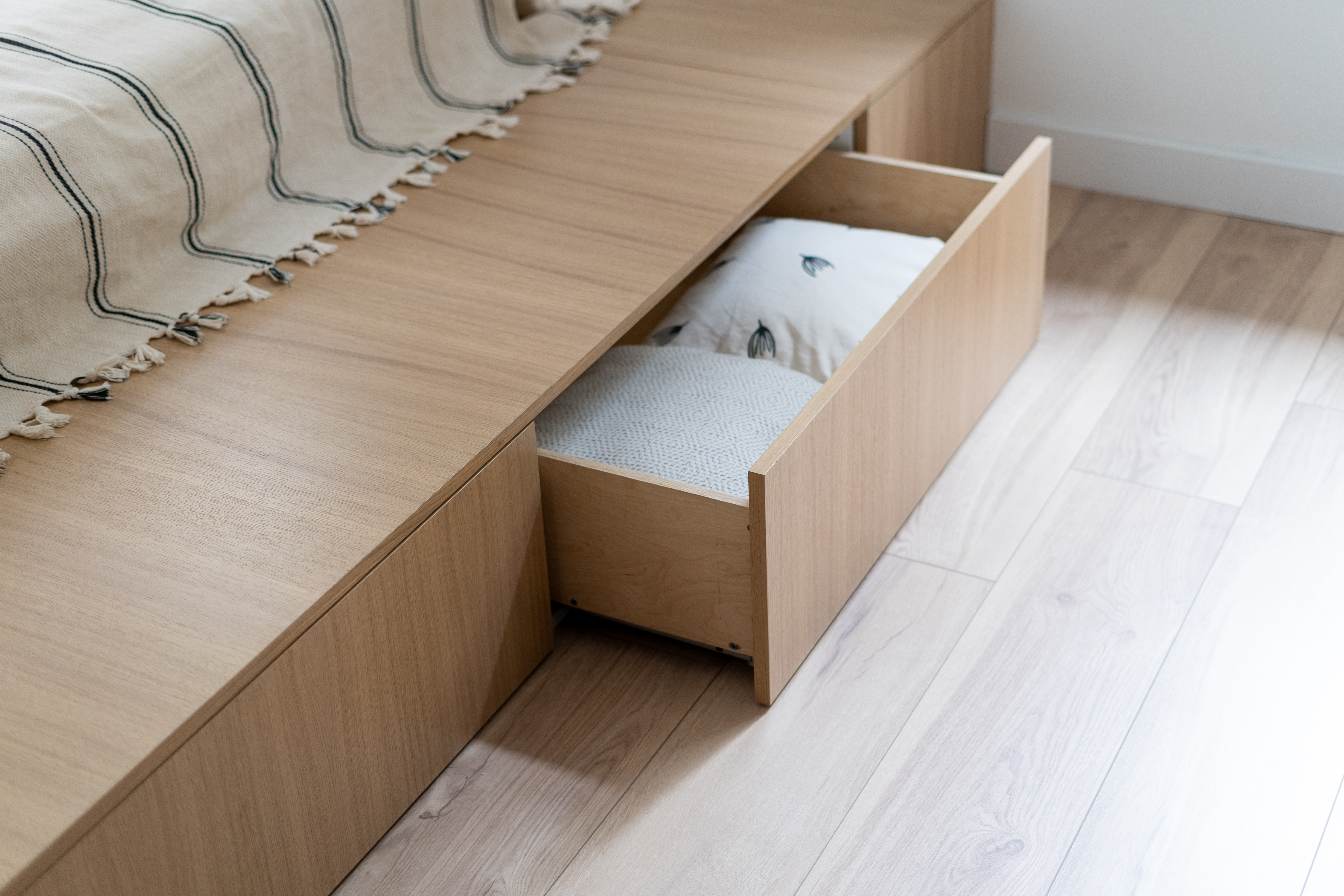 Under-bed storage is an excellent way to maximise space in a small bedroom. Instead of leaving this valuable area empty, use it to store items such as extra bedding, clothing and shoes. There are many different types of under-bed storage containers available, from plastic bins to fabric bags, which can be easily slid under the bed frame. Some Quintain Living apartments even come with built-in under-bed storage, making it even easier to keep your bedroom organised and clutter-free.
Headboard shelves
Headboard shelves are a creative way to add streamlined storage space to a bedroom. Instead of a traditional headboard, opt for one with built-in shelves to store books, reading glasses and other nighttime essentials. This type of headboard not only saves space but also eliminates the need for bedside tables, freeing up even more floor space for your room. Some Quintain Living apartments come equipped with headboard shelves already installed, while others leave you with the option to put them up. With this savvy space-saving solution, you can bring functionality to your bedroom while keeping all of your essentials close at hand.
Living room space saving ideas
The living room is often touted as the activity hub of a home so space saving in this room is key. Being privy to the right furniture and design choices makes all the difference. Maintain a stylish and welcoming living area while exploring these space-saving ideas to transform your living room into a warm and inviting space.
Storage shelves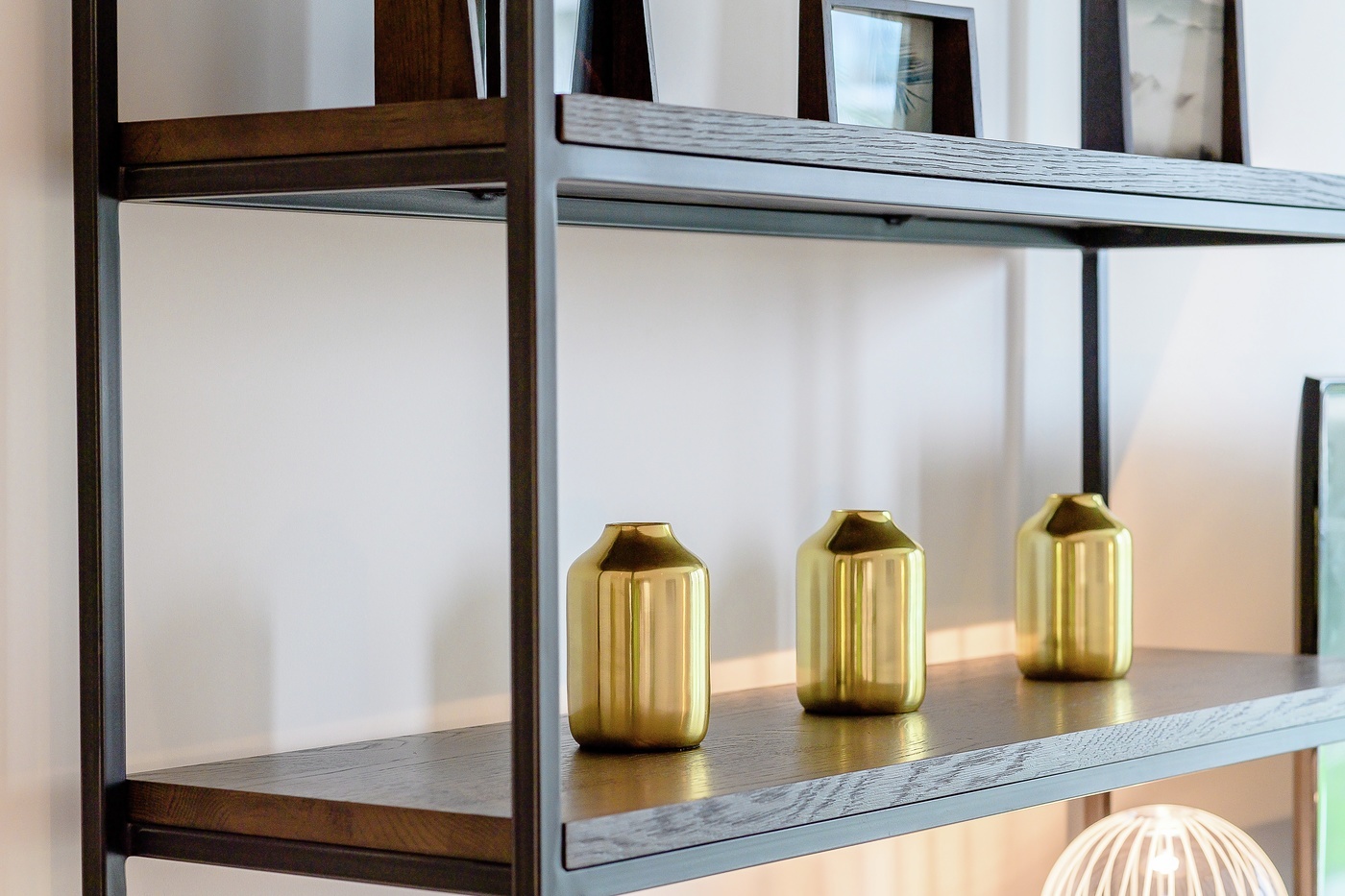 Storage shelves are an essential component of any small living room, providing a place to store books, magazines and other items while keeping them easily accessible. To save space, opt for tall and narrow shelves that take up minimal floor space while still providing plenty of storage. Look for shelves with adjustable shelving to accommodate items of varying sizes, and consider incorporating baskets or bins to corral smaller items. You can choose to have your Quintain Living apartment furnished, which means storage shelves are already built-in, making it easy to keep your living room organised and clutter-free.
Under coffee table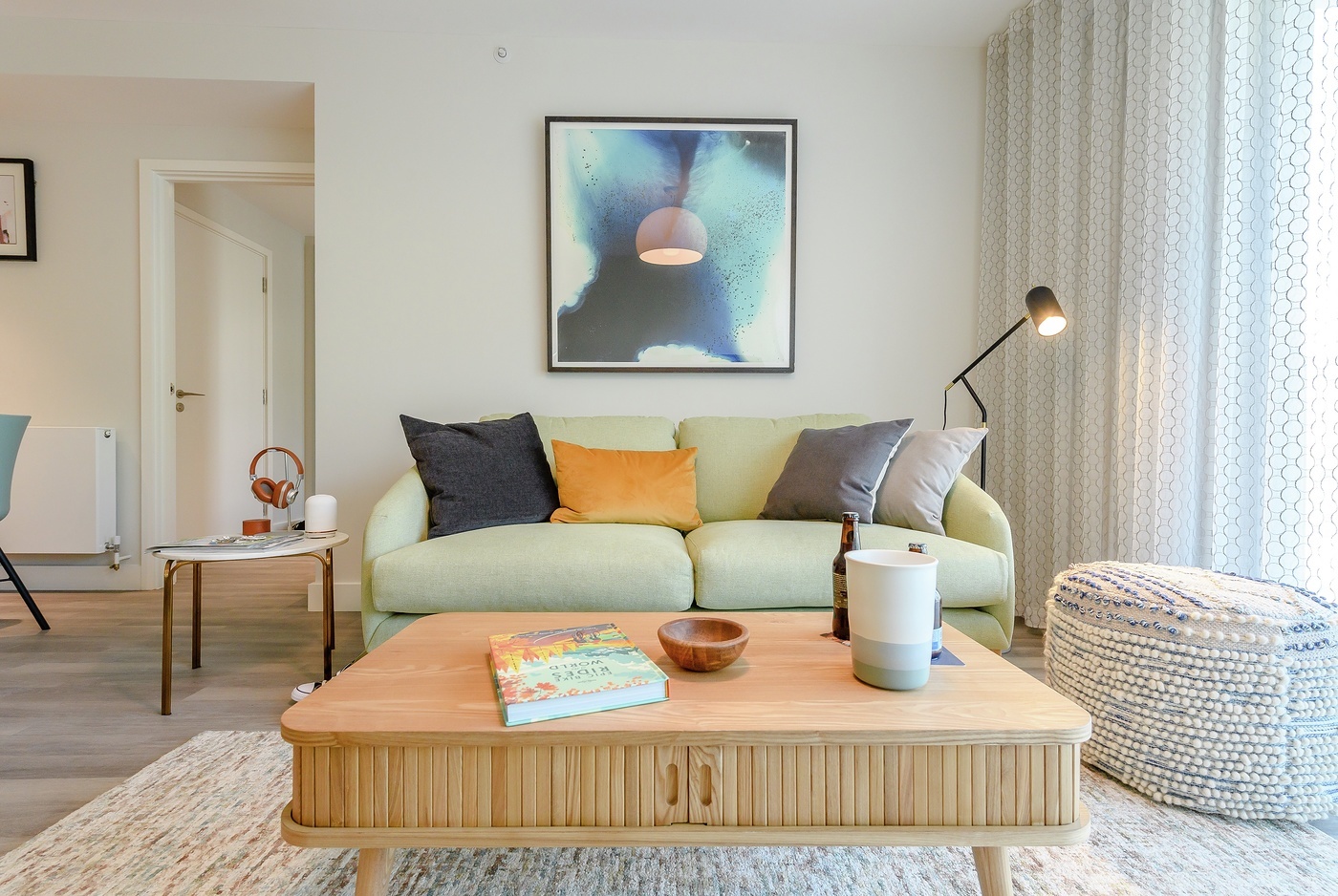 Of all the living room storage ideas, coffee tables present a unique opportunity for stylish storage that blends in with your interior design. Look for coffee tables with built-in storage compartments or choose a style that can easily accommodate baskets or bins underneath. The coffee table is a great place to store things like remote controls and board games, keeping them out of sight but close at hand should they be needed. We have a gorgeous and varied selection of storage coffee tables that come with our apartments if you decide to go furnished.
Bathroom space saving ideas
When it comes to apartments, the bathroom is often one of the most challenging spaces to keep organised. With limited storage space and a wide range of toiletries and cleaning supplies to contend with, it can be tough to find room for everything you need. Fortunately, there are plenty of space-saving solutions that can help you make the most of your bathroom.
Bathroom mirrors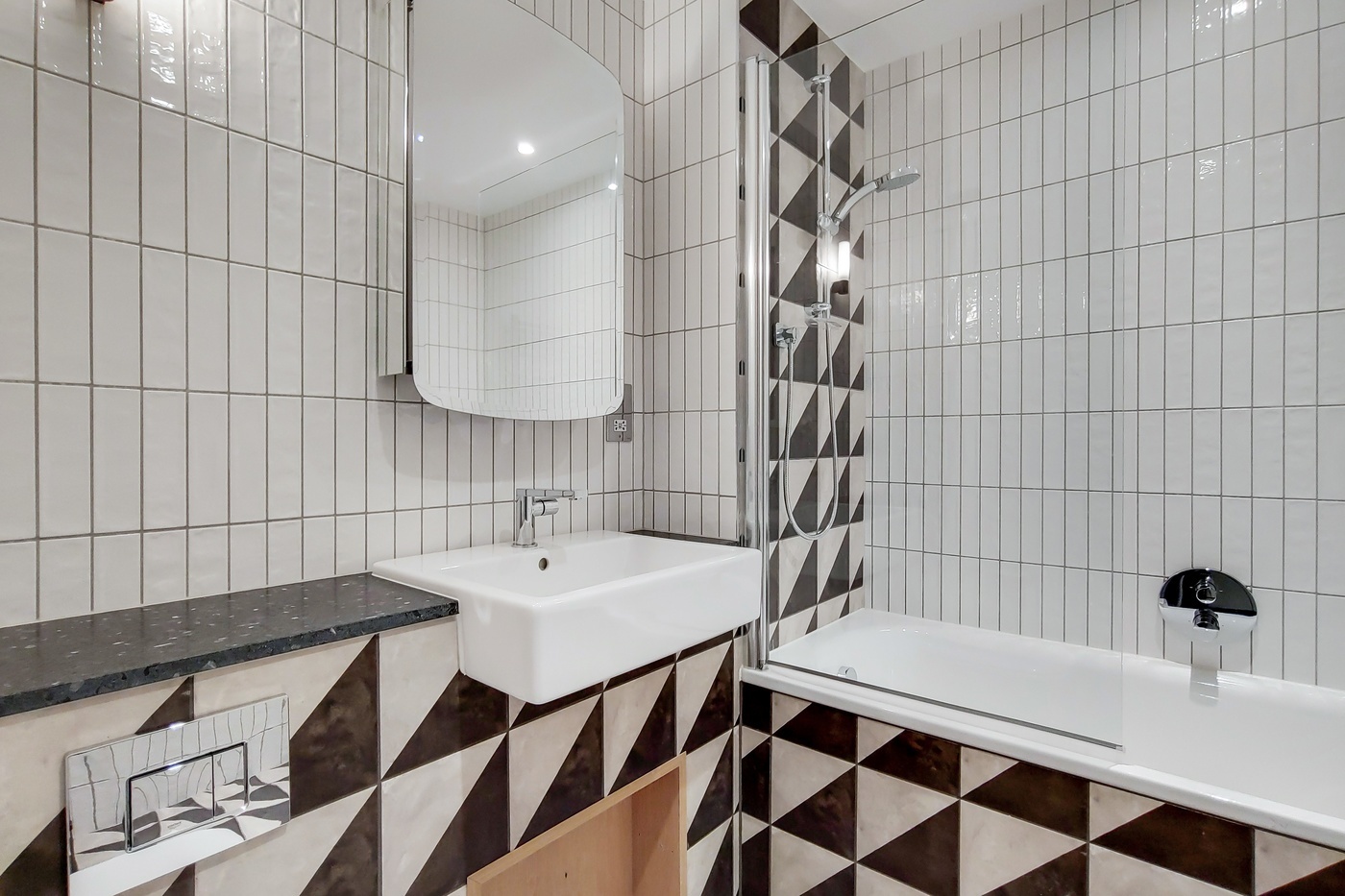 Mirrors are a staple of any bathroom, but they can double as a helpful space-saving tool. Storage mirrors are an excellent option for small spaces, as they combine two essential elements in one. Mirrors with built-in shelves or cabinets are wonderful for storing items like toiletries, makeup and cleaning supplies. In our apartments, bathroom mirrors are not just functional but can also be stylish additions to your overall home storage plan.
Storage baskets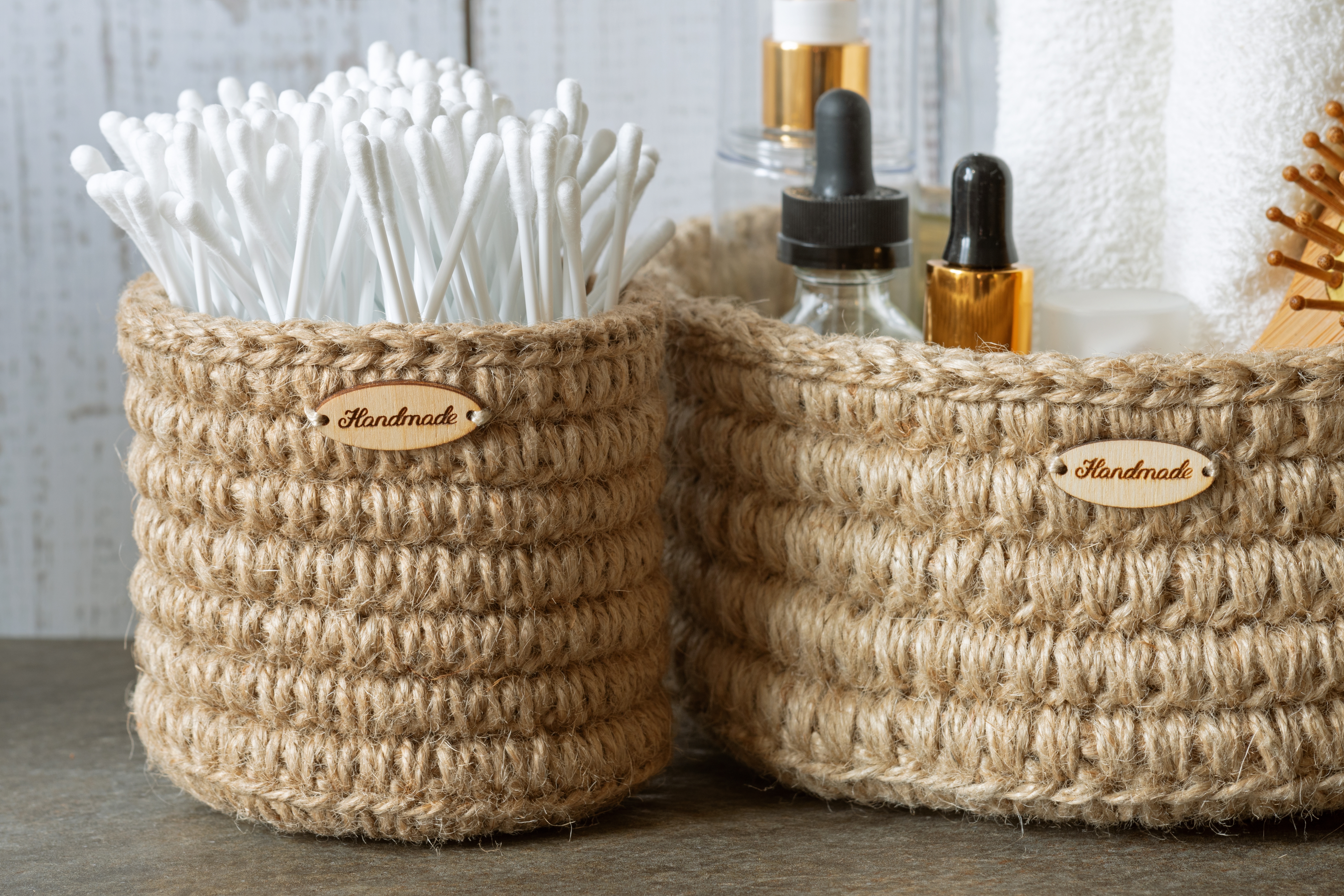 Storage baskets are a versatile and practical solution for quick decluttering, making them one of our favourite space saving storage ideas. You can use them to store anything from towels and linens to toiletries and cleaning supplies. They come in a variety of materials, shapes and sizes making it easy to find a design that effortlessly complements your flat. Tuck your storage baskets away under sinks, on shelves or in cabinets as an easy and affordable way to create a more organised home. 

Knowing how to make the most of your space is essential for apartment living. Our flats are the perfect example of how an apartment can be efficiently designed, without sacrificing functionality or style. From our built-in floating shelves to under-bed storage, there are countless ways we've optimised storage solutions for our residents. Explore our buildings to get to know all of the ways that we've seamlessly blended functionality with stylish design.