The prospect of walkies in the sleet and dark can quickly deter the most committed dog owner and separate puppy fantasy from reality faster than you can say, fetch. Yet, during the pandemic, a record number of Brits made the leap to dog ownership including primary school headteacher, Lucy McSwiggan, 33, from north west London.  Lucy explains how her decision to add a new puppy into her life proved to be the 'paw-fect' stress relief and support needed at this critical time.
As a young and busy headteacher, Lucy, like other key workers, had her work cut out with Covid. She explains: "Days were spent in Q&A forums with the council and local headteachers, understanding the new guidelines and translating ways to adopt new protocols for learning and managing pupil and staff welfare in an ever-changing situation. I've always thought of myself as data-led but there's no textbook for a pandemic, and it tested us all in our need to turn around decisions almost daily," she explains.
"In my heart, I always knew that I would get a dog one day, and finding a breed that might be able to come into school to help children with stress relief and wellbeing, was really important. But I just kept putting it off until the time was right. When Quintain Living made the announcement in January 2020 that all of its apartments would become pet-friendly and, with increasing talk of lockdown happening, I just thought I can't stay living in London by myself if that was to happen."
"I thought, if I don't do this now, when will I ever?" I researched the breeds that made the best therapy dogs and dogs that were great for apartments. Some of the suggestions were so big! One site suggested a Great Dane, but there's just four foot eleven of me and I live in a one-bedroom flat so that wasn't going to work! A Yorkshire Terrier proved to be the perfect match - they're protective, but great with children and sociable - so having exhausted rescue homes, I started searching in earnest for local breeders."
After searching far and wide, Lucy found her perfect dog but then encountered a challenge.  She explains: "After weeks of back and forth arrangements with the breeder, sharing pictures and stories, it all seemed to be going to plan, but just as I messaged to confirm she was still available, I received a blunt and very out of character, flat refusal: 'No!'. My heart sank and I wondered what I'd done wrong when the breeder called me to explain that the message hadn't come from her - it had been sent by her nine-year old daughter who was having difficulties coming to terms with the prospect of letting the litter go!  We all had a very tearful exchange and I promised her that I would be getting 300 children to help me raise her, and this seemed to give her the reassurance she needed!"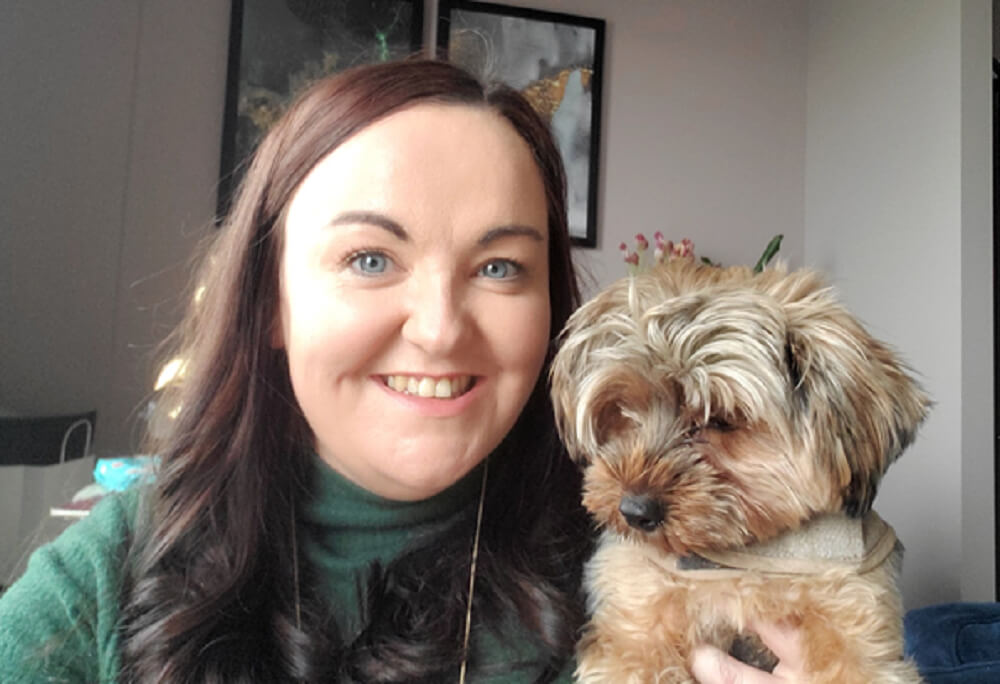 In the week that London went into the first lockdown in March 2020, Lucy moved her new four-legged friend into her Wembley Park apartment and named her RubyRu in homage to Lucy's two heroes: Kenny Rogers (who sang 'Ruby, Don't take your love to town') and Drag Race superstar, RuPaul.
Lucy laughs at the reaction her decision received. "My family thought I was mad. I had a high-pressure job, 'You're on your own and now you want to take on a puppy?' they said.  They were really worried about me and wanted to make sure that I wasn't setting myself up for a fall. But the truth is, I never would have been able to stay living in London on my own if I hadn't. She's been my own lockdown superhero and a lifesaver."
Renting with pets is tough at the best of times, with many landlords saying, 'No pets allowed' and turning away potential residents who own animals.  We, at Quintain Living, takes a more progressive approach, recognising the benefits that a pet brings - the comfort, the joy and the friendship - while also ensuring pet owners are respectful to the community and neighbourhood they live in.
Lucy explains the process of introducing her new dog to Quintain Living: "Everything had to be above board and by the book which suited me just fine. Quintain Living wanted a letter from the vet to confirm RubyRu was healthy, and asked me to fill in a special license with promises about how, as residents, we would respect the outside spaces, including tidying up after her, and sociability.
"RubyRu was also given a special tag to wear so that the team know that she's legitimate and a four-legged resident of Quintain Living - not that she needs it, she's a real superstar and is known and loved by everyone in the neighbourhood.  For example, if I go to my local bakery or coffee shop without her, everybody asks where she is! She even has her own Instagram account! Follow us at @RubyRu_Yorkie

"I had no idea how dog-friendly Wembley Park is and how much of a dog community there is here. I'm part of a residents' WhatsApp group and we all pass on recommendations to each other.  My apartment block is brand new and, in addition to a massive communal garden, it even has a special dog run. The concierge team always makes such a fuss of RubyRu when we come and go.
"My building is so dog-friendly. RubyRu is one of a pack of lockdown puppies who we both now know. Across the corridor, there's David with his wirehaired Labradoodle, Fergus, the most gorgeous dog.  We often go out for walks together as we live alone. There's also a Newfoundland pup called Mable who is gigantic and a Cavapoo called Freddie! His mum is another teacher who I've come to know through the dogs, which is lovely."
Lucy sums up the joy of renting and being able to have a puppy: "RubyRu may be tiny but she's made the biggest impact on my life and I couldn't imagine life any other way. They say a dog is man's best friend, but she's really more than that, RubyRu has been my lockdown lifesaver."