Spring has certainly been in no rush this year, but the persistent greyness now seems to have receded and the sun is shining at last. To celebrate the late coming of spring and soon-to-be summer, we thought we'd take you on a whistle-stop tour of our apartment buildings and some of the glorious outdoor spaces they have to offer.
With everything from outdoor cinemas and roof terraces to kids' play areas, allotments and probably London's longest row of sun loungers, our communal outdoor spaces are an integral part of our Wembley Park apartments.
Outdoor Life at Quintain Living
It's widely accepted by many London residents that the privilege of living in the capital comes at the cost of outdoor space. However, at Quintain Living, we don't think it has to be that way. 
After the pandemic, we're all more aware than ever just how vital accessible outdoor space is to our everyday lives. Whether it's space for socialising, playing with the kids or somewhere to simply sit and be, we believe everyone should have access to outdoor space.
The many green areas and parks in and around Wembley certainly help, from the newly opened Union Park to the beautiful, 254-acre designated nature reserve at Fryent Country Park. However, we've also created lots of beautiful outdoor spaces to help our residents enjoy every aspect of London life.
Our Apartments with Outdoor Space
At Quintain Living, all our apartments have access to a shared outdoor area. Many also have their own private terrace or balcony. Here's a selection of some of the fantastic outdoor spaces you can find at our apartment buildings.
Alameda - Roof terrace and outdoor cinema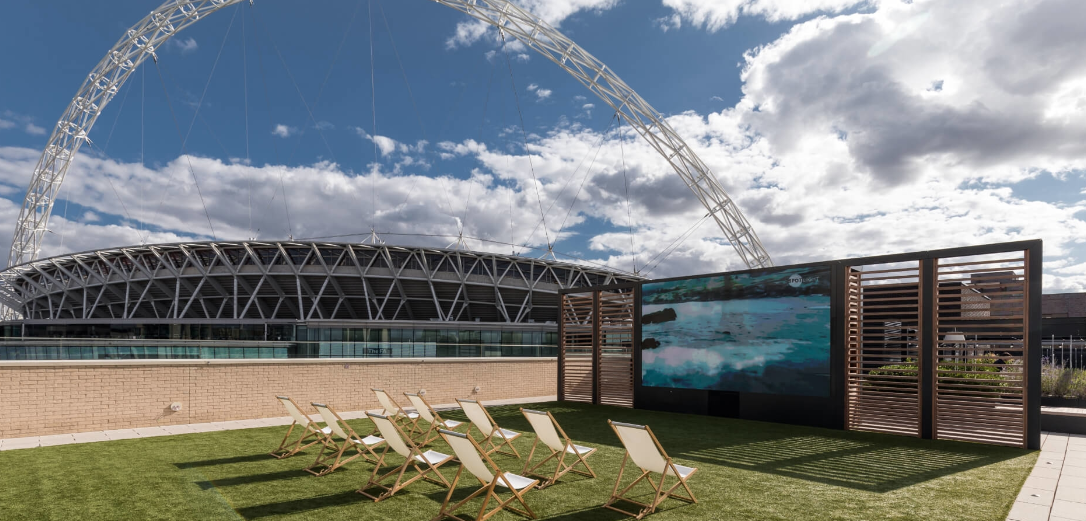 The Alameda building is cool, calm and contemporary, with its pastel colourway and balconies that overlook the action but are just far enough away. This extends to the building's two roof terraces - the Alameda Terrace and Arco Roof Terrace - which have views of the iconic Wembley arch and the city beyond.
The Alameda Terrace has plenty of space for relaxing and unwinding on warm days, while the Arco Roof Terrace features its own six-metre rooftop cinema screen, so you can kick back and watch a film under West London's moonlit skies.
The Robinson - Roof terrace & Festival Gardens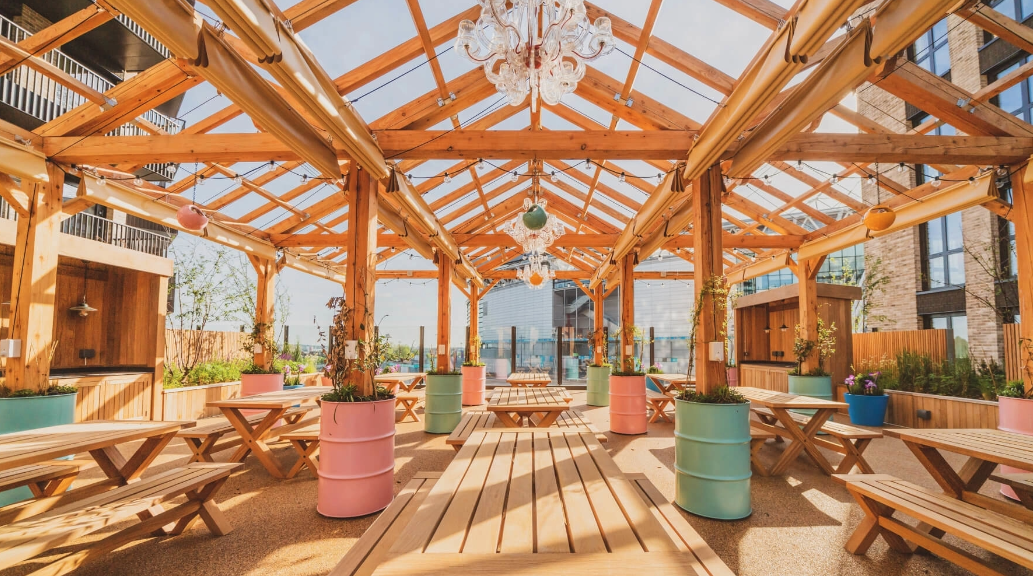 The Robinson building is proudly different, with a bold and eclectic colour scheme on the inside that's combined with a playful sense of outdoor living. The roof terrace is expansive and features a juice bar in the shape of a giant orange and the longest row of sun loungers in London. There are also brightly coloured work-from-home caravans and even a spa caravan with a hot tub.
The fun continues down at ground level in the Festival Gardens. Here you'll find a deck-chair bedecked lawn, Mad Hatter's tea party with BBQ, swings for the kids and even a dog park so your labrador doesn't feel left out! And after all that fresh air, you can retreat to the serene peace garden to rest your eyes.
Find out more about our pet-friendly apartments.
Canada Gardens - Two roof terraces, outdoor allotments & pirate ship playground & splash park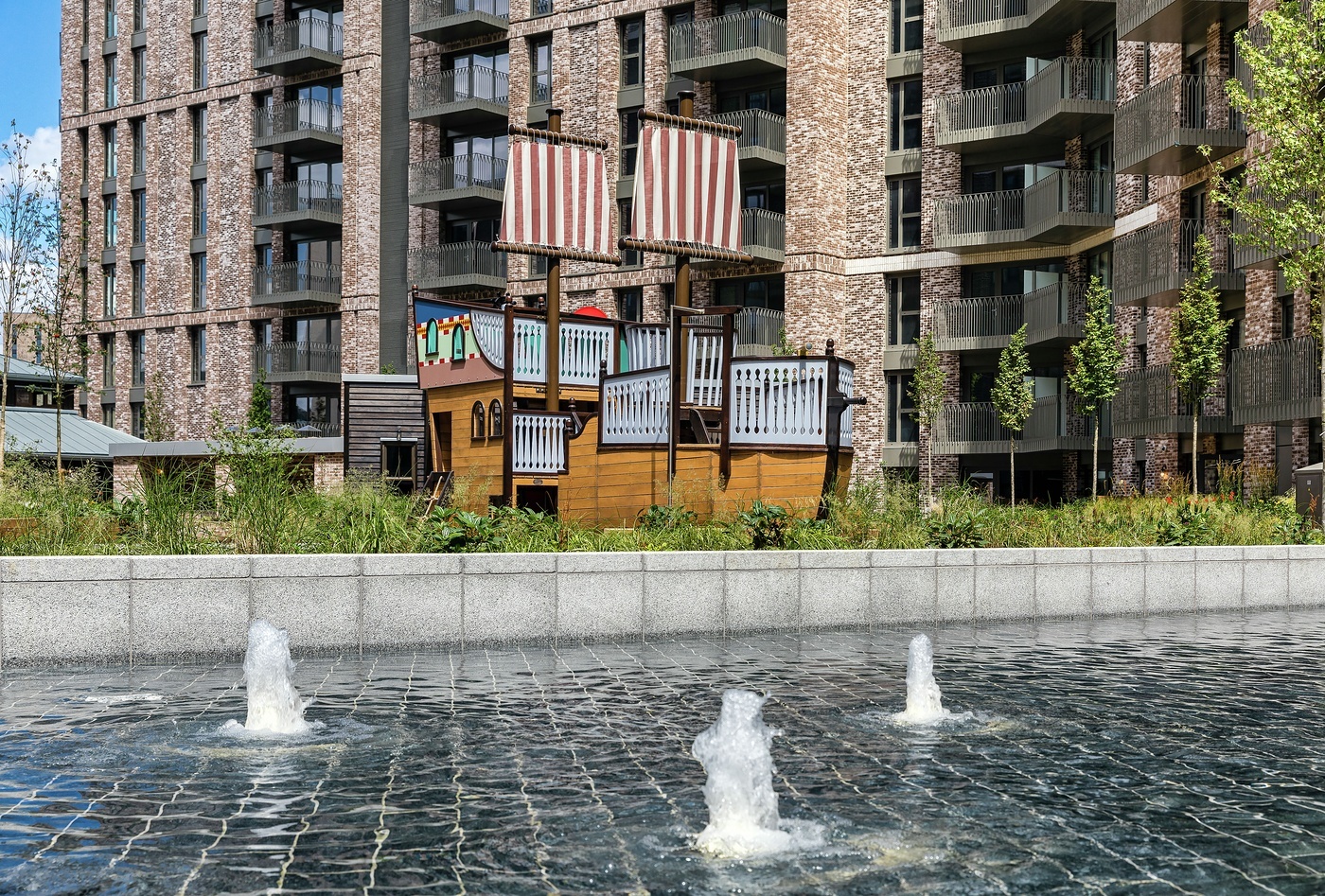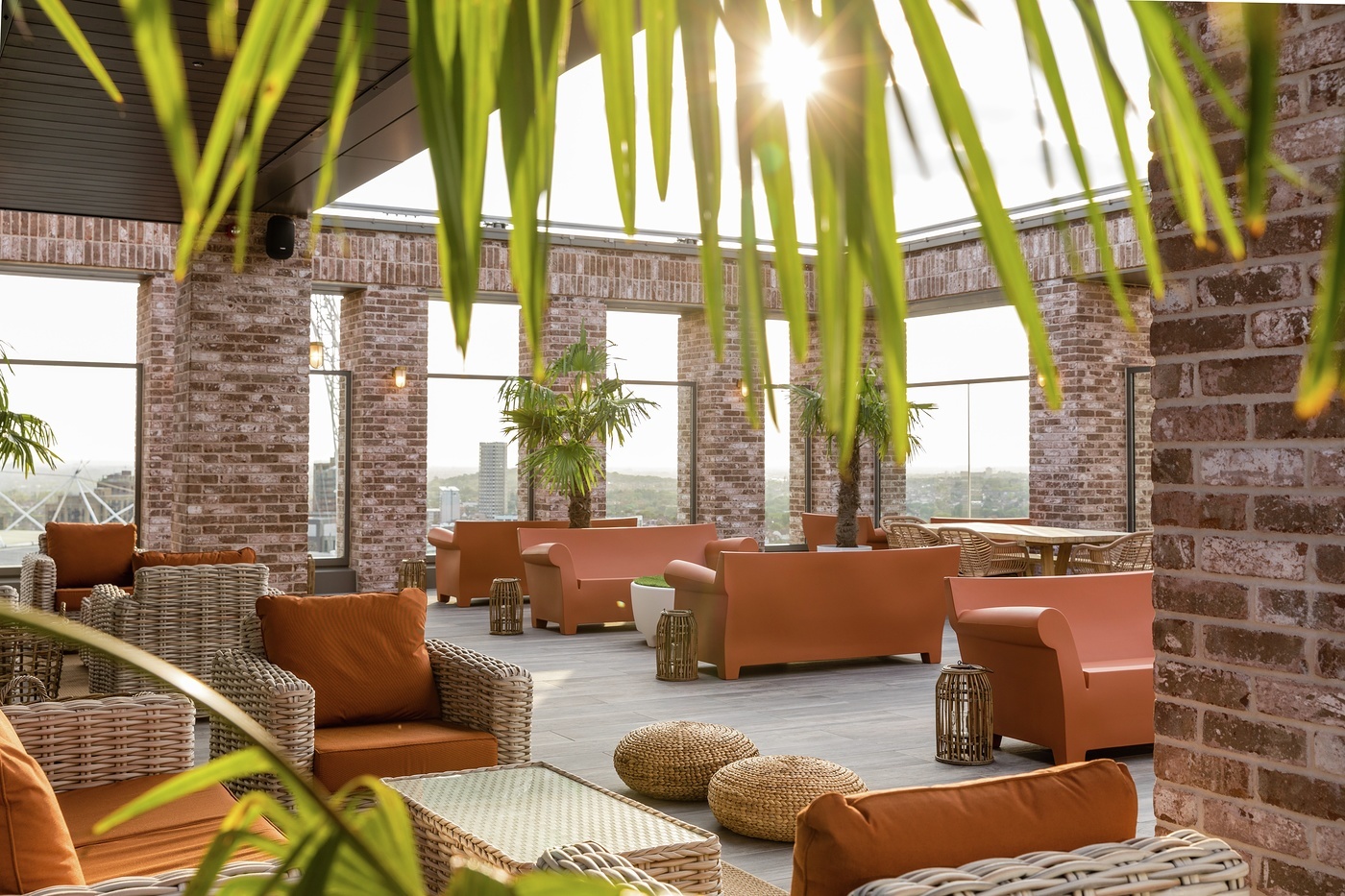 Canada Gardens offers a green oasis in an urban setting with more than an acre of outdoor space. There are two beautifully furnished roof terraces to enjoy, with areas to eat, drink and socialise while enjoying the stunning views across the city.
At ground level, there are purpose-built work-from-home cabins that would happily grace any suburban garden. There are also beautifully landscaped gardens, a Weber-grade outdoor grill area and hireable allotment planters where residents can grow herbs, fruits and vegetables. 
For the kids, there's a pirate ship playground park where they can burn off some energy, as well as a splash park that's perfect for cooling down on hot summer days.
Repton Gardens - Courtyard BBQ & outdoor bar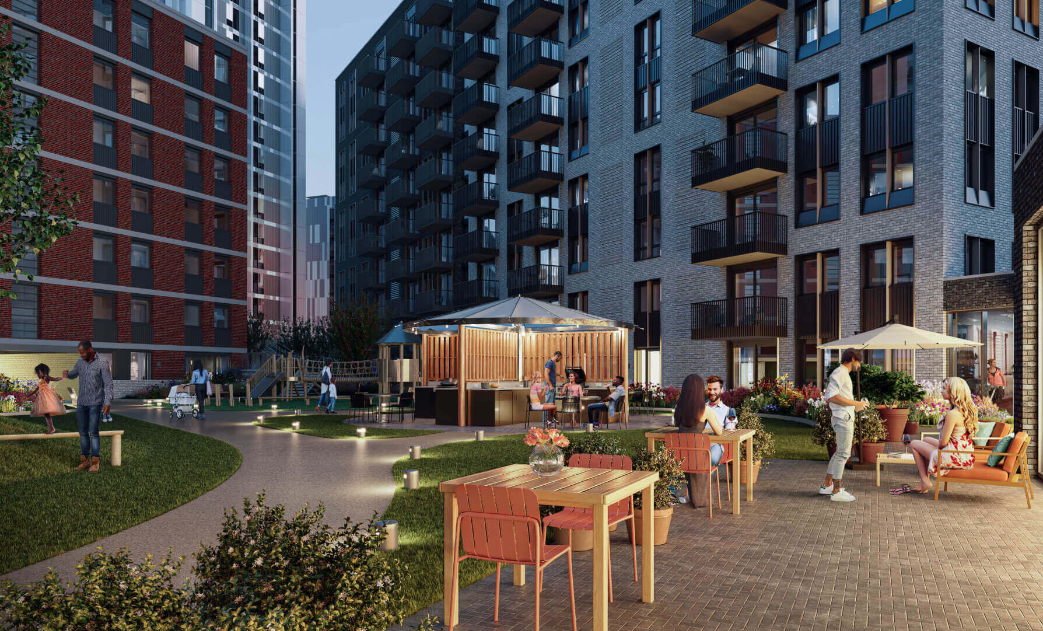 The botanically-inspired Repton Gardens is designed to bring the outdoors in, but there's also plenty of outdoors 'out'. Its three buildings face inwards to create a beautifully cultivated courtyard garden complete with BBQs, a terrace and two kids' play parks.
There's also a large club room with a pool table, soft seating, TV area and bar serving beer and wine. It opens out onto the courtyard garden to give the whole area a private and secure indoor/outdoor feel.
Landsby - Roof garden & podium playground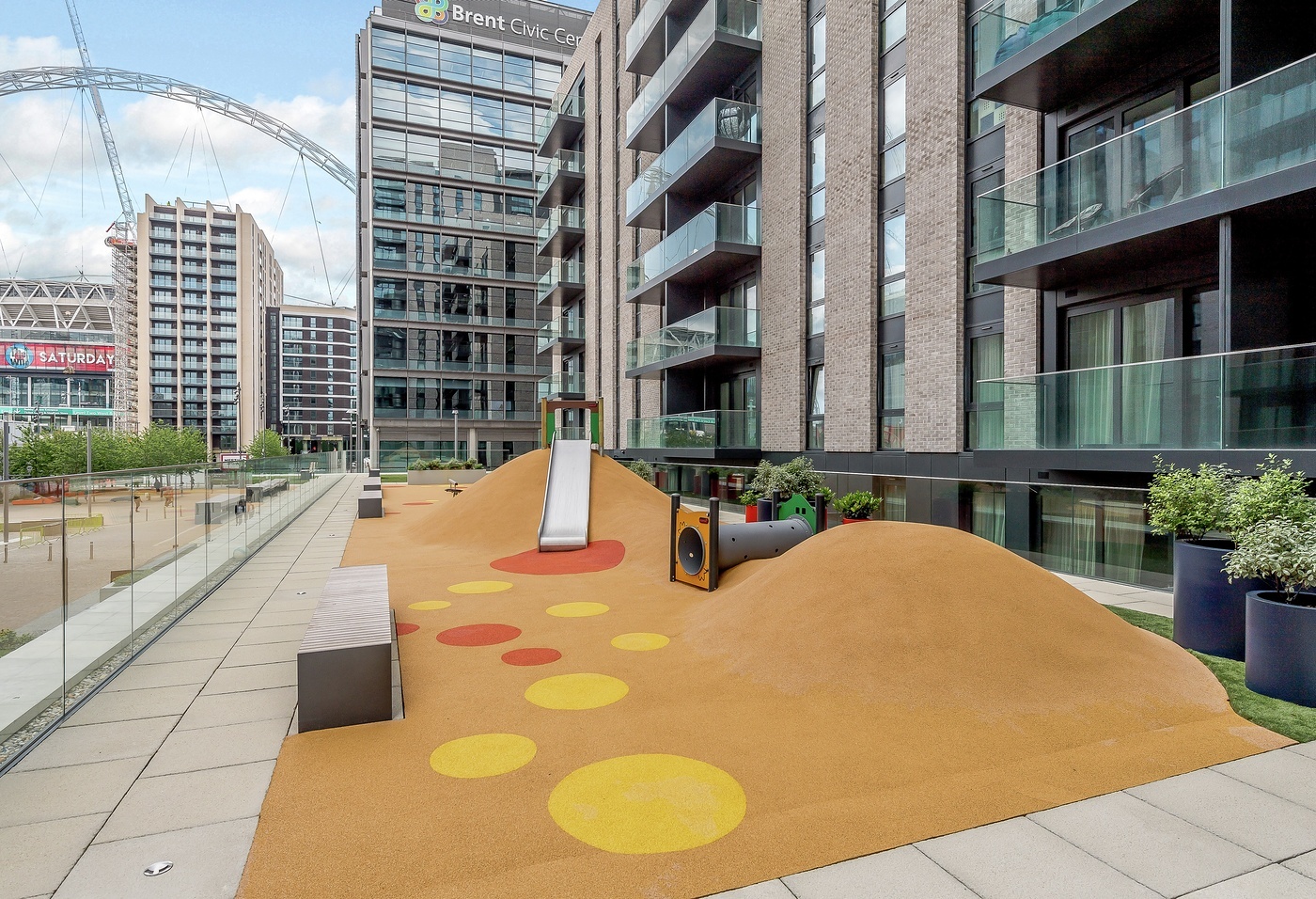 The Scandinavian-inspired Landsby building benefits from sprawling gardens, two roof terraces and a fantastic podium playground. The rooftop is also home to a play area for residents of all ages, complete with climbable seating and its very own maze. 
The large Rooftop Garden East provides comfortable seating and wonderful views across to Wembley Stadium, while the podium playground is plenty big enough for the kids to dash around and let off some steam.
Beton - Roof garden & chessboard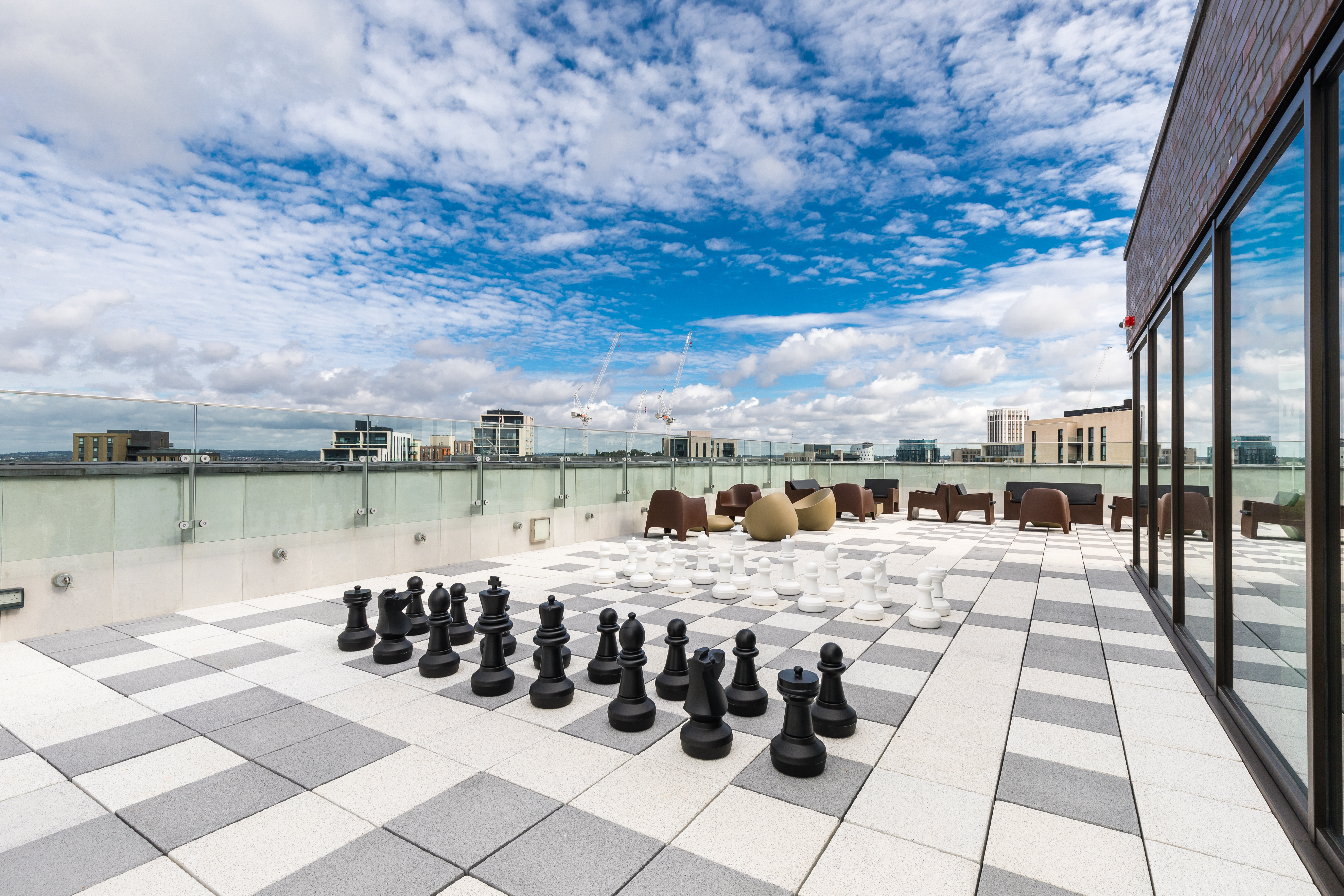 The monochrome and minimalist Beton building benefits from spacious terraces on the first floor and at roof level. The rooftop garden features BBQ spaces, dining tables and lounge seating where residents can enjoy the views of Wembley Stadium and its striking arch, as well as the city beyond. 
There's also a giant rooftop chessboard, so you can perfect your queen's gambit in the sun, as well as a ground floor all-weather play park, adjacent to Beton, for all the family to enjoy.
Montana & Dakota - Gardens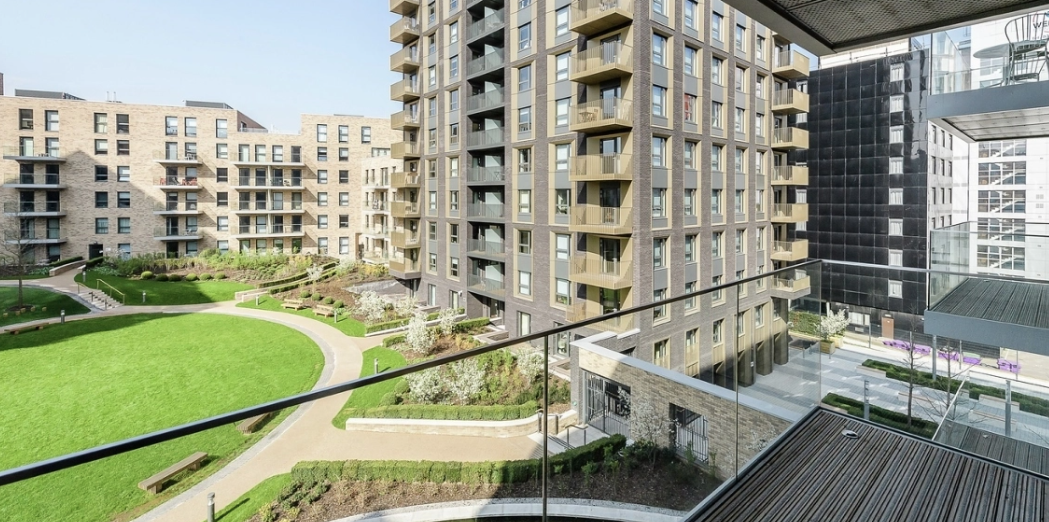 The spacious, light and airy Montana & Dakota buildings are set within an acre of private residential gardens. These beautifully landscaped green spaces offer an urban oasis where residents can walk, rest and play. Every apartment also comes with its own private outside space in the form of a balcony or terrace - perfect for a relaxed coffee while taking in the view.
Green space has never been more important
According to the Office for National Statistics, one in eight households in Great Britain and one in five in London have no access to private or shared outdoor space. At Quintain Living, our apartments with outdoor space give all our residents the chance to enjoy luxury outdoor living in the heart of Wembley Park. 
Find out why a home with Quintain Living is more than just an apartment, explore our buildings and find your perfect home.