OVERVIEW
Designed as a place for you to relax amidst the hustle and bustle of Wembley Park. Our studio flats to rent in Wembley put you right in the heart of the action, with everything from groceries & everyday essentials to sporting events, designer shopping, vibrant restaurants and bars, all within a short walk of your new home.
Our studios to rent in Wembley are stylish inside and out. With uniquely designed apartment buildings so you can choose a studio that suits your style. From New York loft to Scandinavian chic. And should you want it furnished, we offer a range of high quality furniture and appliances from brands like Hay, Samsung, Bosch and John Lewis & Partners.
To help everyone adjust to our new lifestyles, all of our apartment buildings feature specially designed work from home spaces, connected to superfast Wifi. Ideal for helping you maintain your work-life balance. When you're after some time to yourself, head to our on-site gyms, fitness studios, or social spaces equipped with cinema screens and places to hang out with friends, all included in your rent.
With all of our lifestyles looking a little different for the time being, we know how valuable access to outdoor space has become. Living with us will allow you to enjoy beautifully landscaped gardens and rooftop terraces where you can take a break, feel more relaxed and be more active, all whilst soaking in the sunshine and panoramic views of the city. Some of our studio flats to rent in Wembley also benefit from private balconies so you can enjoy some fresh air anytime you like in the comfort of your own home.
At Quintain Living, we want to ensure that you have as much time as possible to enjoy the things you love. Superfast broadband and all of your utilities are set up and ready to go from the moment you move in. We will even help you to move in for free. So you can relax, it's all sorted with no hidden deposits or fees.
Wembley park is buzzing with plenty of things to do, eat, drink and explore, but when you need to venture into the city centre for work or play, Central London is only 12 minutes away from your new home. With Metropolitan and Jubilee lines running day and night to keep you connected to the centre of the action.
Uncover a whole new way of renting, in one of London's most exciting new neighbourhoods with our range of beautifully styled studio flats to rent in Wembley.
Show me more
Quintain living
benefits

STYLISH APARTMENTS
Spacious, brand new studio, 1, 2 & 3 bed apartments each with a balcony or terrace, co-designed with Samsung and John Lewis & Partners

NEW NEIGHBOURHOOD
A place to relax and be entertained on your doorstep and just 12 minutes from Central London.

HASSLE-FREE PROCESS
No deposit to pay, and no hidden fees. Utilities and free superfast broadband all set up & ready to go.

EXCLUSIVE OFFERS
Get up to 25% off your rent now with our limited offer. T&Cs apply.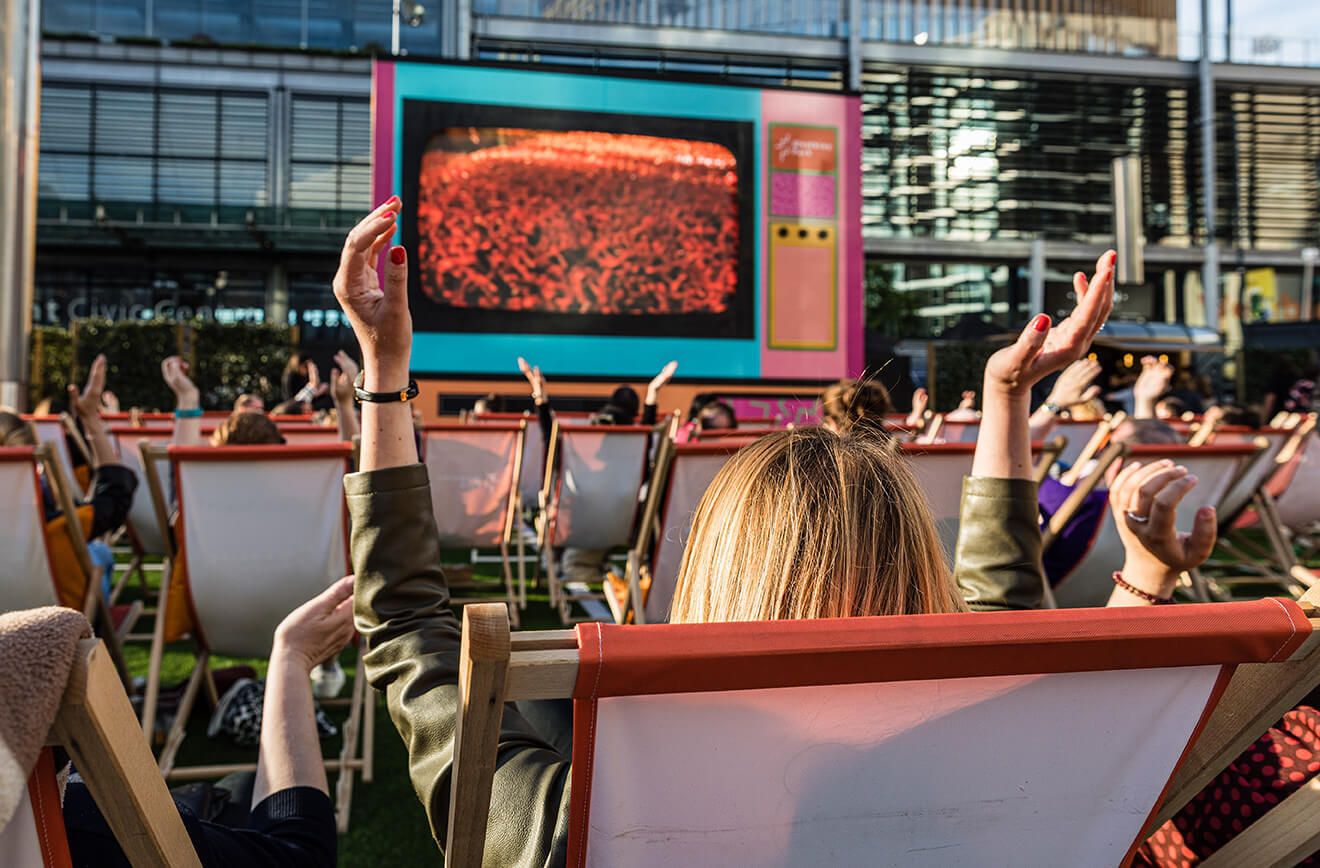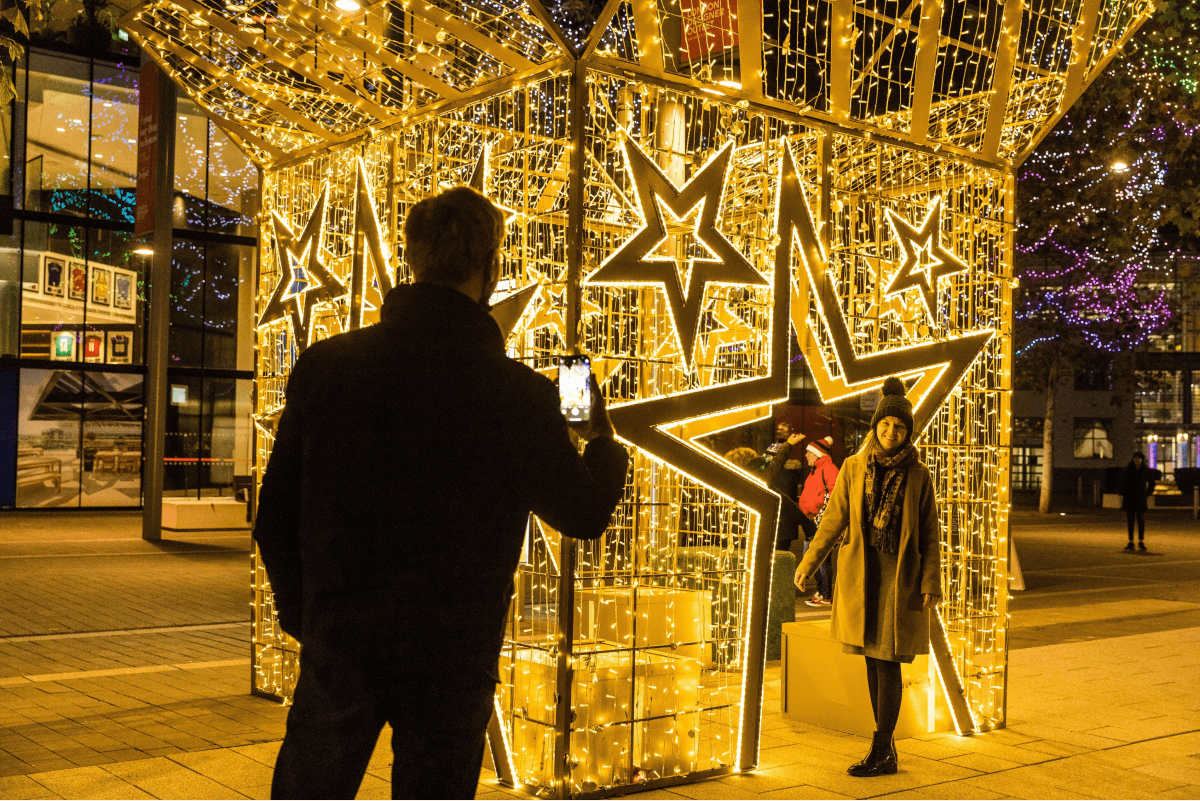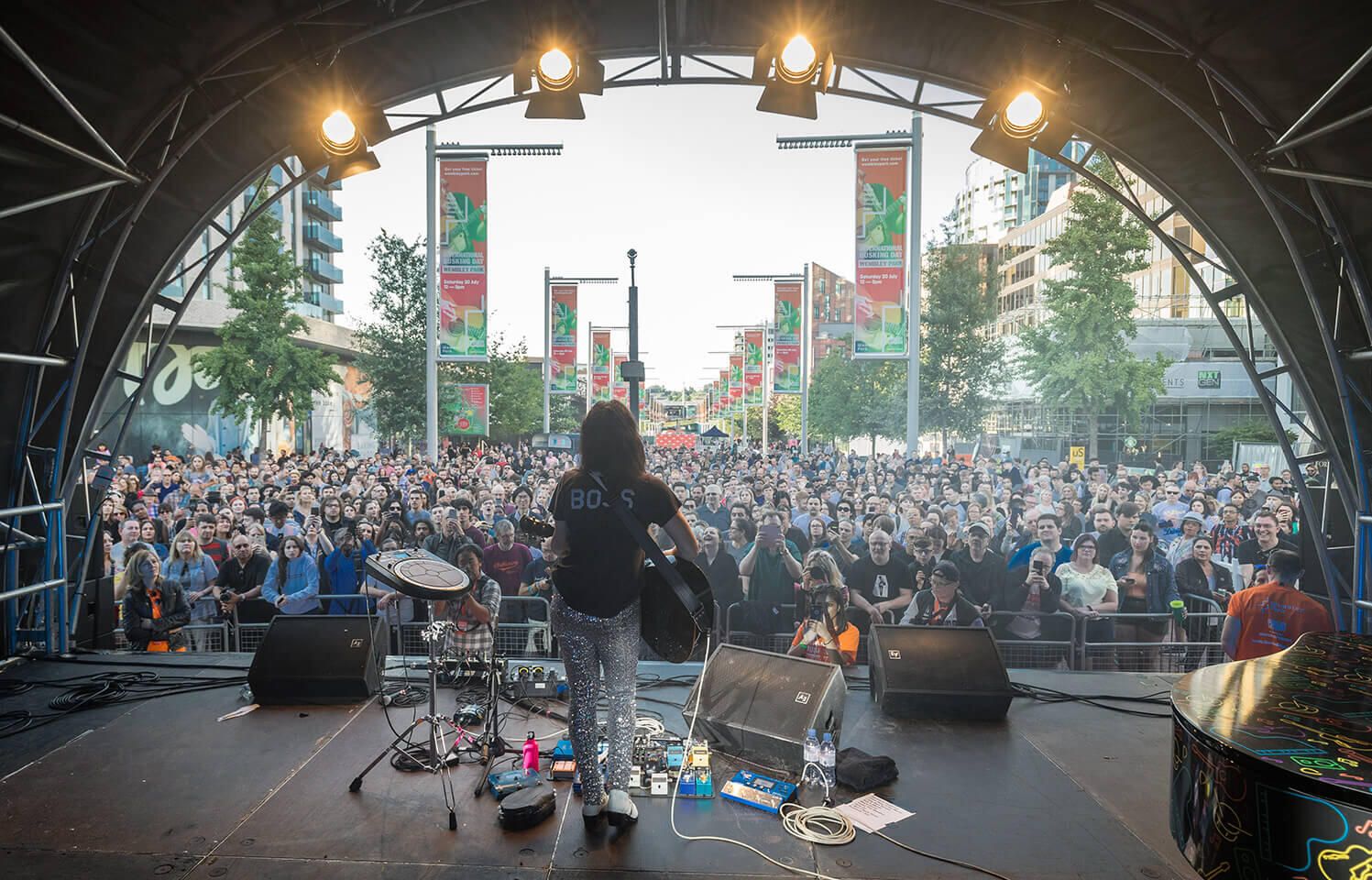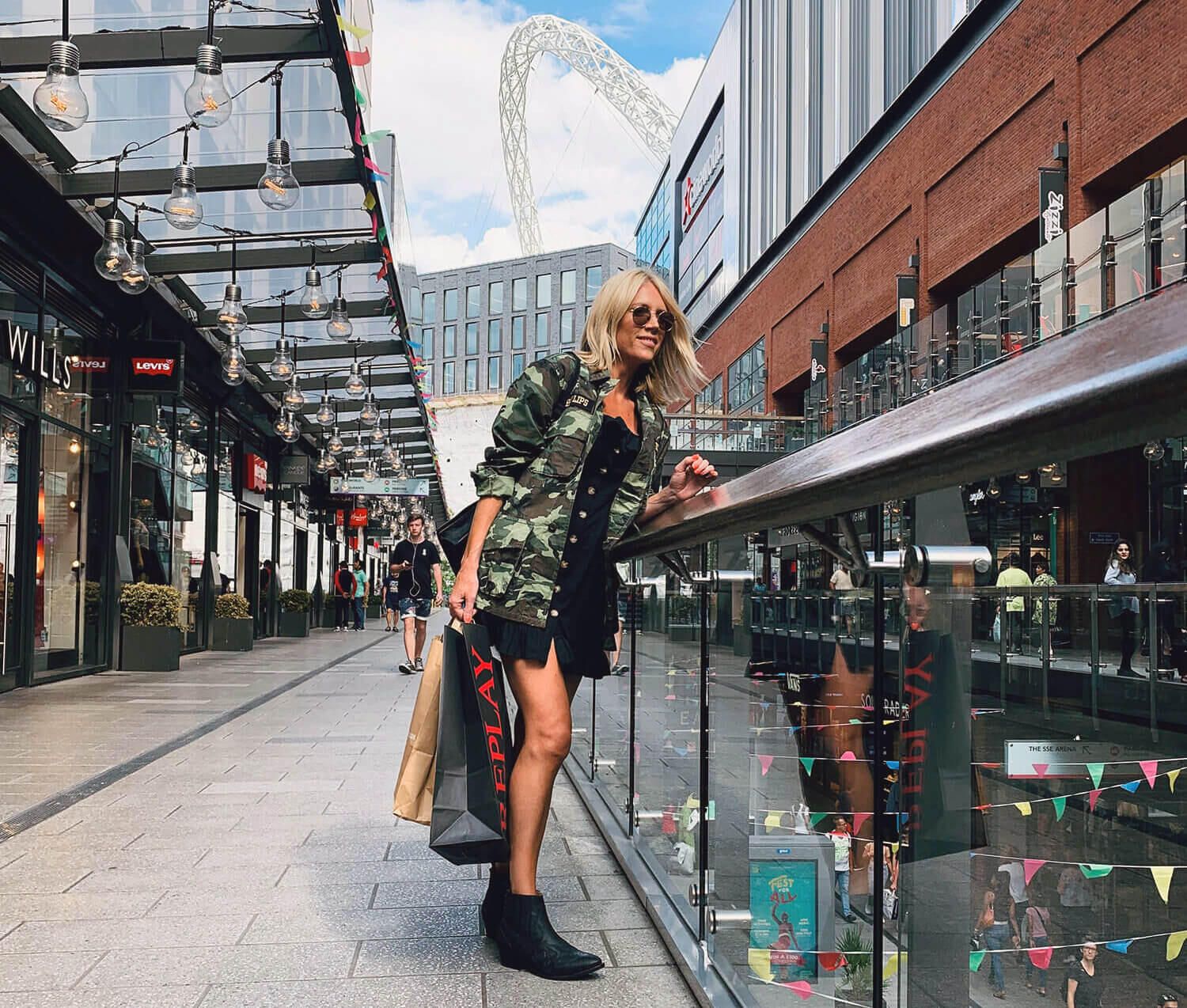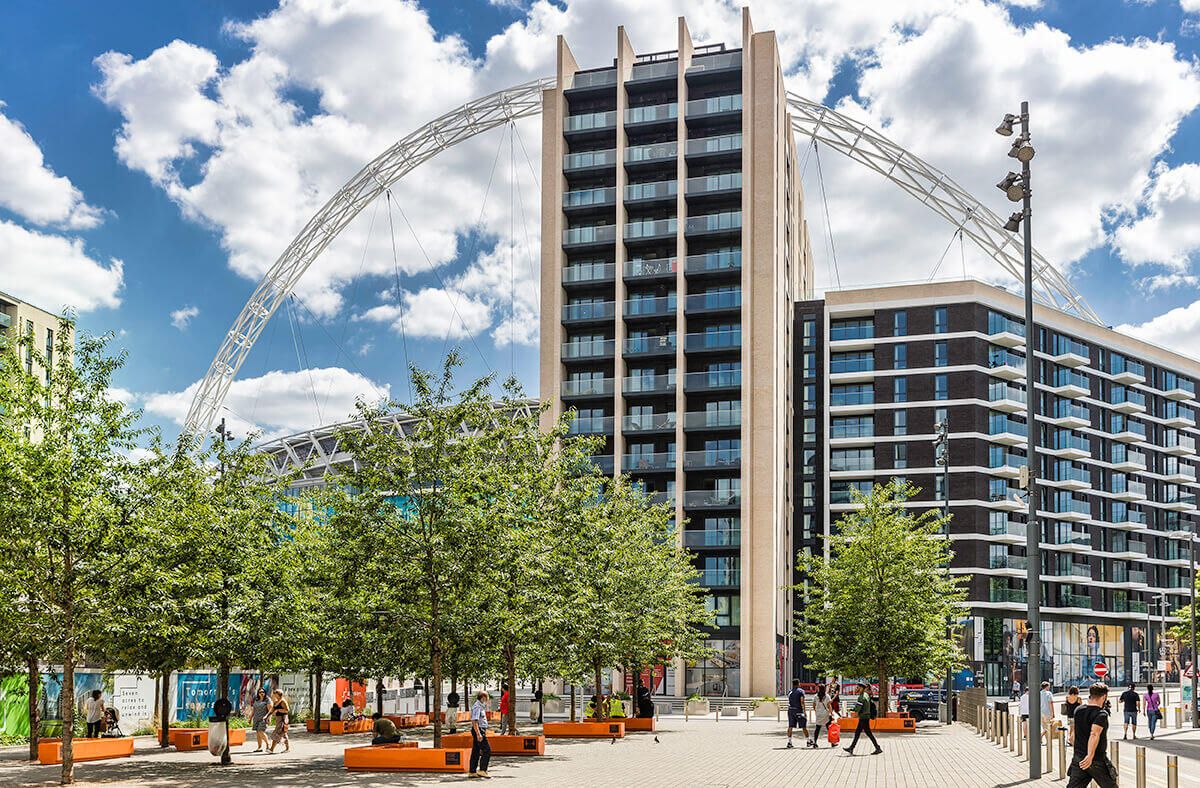 What's in Wembley Park?
Living in Wembley Park offers something for everyone to enjoy. Our studio flats to rent in Wembley have gardens and green spaces which provide pockets of peace nestled amongst a buzzing restaurant scene and entertainment for sport, theatre and music lovers.
If you're looking for a pub close by to grab a bite to eat or something to drink with your friends, the recently opened White Horse is a great choice. With comfortable lounge seating and a menu packed with British classics made with fresh, seasonal ingredients, it is sure to become a firm favourite for an after-work catch-up.
If street food or small independent restaurants are more your style, head to Boxpark where you'll find over 20 different street food vendors, selling food from all over the world. Or down the road to the independent artisan pasta specialists, Pasta Remoli, renowned for serving some of the best pasta in London.
Wembley Park also offers a huge range of shops ranging from designer brands to independent markets, so you can shop to your heart's content. The London Designer Outlet is home to brands such as Calvin Klein, Adidas and Sony, all offering up to 70% discounts on a range of products. Complete with popular chain restaurants including Pizza Express, Nandos and Wagamamas and a cinema.
Many of us are turning to smaller, independent businesses when shopping for gifts, homeware and everyday essentials. And Wembley Park Market is the perfect spot for discovering new local businesses selling everything from baked goods to handmade crafts. A must-visit when searching for ethically sourced and sustainable products.
With so much to do, we don't want anyone to miss out. Just a short walk from your Wembley studio are local amenities, shops, supermarkets and a post office. Our concierge service and neighbourhood teams are also available 24/7 to help you manage any admin tasks, from receiving parcels to collecting your dry cleaning. Everything is taken care of so you can spend more time doing the things you love.
Immerse yourself in everything this exciting new neighbourhood has to offer with our spacious studios to rent in Wembley Park.
Show me more
What our residents say
See what Quintain Living residents say about living in Wembley Park with Quintain Living.
New York loft-style apartment
and hi-spec furniture
We adore the design of Ferrum and its apartments - when I'm WFH everyone comments on my 'cool windows' and 'interesting industrial ceiling'. The furniture is top spec and quality being from John Lewis.
Amazing events
and perks
I have nothing but positive things to say about the property management - kind, patient and efficient! They spoil their residents rotten though with the best, most diverse and generous events and perks I've ever experienced!
Moving
took just 7 days
Quintain Living has been by far the easiest company to rent from in my experience. From viewing to moving it took just 7 days with zero deposit!
Plenty
of transport links
Wembley Park is a nice vibrant place to live in with good amenities close by and plenty of transport links.
Free social events
for residents
I love the fact Quintain Living host free social events for residents! We recently did a candle-making class at the Wembley Park Market, which was amazing and we also got to meet like-minded neighbours. Can't wait for more events!
Consistent
excellent nights sleep
The flat is beautiful and well equipped with quality kitchen goods. The furniture supplied is also of excellent quality and has provided me with consistent excellent night's sleep.
Concierge
quick and helpful
Quintain Living London took care of everything for me when we first moved in. I love that I don't have to worry about my bills, the only cost on top is the council tax. The Concierge are quick and helpful!
Pet friendly and
many activities for kids
Landsby West has been an excellent experience. The super helpful concierge is such a pleasure. The building management team is prompt in resolving any issues. It's pet-friendly and many activities available for kids.
How can
I go back?
Living here has been such a wonderful experience for me and my family. We love the service provided by Quintain Living. We've gotten so used to a concierge service, the free events pup on for us and the occasional free tickets.
Transport & connections
London is just a stone's throw away. Twelve minutes to be exact.
Transport &

connections
London is just a stone's throw away. Twelve minutes to be exact.
You Might also be interested in