As seen on BTR NEWS 
Oyihoma, 28, and Vanessa, 27 first met at a party in London nearly a decade ago and have been together ever since. During that time, they both went to university in America and completed their master's degrees in London, including staying together through a long-distance relationship for three years.
Finally, in 2020, the couple decided to settle in London for the foreseeable future and became residents of Quintain Living in May. They instantly fell in love with their new home, with its range of impressive amenities and the simplicity of the rental experience that it provided.
Despite the unfolding pandemic and concerns over where and when they could marry, Oyihoma was keen to ask Vanessa to be his wife. And so, he enlisted the help of the Quintain Living residents team.
"It was such a privilege to help arrange such a special and meaningful event. We were guided by Oyihoma's wonderfully romantic inspiration throughout the process. The panoramic views across London from the Canada Gardens roof terrace on the 26th floor was the perfect setting, particularly as Vanessa had grown up in Wembley." - Sarah Tinsley, Marketing Director, Quintain Living
With the help of the residents team, Oyihoma asked Vanessa to meet him for a photoshoot at Quintain Living's brand new building, Canada Gardens, on a bright Sunday morning in late summer.
It was there, with photographer and videographer @jolro in place to capture the moment, that Oyihoma surprised Vanessa by asking her to marry him.
"None of this would have been possible without the team at Quintain Living, who were so helpful with assisting me get everything set up and calming my nerves," recalls Oyihoma.
The team had been on hand since 7am on the big day, setting up balloons and decorations from @partycrasherslondon, laying out cookies and stocking the roof terrace fridge with champagne. By the time Vanessa arrived, everything was perfect.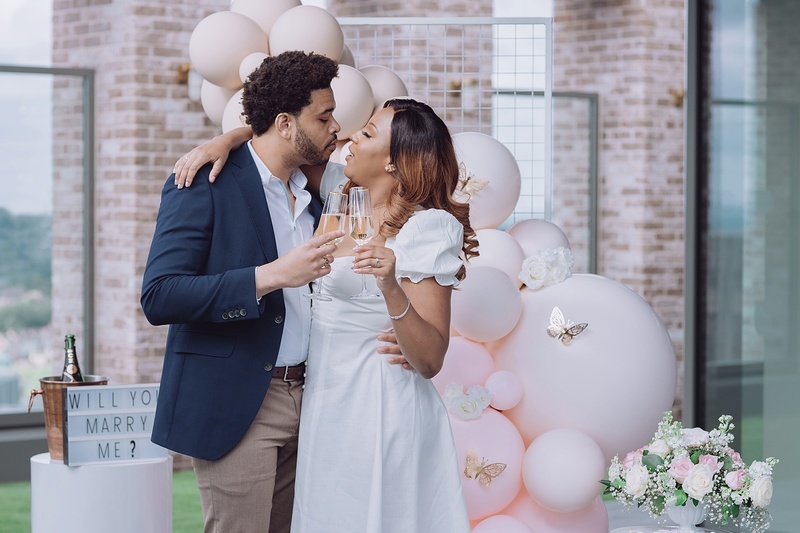 Vanessa happily accepted the proposal, and the couple are now looking forward to a post-pandemic wedding. They aren't sure where yet – just that it will be somewhere warm and filled with lots of love.
"It was such a wonderful surprise from Oyihoma, everything was set-up perfectly with beautiful views of London, it will always be a moment to remember made truly special by Quintain Living" - Vanessa, bride-to-be and Quintain Living resident.
Click here to watch the full video *Tissues are required*
Related Articles
31 May 2019: News
No deposits & no fees?

What took everyone so long
Back in March 2016 when Quintain Living opened it's first apartment buildings, our goal was to rip up the rental rulebook and make renting better for everyone. That meant being better than the uncaring estate agents (by not being one ourselves) and being more useful than the lazy landlords most Londoners get lumbered with.
Read article