Discover 9 of the best restaurants in Wembley you need to visit, whether you're looking for a casual place with friends and family or a more elegant place to enjoy on a date night.
Wembley is thriving with multicultural dining venues. Whatever cuisine you fancy, it's easy to find a restaurant to whet your appetite. Wander through the area and you'll find pizzerias next door to Indian curry houses, stylish fine dining venues alongside relaxed mezze kitchens.
Pasta Remoli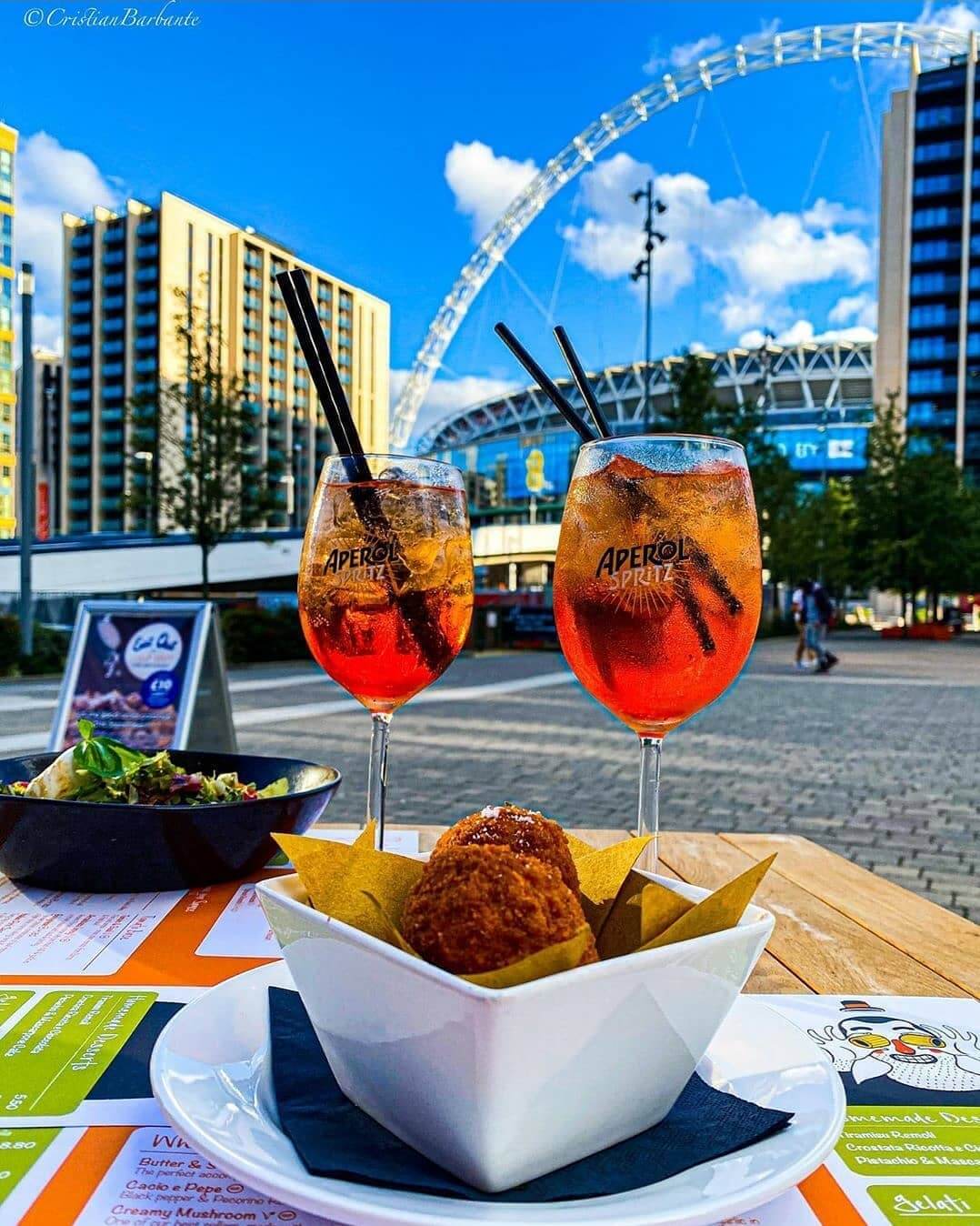 Led by head chef, Simone Remoli, who was born and raised in Rome, Pasta Remoli celebrates all things Italian and is certainly one of the best restaurants in Wembley. Centrally located in between Wembley Park Station and Wembley Stadium (and our apartment buildings ), the pasta restaurant will become your local haunt for filling, home-cooked food when you live in the area.
The pasta is made fresh on the day with genuine Italian eggs and flour, while the sauces are all carefully curated with Italian ingredients and locally sourced produce. You can also find egg-free, gluten-free and wholemeal pastas on the menu, so there's an option to suit all dietary requirements. Simply pick your pasta type, sauce and optional cheese topping, then watch as the chefs prepare your dish in the open kitchen.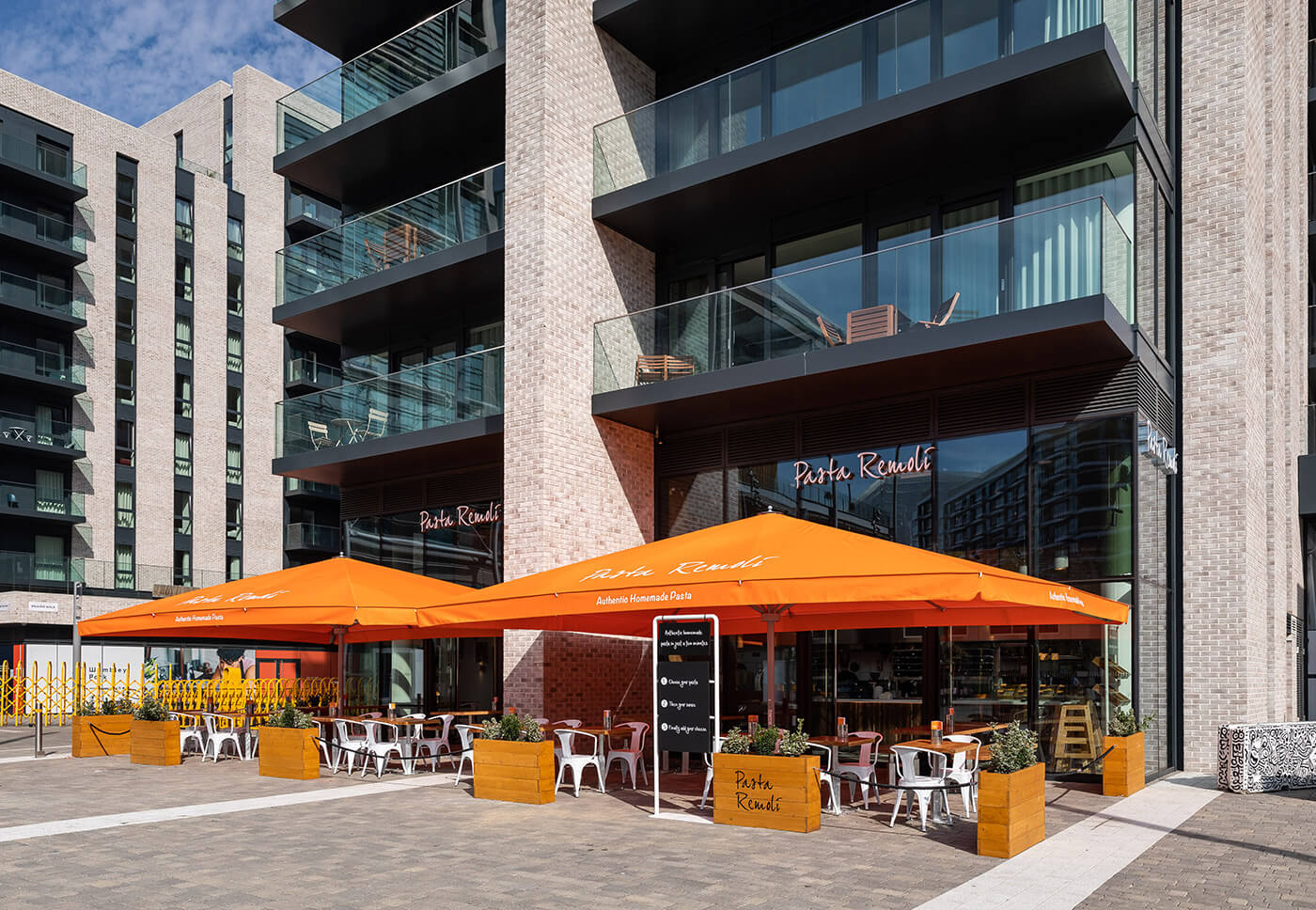 Address: 10 Exhibition Way, Wembley Park, London HA9 0FU
Phone: 020 3744 4493
Email: [email protected]
Follow: @pastaremoli
The White Horse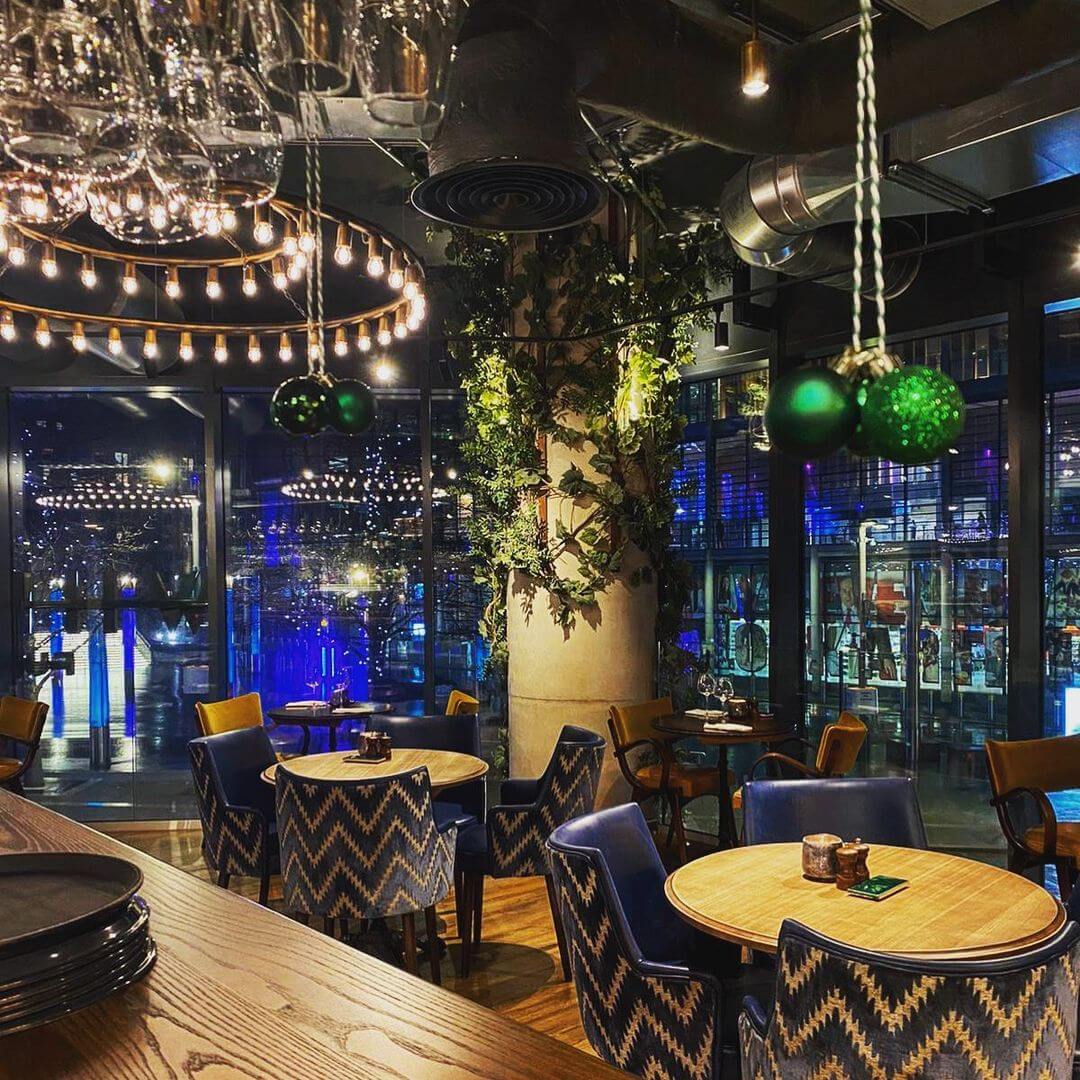 For all-day dining and pub food favourites, The White Horse is among best restaurants in Wembley. The stylish and cosy interior, complete with lounge chairs, is particularly welcoming on a cold day, while the large outdoor terrace is the perfect sun trap in the summer months. The relaxed atmosphere makes the restaurant ideal for a laidback brunch with friends, a traditional Sunday roast, or even an evening cocktail.
As well as pub classics like burgers, steak and battered haddock and chips, you'll also find a selection of vegetarian meals like gnocchi and spicy chilli. The menu changes to reflect the best of seasonal produce, so there's always something new and delicious to order.
Address: 4 Wembley Park Blvd, Wembley Park, Wembley HA9 0HP
Phone: 020 8237 8037
Email: [email protected] @whitehorsewembley
Mezze Grill
Conveniently located by Wembley Park Station, Mezze Grill brings traditional Turkish cuisine to North West London. There are a selection of hot and cold mains on the menu, from kebabs and charcoal fish to signature salads and vegetarian rice dishes like moussaka.
If you're new to Turkish dining, the restaurant's sharing platter is the perfect way to try an array of different dishes and delicacies with friends. The informal atmosphere of the restaurant means you can pop by for a light lunch during the daytime or visit with friends in the evening for a hearty dinner.
Address: 131 Wembley Park Drive, Wembley, London HA9 8HQ
Phone: 020 8900 1335
Email: [email protected]
Follow: @mezzegrillwembley
Sakonis
Sakonis has been serving vegetarian Indian cuisine to Wembley locals and visitors alike since 1984. The brand began life as a vendor at Wembley market before setting up one of the best restaurants in Wembley on Ealing Road.
The menu comprises the most extensive choice of vegetarian dishes in one venue in the Wembley area. The chefs pride themselves on crafting flavoursome dishes using the very finest Indian spices and fresh produce. Take your pick of small plates to nibble on, street food platters to share with friends, or traditional Indo-Chinese and South Indian main dishes. To complement your meal, there are a number of Indian drinks and desserts, including lassi and faluda.
Address: 127-129 Ealing Road, Wembley, London HA0 4BP
Phone: 020 8903 9601
Email: [email protected]
Follow: @sakonis_uk
Zia Luccia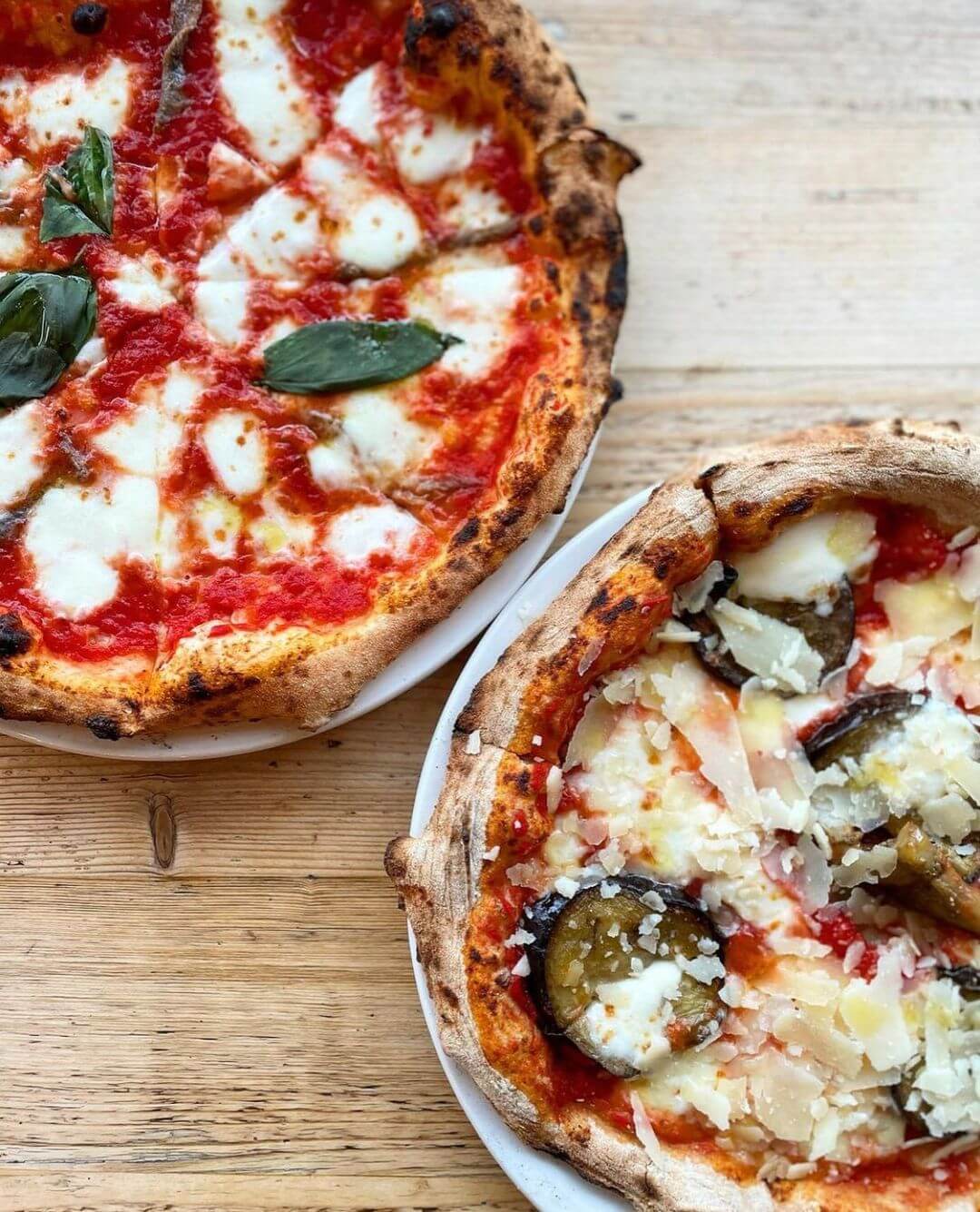 Nowhere in Wembley does pizza quite like Zia Luccia. Founded by two Italian friends, the pizzeria showcases the best of Italian flavours, coupled with the relaxed atmosphere of communal dining at Boxpark's food hall.
You can expect an expansive choice of toppings on the menu, from classic pairings to more adventurous combinations. Plus, choose from four different types of expertly perfected pizza dough — traditional dough, gluten-free, wholemeal, and even a black vegetable charcoal dough — all prepared by a unique 48-hour slow fermentation process. Whether you're looking for a meat feast or a vegan-friendly option, an extra cheesy pizza or a gluten-free base with all the toppings, there's a pizza for everyone.
Address: Unit 11, Boxpark, Olympic Way, Wembley, London HA9 0NP
Phone: 020 3744 4427
Email: [email protected]
Follow: @zialuciapizza
Arena
For delicious and healthy Greek food in Wembley, look no further than Arena. You'll be transported to the rugged coastlines and tropical surrounds of Greece without leaving London. The restaurant is the only one of its kind in this part of London and is proud to be the longest established family restaurant in the area.
As well as the à la carte menu, there is also a special two-course menu. Olive oil is a key ingredient in all of the dishes, sourced from the finest Greek olives. From fresh salads and grilled vegetables to cheese-filled filo pastry parcels and seafood platters, there's something to satisfy all taste buds.
Address: 307 Harrow Road, Wembley, London HA9 6BD
Phone: 020 8902 1849
Email: [email protected]
Sky Bar 9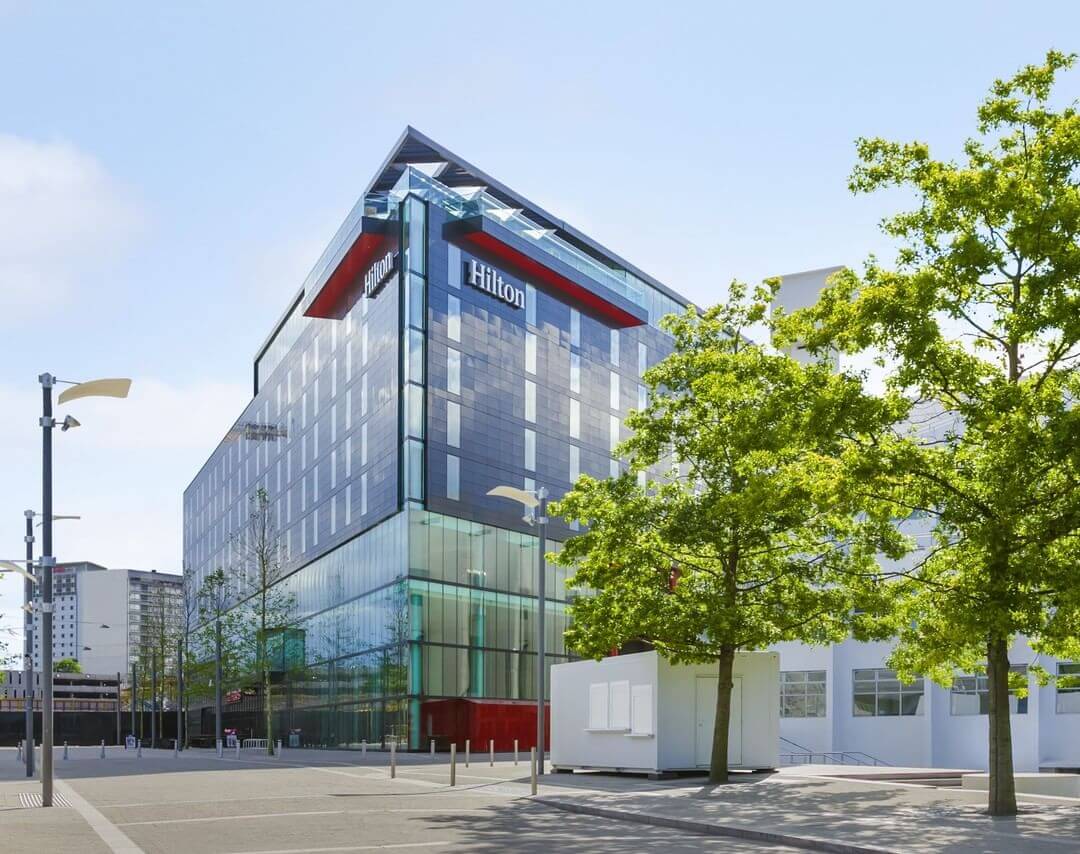 Located at the top of the Hilton Wembley Hotel, Sky Bar 9 is a stylish venue for cocktails and dining. Step outside to the terrace for spectacular views across London's skyline or relax amid the plush armchairs and barstools inside.
The simple menu includes classic burgers, pizzas and salads, as well as bar snacks if you would prefer a light bite over a cocktail. Whether you have a palate for fruity drinks or bitter ones, the expert mixologists can prepare all manner of cocktails. For that special celebratory occasion, savour dinner and a bottle of bubbly as you watch the sunset from the terrace.
Address: Hilton Hotel, Lakeside Way, Wembley Park, Wembley HA9 0BU
Phone: 020 8733 0576
Email: [email protected]
Follow: @hiltonwembley
The Yellow Chilli
Serving signature dishes by celebrity chef and television personality, Sanjeev Kapoor, The Yellow Chilli is one of the best restaurants in Wembley for Indian cuisine. Having introduced a worldwide audience to Indian cuisine during his long-running television show 'Khana Khazana', Kapoor continues to celebrate the eclectic flavours of his home country from his collection of restaurants.
The menu at The Yellow Chilli is carefully labelled to highlight the spice levels of each dish, with numerous vegetarian options too, letting you choose a meal to suit your preferred palate. Nestled within Wembley Central Shopping Centre, the restaurant is elegantly decorated, making it a good venue for a date night or evening meal with friends.
Address: Unit 17, Wembley Central Shopping Centre, Wembley, London HA9 7AJ
Phone: 020 8616 5940
Email: [email protected]
Follow: @theyellowchillirestaurant
The Arch
Cosily decked out with leather armchairs and vintage lamps, The Arch is a relaxed spot for food and a pint. Part of the boutique Arch Hotel, the restaurant welcomes both hotel guests and local Wembley residents alike.
If you're looking for a hearty pub meal, choose from the menu of burgers, crispy chicken and hotdogs. Alternatively, the restaurant also serves a menu of modern Indian cuisine, including kebabs, seafood and vegetarian curries. Visit on certain days of the week to watch live sports matches and events.
Address: 324 Harrow Road, Wembley, London HA9 6LL
Phone: 020 8127 1141
Email: [email protected]
Follow: @thearchwembley
Best Restaurants in Wembley
Whatever dining experience you're looking for, you'll be spoilt for choice in Wembley. From chic fine dining restaurants and authentic Italian cuisine to spicy Indian and classic pub food, there is something to suit all dining moods.
And if our list of the best restaurants in Wembley has you wondering about living in Wembley, look no further. You can experience this delicious culinary scene by living in the heart of the area in our Wembley Park apartments .
Find your dream apartment and enjoy the very best restaurants this exciting new neighbourhood has to offer.