When we say 'Wembley', what do you think? Football glory, gigs, concerts, busyness. Not everyone's cup of tea for a place to live. But it's literally transformed in the last 12 months into one of London's newest neighbourhoods and is teeming with stuff to do any time of day or at the weekend. So here's the lowdown on 10 things you can do this year 5 minutes from your front door if you live with Quintain Living in Wembley Park.
1. Go to Troubadour Wembley Park Theatre
The iconic Fountain Studios (where X factor and BGT were filmed) has undergone an incredible transformation to become the latest Troubadour Theatre in London. Newly launched this Summer 2019, they have already got a great line up this year including the award-winning War Horse production this October and a host of other productions.
2. Have brunch or do cooking class with Bread Ahead
Having started life in Borough Market this massively popular bakery are just about to open their very first restaurant and café/deli – perfect for weekend brunching. You've no doubt seen their irresistible doughnuts are making their way Instagram, well as they're opening in Wembley Park this Autumn you can 

learn how to make their doughnut

s and sourdough breads at their brand new bakery school.
3.

Enjoy an evening at Boxpark Wembley
Calling all foodies: The 3rd and biggest Boxpark landed in Wembley Park in late - 2018 and we can't remember life before it. 

Boxpark Wembley

 is the place to visit if you want some of the best street food in London with dishes with over 20 street food vendors to choose from. Enjoy 3 bars, glow in the dark ping pong, human shuffleboard

plus daily events from Monday movie nights on the big screen to Friday nights in BeatBox with their resident DJ spinning the hottest Rnb tunes.

Can't beat this on your doorstep!
4. Support local independents at Wembley Park Market
Inspired by the area's market trade heritage, Wembley Park Market is bustling with independent brands offering unique products and a one-of-a-kind shopping experience. They've brought together some of the best start-ups across London markets including Portabello Market. Enjoy sustainable homeware products, a pop-up barbers from the lads at London Beard Company and the best brownies on this side of the Thames. Find out more here.
5. Bag a bargain at London Designer Outlet
Hiding in plain sight, the 

London Designer Outlet (LDO)

 in Wembley Park is a shoppers' paradise. Nestled under one roof, top brands such as 

Nike, Converse, Levis, Guess, Sony and Hamley's offer knock-down prices all year round!

P.s. Quintain Living residents get access to LDO privilege card which allows you to get discount on discount – winning!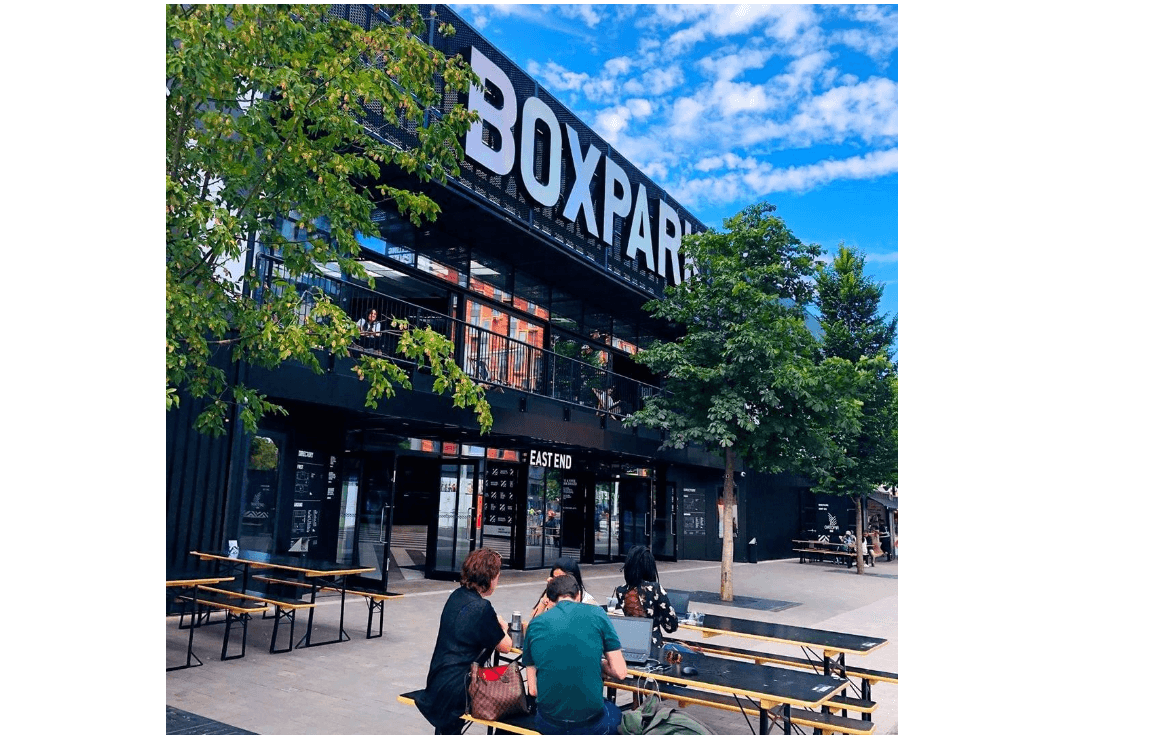 Living at Quintain Living means you've the easiest and shortest journey home from a concert or the match ever! And as a resident we regularly give away tickets to residents via prize draw. Our residents have been to see everyone from The Spice Girls and Ed Sheeran, to England, NFL, Mickey Flanagan, Queens of Stone Age, Stereophonics and more in the last 2 years. Plus next year with the Euros, we'll be sure to do the same.
7. Immersive yourself into the arts and culture
Right next to our Quintain Living Hub is a wealth of history located in Wembley Park's very own Getty Images Gallery showcasing iconic images from Wembley since 1920s and it's totally free! This exhibition is the first of its kind with many others set to debut later this year including famous music icons who have played at Wembley.

Wembley Park have also put on open an air cinema featuring indie or world cinema films, to National Theatre Live and Royal Opera house – all streamed live.  
8. Street Art & Installations
Wembley Park is bustling with all kinds of art across the neighbourhood. From the signature doodles of Mr. Doodle to the LOVE LOVE LOVE installation on the Spanish steps and edgy feature walls by up and coming Japanese street artist Suiko - there's so much to see and explore - and perfect for your next 'Gram upload. We even had Mr Doodle come into our Quintain Living Hub to create an installation just for us - click here to watch the man in action!
9. Coffee & Cocktails at Black Sheep Coffee
With options such as Boxpark Wembley, Hilton Wembley's rooftop bar and many other local watering holes, this has to be one of our favourites. Black Sheep Coffee is located right next to Wembley Park Station and is the perfect go-to for your morning coffee to set you off for the day, and greet you with that much needed cocktail on your return.
10. Community & Culture
Local hotspots The Corner @ Wembley Library and The Yellow offer a buzzing events programme from free weekly running groups and yoga classes to private screenings with up and coming directors and loads of other cool workshops. Most recently, we met with top beauty Instagram influencer @Kaushal who spoke about the impact of social media and building a brand.
Click here to find out more about Wembley Park