There's something about hosting a cocktail party that sets it apart from other social events. Maybe it's the glitz and glamour of cocktails, or the allure of an upscale affair that inspires guests to dress to impress. Cocktail parties are the perfect way to spend quality time with loved ones and friends, without spending a fortune. Perfectly paired with our guide to hosting a dinner party - we're sharing our top tips and tricks for hosting a fabulous cocktail party that your guests will remember for years to come. 
How to host a cocktail party 
Hosting a cocktail party is an excellent way to bring people together and create a fun and memorable evening. At Quintain Living, our apartments provide the perfect setting for hosting your next shindig. With spacious living areas, modern decor and stunning outdoor spaces, like rooftop gardens and manicured lawns, there are plenty of places within Wembley Park that your friends would love to see. 
We know how quickly a good party can grow. Explore our communal spaces which can be rented out for larger gatherings through our new resident app. If you're looking for hosting inspiration, you can take advantage of our exciting resident events, such as "paint and prosecco" and dinner parties, which allow you to socialise and connect with other neighbours. Whether you're looking to host an intimate gathering in your stylish home or a larger rooftop event, Quintain Living has everything you need to make your next cocktail party a success.
Cocktail party dress code 
Choosing the right dress code for your cocktail party can set the tone for the entire evening. The attire traditionally should be formal or semi formal, but not necessarily black tie; with cocktail dresses or dressy separates for women, and dress pants and a blazer for men always being a safe bet. Of course, you can opt with whatever dress code you like - although make sure you communicate it to your guests to ensure everyone feels comfortable and knows what to expect. 
The dress code can also tie into the overall theme or decor of the party, adding an extra element of fun and cohesion to the event. Whether you're going for a classic, elegant look or a more themed attire, a well-thought-out dress code can elevate your cocktail party and create a stylish and memorable atmosphere.
Cocktail party ideas
Throwing a cocktail party allows for a lot of creativity when it comes to ideas and themes. This is your opportunity to lean into a theme that you're really excited about - classics including James Bond, roaring 20s and murder mystery themes. Creating a signature cocktail that reflects the season or occasion is a great way to elevate this, and have a bit of fun at the same time.
Expand the vision for your cocktail party through food. Provide small bites and finger foods that pair well with your cocktails of choice. Charcuterie boards and bite-sized hor d'oeurves are always welcome in the eyes of your guests, but be sure to have plenty of small plates or cocktail napkins at the ready. 
Cocktail party decorations
Depending on the theme of your cocktail party, you'll want to consider lighting candles before guests arrive, and perhaps adding fresh flowers or soft lighting to your space. A little goes a long way when it comes to creating an atmospheric space, and it doesn't have to break the bank. 
If you want to push the boat out, you could set up a DIY cocktail cart for a fun photo-opportunity that's also interactive, you could set up a DIY cocktail cart, stocked with all the best staples. With the right balance of beverages, snacks and decor, you'll be well on your way to hosting a cocktail party that's sure to be a hit. 
How to make cocktails at home
Whether you've dabbled in bartending or are a complete newbie, you'll quickly come to realise that acting the part of a seasoned mixologist is half the battle. Shake it 'till you make it! 
 In this section, we're breaking down the process of making cocktails into simple, easy-to-follow steps. To keep things even more straightforward, we'll be focusing on two of the most popular spirits used in cocktails - vodka and gin, and showcasing some of our favourite cocktail recipes. So, grab your shaker and let's get started. 
How to make cocktails with vodka
Vodka is one of the most versatile spirits and can easily be dressed up into a delicious cocktail with just a couple of added ingredients.
Raspberry Cosmopolitan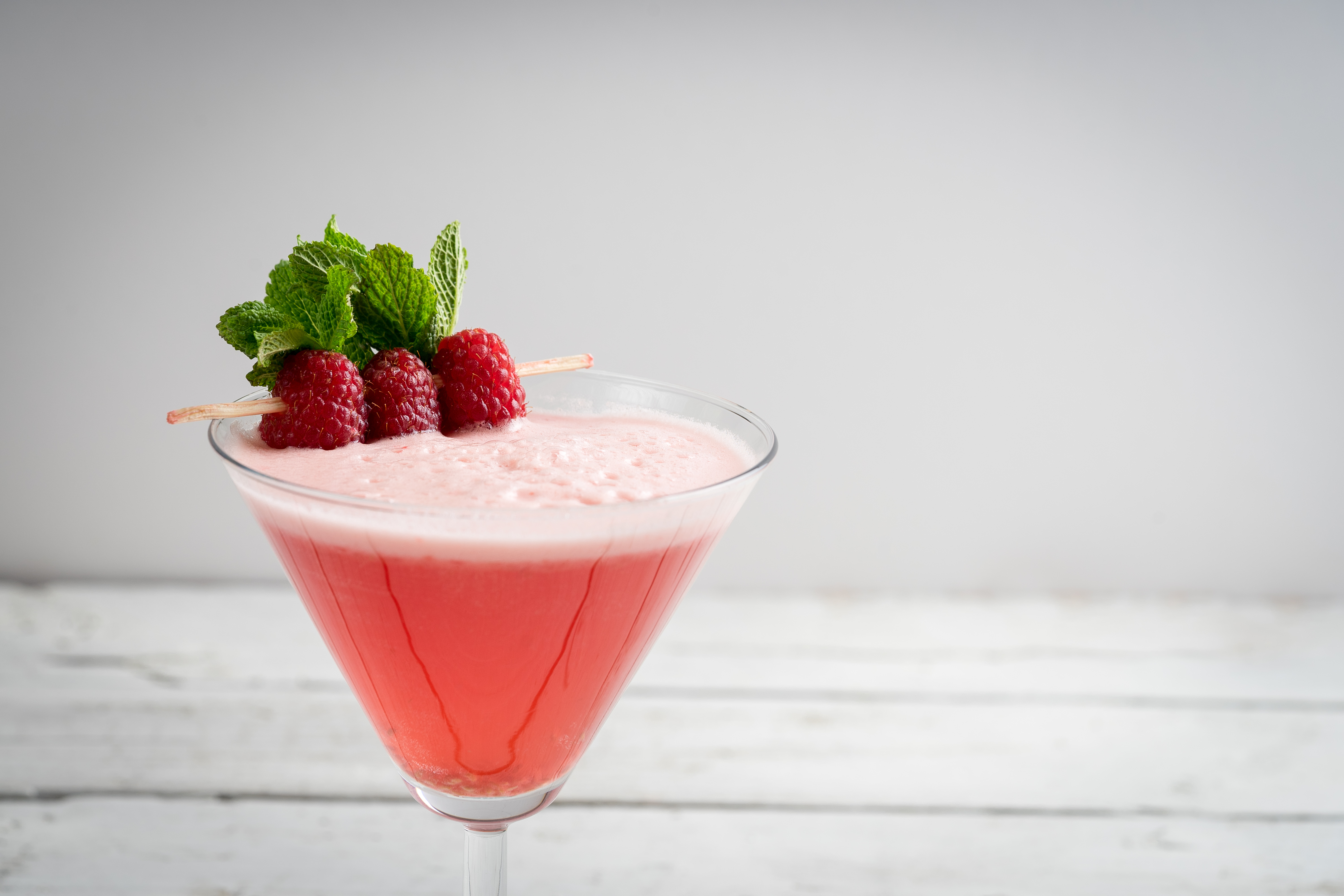 The Raspberry Cosmopolitan is a fruity twist on the classic Cosmo, which gained popularity in the late 1990s and early 2000s thanks to its appearances on iconic TV shows such as Sex and the City. 
To make a Raspberry Cosmopolitan, you'll need 2 ounces of vodka, 1 ounce of lemon juice, half an ounce of honey syrup or simple syrup, 5 fresh raspberries and some Prosecco. Simply shake all the ingredients together, then double strain the mixture into a coupe glass. Finally, top off the drink with a splash of Prosecco and enjoy!
Espresso Martini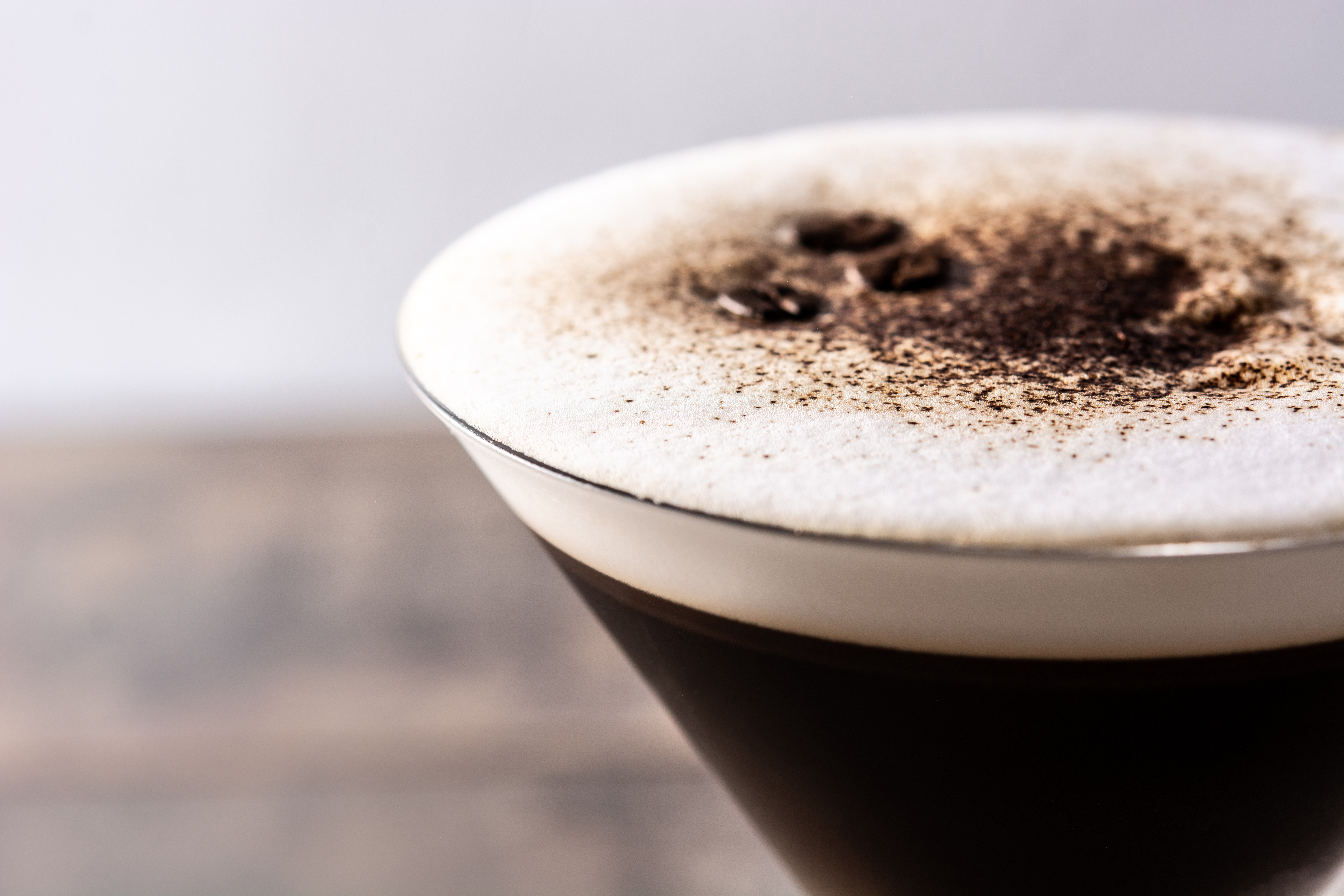 The Espresso Martini is a coffee-infused cocktail that was first created in the 1980s by London bartender Dick Bradsell. Since then it has landed itself classic cocktail status, and is now a staple on most bar menus.The good news is that it's one of the easiest to make, and will keep you hosting all night long. 
To make an Espresso Martini, you'll need 1.5 ounces of good vodka, 1 ounce of espresso, 0.75 ounces of coffee liqueur and a pinch of salt. Shake all the ingredients together with ice, then strain the mixture into a chilled martini glass. Sip and savour the delicious blend of rich espresso, smooth vodka, and sweet coffee liqueur, with a touch of salt to enhance the flavours.
Top tip: Don't worry if you don't have a coffee machine to make an espresso shot, you can just use instant coffee! Just add a small amount of hot water to your granules and mix as normal. 
Moscow Mule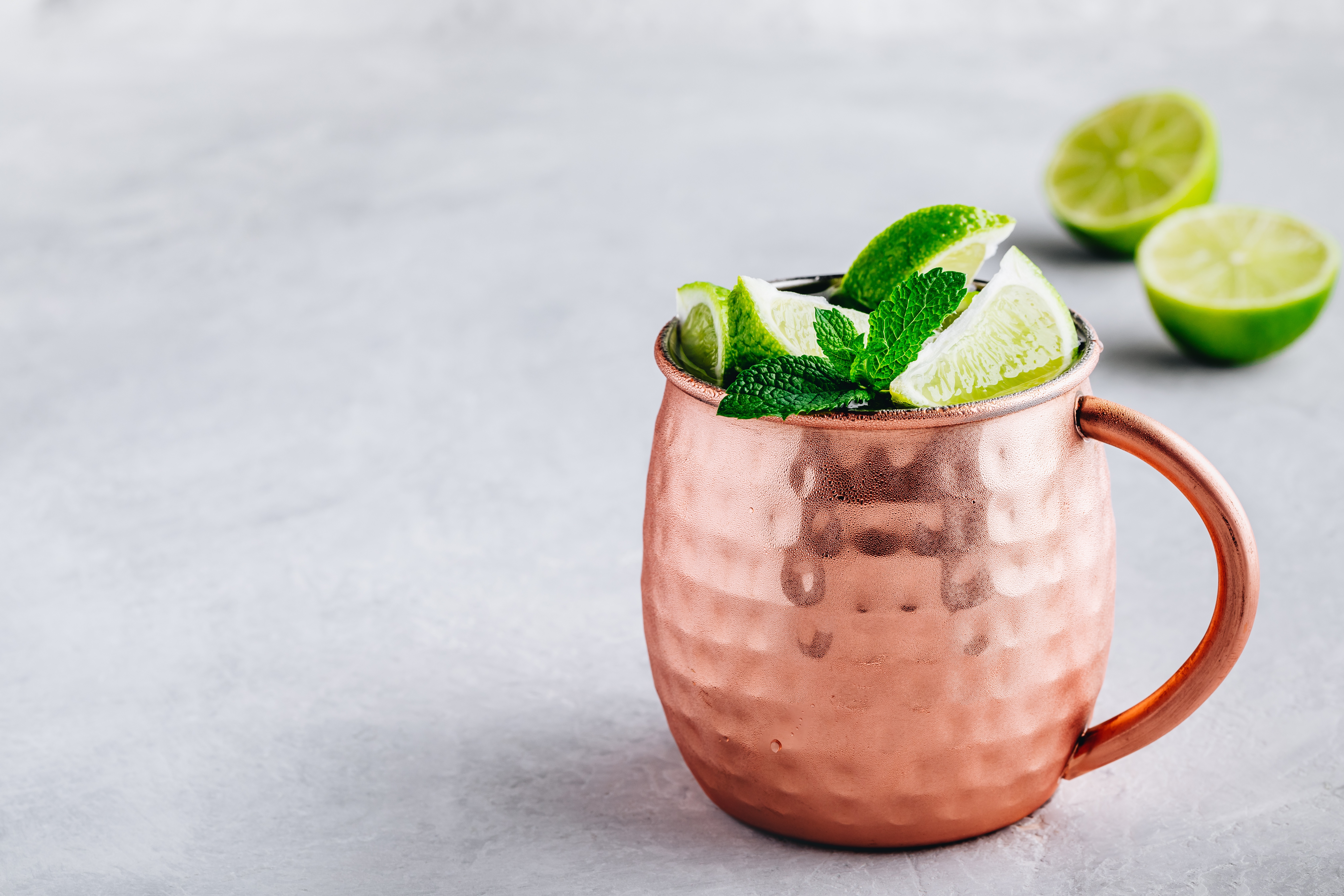 The Moscow Mule is a classic cocktail that has been around since the 1940s. Its origins are somewhat disputed, but the most popular story is that it was invented by a vodka and ginger beer distributor who was trying to promote his products in the United States. This in turn is where the unusual name comes from; vodka is associated with Russia, and the ginger beer has a 'kick' to it - hence 'Moscow Mule'! 
Making a Moscow Mule is quick and easy. Simply fill a copper mug or highball glass with ice, add 2 ounces of vodka, 0.5 ounces of fresh lime juice and top off with 3 ounces of ginger beer. Stir everything together and garnish with a lime wedge. This classic cocktail is a delicious combination of spicy ginger beer, tangy lime juice, and smooth vodka that packs a punch. 
Pink Lemonade Sangria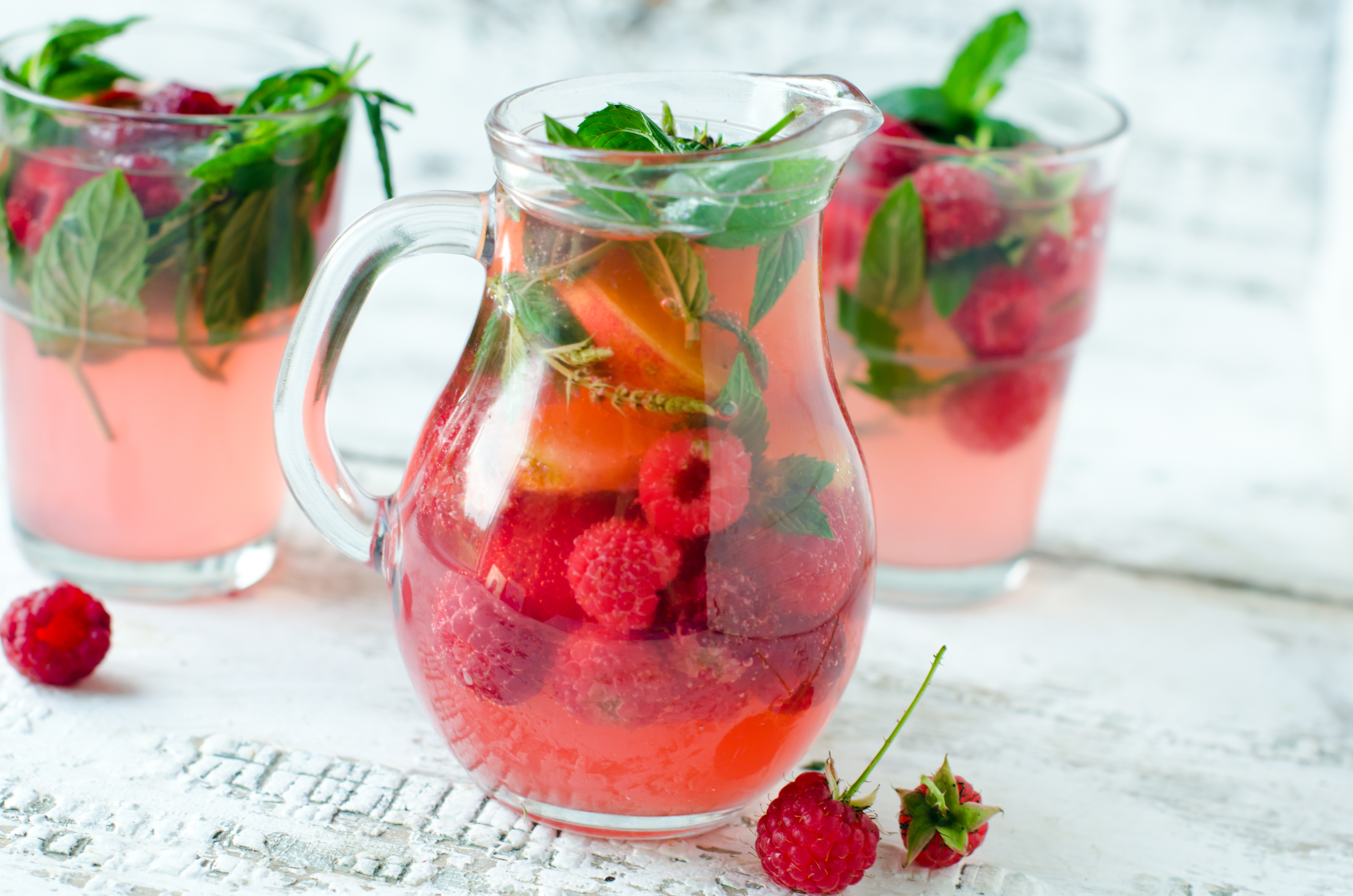 Pink Lemonade Sangria is a refreshing twist on classic Sangria, which is of course a popular and traditional Spanish beverage. This version takes a slightly different approach, but is no less delicious. 
This fruity and flavorful drink is made with a combination of white wine, pink lemonade concentrate, vodka, club soda, sliced strawberries, raspberries, and lemon. It's easy to prepare by combining all the ingredients in a large pitcher and chilling it in the refrigerator for at least 30 minutes. When ready to serve, pour the sangria over ice and top off with club soda. Pair with a lovely summer's evening for the perfect experience. 
Bloody Mary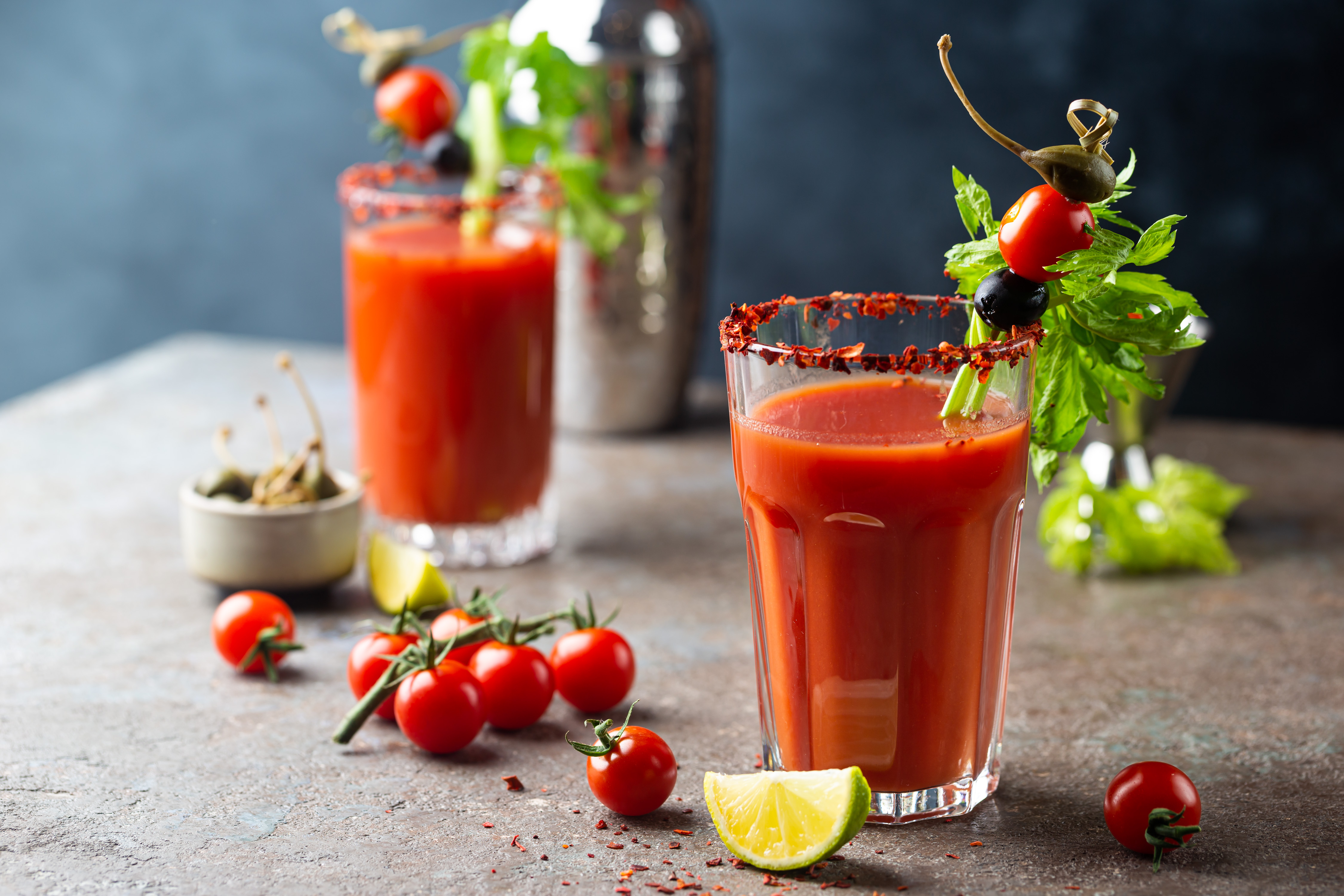 A hangover staple ,The Bloody Mary, is a popular brunch cocktail that has been around for nearly a century. It is said to have been created in the 1920s by a bartender named Fernand Petiot, who was working at the New York Bar in Paris at the time. 
Making a Bloody Mary is easier than you may think, and requires just a few key ingredients. To start, fill a tall glass with ice and add 1 1/2 oz of vodka. Next, pour in 3-4 oz of tomato juice and add a splash of Worcestershire sauce, hot sauce, and horseradish. Squeeze in half a lemon and stir well. To garnish, add a celery stalk, a lemon wedge and a green olive to the glass. If you prefer your bloody mary spicy, add more hot sauce!
How to make gin cocktails 
Gin cocktails are a favourite among many, and with good reason - the botanical flavours of gin lend themselves well to a variety of cocktails, from classic martinis to fruity fizzes. In this section, we'll cover some easy-to-make gin-based cocktails that you and your guests can enjoy at your cocktail party.
Elderflower Collins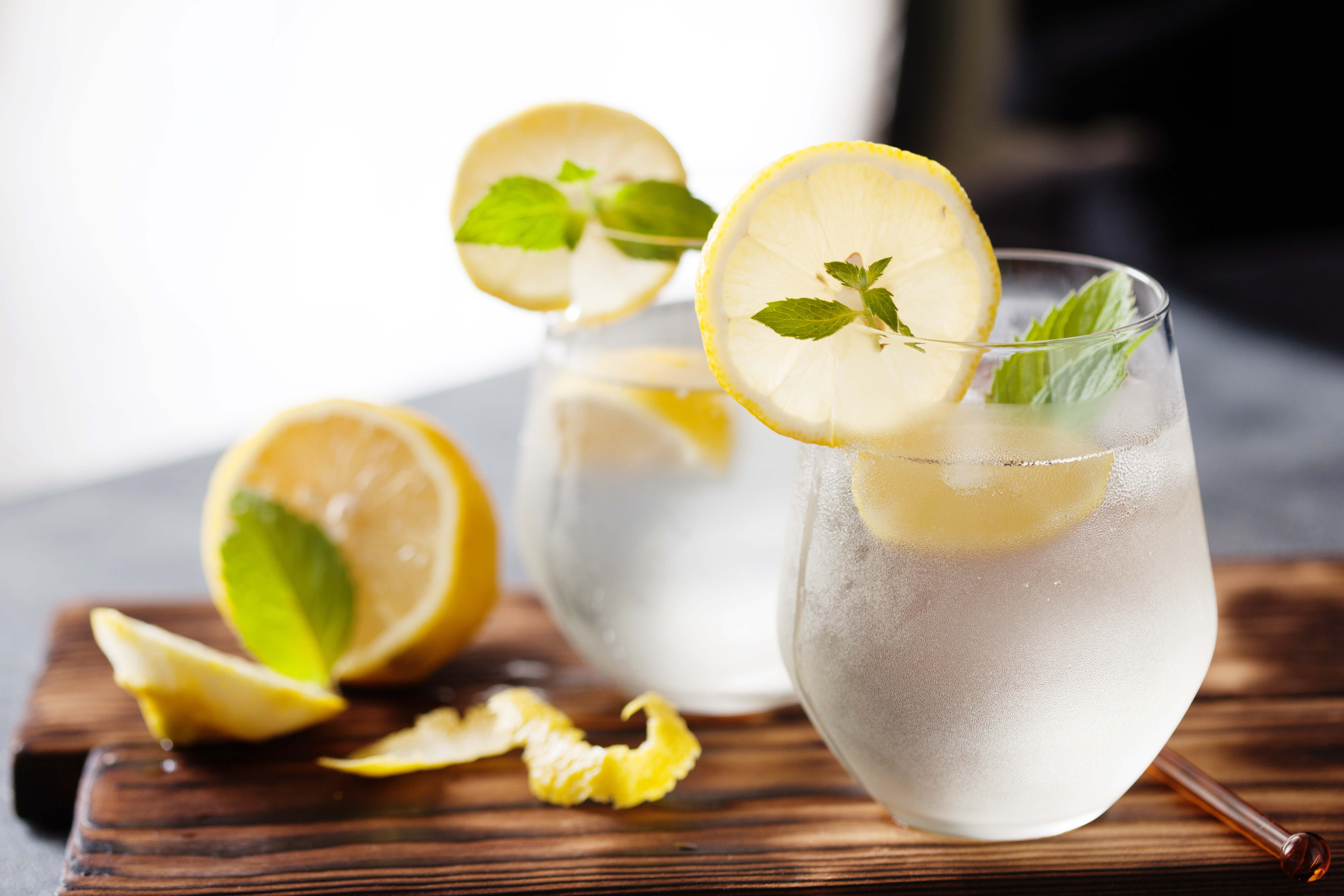 An Elderflower Collins is a refreshing gin-based cocktail, which can act as a refreshing palette cleanser for your guests. It's a twist on the classic Tom Collins cocktail, which dates back to the mid-19th century. 
To make an Elderflower Collins, you'll need gin, elderflower liqueur, lemon juice and soda water. First, fill a shaker with ice and add 2 ounces of gin, 1 ounce of elderflower liqueur and 3/4 ounces of lemon juice. Shake well and strain into a tall glass filled with ice. Top up with soda water and give it a quick stir. Garnish with a slice of lemon and a sprig of fresh mint. The result is a light, refreshing cocktail with a delicate floral flavour.
Negroni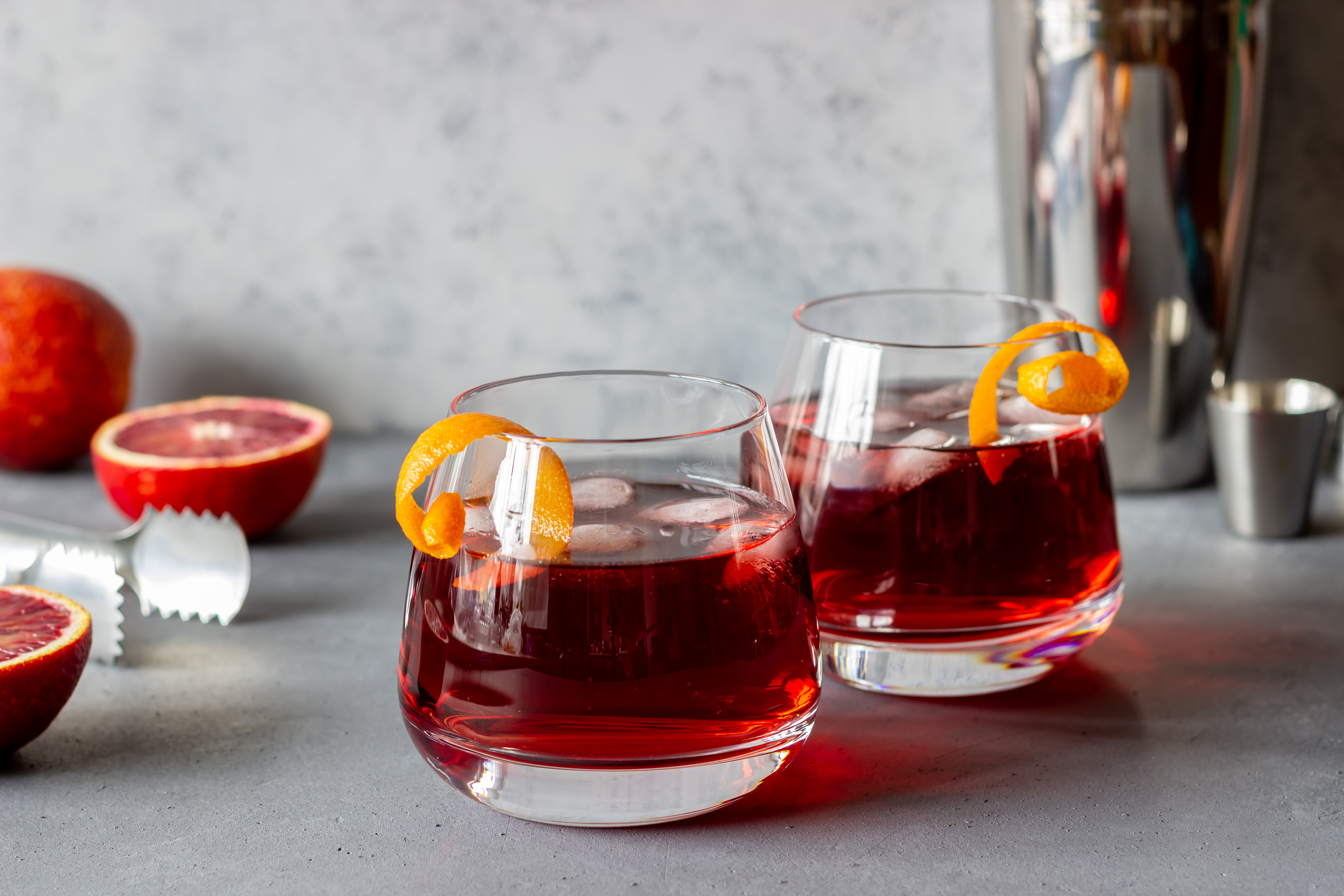 The Negroni is a classic Italian cocktail that has been around for over a century. It is a simple yet sophisticated combination of gin, sweet vermouth, and Campari, garnished with an orange peel. The Negroni has gained a huge amount of attention of late, and has even achieved internet fame, particularly with the recent 'Negroni Sbagliato' meme that circulated on social media a few months ago. 
To make a classic Negroni cocktail, you will need equal parts gin, sweet vermouth, and Campari and an orange peel for garnish. Fill a mixing glass with ice and add the ingredients, stirring until chilled. Strain the mixture into a rocks glass filled with ice and garnish with an orange peel. The resulting cocktail is a perfect balance of bitter and sweet flavours, making it a sophisticated and satisfying choice, especially for cocktail parties.
Martini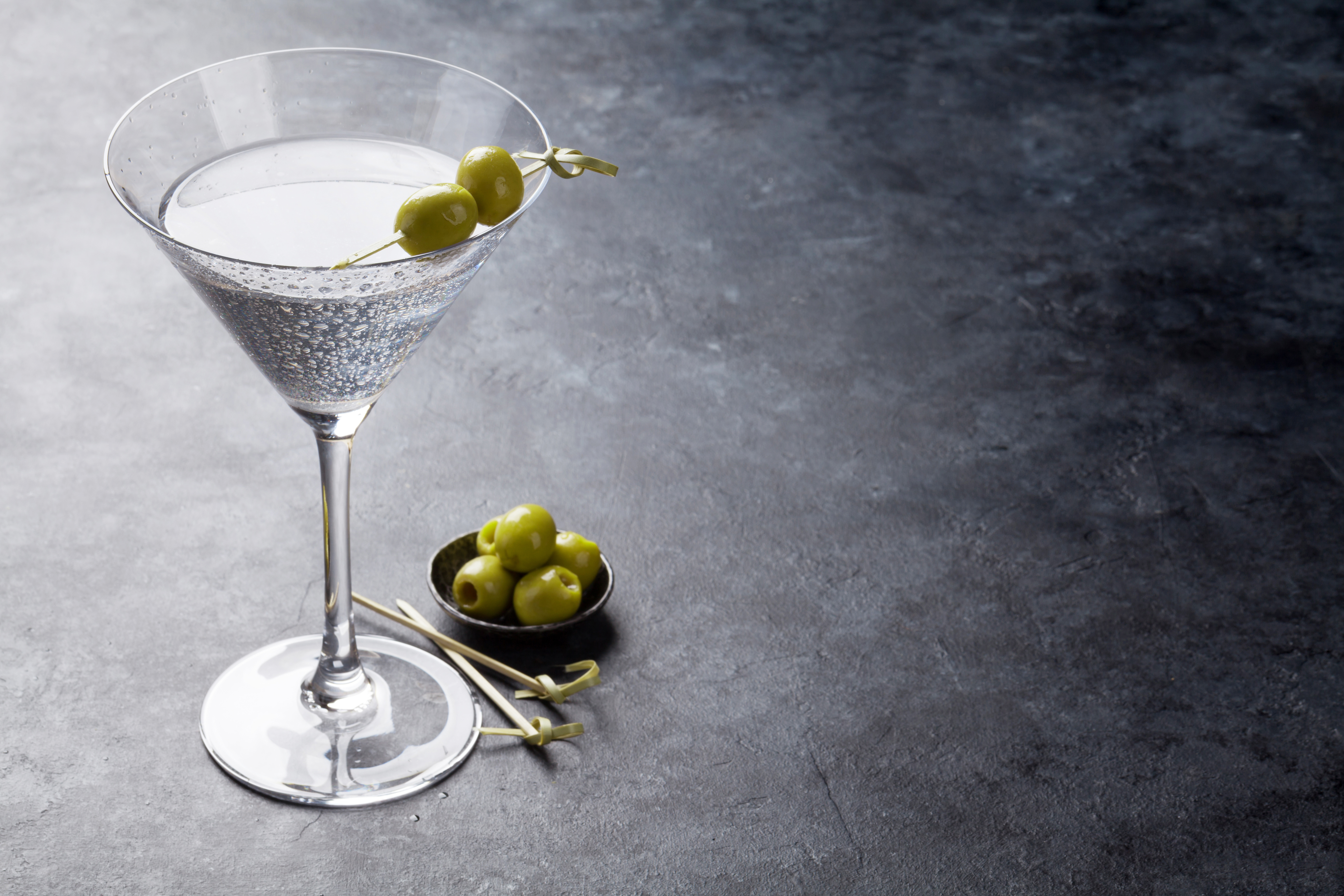 The Martini cocktail has a long and storied history, with origins dating back to the late 19th century. It is typically made with gin or vodka, and vermouth, with a garnish of either a lemon twist or olive. 
To make a classic gin Martini, start by filling a mixing glass with ice. Add 2 1/2 oz. of gin and 1/2 oz. of dry vermouth. Stir the ingredients together until well chilled, then strain the mixture into a chilled martini glass. Garnish with either a lemon twist or a few olives.
French 75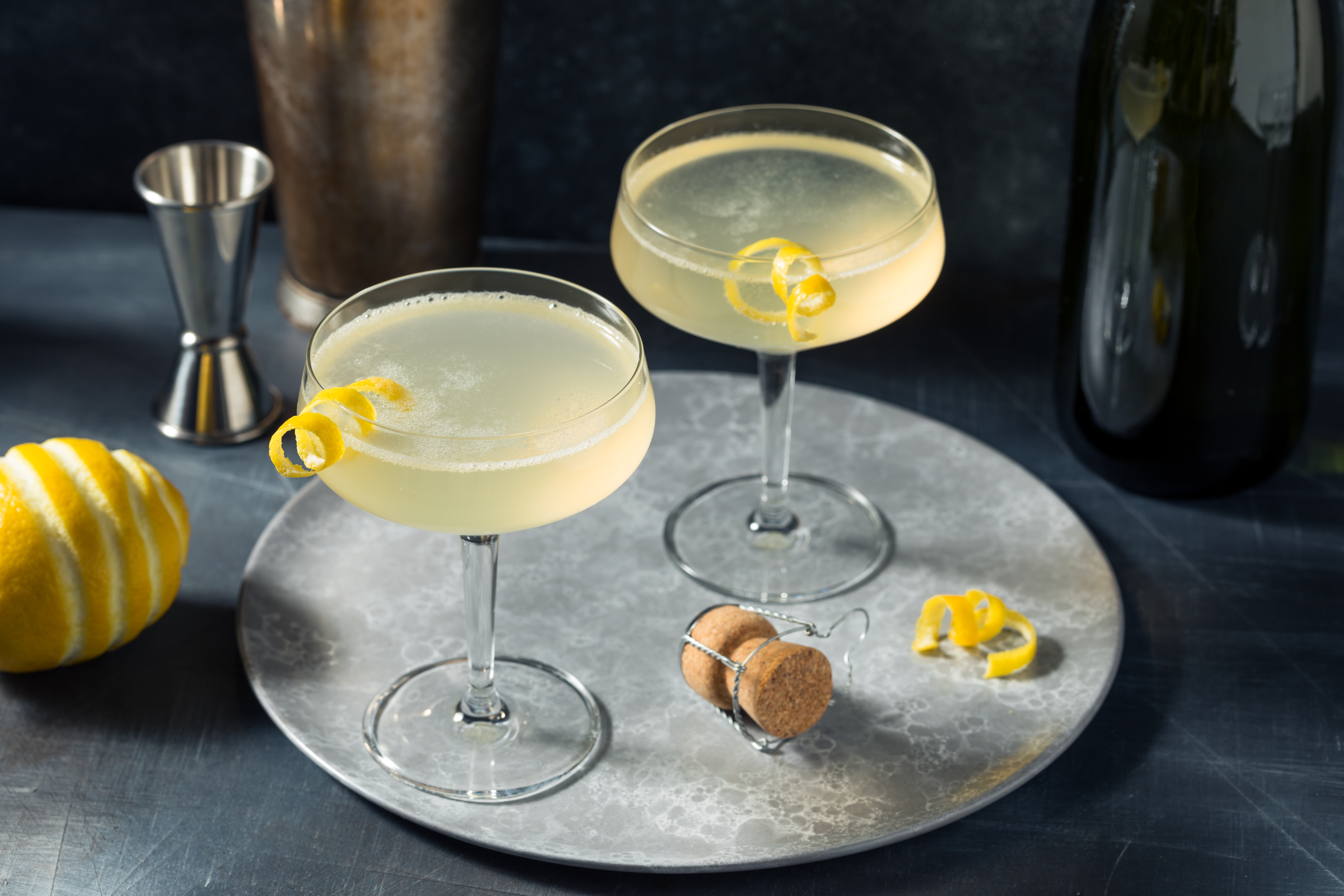 The French 75 is a classic cocktail that originated in Paris in the early 20th century. The drink is named after the French 75mm field gun used during World War I, which had a kick as strong as the cocktail itself. 
To make a French 75, start by adding 1.5 ounces of gin, 0.5 ounces of fresh lemon juice and 0.5 ounces of simple syrup to a cocktail shaker filled with ice. Shake well, then strain the mixture into a champagne flute. Top the cocktail with chilled champagne and garnish with a lemon twist. The result is a sparkling, citrusy cocktail that is perfect for any occasion.
G+T - with garnish!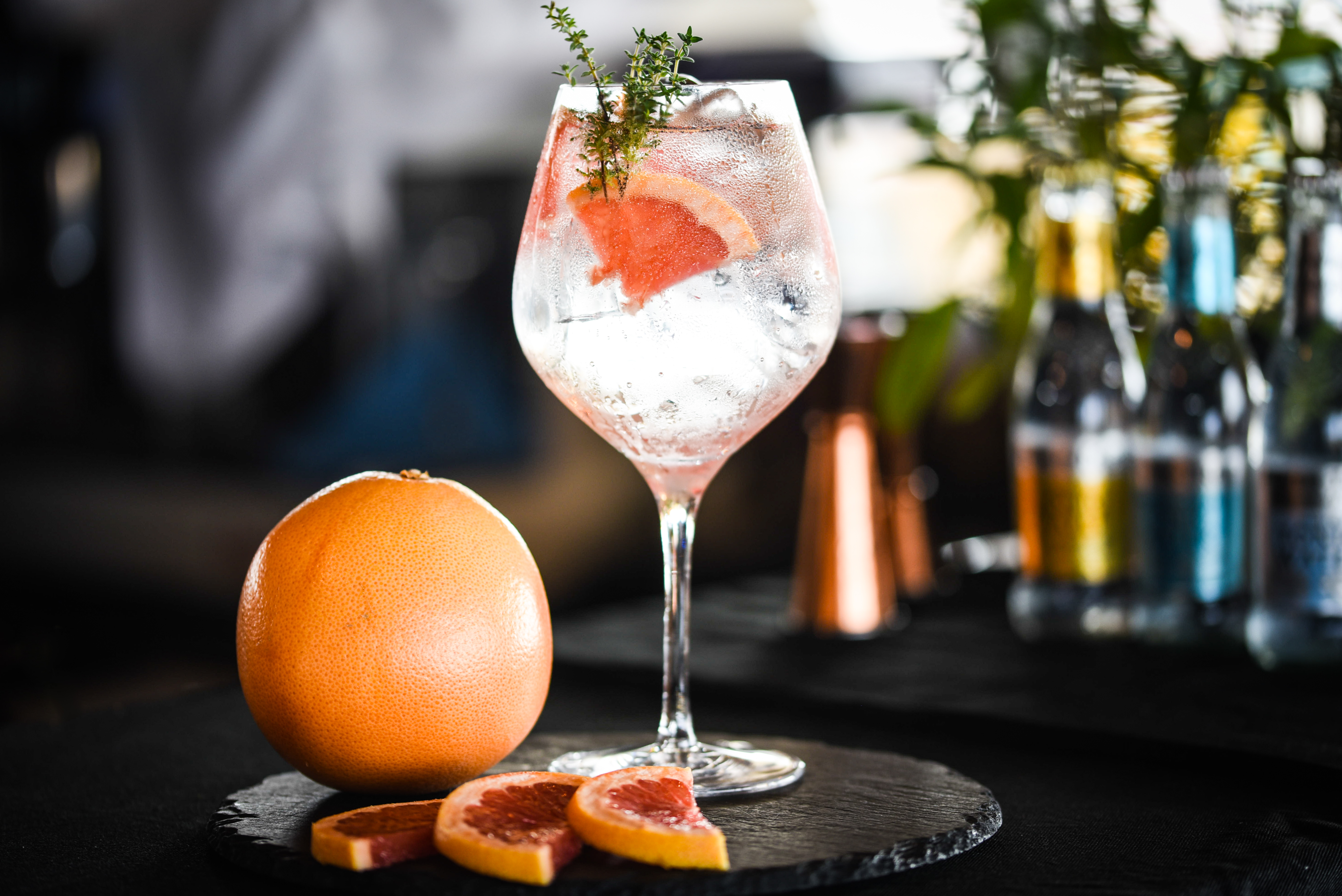 A Gin and Tonic, or G+T, is a classic cocktail that has been enjoyed for centuries. It originated in India as a way to mask the bitter taste of quinine, a medicine used to treat malaria, by mixing it with gin and tonic water. Today, it is a popular drink around the world, known for its simplicity and versatility.
To make a classic Gin and Tonic, fill a glass with ice and add 2 ounces of gin. Top it off with tonic water and stir. For a more decorative G+T, consider using a floral or fruity gin, or try a premium tonic water. You can also add a garnish such as a slice of lime, cucumber, or even fresh herbs like rosemary or thyme. This not only looks impressive but can also add a nice aroma and flavour to the drink. It's also deliciously moreish. 
Bramble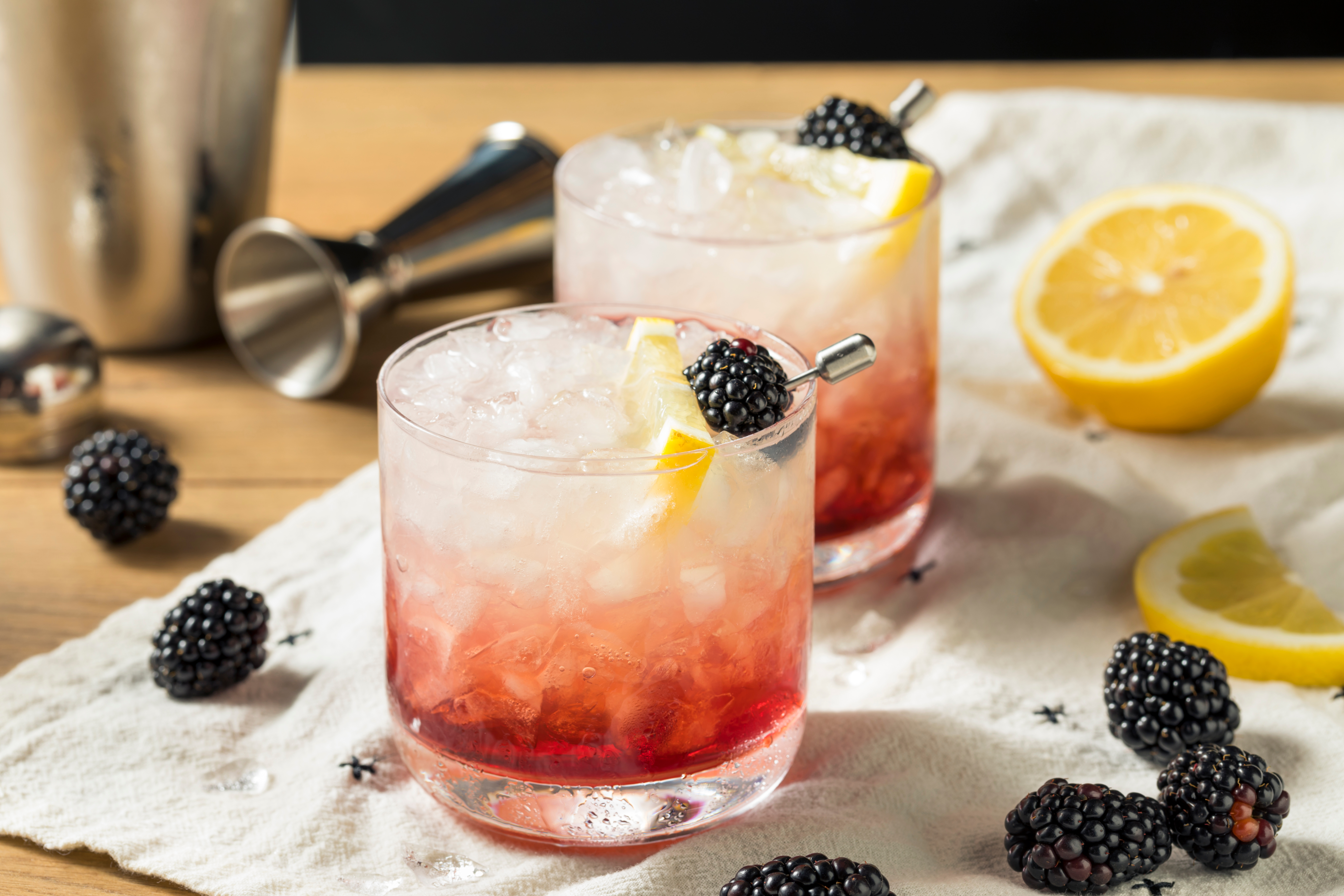 The Bramble is a classic cocktail that was invented by Dick Bradsell (who also created the espresso martini) in London during the 1980s. It's a refreshing and fruity cocktail that has gained popularity over the years, and is now a staple in many cocktail bars around the world.
To make a Bramble cocktail, fill a rocks glass with crushed ice. In a shaker, combine 2 ounces of gin, 1 ounce of freshly squeezed lemon juice and ½ ounce of simple syrup. Add ice and shake until chilled. Strain the mixture over the ice in the rocks glass. Drizzle ½ ounce of blackberry liqueur over the top of the drink. Garnish with a lemon wheel and fresh blackberries, and enjoy!
Hosting a cocktail party can be a fun way to bring friends and family together in the comfort of your home. With a little bit of planning and preparation, anyone can create a memorable experience for their guests. The unique amenities at Quintain Living apartments, like resident lounge and rooftop terraces, are sure to impress your guests. Plus, our locations in the desirable Wembley Park neighbourhood means it's easy for your guests to show up, with transit stops only a brief walk from our buildings. Wondering which building would be best for hosting a cocktail party? Contact our helpful team today for guidance.