We're delighted to announce the winners of our competition to win a brand new, 2-bedroom apartment, rent free for a year, in association with Time Out.
Of almost 20,000 entrants the lucky winners are Lucy and Charlie, 27-year-old university sweethearts. Not only were the married couple, currently renting in Stockwell, thrilled to hear that they're winners of the brand-new Quintain Living apartment but their first child, due next month, will also be calling Wembley Park home!
"Winning the Quintain Living apartment was pretty miraculous really," says Lucy who entered the competition after seeing it in Time Out whilst getting the tube to work. "You think no one wins these things but someone does and it was us!"
The professional couple has a long history of renting with Charlie especially having a number of 'fruity' stories when it comes to problem properties and loathsome landlords. He's lived across the capital from Elephant and Castle to Clapham, Bow and then with Lucy in Vauxhall and Stockwell. "I've become savvier when it comes to renting; it's been a real learning curve but I'm better at spotting bad agents and landlords and avoiding them at all costs," commented Charlie. "For me, it's all the extras that usually come with renting that really hurt," says Lucy. "The credit checks, referencing fees, the admin charges, six-week deposit plus a month's rent upfront. It cost us £3,500 just to move into our flat in Vauxhall, that's a lot of money to find." "Then there's the almost inevitable issues when it comes to checking out and overly detailed inventory clerks who seem to be always looking for a reason to justify their existence, it's painful," says Charlie.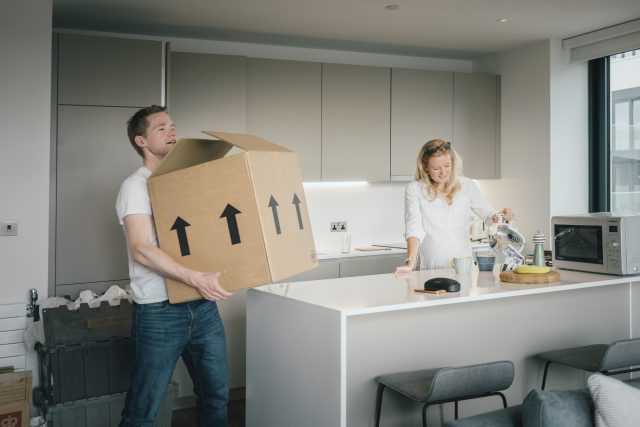 The fact that Quintain Living offers a new way of renting with no sneaky fees, much smaller deposits and utilities and 40mb/s broadband included in the rent made it really stand out to Lucy and Charlie.
"The price is totally reflective of what the Quintain Living experience is," says Lucy. "It's so different from what we expect from the rental market; it feels so generous but they're just providing a great service."
Moving into their fully furnished Quintain Living home in Wembley Park at the start of May, Lucy and Charlie are keen to explore their new neighbourhood. "It's one of those places that's quintessentially London with the arena, LDO, the stadium and all the new development going on there. It's exciting!" says Charlie "and all just 12 minutes from Baker Street."
For new parents to be, the shared social spaces on the ground floor of their apartment building are also particularly attractive with the on-site gym catching Lucy's eye and the lounge being the perfect place for Charlie to watch the 6 Nations on the big screen. "It's clear that community feeling is important to Quintain Living and knowing there are people right there that we can hang out with, families with children the same age and like-minded people to talk to is great. It's a really nice way to meet people with everything on your doorstep. It's really going to add to our quality of life" says Lucy.
Wembley Park is transforming into a neighbourhood, well connected to Central London and eagerly awaiting the arrival of Boxpark later this year and a west end style theatre shortly after. Alongside the events and classes available within the wider Wembley Park are Quintain Living's own resident's events that range from supper clubs with Masterchef finalists to quieter pizza or quiz nights giving residents the chance to win tickets to events at the Stadium or the Arena. The choice of transport options also appealed to both Lucy and Charlie with the option of hopping on the Jubilee or Metropolitan Lines into Central London through to catching the bus up to Harrow or the Overground to see friends in south-west London all available. Within Wembley Park are classes for Mum and baby at the local swimming pool or at Brent Library offering sing and sign and play sessions.
"Lots of people have asked us 'what's the catch?' but I don't think there is one," says Lucy.
"We feel so fortunate to have won this amazing opportunity and the timing is nothing short of miraculous. Knowing we have somewhere brand-new and hassle free to live for a year rent free really takes the pressure off returning to work too quickly after the baby arrives. We're so grateful and excited to be living at Quintain Living."
The Time Out competition proved that London renters have a rough deal with close to 20,000 entrants explaining just how lousy estate agents and landlords can be and how some neighbourhoods will just never feel like home. At Quintain Living, we think home is supposed to be a place where you feel like you belong – whether you rent or not –  so here's to Lucy and Charlie *raises a glass*, we hope you enjoy the next 12 months.
Stay tuned in 2019 as we might just do another competition! We'll see…