Tell us a little bit about yourself
I'm a golf trader for an online sports betting company - I set the odds for professional golf tournaments that are being played around the world. I'm from the UK, raised in Hertfordshire but have been living in London for 5 years now.
I live with my girlfriend Katie who is Head of Girls' PE at a local secondary school. We moved into our Quintain Living apartment two weeks before lockdown in 2020 and as soon as our building became pet friendly, we were on the lookout for a pup straight away. Enter Freddie!
I love playing golf on my days off, going to the races, walking Freddie and going to watch Arsenal play when I'm not working.
What made you choose to live with Quintain Living?
We love how easy it is to rent here, making one payment a month is so hassle free and makes it a lot easier to not stress about the admin side of renting. We have lived in Canada Gardens since it was first built and were one of the first residents to move into the Varley building. After a year of living there we moved into a 2- bedroom apartment in the Thomson building which has given us more room to work from home and for Freddie to have his own space which is great.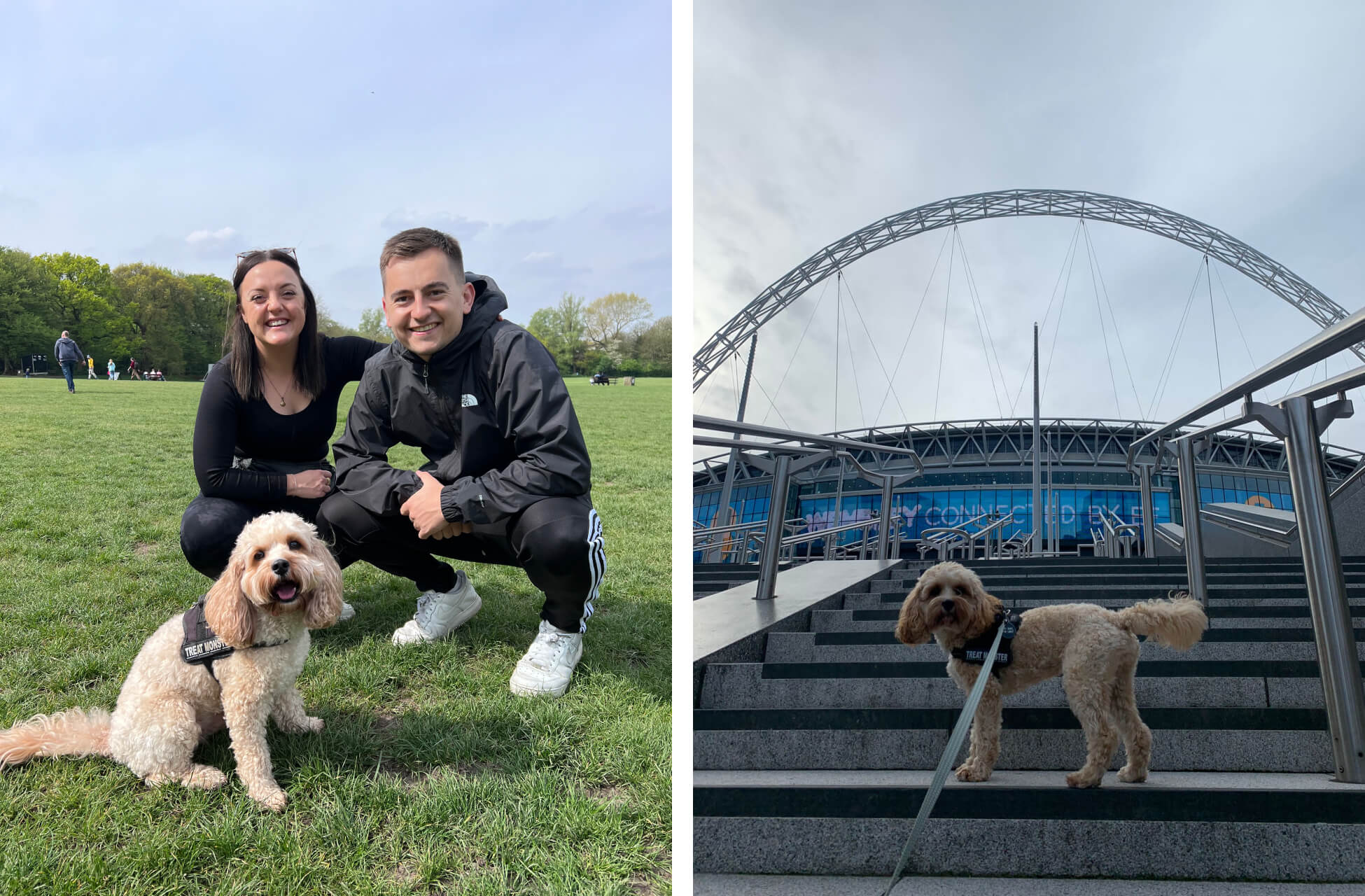 What do you enjoy most about living in Wembley Park?
We're a sucker for Bread Ahead on Olympic Way - very dangerous when walking past it on our dog walks every day! We recently saw Newsies at the Troubadour Wembley Park Theatre which was also great. Having a view of Wembley Stadium from our balcony is pretty awesome and never gets old. The rooftop terrace on our building is a great place to unwind for a drink and in the summer having a BBQ overlooking the stadium is surreal.
What is your favourite moment of living here so far?
Living in and around Wembley when both the men's & women's European Championships were on in 2021 & 2022 was amazing. Being able to soak up the atmosphere on the doorstep of our own home was pretty cool to experience. Ed Sheeran playing at the stadium last year was brilliant too - we could listen to his gigs whilst sat on our balcony!