Let's set the scene. Imagine you're in a blank canvas apartment. It's retro, minimalist and monochrome with a raw feel to it. It's trendy, peaceful and calm. But in the corner you spot a pop of bright, bold and eclectic colours. It's comic, decorative and whimsical. It's Pop Minimalism – that's Beton.
From the direct French translation of 'Concrete' (and frankly it sounds that bit cooler) Beton boasts clean lines, exposed concrete and a distinct palette that makes it the understated über stylish choice. The stunning balance of bright, bold soft furnishings and overall retro feel will make you believe it's the birthplace of Andy Warhol (he wishes.)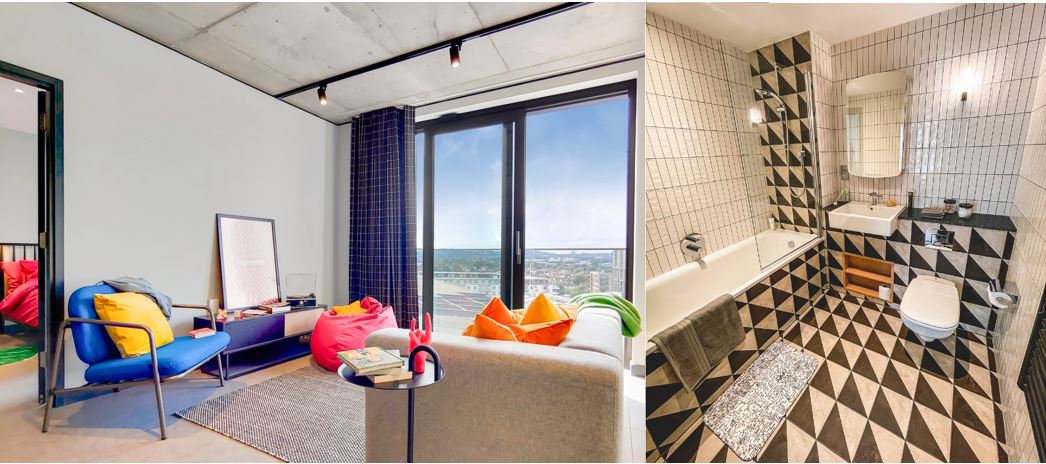 Located in heart of the action by Wembley Park's Arena Square. It's within minutes distance of designer shopping, a cinema, over 25+ restaurants, independent coffee shops and stone throw away from your local pub White Horse Wembley.
So why is Beton one of our favourite new buildings in Wembley Park?
Apart from the fact it's one the first buildings to offer 4 bedroom apartments, perfect for families and friends, our favourite features are most definitely the social spaces.
Take a look at our top 5 areas:
Boasting Quintain Living's first Bike Worship, it's the holy grail workshop for cyclists complete with x2 Technogym spin bikes, bicycle storage and storage pods for hire.
Dubbed 'The Snug' this cosy chill out area has fatboy beanbags, work from home spaces and wait for it… an actual Pac-man arcade machine. Pretty cool right?
Looking forward to that much need summer celebration with friends? Do it from the comfort of your home with access the rooftop BBQ's. Don't worry, they are electric, so if you're not the most skilled BBQ-er these are perfect to get you started.
What else do you need for a rooftop party? Outdoor games of course. From giant chess, pool table and foosball – there is plenty to keep you and your loved ones occupied whilst you enjoy the sunset of the…
Amazing views of Wembley Stadium. Located next to the one of the world's most iconic venues with its striking arch. Just think of those stunning pictures you will capture. In the wise words spoken by many, 'Do it for the gram.'

Our Beton development comes furnished or unfurnished, utilities all set up and ready to go. You get one monthly bill that breaks everything out for total transparency and you only pay for what you use. Working from home has never been easier with superfast wifi included, setup and ready to go. And it's the perfect home for your four-legged friends with our pet-friendly services.
Like the sound of Beton? Take advantage of this exciting offer where you can get up to two months rent free. Click here to find out more.
Related Articles
31 May 2019: News
No deposits & no fees?

What took everyone so long
Back in March 2016 when Quintain Living opened it's first apartment buildings, our goal was to rip up the rental rulebook and make renting better for everyone. That meant being better than the uncaring estate agents (by not being one ourselves) and being more useful than the lazy landlords most Londoners get lumbered with.
Read article