While there was only one winner, they weren't alone in their creativity. Our residents gave us plenty of food for thought (and even made us blush) with your many wonderful entries. We've picked out some of our other favourites below that deserve a special mention.
For Megan Saunders, our events team has helped to make lockdown as enjoyable as possible, thanks to a stream of endless events that have included soap and coaster making, baking with Bread Ahead, sampling various cocktails and wines and testing their quiz knowledge.
Megan said: "If one good thing came out of this year, I can say with certainty it was moving into our @quintainliving flat.
"The team are always a joy to interact with and supported us so well while we isolated. I think it's safe to say we have the best landlord EVER!"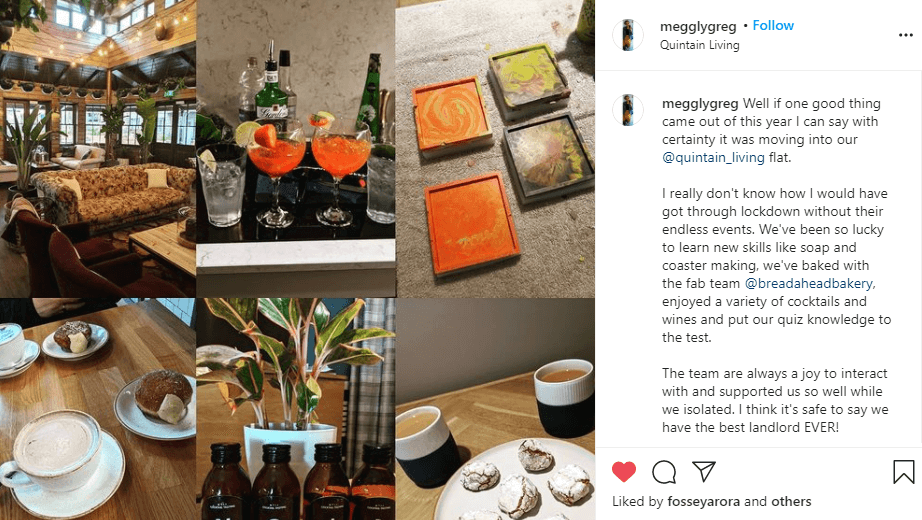 Click here to enjoy Megan's full competition entry.
In addition to Wembley Park's mix of street food and discounted designer shopping, Francis Vee loves our hassle-free and community-focused approach.
Francis said: "@quintainliving gives you the freedom and doesn't want you to stress about sticking photos on your wall – you can make your flat look more like your imagination.
"In addition, we have regular activities for residents. Before Covid, we used to socialise in beautifully curated social spaces, celebrate Halloween, Christmas and New Year's and watch movies or football together in our rooftop cinema. It's still being done nowadays, but virtually."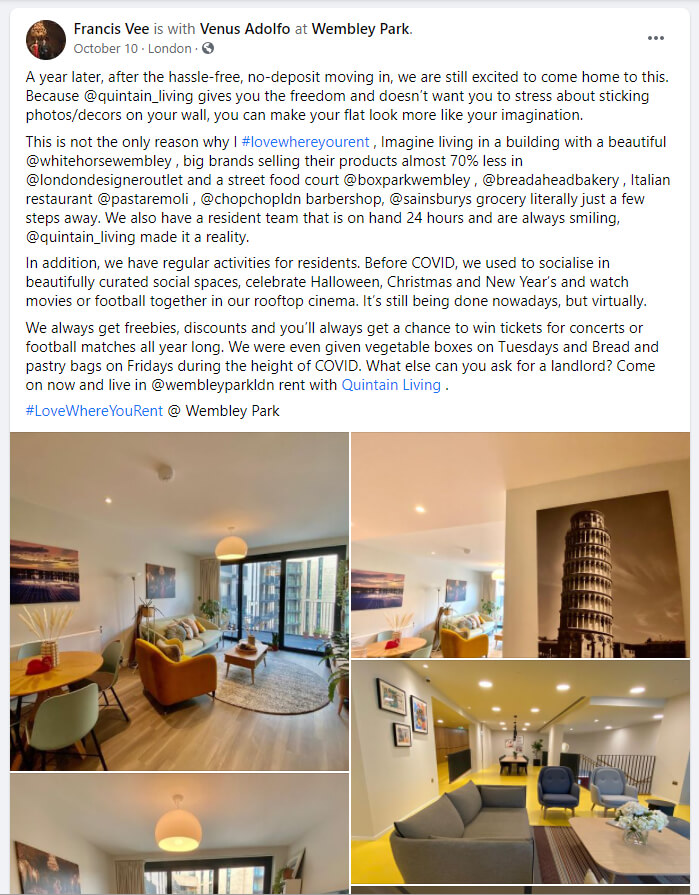 Find their full entry here.
For Kristin Foster, falling in love with the property was easy thanks to its comfortable and cosy John Lewis furniture and impressive rooftop terrace views. And they too love our fun approach to socials.
Kristin said: "We have access to social spaces for free and we love them… There's a huge kitchen where we have a lot of events, or you can drink coffee with your neighbours and have a chat."
"We also have this incredible events team, offering wine tasting, beer and cocktail tasting, book clubs and art clubs, and everything is for free."
"We love living here and being a part of Quintain Living as it's a lot of fun."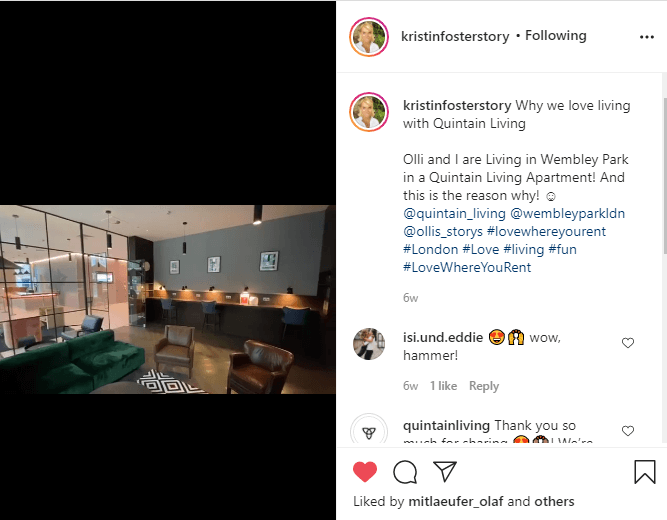 Watch Kristin's tour of her favourite places and views here.
Like most renters in their twenties in London, Rob and Paige have had more than their fair share of bad experiences. In Quintain Living, they were looking for something different – a friendly team who genuinely care and get to know their residents. They've been so impressed by their experience so far, they've decided to stay another year in the run-up to their wedding.
Rob said: "During Covid, [the team's] done their absolute best to keep us together as a community, even at a social distance. The resident events moved online and we've even had gifts sent to our door.
"We couldn't think of a better place to live as a young engaged couple!"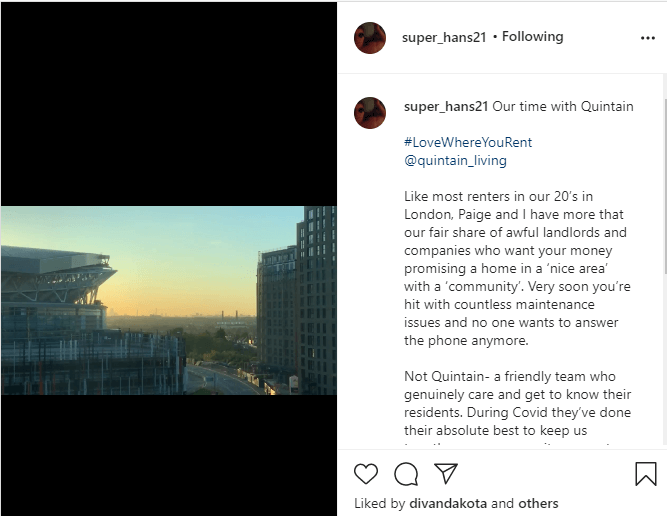 Check out what else Rob had to say here.
Thanks to all our runners-up, who received a Bread Ahead Hamper - a delicious consolation prize.
And now to announce our winner… congratulations Gillian Villanueva.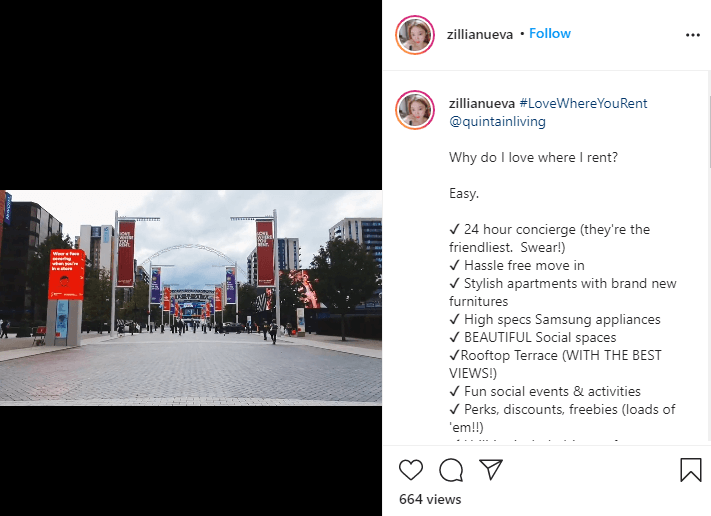 Here's her fantastic entry in all its glory. You can also watch their video here.
Why do I love where I rent?

Easy.
✔ 24-hour concierge (they're the friendliest. Swear!)
✔ Hassle-free move in
✔ Stylish apartments with brand new furniture
✔ High-spec Samsung appliances
✔ BEAUTIFUL social spaces
✔ Rooftop terrace (WITH THE BEST VIEWS!)
✔ Fun social events and activities
✔ Perks, discounts, freebies (loads of 'em!!)
✔ Utilities included (yes, a fast broadband, too! 💕
✔ VERY accommodating residents team
✔ Pet-friendly 🐕
During the first outbreak of the Covid pandemic, they even went as far as providing weekly supplies of bread, pastries, fruits and vegetables for key workers like me! Gosh, how loved and valued did I feel with that gesture. But that's really how great they are; and that's why I love them!
This year also presented itself with so many challenges and problems in my personal life. The social gatherings (now, virtual activities due to social distancing) have helped lift my mood so many times. I feel that I belong to a community of people who, even when we only see each other virtually now, still look out for one another. I have made friends among the other residents and also with the concierge team, and that's a very lovely, precious thing to cherish.
The list could go on forever! I am not exaggerating when I say moving to @quintainliving and living in @wembleyparkldn was the best decision I have ever made. To top it all off, I also have everything I need and want 😉 right on my doorstep – shopping at @londondesigneroutlet, local finds in @wembleyparkmarket, the best Italian pasta @pastaremoli, high-quality bread and pastries @breadaheadbakery, innovative street food and live events at@boxparkwembley, concerts and football games at @wembleystadium and the newest addition to the neighbourhood,@whitehorsewembley.
So do I love where I rent? ABSOLUTELY!!
What's not to love? ❤
We'd like to thank all of our lovely residents for taking part. Keep up to date with our Instagram account for more fantastic promotions and competitions in the future.