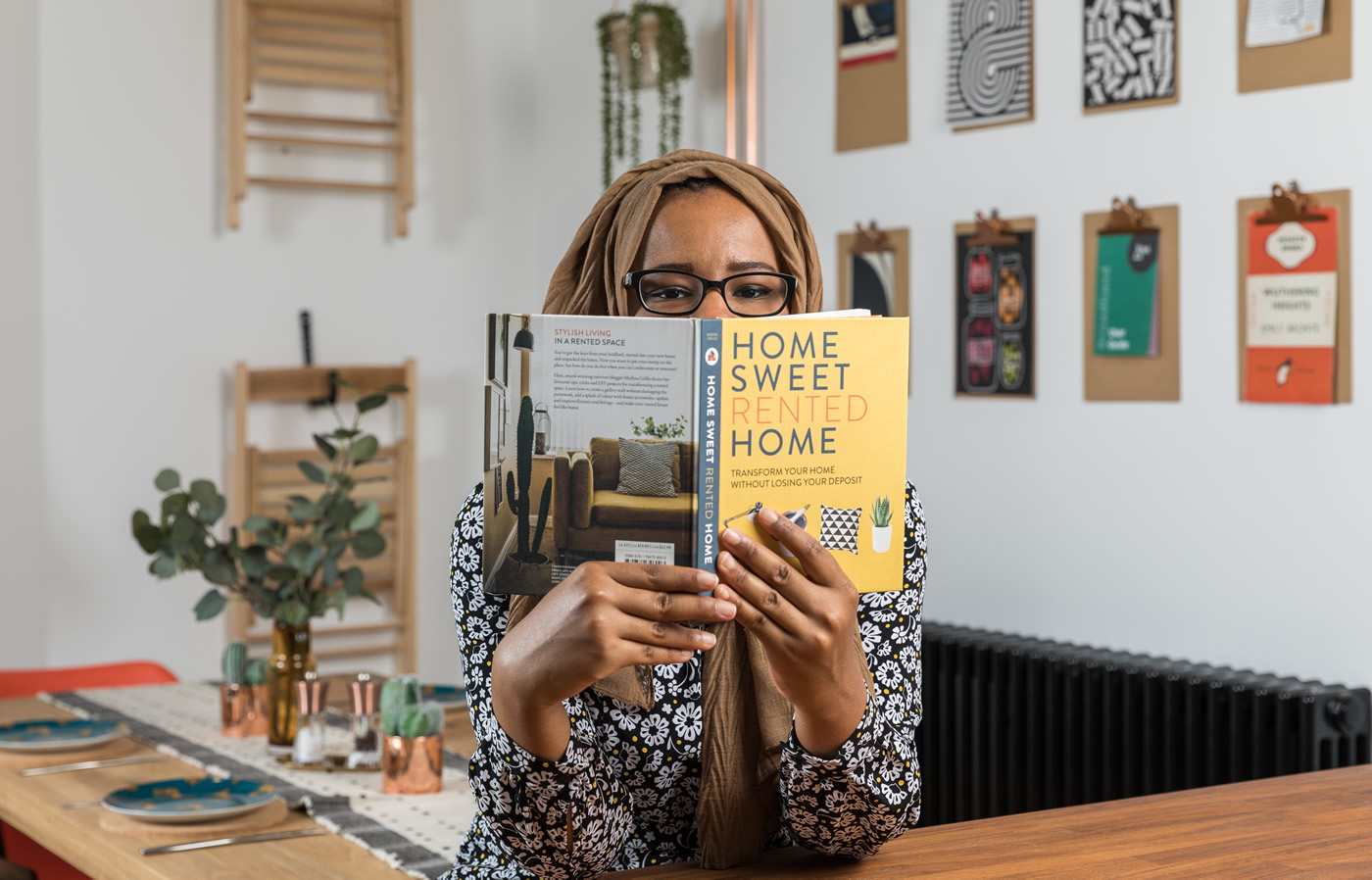 Quintain Living teamed up with interiors style blogger Grillo Designs, who has a flare for upscaling rooms on a budget AND she's a proud renter too! Take a look at her top tips below on how to personalise your Quintain Living apartment without breaking the bank.
There are lots of people who still view renting as a stopgap - a temporary housing solution that requires you to live as such. Like a traveller just whizzing through via a connecting flight to a place where you REALLY want to be. So why even bother unpacking that suitcase (or box) as the plan is to buy a house one day? Why waste money trying to jazz up a home that isn't officially yours right?  Every penny counts and deposits don't come cheap. Right?
Wrong.
This way of thinking can be damaging (I believe). Our surroundings play a huge role in our mental health, and it is therefore important that we give it the love and attention that we might give our bodies in order to thrive...and not just survive. Our homes are our sanctuary. Why not make an effort in displaying items that create feelings of calmness and security. This will look and feel different to everybody, but it starts with seeing your home as more than just four walls.
Quintain Living understands the value of giving a rental property your own stamp of personality. And that doesn't necessarily need to be expensive. Sometimes the smallest of changes can make the biggest impact. Here are just a few tricks and pointers on how to put your own stamp on your Quintain Living home.
 1. Be aware of the ground rules
Whenever you move into a rented property, it's always a good idea to discuss with the landlord or agency what you are allowed and aren't allowed to do. This will give you an idea of how to go about decorating your new home.  
Quintain Living offers the option of renting furnished or unfurnished properties. Most of the furnished properties are styled with furniture provided by John Lewis and Partners. However, if you have additional items you might like to hang on the wall, a contractor is recommended.
2. Introduce or change existing rugs
You'd be surprised at what a difference a new rug can have on a space. Maybe your floor is a little dark and you want to lighten it up, add a rug. Maybe your current rug is too small and isn't bringing the furniture in the room together well... add a larger rug. Or maybe you just need to define the different zones in a room (especially if it happens to be an open-plan New York loft-style similar to Quintain Living's  Ferrum building), then rugs are a great way to do that.
And don't forget you can layer rugs too, especially in colder seasons. Add faux fur rugs for a little more warmth, texture and dimension.  
Luckily, Quintain Living often provides a rug in their soft furnishing package for furnished properties so that's one less rug you need to buy! Here is an example of a rug already provided.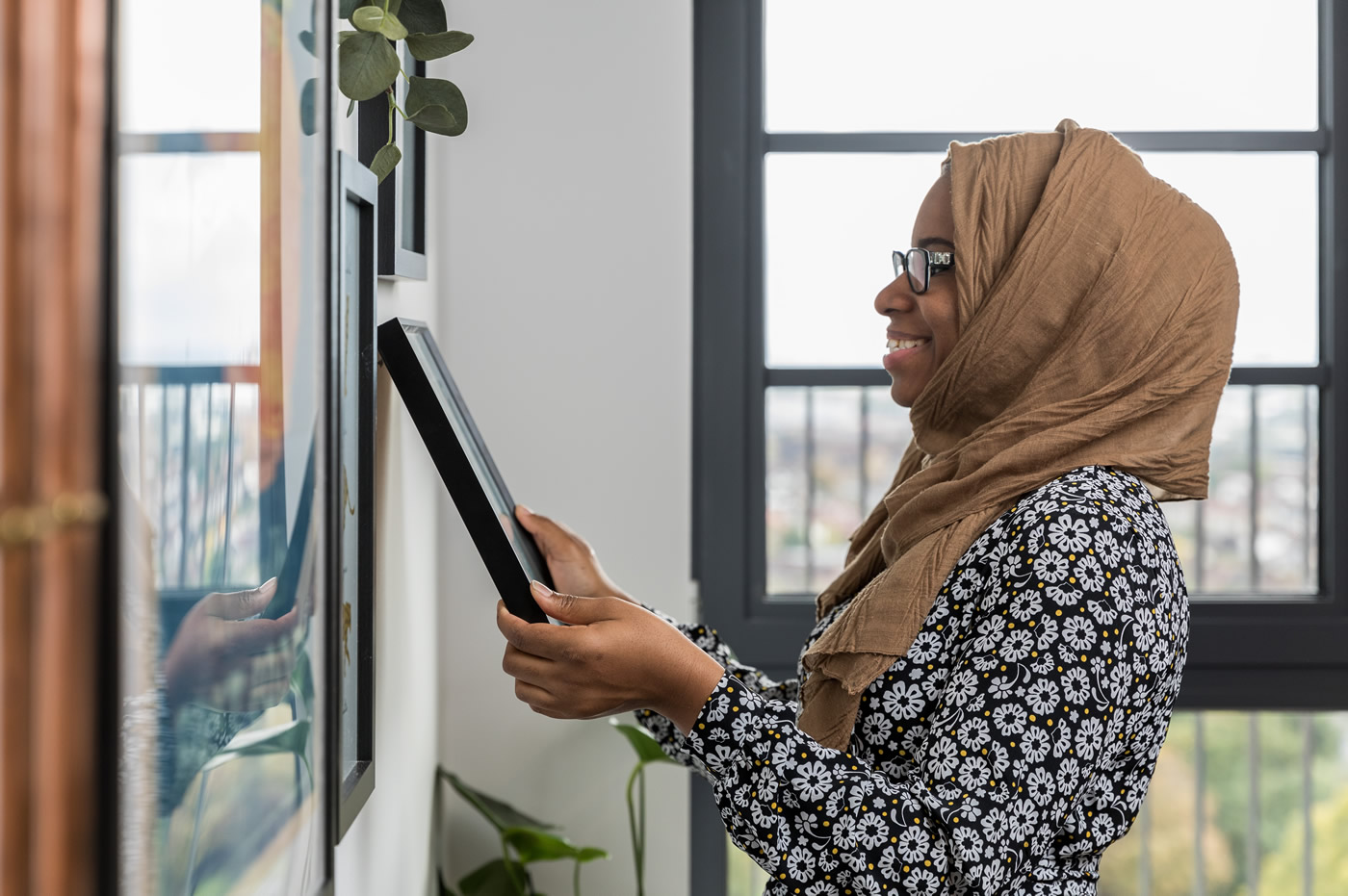 3. Get some art up on the walls!
As mentioned, Quintain Living encourage their residents to put a stamp on their new home and allow holes in the wall (yay) however they do recommend to use their contractor. But if you prefer to do it yourself, they simply advise you fill the holes and redecorate before you depart. Or if you'd much rather not make any holes - you can use self-adhesive strips/hooks to hang art or objects on the wall.
Gallery walls are a fun way to display and showcase things you love (and it doesn't have to just picture frames, try hanging hats, baskets, clipboards, and faux plants to add more dimension)
Picture ledges, in particular, are perfect for renters because they allow you to switch around art often and require the least amount of holes to secure to the wall. 
Leaning large art pieces against the wall is also another way to injection colour into a neutral space without the need to physically hang anything
4. Bring the outdoors in!
You can do this by adding indoor plants or other types of foliage (depending on the season) to your home and dotting them around on various surfaces. Place them in interesting pots and/or baskets on stands or hang them from existing features in your home.
If you are going for real-life plants, try and buy plants that won't require too much upkeep. Cactuses and succulents plants are my favourite choice – especially if you happen to have a black thumb like me! But faux plants are just as good.  Depending on where you buy them, they can really look as good as the real thing! You can get some lovely ones from John Lewis.
5. Invest in temporary removable products
Like contact paper or removable wallpaper. Contact paper (or Fablon) is great for updating smooth wipeable surfaces like tiles or furniture. It doesn't work so well on matt painted walls though (they can peel off paint if you're not careful) so it's always a good idea to do a patch test before applying
Removable wallpaper, on the other hand, is made specifically for walls and works a treat in jazzing up a wall. Here is a list of some of my favourite places to buy temporary wallpaper.
6. Don't forget about lighting
Lighting is key in any room. Plug-in lights are perfect for renters looking to create a more ambient feeling without permeance. Add floor lamps to darkened corners or table lamps to works spaces. Large framed mirrors can be placed opposite windows to reflect the natural light and candles are perfect for creating a cosy atmosphere.
See what I mean about small changes?
None of these tips I've shared require a huge amount of effort or will break the bank. But I promise you, they will make all the difference in how you feel about your new Quintain Living home.